The Solitary Pulmonary Nodule
Comparison chest radiographs, when available, should be reviewed to determine whether nodular opacities were evident previously. An opacity completely stable in size for more than 2 years is considered benign and further evaluation is unnecessary. If there is any concern that a nodule previously seen has enlarged, a chest CT should be obtained for further characterization.
There are additional characteristics of the border of an SPN which help identify the nature of the lesion. The presence of small "satellite" nodules around the periphery of a dominant nodule is strongly suggestive of benign disease, particularly granulomatous infection. The identification of feeding and draining vessels emanating from the hilar aspect of an SPN is pathognomonic of a pulmonary arteriovenous malformation (AVM). Contrast-enhanced helical CT scanning through the nodule or MR is diagnostic. A posttraumatic PA pseudoaneurysm will show marked contrast enhancement and contiguity with the feeding artery on CT. The presence of a halo of ground-glass opacity encircling an SPN in an immunocompromised, neutropenic patient should suggest the diagnosis of invasive pulmonary aspergillosis. Finally, a nodule or mass adjacent to an area of pleural thickening, with a "comet tail" of bronchi and vessels entering the hilar aspect of the mass, and associated with lobar volume loss is characteristic of round atelectasis.
An SPN that is judged to be benign on the basis of patient age, growth rate, presence of benign calcification, or those with a specific benign diagnosis provided by TNB should be followed with radiographs or CT for a minimum of 2 and preferably 3 years to confirm their benign nature. The radiographic follow-up consists of posteroanterior and lateral chest radiographs if the lesions are radiographically apparent, or limited thin-section CT at 6-month intervals.
Bronchogenic Carcinoma
Bronchogenic carcinoma is one of several neoplasms that may arise within the lung (
Table 15.3
). It is now the leading cause of death from malignancy in the United States and most
industrialized countries for both men and women, having surpassed breast cancer in women in recent years. Although survival rates for lung cancer are poor, radiology plays a central role in diagnosis and management. This section will review the key pathologic, epidemiologic, and radiologic features of bronchogenic carcinoma with an emphasis on the radiologic staging of this disease.
Table 15.3 Pulmonary Neoplasms
Benign
Epithelial
Squamous cell papilloma
Pleomorphic adenoma (benign mixed tumor)
Mesenchymal
Hamartoma
Lipoma
Neurofibroma
Leiomyoma
Granular cell tumor
Hemangiopericytoma
Malignant
Epithelial
Bronchogenic carcinoma
Carcinoid tumor
Bronchial gland carcinoma
Mucoepidermoid carcinoma
Adenoid cystic carcinoma (cylindroma)
Epithelial/mesenchymal
Pulmonary blastoma
Carcinosarcoma
Lymphoid
Non-Hodgkin lymphoma
Hodgkin lymphoma
Primary melanoma of lung
Cytologic and Pathologic Features
Bronchogenic carcinoma is a malignant neoplasm that arises from the bronchial or alveolar epithelium. Ninety-nine percent of malignant epithelial neoplasms of the lung arise from the bronchi or lung, whereas fewer than 0.5% arise from the trachea. Bronchogenic carcinoma is divided into four main histologic subtypes on the basis of their gross and microscopic features: adenocarcinoma, squamous cell carcinoma, small cell carcinoma, and large cell carcinoma (
Table 15.4
) (
Fig. 15.9
).
Adenocarcinoma
is the most common type of lung cancer, accounting for approximately one-third of all bronchogenic carcinomas. It is the most common subtype of lung cancer in nonsmokers. Whereas these tumors were once found to occur overwhelmingly in the lung periphery, they are now found in the central portions of the lungs in about one-fourth of cases. These tumors arise from the bronchiolar or alveolar epithelium and have an irregular or spiculated appearance where they invade adjacent lung. Fibrosis in and about the tumor is common. These gross features usually produce an ill-defined pulmonary nodule or mass on chest radiographs (
Figs. 15.3C
,
15.8B
). Histologically, adenocarcinoma demonstrates gland formation and mucin production. A subtype of adenocarcinoma, newly termed adenocarcinoma-in-situ (AIS), previously called
bronchioloalveolar cell carcinoma
(BAC), has unique pathologic features. This tumor is characterized by growth along preexisting bronchiolar and alveolar walls ("lepidic growth") without invasion or distortion of alveolar walls, blood vessels, or lymphatics. When localized, AIS appears as a SPN or as a focal area of ground-glass opacity on CT scans (
Fig. 15.9A
). Diffuse disease, which represents transbronchial (i.e., aerogenous) spread of tumor, may present as airspace opacification simulating pneumonia or as diffuse bilateral nodular airspace opacities.
Squamous cell carcinoma
is the second most common subtype of bronchogenic carcinoma, accounting for approximately one-fourth of all cases. This tumor arises centrally within a lobar or segmental bronchus. Grossly, these tumors are polypoid masses that grow into the bronchial lumen while simultaneously invading the bronchial wall. The central location and endobronchial component of the tumor account for the presenting symptoms of cough and hemoptysis and for the common radiographic findings of a hilar mass with or without obstructive pneumonitis or atelectasis. Central necrosis is common in large tumors; cavitation may be seen if communication has occurred between the central portion of the mass and the bronchial lumen (
Fig. 15.9C
). Histologically, squamous cell carcinoma is characterized by invasion of the bronchial wall by nests of malignant cells with abundant cytoplasm. The formation of keratin pearls and intercellular bridges, seen in well-differentiated tumors, is specific for this tumor.
Small cell carcinoma
accounts for 25% of bronchogenic carcinomas and arises centrally within main or lobar bronchi. These tumors are the most malignant neoplasms arising from bronchial neuroendocrine (Kulchitsky) cells and are alternatively referred to as Kulchitsky cell cancers or KCC-3. Typical carcinoid tumors (KCC-1) represent the least malignant type, and atypical carcinoid tumors (KCC-2) are intermediate
in aggressiveness. Small cell carcinomas exhibit a small endobronchial component, invading the bronchial wall and peribronchial tissues early in the course of disease. This produces a hilar or mediastinal mass with extrinsic bronchial compression and obstruction. Invasion of the submucosal and peribronchial lymphatics leads to local lymph node enlargement (
Fig. 15.9D
) and hematogenous dissemination, which are almost invariable at the time of presentation. Microscopically, these malignant cells are tightly clustered, with nuclei molded together because of the scant amount of cytoplasm. This lesion is distinguished from carcinoid tumor histologically by the presence of mitoses. Electron microscopy demonstrates the presence of intracytoplasmic neurosecretory granules.
Table 15.4 Subtypes of Bronchogenic Carcinoma




▪ TYPE


▪ INCIDENCE


▪ RADIOLOGIC FEATURES


▪ TREATMENT


▪ FIVE-YEAR SURVIVAL



Adenocarcinoma


35%


Peripheral nodule
Peripheral mass


I–III = surgery
III–IV = XRT/chemotherapy


17%



Squamous cell


25%


Hilar mass
Atelectasis


I–III = surgery
III–IV = XRT/chemotherapy


15%



Small cell


25%


Hilar mass
Mediastinal mass


Chemotherapy


5%



Large cell


15%


Large peripheral mass


I–III = surgery
III–IV = XRT/chemotherapy


11%



XRT, radiation therapy.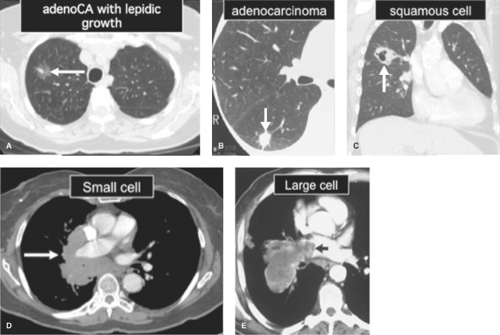 Figure 15.9.
Typical CT Appearances of the Subtypes of Bronchogenic Carcinoma. A
. Subsolid (mixed solid/ground-glass attenuation) solitary nodule (
arrow
).
B
. Spiculated peripheral solitary pulmonary nodule (
arrow
).
C
. Cavitary mass (
arrow
).
D
. Large right hilar mass (
arrow
).
E
. Large mass with left atrial invasion (
arrow
).
Large cell carcinoma
accounts for 15% of bronchogenic carcinomas and is occasionally diagnosed when a non-small cell bronchogenic carcinoma lacks the histologic characteristics of squamous cell carcinoma or adenocarcinoma. Histologic features include large cells with abundant cytoplasm and prominent nucleoli. This tumor tends to arise peripherally as a solitary mass and is often large at the time of presentation (
Fig. 15.9E
).
Epidemiology
. The majority of patients with bronchogenic carcinoma are cigarette smokers who are over 40 years of age. Men are most commonly affected, although the percentage of female lung cancer patients has risen steadily in parallel with the increased prevalence of heavy cigarette smoking among women. The overall 5-year survival rate for all patients with lung cancer is 10% to 15%.