Fig. 20.1
Thickening of the clavicle (proximalpart) with marked apposition and central osteolytic lesion with irregular edges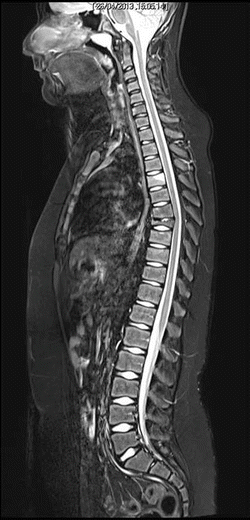 Fig. 20.2
MRI shows initial inflammatory edema of the D4 vertebral body, and prominent collapse of D7 vertebral body (late lesion), as well as initial reduction of height and anterior wedging of D8, D9 e D10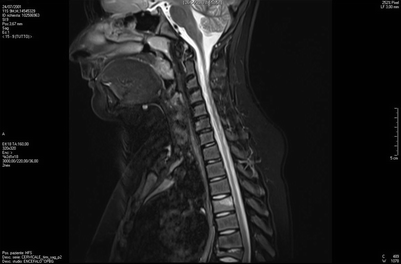 Fig. 20.3
MRI shows initial inflammatory edema of the D4 vertebral body, and prominent collapse of D7 vertebral body (late lesion), as well as initial reduction of height and anterior wedging of D8, D9 e D10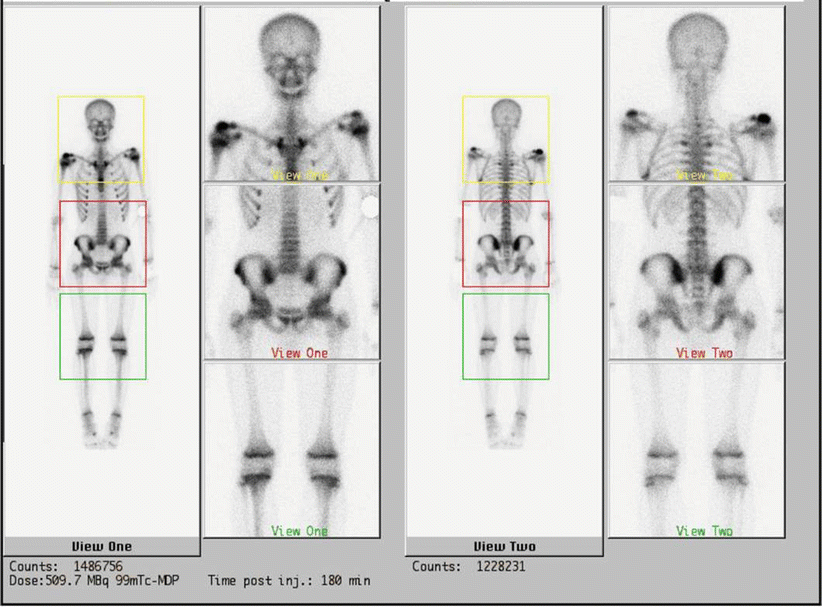 Fig. 20.4
Tc-99 bone scintigraphy shows increased uptake of the right shoulder, the right ileus, of the sternum and of the sternoclavicular joints

Fig. 20.5
Whole-body MRI shows symmetrical bilateral involvement of tibial diaphysis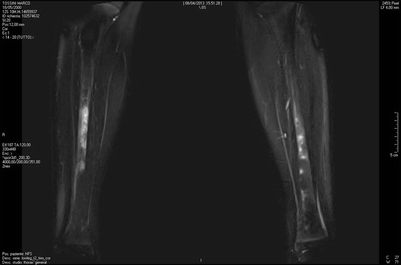 Fig. 20.6
Whole-body MRI shows symmetrical bilateral involvement of tibial diaphysis
20.5

Treatment

Generally accepted treatment protocols for CNO do not exist, and the treatment of CNO has been largely empiric. A number of retrospective assessments of response to treatment in case reports or small series is available in the literature. There are a few prospective studies of response to treatment in CRMO/CNO, with no randomized trials having been performed, primarily because of the rarity of the disease. NSAIDs are commonly used as first-line treatment and provide pain reduction in most patients (reported response rates up to 80 %) [

4

]. Even when used chronically throughout the first year of disease, NSAIDs have been proven to be safe and considerably effective in CNO patients. However, a significant proportion of patients (varying from 20 to 60 % in the different series) requires additional treatment. Additional treatment should be considered in the presence of (a) lack of response to NSAIDs, (b) persistence of active bone lesions on imaging, and (c) lesions on structural sites (e.g., active lesion in vertebral bodies, active lesions in proximity or invading the growth plate). Second-line treatment includes short courses of oral glucocorticoids, chronic oral glucocorticoids, or classical DMARDs such as methotrexate and sulfasalazine [

42

]. More recently, TNF-blocking agents and bisphosphonates have been increasingly utilized. TNF-α blocking agents are the most frequently used cytokine-targeting drugs. Although TNF-α blockade has been reported in case reports and in a small series of CNO patients to improve the disease course [

4

,

6

,

42

], a significant fraction of treated patients do not benefit from this treatment. Intravenous bisphosphonates (e.g., pamidronate) have been demonstrated to reduce pain and bone inflammation in CNO patients [

16

,

20

,

29

] in a large proportion of patients. However, there might be safety concerns for long-term treatment with bisphosphonates and for their deposition in the bone matrix. Many patients who failed TNF inhibitors had a response to pamidronate, and vice versa. There is considerably less evidence pointing to a role of IL-1 blockade in CNO [

2

]. The optimal treatment strategy remains to be determined.

Conclusion

CNO pathogenesis is still unclear. Accumulating evidence points to a potential role of inflammasome and cytokine production deregulation [

18

,

19

,

39

]. The prominent role of interleukin-1 in the development of skin and bone manifestations in DIRA suggests a potential role for interleukin-1 in the pathophysiology of autoinflammatory bone disorders.