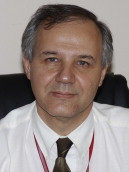 This issue of the
Neuroimaging Clinics
focuses on spinal infections as one of the most significant causes of morbidity and even mortality involving the nervous system. Differentiation of spinal infections from degenerative processes, inflammatory disorders, metabolic disorders, and neoplasms is still challenging even with the dazzling development of diagnostic tools. Early and accurate diagnosis of spinal infections and differentiation from these disorders, which have different treatments, are essential to decrease morbidity, mainly neurologic complications that reduce the quality of life, increasing health care costs. Radiologic evaluations together with interventional procedures have gained importance in the diagnosis, treatment planning, treatment, and monitoring of spinal infections. Interventional procedures ranging from biopsy to minimally invasive treatments are also introduced for the benefit of the physicians who care for patients with spinal infections in both private practice and academia.
Spinal infections may show different imaging features according to the host's immune status, current or prior medication (particularly antimicrobial agents and steroids), infecting agent, endemic and geographic differences, and so on. It is important for radiologists to become aware of these different features, mainly atypical signal intensity alterations and contrast enhancement patterns on magnetic resonance imaging of spinal infections, so as not to exclude infection when some of the typical signs are lacking for the diagnosis.
The outstanding contributions in this issue describe the current role of imaging in spinal infections, detailing what is currently known regarding the pathophysiologic and histopathologic basis, minimally invasive-interventional procedures, surgical treatments, complications, and sequelae formation. We tried to present to the readers detailed information that they can apply in providing a thoughtful assessment and perspective in their practice.
As guest editor, I have been fortunate to have colleagues willing to share their knowledge and expertise for this issue. I personally express my sincere gratitude to all the authors for their excellent contributions.
We hope this issue will be helpful, informative, and educational in understanding spinal infections.