Fig. 8.1
(
a
,
b
) Six ossification centers of the distal humerus.
C
capitulum,
R
radial head,
M
medial epicondyle,
O
olecranon,
T
trochlea,
L
lateral epicondyle
Box 8.1: Typical Order of Ossification at the Elbow
C—capitellum
R—radial head
I—internal, or medial, epicondyle
T—trochlea
O—olecranon
E—external, or lateral, epicondyle
Bone maturation is affected by genetic and racial variability as well as environmental factors and pathological processes that can affect bone growth and maturation [
1
,
2
]. There is no significant difference in timing or ossification pattern between the right and left elbow [
3
]. However, the timing of appearance of the ossification centers varies widely (Table
8.1
). All except the capitellum appear and fuse at least 1 year earlier in girls than in boys [
1
]. The capitellum ossifies at about 3 months in girls and 6 months in boys. The approximate age of ossification for the five other centers in girls is 5 years for the radial head, 5 years for the medial epicondyle, 8–9 years for the trochlea, 8 years for the olecranon, and 9 years for the lateral epicondyle. In boys, the radial head ossification center appears at approximately 5–6 years, medial epicondyle at 7 years, trochlea at 9 years, olecranon at 10 years, and lateral epicondyle at 11 years. In general, the centers that ossify after the radial head appear about 2 years later in boys than in girls [
1
,
3
–
5
].
Table 8.1
Reported ranges of appearance and fusion of ossification centers about the elbow
| | Girls—age of appearance | Girls—age of fusion | Boys—age of appearance | Boys—age of fusion |
| --- | --- | --- | --- | --- |
| Capitellum | 0.33–1 | 9.4–15 | 0.08–1 | 12.4–17.5 |
| Radial head | 1.6–6.8 | 10.2–15 | 2.9–8.5 | 12.4–17.1 |
| Medial epicondyle | 1.3–7.1 | 11.5–15.3 | 3.5–9.7 | 13–16.8 |
| Trochlea | 5.7–11.1 | 9.2–13 | 7–12.5 | 11.6–15.2 |
| Olecranon | 6–11 | 10.8–14.8 | 7.6–12.2 | 12.4–16.5 |
| Lateral epicondyle | 7.3–11.6 | 9.5–13.3 | 8–14.4 | 12.1–15.9 |
The range of age of fusion of the elbow ossification centers is listed in Table
8.1
. In general, girls fuse earlier than boys.
2

Distal Humeral Fractures
3

Fracture of the Radius and Ulna
3.1

Radial Neck Fractures

The radial neck is usually fractured during a fall on an outstretched arm. The compressive force causes the radius to impact upon the capitellum. Fractures in this area typically involve either the physis (Salter Harris I) or the metaphysis and physis (Salter Harris II) [

6

,

24

]. Crepitus at the radial head and tenderness with gentle pronation and supination are common. In the acute setting, motion is usually limited by a painful hemarthrosis, rather than a true mechanical block. However, displaced fracture fragments sometimes prevent forearm rotation.

The relationship between the radial head and the annular ligament determines the functional outcome of this fracture. The extent of angulation helps direct treatment; the AO classification scheme can be employed to describe fragment position (Fig.

8.19

).

Fig. 8.19
AO classification of radial neck fractures. (
a
) With Type I, there is no angulation or displacement. (
b
) With Type II, the radial head is displaced less than 50 % of its diameter, and it appears angled. (
c
) Displacement more than 50 % (with angulation) constitutes Type III
In general, any translation should be corrected, whereas angulation up to 30° (some suggest 50°) may be treated conservatively [
6
], depending on the age of the child. Displaced fractures require surgical stabilization with K-wires or an intramedullary elastic nail.
Imaging
As with all elbow fractures, injury to this area must be assessed with an understanding of when ossification centers ossify. Before radial head ossification, radiographs cannot differentiate radial head dislocation from physeal fracture with displacement. Frontal and lateral radiographs of the elbow are generally supplemented with either a radiocapitellar view or a Greenspan view (with the beam angled 45° cephalad and the elbow in neutral position).
The disk-shaped epiphysis at the proximal end of the radius articulates with the capitellum and with the lesser sigmoid notch of the ulna. Intra-articular in location, the radial head should point toward the capitellum on all views (Fig.
8.20
). With injury, there may be a fracture line, abnormal alignment, angulation of the radial head, or depression, comminution, or displacement of the radial head or neck (Fig.
8.21
). The fat pads are almost always elevated, indicating joint effusion. Small bony intra-articular fragments are infrequently present [
25
,
26
].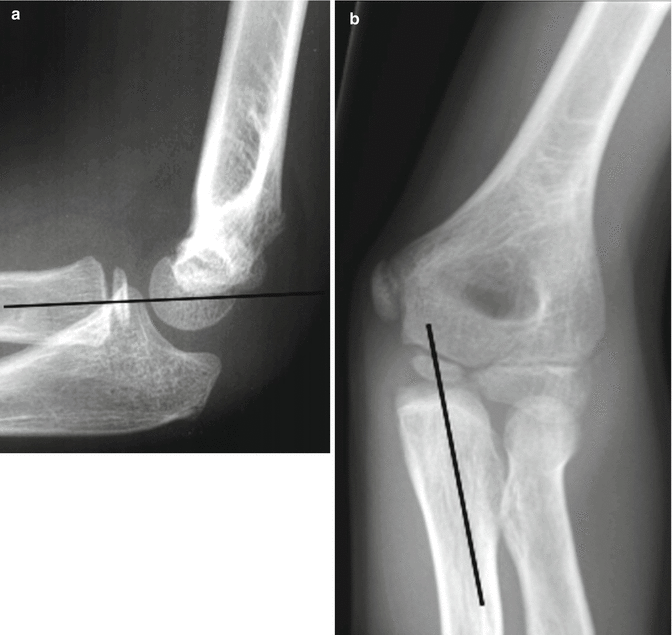 Full access? Get Clinical Tree
Get Clinical Tree app for offline access