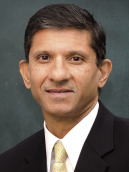 Tinnitus has been a challenging topic for centuries. When I was "growing up," we classified tinnitus as "subjective" versus "objective," "pulsatile" versus "continuous," or whether there was a retrotympanic mass. The answer to these questions directly affected the imaging evaluation and differential diagnosis. However, the various classifications created much confusion about this topic and led to inconsistent management and treatment of this important disorder.
I sincerely thank Drs Prashant Raghavan and Dheeraj Gandhi for tackling this perplexing subject. This issue delves into the biologic basis of this disease and focuses on the recent advances in neuroscience that have shed new light on the neural basis of this complex disorder. They have taken a unique approach and have focused this issue on the clinical aspects of tinnitus, imaging evaluation, and the various surgical and endovascular techniques used in current and future treatment strategies.
This is really a unique perspective on this disease, and I thank Drs Raghavan and Gandhi for taking this distinct approach. I also thank the article authors for their marvelous contributions. This is an issue that will "stand the test of time" and be a benchmark reference on this subject for many years.
Finally, I have to personally thank and acknowledge Dr Dheeraj Gandhi. I had the pleasure of having Dheeraj as one of my fellows when I was at University of Michigan. We were fortunate to have him as a faculty member before he was later recruited to Johns Hopkins. Dheeraj is now Professor and Chief of Neurointerventional Radiology at University of Maryland. Dheeraj has been a wonderful colleague and friend over the past 15 years. His rapid rise is a combination of intellect, talent, and most importantly, his humanity. Thank you very much, Dheeraj!