10.1055/b-0034-75801
14 Localized Bone Disease
Most skeletal lesions are initially evaluated by conventional radiography, which has an intermediate sensitivity but a high specificity. Computed tomography (CT) has a higher sensitivity than conventional radiography in the diagnosis of a localized bone lesion and is also superior to the latter in the assessment of the osseous and soft tissue extent of the process.
In specific instances, however, CT has definite diagnostic value. Because of its superior contrast resolution, CT allows differentiation between cystic and solid lesions and the demonstration of fat within a lesion (e.g., intraosseous lipoma, Fig. 14.1).
Demonstration of a radiolucent nidus within surrounding bone sclerosis strongly suggests the diagnosis of an osteoid osteoma (Fig. 14.2), but it may also be encountered with a cortical abscess. A linear radiolucency running perpendicular to a cortex that is locally thickened is characteristic of a stress fracture. Intraosseous gas is found in osteonecrosis, gas-forming infections (Fig. 14.3), and occasionally pneumatocysts (Fig. 14.4).
Fluid levels in osseous lesions are most frequently associated with aneurysmal bone cysts, but they are also not uncommon in simple (unicameral) bone cysts and may occasionally be found in giant cell tumors, chondroblastomas, telangiectatic osteosarcomas, and a variety of other bone lesions (Table 14.1). Fat–fluid levels within a bony lesion are indicative of acute osteomyelitis.
Sequestra (Fig. 14.5) can be readily identified by CT as radiodense foci and are highly suggestive of chronic osteomyelitis, but occasionally they are also found in tumors, such as fibrosarcomas and metastases, as well as in eosinophilic granulomas. They have to be differentiated from a centrally displaced cortical fracture fragment in a complex chronic fracture or a pathologic fracture (e.g., "fallen fragment" sign in a simple [unicameral] bone cyst, Fig. 14.6). A partially calcified nidus of an osteoid osteoma can also mimic osteomyelitis with a sequestrum. In healing fractures, osteonecrotic loose bone fragments may at times be impossible to differentiate from a sequestrum of an osteomyelitis complicating the fracture.
A radiodense focus within a lytic cranial lesion is termed button sequestrum (Fig. 14.7). Button sequestra are found with eosinophilic granulomas, metastases (especially from breast carcinoma), epidermoids, osteomyelitis (including tuberculosis and syphilis), radiation necrosis, bone flaps undergoing avascular necrosis, and bur holes.
The differential diagnosis of localized bone lesions is outlined in Table 14.2.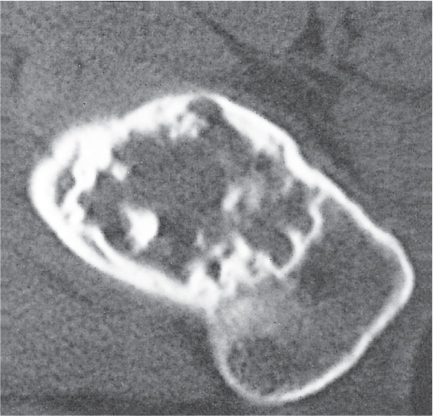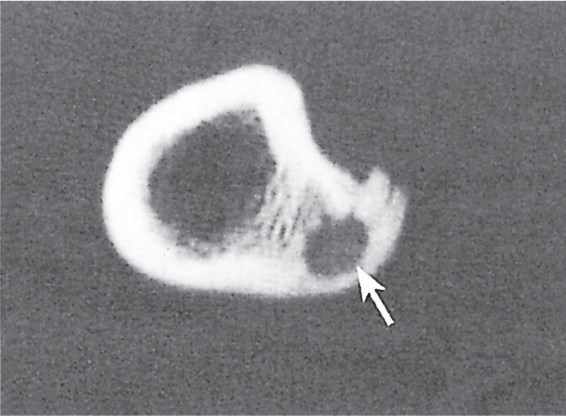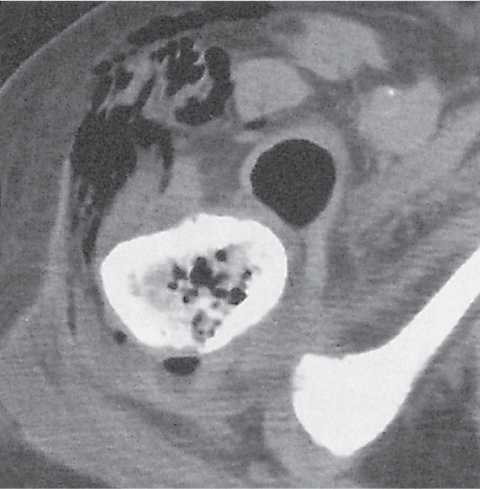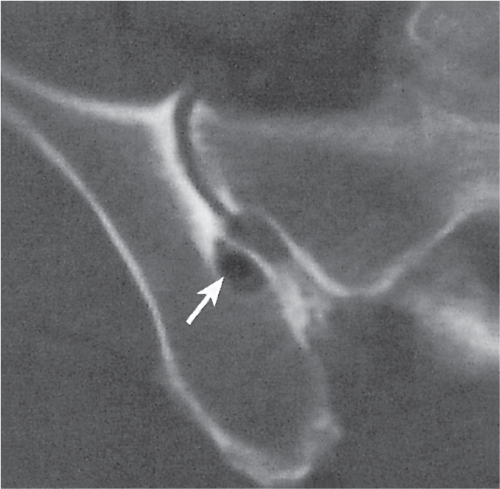 Table 14.1 Bone lesions with fluid levels
Aneurysmal bone cyst
Simple (unicameral) bone cyst
Giant cell tumor
Chondroblastoma
Intraosseous ganglion
Posttraumatic cyst
Fibrous dysplasia
Osteomyelitis (abscess)
Osteoblastoma
Brown tumor
Telangiectatic osteosarcoma
Fibrosarcoma
Plasmacytoma
Metastases