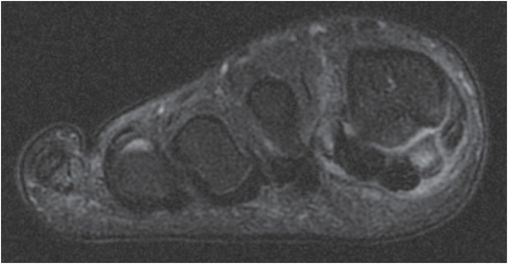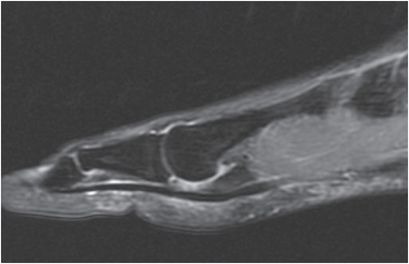 Diagnosis:

Medial (tibial) hallux sesamoid fracture and tear of the plantar plate and medial sesamoid-phalangeal ligament (turf toe)

Frontal radiograph of the right foot (upper image) demonstrates two distracted components of the fractured medial sesamoid (yellow arrows). Sharp margination of the apposing cortices suggests acute transverse fracture. Coronal T2-weighted MR with fat suppression (lower left image) reveals focal marrow edema in the fractured medial sesamoid (yellow arrow) with surrounding edema. There is linear increased signal (red arrow) at the attachment of the abductor hallucis to the medial sesamoid, consistent with tear. There is a tear of the medial sesamoid–phalangeal ligament (blue arrow). The lateral sesamoid (green arrow) and flexor hallucis longus tendon (white arrow) are intact. Sagittal STIR MR image demonstrates a torn plantar plate (orange arrow).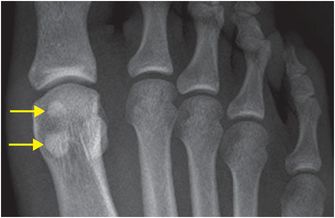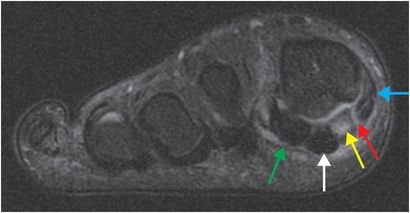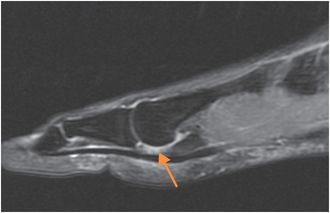 Discussion
Sesamoids are seed-like bones (the word "sesamoid" is derived from a Greek word meaning "resembling a sesame seed") that are embedded in tendons, typically spanning a joint.
Turf toe injuries are a spectrum of injuries of the plantar capsuloligamentous–sesamoid complex.





The abductor hallucis tendon inserts on the medial sesamoid with fibers contributing to the medial capsule.






The adductor hallucis muscle contributes fibers to the lateral sesamoid, capsule, and plantar plate.






Flexor hallucis brevis inserts on the sesamoids, while flexor hallucis longus runs in between the plantar aspect of the sesamoids to continue to the distal phalanx.






The medial and lateral sesamoid–phalangeal ligaments are stabilizing structures.
Imaging of sesamoid injury





Standard weightbearing radiographs are typically the initial imaging modality to assess bone morphology and exclude other causes of first metatarsal pain.






If an abnormality is suspected or if there is a high suspicion for sesamoid injury, then dedicated sesamoid axial and/or oblique stress radiographs can provide optimal visualization.






Bone scan is a sensitive but nonspecific imaging modality. Both feet should be imaged to evaluate for abnormal asymmetric uptake. It is important to note that bone scan may show physiologically increased, symmetric uptake in asymptomatic patients.



Clinical synopsis
Radiographs of the contralateral foot were obtained to exclude traumatic distraction of a bipartite medial sesamoid. The patient underwent open reduction and internal fixation of the medial sesamoid with reconstruction of the first MTP joint. In isolated sesamoid fracture, conservative therapy, such as non-weightbearing for several weeks, is commonly prescribed. Noncompliance can lead to complications such as avascular necrosis.