Fig. 6.1
Left ventricular (LV) volumes and ejection fraction (EF) quantification with 3D echocardiography in a patient with dilated cardiomyopathy (DCM) with severe LV dilatation and dysfunction. The endocardial border is manually traced in the apical four-chamber (
upper left panel
 ), two-chamber (
upper right panel 
), and short-axis (
mid left panel
 ) views, and a 3D LV model is automatically generated (
mid right panel 
); subsequently, 3D LV volumes and EF are measured, and a time–volume change curve of all segments during the cardiac cycle is provided (
lower panel
 ).
EDV
end-diastolic volume,
ESV
end-systolic volume,
SV
stroke volume
Technological advances in the field of cardiac ultrasound have lead to further new noninvasive techniques, such as TDI and speckle-tracking strain imaging, for assessing cardiac mechanics and segmental and global LV function. The peak systolic myocardial velocity S', a simple TDI index of systolic longitudinal function, is a marker of impaired subendocardial fiber contraction and correlates with myocardial fibrosis [
9
]. In addition, strain evaluation (by TDI, 2D and 3D speckle-tracking echocardiography) allows discrimination between active and passive movement of all myocardial segments and permits separate assessments of distinct components of myocardial deformation (i.e., longitudinal versus circumferential shortening and radial thickening) [
10
]. Also, all myocardial deformation parameters, including longitudinal, circumferential, and radial strain and torsion, are reduced in DCM patients (Fig.
6.2
, Clips
6.2a
,
6.2b
, and
6.2c
) [
11
].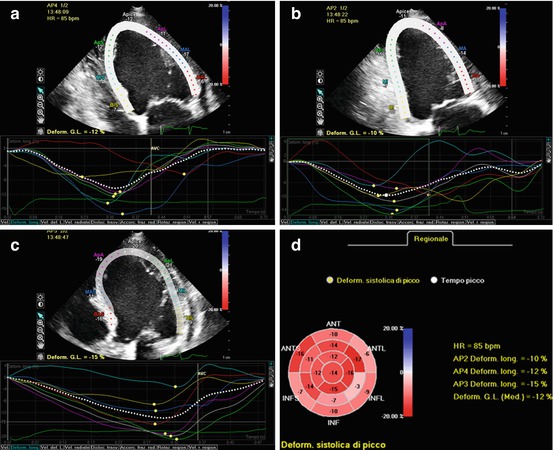 Fig. 6.2
Left ventricular (
LV
) longitudinal strain evaluation by 2D speckle-tracking echocardiography in apical four- (
a
), two- (
b
), and long-axis (
c
) views in a dilated cardiomyopathy (DCM) patient. In each view, the LV region of interest in the 2D speckle-tracking analysis is shown (
upper half of each panel
), together with longitudinal strain curves for each segment (
lower half of each panel
). Final results of the strain analysis for each LV segment are displayed in a bulls-eye plot (
d
). Global longitudinal strain is automatically calculated by the software and is importantly reduced (−12 %)
6.3

Left Ventricular Diastolic Function

TDI of the mitral annulus is a relatively novel method for assessing diastolic function. It is performed in apical four-chamber view, placing the pulsed-wave tissue Doppler on the septal or lateral annulus of the mitral valve (MV), showing a Doppler pattern with E' and A' waves. The ratio of transmitral E velocity to mitral annular E' velocity (E/E') is a marker of left atrial (LA) pressure, is related to exercise capacity in DCM, and provides prognostic value [

12

]. On the other hand, E/E' ratio has a wide grey zone, and its accuracy is questionable, particularly in patients with advanced DCM and severe heart failure (HF). In fact, a study with invasive hemodynamic correlations showed that E/E' ratio had a weak correlation with LV filling pressures in DCM patients, particularly in those with severe LV dilation and after CRT [

13

].

Other new indices for diastolic function evaluation obtained by speckle-tracking analysis are promising. Circumferential strain and strain rate during late diastolic LV filling, E/circumferential strain rate at early diastolic LV filling, and E/circumferential strain at the time of peak E wave showed greater area under the curve than the E/E' ratio for predicting pulmonary capillary wedge pressure (PCWP) >12 mmHg [

14

]. Also, LA strain assessment with speckle-tracking technique demonstrated a better correlation than other Doppler indices, such as E/E' ratio, with LV filling pressure as measured by right catheterization, in patients with advanced systolic HF [

15

]. Specifically, peak atrial longitudinal strain is a parameter for functional assessment of the atrial reservoir phase (which is essential for LV filling), and results progressively reduced with the increase of LV filling pressure. Therefore, peak atrial longitudinal strain demonstrated a strong inverse correlation with PCWP and excellent diagnostic accuracy in predicting elevated filling pressure [

15

].
6.4

Left Ventricular Dyssynchrony