viral infection (CMV, malaria, EBV); congenital disease; metabolic abnormality (Gaucher disease, amyloidosis); neoplasm (leukemia, lymphoma, hemangiomatosis, angiosarcoma)

3. Gynecologic causes:
hemorrhagic ovarian cyst (usually corpus luteal / follicular cyst); ectopic pregnancy; HELLP syndrome; endometriosis; uterine rupture
4. Vascular lesion:
ruptured arterial aneurysm (abdominal aorta, splenic artery, hepatic artery); ruptured pseudoaneurysm (of hepatic, splenic, gastroduodenal artery) in pancreatitis
(b) iatrogenic
1. Anticoagulation (more commonly bleeding into psoas / rectus muscle)
2. Blood dyscrasias
3. Invasive procedure / surgery
GASTROINTESTINAL HEMORRHAGE
Incidence: 1–2% of all hospital admissions (300,000 annually); increasing with age
Age: > 65 years (in 70%); M÷F = 2÷1
◊ Upper GI bleed affects younger, lower GI bleed older patients!
Mortality: 10–40% (highest for variceal bleeding); increases with age, shock, comorbidity
Prognosis: in 75–80% spontaneous resolution; in 25% recurrence
Massive acute GI bleeding can be intermittent from minute to minute. Failure to demonstrate active bleeding may therefore not prove cessation of bleeding!
• positive fecal occult blood test: Hemoccult®
• iron deficiency anemia ← slow intermittent bleed
• hematemesis = vomiting of fresh blood
• coffee-ground vomit ← partially digested dark blood
• melena = black tarry stool
• hematochezia = red blood per rectum chézein , Greek = defecate
Endoscopy (98% sensitive, 100% specific):
1st line tool for diagnosis + therapy of upper GI bleed.
Cause not identified in 20% of lower + 14% of upper GI bleed
NUC (93% sensitive, 95% specific):
CTA (increasing use, sequential to unenhanced CT):
A 3-phase CT angiogram (CTA = unenhanced + arterial + portal venous phase) provides the best and most reproducible results in acute gastrointestinal bleeding with a high degree of accuracy regarding location and cause!
N.B.: Barium / oral contrast may mask acute bleeding site!
√ hyperattenuating blood clot on unenhanced phase
√ extravascular blush best seen in portal venous phase ← enlarging focus of extravasation with higher attenuation
√ varied bleed morphology: linear jetlike / swirled / circular ellipsoid / pooled cloud-shaped / fluid–contrast level
√ cause of hemorrhage identified in 80%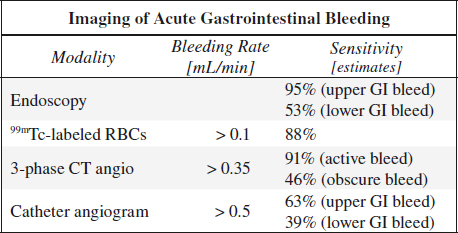 Source:
A. UPPER GASTROINTESTINAL HEMORRHAGE (70%)
= bleeding site proximal to ligament of Treitz
Incidence: 0.1% of all hospital admissions
Mortality: 10%
• hematemesis, coffee-ground emesis, melena
• hematochezia (with rapid bleeding)
◊ Preferred method = endoscopy!
@ Esophagogastric junction
1. Esophageal varices (17–30%): 40% mortality
2. Mallory-Weiss syndrome (7–14%): low mortality
@ Stomach
1. Acute hemorrhagic gastritis (17–27%)
2. Gastric ulcer (10%)
3. Pyloroduodenal ulcer (17–25%)
Mortality: < 10% if under age 60; > 35% if over age 60
@ Other causes:
(a) neoplasm (2–5%)
(b) vascular lesion (2–3%): visceral artery aneurysm, AV malformation, vascular-enteric fistula
Average mortality: 8–10%
Rx:
(1) Transcatheter embolization (method of choice) abundant collaterals except for postoperative stomach
(2) Intraarterial vasopressin infusion (0.2–0.4 U/min)
Prognosis: controls 73% of gastric mucosal bleeding; high recurrence rate
B. LOWER GASTROINTESTINAL HEMORRHAGE (30%)
= bleeding site distal to ligament of Treitz
Incidence: 0.02% of all hospital admissions
Age: 200 x more likely in 80- than in 20-year-old
Mortality: 3.6%
@ Small intestine
tumor (eg, leiomyoma, hemangioma, metastases), ulcer, diverticula (eg, Meckel diverticulum), inflammatory bowel disease (eg, Crohn disease), vascular malformation, visceral artery aneurysm, aortoenteric fistula
@ Colorectal (70%)
› massive bleeding
1. Diverticulum (20–55%)
2. Colonic angiodysplasia (3–40%)
3. Biopsy
› low-rate bleeding
1. Benign / malignant tumor (8–26%)
2. Inflammatory bowel disease (6–22%)
3. Mesenteric varices
Rx:
(1) Intraarterial vasopressin infusion
Prognosis: 90% initial control rate; 30% control rate for recurrent bleeding
(2) Transcatheter embolization requires superselective catheterization using microcatheters + microembolic agents
Cx: 25% risk of bowel infarction + stricture
Obscure GI Bleed
= persisting / recurring bleeding from GI tract without obvious cause after EGD + colonoscopy
Incidence: 5–20% without identifiable bleeding source
Tagged RBC scanning is the most sensitive technique for detecting active arterial + venous bleeding sites over a prolonged period and is useful for intermittent bleeding!
Upper Gastrointestinal Lesion
1. Cameron lesion
= ulcer in hiatal hernia sac with incidence of 5.3%
2. Fundic varices
3. Peptic ulcer
4. Angiectasia
5. Gastric antral vascular ectasia
6. Dieulafoy lesion
[Paul Georges Dieulafoy (1839–1911), French physician and surgeon, chief of Hôtel-Dieu de Paris]
= exulceratio simplex = uncommon developmental large tortuous 1–5 mm submucosal arteriole that erodes and bleeds
Location: on lesser curvature of stomach within 6 cm of GE junction (75%), duodenum (14%), colon (5%)
Middle Gastrointestinal Lesion
(a) in patient < 40 years of age
1. Tumor
2. Meckel diverticulum
3. Dieulafoy lesion
4. Crohn disease
5. Celiac disease
(b) in patient > 40 years of age
1. Angiectasia
2. NSAID enteropathy
3. Celiac disease
(c) uncommon lesion
1. Hemobilia
2. Hemosuccus pancreaticus
3. Aortoenteric fistula
Lower Gastrointestinal Lesion
1. Angiectasia
2. Neoplasm
Gastrointestinal Bleeding in Infant
(1) Peptic ulcer
(2) Varices
(3) Ulcerated Meckel diverticulum
Gastrointestinal Bleeding in Child
(1) Meckel diverticulum
(2) Juvenile polyp
(3) Inflammatory bowel disease
(4) Clotting disorder
(5) Arteriovenous malformation
Intramural Hemorrhage
A. VASCULITIS
1. Henoch-Schönlein purpura
B. TRAUMA
eg, complication of colonoscopic polypectomy
C. COAGULATION DEFECT
1. Anticoagulant therapy
2. Thrombocytopenia
3. Disseminated intravascular coagulation
D. DISEASE WITH COAGULATION DEFECT
1. Hemophilia
2. Leukemia, lymphoma
3. Multiple myeloma
4. Metastatic carcinoma
5. Idiopathic thrombocytopenic purpura
E. ISCHEMIC BOWEL DISEASE (often fatal)
• abdominal pain
• melena
Site: submucosal / intramural / mesenteric
√ "stacked coin" / "picket fence" appearance of mucosal folds ← symmetric infiltration of submucosal blood
√ "thumbprinting" = rounded polypoid filling defect ← focal accumulation of hematoma in bowel wall
√ separation + uncoiling of bowel loops
√ narrowing of lumen + localized filling defects (= asymmetric hematoma)
√ no spasm / irritability
√ mechanical obstruction + proximal distension of loops
US:
√ homogeneously hypoechoic symmetric thickening of a long stretch of affected bowel segment
√ ± preservation of mural stratification
√ marked luminal narrowing
√ normal / diminished / absent vascularity at Doppler
Cx: lead point for intussusception
Prognosis: resolution within 2–6 weeks
Scintigraphy for Gastrointestinal Bleeding
Detection depends on:
(1) Rate of hemorrhage
◊ If bleeding not detectable by RBC scintigraphy, it will not be detectable by angiography!
• RBC scan detects bleeding as low as 0.1 mL/min
• Catheter angiography requires bleeding rates of ≥ 0.5 mL/min:
63% (39%) sensitive for upper (lower) GI bleed
◊ Only 50% of angiograms will be positive after a positive scintigram!
◊ A positive scintigram increases likelihood of a positive angiogram from 22% to 53%!
◊ A hemodynamically unstable patient with systolic pressures < 100 mmHg should go to angiography!
(2) Continuous versus intermittent bleeding: most GI hemorrhages are intermittent
(3) Site of hemorrhage in reference to specific vascular territory: eg, celiac, superior mesenteric, inferior mesenteric artery
(4) Characteristics of radionuclide agent
99mTc-Labeled Autologous RBCs (In Vivtro Labeling Preferred)
◊ Generally preferred and accepted most sensitive imaging method for lower GI bleeding
◊ Serves to triage patients for angiography as a negative exam predicts a negative arteriogram
Indications: acute / intermittent arterial or venous bleeding; NOT useful in occult bleeding
Pharmacokinetics:
» remains in vascular system for a prolonged period
» liver + spleen activity are low allowing detection of upper GI tract hemorrhage
» low target-to-background ratio (high activity in great vessels, liver, spleen, kidneys, stomach, colon; probably related to free pertechnetate fraction)
Dose: 10–25 mCi
Imaging:
(a) flow imaging at 1 frame every 2 sec for 60 seconds immediately after radiotracer injection
(b) functional imaging at a rate of 1 frame per minute for up to 90 minutes presented as cine clips
(c) additional delayed static images at 2, 4, 6, 12 hours up to 24/36 hr as needed, each time coupled with cine loop
◊ Patient can be reimaged within 24 hours without relabeling RBCs when initial scintigram negative!
Localization of bleeding site:
may be difficult ← (1) rapid transit time (bowel motility can be reduced with 1 mg glucagon IV) or ← (2) too widely spaced time intervals; overall 83% positive correlation with angiography
√ progressive tracer accumulation over time in abnormal location
√ change in appearance over time ← bowel peristalsis
√ bleeding site conforms to bowel anatomy (localizing information may be misleading ← forward / backward peristalsis)
Sensitivity:
in 83–93% correctly identified bleeding site (50–85% within 1st hour, may become positive in 33% only after 12–24 hours); collection as small as 5 mL may be detected; superior to sulfur colloid
» 50% sensitivity for blood loss < 500 mL/24 hours
» > 90% sensitivity for blood loss > 500 mL/24 hours
False positives (5%):
(a) free pertechnetate fraction: physiologic uptake in stomach + intestine, renal pelvis + bladder
◊ Spot view of thyroid shows contamination!
(b) hepatic hemangioma, accessory spleen, varices, inflammation, isolated vascular process (AVM, venous / arterial graft)
False negatives: 9% for bleeding of < 500 mL/24 hours
GASTRIC BLEEDING
Initial test: sampling of gastric content via nasogastric tube / upper endoscopy
Cause: varices, peptic ulcer, angiectasia, gastritis
√ frequently stationary position of radiotracer
False positives:
(a) inefficient labeling with free 99mTc pertechnetate in normal gastric mucosa
(b) accumulation in accessory spleen / hepatic hemangioma overlapping stomach
√ absence of peristaltic motion
SMALL BOWEL BLEEDING
Other tests: upper + lower endoscopy, double-balloon enteroscopy, capsule endoscopy
Cause: tumor, Meckel diverticulum, Dieulafoy lesion, angiectasia, Crohn disease, celiac disease, hemobilia, aortoenteric fistula
False positives: inflammatory process with hyperemic accumulation of radiotracer (= fixed activity seen on initial flow images)
COLONIC BLEEDING
Initial test: 99mTc-labeled autologous RBCs
Cause: diverticulosis, angiodysplasia, neoplasm, internal hemorrhoids
False positives: activity in penis / ureter / bladder
◊ Lateral / "tail-on-detector" view!
99mTc-Sulfur Colloid
Indication: bleeding must be active at time of tracer administration; length of active imaging can be increased by fractionating dose
» Disappearance half-life of 2.5–3.5 minutes (rapidly cleared from blood by RES + low background activity)
» Active bleeding sites detected with rates as low as 0.04–0.1 mL/minute
» Not useful for upper GI bleeding (interference from high activity in liver + spleen) or bleeding near hepatic / splenic flexure
Dose: 10 mCi (370 MBq)
Imaging:
every image should have 500,000–1,000,000 counts with oblique + lateral images as necessary
(a) every 5 sec for 1 minute ("flow study" = radionuclide angiogram)
(b) 60-second images at 2, 5, 10, 15, 20, 30, 40, 60 min; study terminated if no abnormality up to 30 minutes
(c) delayed images at 2, 4, 6, 12 hours
√ extravasation of tracer seen in active bleeding
Specificity: almost 100% (rarely false-positive results due to ectopic RES tissue)
False positives: transplanted kidney, ectopic splenic tissue, modified marrow uptake, male genitalia, arterial graft, aortic aneurysm
99mTc-Pertechnetate
Indication: bleeding from functioning heterotopic gastric mucosa in Meckel diverticulum / intestinal duplication; consider in adults up to age 25 years; independent of bleeding rate
Pathophysiology:tracer accumulation in mucus-secreting cells
◊ Avoid barium GI studies + endoscopy + irritating bowel preparation prior to study!
Dose: 5–10 mCi (185–370 MBq)
Imaging:
(a) radionuclide angiogram 2–3 sec/frame for 1st minute
(b) sequential 5-minute images up to 20 minutes with 500,000–1,000,000 counts per image
Sensitivity: > 80%
enhanced by
» fasting for 3–6 hours to reduce gastric secretions passing through bowel
» nasogastric tube suction to remove gastric secretions
» premedication with pentagastrin (6 µg/kg SQ 15 min before study) to stimulate gastric secretion of pertechnetate
» premedication with cimetidine (300 mg qid x 48 hours) to reduce release of pertechnetate from mucosa
» voiding just prior to injection
False positives:
bowel inflammation (Barrett esophagus, duodenal ulcer, ulcerative colitis, Crohn disease), enteric duplication, hemangioma, AV malformation, aneurysm, volvulus, intussusception, urinary obstruction, uterine blush
False negatives:
ulcerated epithelium
HETEROTOPIC GASTRIC MUCOSA
= epithelial lesion
1. Esophagus
2. Duodenum
3. Small bowel
4. Meckel diverticulum
5. Duplication cyst
GI ABNORMALITIES IN CHRONIC RENAL FAILURE AND RENAL TRANSPLANTATION
@ Esophagus
1. Esophagitis: candida, CMV, herpes
@ Stomach & duodenum
1. Gastritis
√ thickened gastric folds (38%)
√ edema + erosions
Cause:
(a) imbalance of gastrin levels + gastric acid secretion due to
(1) reduced removal of gastrin from kidney with loss of cortical mass
(2) impaired acid feedback mechanism
(3) hypochlorhydria
(b) opportunistic infection (eg, CMV)
2. Gastric ulcer (3.5%)
3. Duodenal ulcer (2.4%)
4. Duodenitis (47%)
@ Colon
More severely + frequently affected after renal transplantation
1. Progressive distention + pseudoobstruction
Contributing factors: dehydration, alteration of diet, inactivity, nonabsorbable antacids, high-dose steroids
2. Ischemic colitis
(a) primary disease responsible for end-stage renal disease: eg, diabetes, vasculitis
(b) trauma of renal transplantation
3. Diverticulitis
Contributing factors: chronic obstipation, steroids, autonomic nervous dysfunction
4. Pseudomembranous colitis
5. Uremic colitis = nonspecific colitis
6. Spontaneous colonic perforation
Cause: nonocclusive ischemia, diverticula, duodenal + gastric ulcers
@ Pancreas
1. Pancreatitis
Cause: hypercalcemia, steroids, infection, immunosuppressive agents, trauma
@ General
1. GI hemorrhage
Cause: gastritis, ulcer, colonic diverticula, ischemic bowel, infectious colitis, pseudomembranous colitis, nonspecific cecal ulceration
2. Bowel perforation: in 1–4% of transplant recipients
3. Opportunistic infection
Organism: Candida, herpes, CMV, Strongyloides
4. Malignancy
(a) skin tumors
(b) lymphoma
IMMUNE-MEDIATED GASTROENTEROCOLITIS
1. Celiac disease
2. Eosinophilic esophagitis
3. Eosinophilic gastroenteritis
ENTEROPATHY
Protein-losing Enteropathy
A. DISEASE WITH MUCOSAL ULCERATION
1. Carcinoma
2. Lymphoma
4. Peptic ulcer disease
B. HYPERTROPHIED GASTRIC RUGAE
1. Ménétrier disease
C. NONULCERATIVE MUCOSAL DISEASE
1. Celiac disease
2. Tropical sprue
3. Whipple disease
4. Allergic gastroenteropathy
5. Gastrocolic fistula
6. Villous adenoma of colon
D. LYMPHATIC OBSTRUCTION
1. Intestinal lymphangiectasia
E. HEART DISEASE
1. Constrictive pericarditis
2. Tricuspid insufficiency
Malabsorption
= deficient absorption of any essential food materials within small bowel
A. PRIMARY MALABSORPTION
= the digestive abnormality is the only abnormality present
1. Celiac disease = nontropical sprue
2. Tropical sprue
3. Disaccharidase deficiencies
B. SECONDARY MALABSORPTION
= occurring during course of gastrointestinal disease
(a) enteric
1. Whipple disease
2. Parasites: hookworm, Giardia, fish tapeworm
3. Mechanical defects: fistulas, blind loops, adhesions, volvulus, short circuits
4. Neurologic: diabetes, functional diarrhea
5. Inflammatory: enteritis (viral, bacterial, fungal, nonspecific)
6. Endocrine: Zollinger-Ellison syndrome
7. Drugs: neomycin, phenindione, cathartics
8. Collagen disease: scleroderma, lupus, polyarteritis
9. Lymphoma
10. Benign + malignant small bowel tumors
11. Vascular disease
12. CHF, agammaglobulinemia, amyloid, abetalipoproteinemia, intestinal lymphangiectasia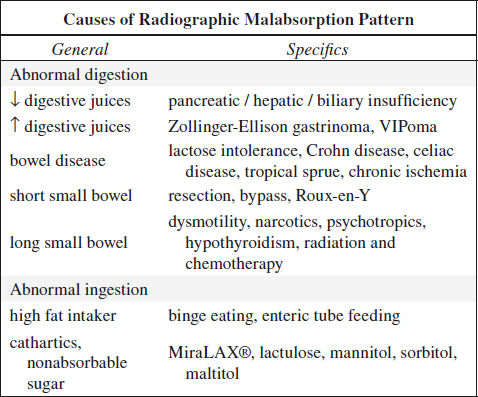 (b) gastric
vagotomy, gastrectomy, pyloroplasty, gastric fistula (to jejunum, ileum, colon)
(c) pancreatic
pancreatitis, pancreatectomy, pancreatic cancer, cystic fibrosis
(d) hepatobiliary
intra- and extrahepatic biliary obstruction, acute + chronic liver disease
Roentgenographic Signs in Malabsorption
√ SMALL BOWEL WITH NORMAL FOLDS + FLUID
1. Maldigestion (deficiency of bile salt / pancreatic enzymes)
2. Gastric surgery
3. Alactasia
√ SMALL BOWEL WITH NORMAL FOLDS + WET
1. Sprue
2. Dermatitis herpetiformis
√ DILATED DRY SMALL BOWEL
1. Scleroderma
2. Dermatomyositis
3. Pseudoobstruction: no peristaltic activity
√ DILATED WET SMALL BOWEL
1. Sprue
2. Obstruction
3. Blind loop
√ THICKENED STRAIGHT FOLDS + DRY SMALL BOWEL
1. Amyloidosis: malabsorption is unusual
2. Radiation
3. Ischemia
4. Lymphoma (rare)
5. Macroglobulinemia (rare)
√ THICKENED STRAIGHT FOLDS + WET SMALL BOWEL
1. Zollinger-Ellison syndrome
2. Abetalipoproteinemia: rare inherited disease characterized by CNS damage, retinal abnormalities, steatorrhea, acanthocytosis
√ THICKENED NODULAR IRREGULAR FOLDS + DRY SMALL BOWEL
1. Lymphoid hyperplasia
2. Lymphoma
3. Crohn disease
4. Whipple disease
5. Mastocytosis
√ THICKENED NODULAR IRREGULAR FOLDS + WET SMALL BOWEL
1. Lymphangiectasia
2. Giardiasis
3. Whipple disease (rare)
Small Bowel Nodularity with Malabsorption
mnemonic: What Is His Main Aim? Lay Eggs, By God
Whipple disease
Intestinal lymphangiectasia
Histiocytosis
Mastocytosis
Amyloidosis
Lymphoma, Lymph node hyperplasia
Edema
Blood
Giardiasis
PET IMAGING OF GI TRACT
GI Cancers with Low / Variable FDG Uptake
1. Any well-differentiated cancer
3. Early MALT lesion
4. Hepatocellular carcinoma
Pathologic Uptake in GI Tract
Preparation: for bowel loop distension a neutral oral contrast agent containing sorbitol and 0.1% barium sulfate (Volumen®) is recommended
@ Esophagus
1. Reflux esophagitis
2. Radiation esophagitis
3. Barrett esophagus
4. Glycogenic acanthosis
5. Esophageal cancer
@ Stomach
1. Gastritis (NSAID, Helicobacter pylori)
2. GIST
3. Lymphoma
4. Adenocarcinoma (variable)
@ Small bowel
1. Inflammatory bowel disease
2. GIST
3. Lymphoma
4. Metastases (melanoma)
@ Colon
1. Inflammatory enterocolitis
2. Appendicitis, diverticulitis, abscess
3. Colon cancer
Abnormal Uptake of Bone Agents in Ascitic, Pleural, Pericardial Effusion
1. Uremic renal disease
2. Infection
3. Malignant effusion
ABDOMINAL MASS
Abdominal Mass in Neonate
A. RENAL (55%)
1. Hydronephrosis (25%)
2. Multicystic dysplastic kidney (15%)
3. Polycystic kidney
4. Mesoblastic nephroma
5. Renal vein thrombosis
B. GENITAL (15%)
1. Ovarian cyst
2. Hydrometrocolpos
C. GASTROINTESTINAL (15%)
1. Duplication
2. Volvulus
3. Cystic meconium peritonitis
4. Mesenteric cyst
D. NONRENAL RETROPERITONEAL (10%)
1. Adrenal hemorrhage
2. Neuroblastoma
3. Teratoma
E. HEPATOBILIARY (5%)
1. Hemangioendothelioma
2. Choledochal cyst
3. Hydrops of gallbladder
Abdominal Mass in Infant & Child
A. RENAL (55%)
1. Wilms tumor (22%)
2. Hydronephrosis (20%)
3. Cystic renal mass
4. Congenital anomaly
B. NONRENAL RETROPERITONEAL (23%)
1. Neuroblastoma (21%)
2. Teratoma
C. GASTROINTESTINAL (18%)
1. Appendiceal abscess (10%)
2. Hepatobiliary (6%)
D. GENITAL (4%)
1. Ovarian cyst / teratoma
2. Hydrometrocolpos
Abdominal Wall Mass
A. TUMOR
(a) benign
1. Desmoid tumor / fibromatosis
2. Lipoma
3. Neuroma
4. Hemangioma
(b) malignant
1. Metastatic implants
2. Primary malignancy
3. Lymphoma
B. COLLECTION
1. Hematoma / seroma
2. Abscess
C. HERNIA / REPAIR
1. Incisional hernia
2. Retained surgical material
3. Suture granuloma
4. Keloid
5. Endometriosis
ABNORMAL INTRAABDOMINAL AIR
Abnormal Air Collection
1. Abnormally located bowel = Chilaiditi syndrome
= symptomatic hepatodiaphragmatic interposition of colon between liver and chest wall
Prevalence: 0.025%–0.28%
Cause: increased colonic mobility, reduced liver volume, lax suspensory ligament, phrenic nerve palsy, obesity
2. Pneumoperitoneum
3. Retropneumoperitoneum perforation of duodenum / rectum / ascending + descending colon, diverticulitis, ulcerative disease, endoscopic procedure
4. Gas in bowel wall gastric pneumatosis, phlegmonous gastritis, endoscopy, rupture of lung bulla
5. Gas within abscess located in subphrenic, renal, perirenal, hepatic, pancreatic space, lesser sac
6. Gas in biliary system = pneumobilia
7. Gas in portal venous system
Pneumoperitoneum
Cause:
A. DISRUPTION OF WALL OF HOLLOW VISCUS
(a) trauma
(b) iatrogenic perforation
(c) diseases of GI tract
1. Perforated gastric / duodenal ulcer
2. Perforated appendix
3. Ingested foreign-body perforation
4. Diverticulitis: ruptured Meckel diverticulum / sigmoid diverticulum, jejunal diverticulosis)
5. Necrotizing enterocolitis with perforation
6. Inflammatory bowel disease: eg, toxic megacolon
7. Obstruction† (gas traversing intact mucosa): neoplasm, imperforate anus, Hirschsprüng disease, meconium ileus
8. Ruptured pneumatosis cystoides intestinalis† with "balanced pneumoperitoneum" (= free intraperitoneal air acts as tamponade of pneumatosis cysts thus maintaining a balance between intracystic air + pneumoperitoneum)
9. Idiopathic gastric perforation = spontaneous perforation in premature infants: congenital gastric muscular wall defect
B. THROUGH PERITONEAL SURFACE
(a) transperitoneal manipulation
1. Abdominal needle biopsy / catheter placement
2. Mistaken thoracentesis / chest tube placement
3. Endoscopic biopsy
(b) extension from chest†
1. Pneumothorax: ventilation, chest injury
2. Dissection from pneumomediastinum: positive pressure breathing, rupture of bulla / bleb, chest surgery
3. Bronchopleural fistula
(c) intraperitoneal rupture of urinary bladder with indwelling Foley catheter / retrograde cystography
(d) penetrating abdominal injury
C. THROUGH FEMALE GENITAL TRACT†
(a) iatrogenic
1. Perforation of uterus / vagina
2. Culdocentesis
3. Rubin test = tubal patency test
4. Pelvic examination
(b) spontaneous
1. Intercourse, orogenital insufflation
2. Douching
3. Knee-chest exercise, water skiing, horseback riding
D. INTRAPERITONEAL
1. Gas-forming peritonitis
2. Rupture of abscess
Note † = asymptomatic spontaneous pneumoperitoneum without peritonitis
√ air in lesser peritoneal sac
√ gas in scrotum ← open processus vaginalis
Large collection of gas:
√ "abdominal distension, NO gastric air-fluid level
√ "football" sign = large pneumoperitoneum outlining entire abdominal cavity
√ "double wall / bas-relief" sign = Rigler sign
[Leo Rigler (1896–1979), radiologist in Minneapolis, USA]
= air outlining the luminal + serosal surface of the bowel wall with patient in supine position (usually requires > 1,000 mL of free intraperitoneal gas + intraperitoneal fluid)
√ "telltale triangle" sign = triangular air pocket between 3 loops of bowel
√ depiction of diaphragmatic muscle slips = two or three 6–13-cm long and 8–10-mm wide arcuate soft-tissue bands directed vertically inferiorly + arching parallel to diaphragmatic dome superiorly
√ outline of ligaments of anterior inferior abdominal wall:
√ "inverted V" sign = outline of both lateral umbilical ligaments (containing inferior epigastric vessels)
√ outline of medial umbilical ligaments (= obliterated umbilical arteries)
√ "urachus" sign = outline of middle umbilical ligament
RUQ gas (best place to look for small collections):
√ single large area of hyperlucency over the liver
√ oblique linear area of hyperlucency outlining the posteroinferior margin of liver
√ "doge's cap" sign = triangular collection of gas in Morison pouch (posterior hepatorenal space)
√ outline of falciform ligament = long vertical line to the right of midline extending from ligamentum teres notch to umbilicus; most common structure outlined
√ "ligamentum teres" sign = air outlining fissure of ligamentum teres hepatis (= posterior free edge of falciform ligament) seen as vertically oriented sharply defined slitlike / oval area of hyperlucency between 10th and 12th rib within 2.5–4.0 cm of right vertebral border 2–7 mm wide and 6–20 mm long
√ ligamentum teres notch = inverted V-shaped area of hyperlucency along undersurface of liver
√ "saddlebag / mustache / cupola" sign = gas trapped below central tendon of diaphragm
√ parahepatic air = gas bubble lateral to right edge of liver
US (85.7% sensitive, 99.6% specific):
√ enhancement of peritoneal stripe
Note: normal peritoneal stripe = single / double hyperechoic line deep to anterior abdominal wall
√ posterior shadowing / reverberation artifacts depending on amount of free air
DDx: intraluminal bowel gas (associated with normal overlying peritoneal stripe)
Iatrogenic Pneumoperitoneum
1. Laparotomy / laparoscopy (58%)
absorbed in 1–24 days dependent on initial amount of air introduced and body habitus (80% in asthenic, 25% in obese patients)
◊ After 3 days free air should be followed with suspicion!
2. Leaking surgical anastomosis
3. Peritoneal dialysis
4. Feeding tube placement
5. Endoscopic perforation
6. Enema tip injury
7. Use of gynecologic instruments
8. Vigorous respiratory resuscitation
9. Diagnostic pneumoperitoneum
10. Diagnostic peritoneal lavage
Miscellaneous Causes of Pneumoperitoneum
1. Drugs: steroids, NSAID
2. Pneumatosis coli / intestinalis
3. Entry through female genital tract: douching, sexual intercourse, insufflation
Spontaneous Pneumoperitoneum
1. Perforated peptic ulcer
2. Ischemia
3. Bowel obstruction
4. Toxic megacolon
5. Inflammation: appendicitis, tuberculosis, necrotizing enterocolitis
6. Benign pneumoperitoneum of systemic sclerosis
7. Malignancy (8–10%): colorectal carcinoma (3–10%), gastrointestinal lymphoma
√ depiction of primary malignancy + site and extent of perforation
√ pneumoperitoneum
√ extravasation of bowel content + oral contrast
√ contained leak
√ gas within tumor
√ formation of enteroenteric fistula
Traumatic Pneumoperitoneum
(a) Blunt trauma
(b) Penetrating trauma:
1. Perforating foreign body: eg, thermometer injury to rectum, vaginal stimulator in rectum
2. Barotrauma:
(a) compressor air directed toward anus
(b) pulmonary barotrauma
(c) mechanical ventilation
Pseudopneumoperitoneum
= process mimicking free air
A. ABDOMINAL GAS
= presence of gas confined to inner layer of abdominal wall but external to parietal peritoneum
(a) gastrointestinal gas
1. "Pseudo-wall" sign = apposition of gas-distended bowel loops
2. Chilaiditi syndrome
3. Diaphragmatic hernia
4. Diverticulum of esophagus / stomach / duodenum
(b) extraintestinal gas
1. Retroperitoneal air: eg, rectal injury
2. Subdiaphragmatic abscess
B. CHEST
1. Pneumothorax
2. Empyema
3. Irregularity of diaphragm
4. Rib fracture
C. FAT
1. Subdiaphragmatic intraperitoneal fat
2. Interposition of omental fat between liver + diaphragm
Pneumoretroperitoneum
Cause:
(1) Traumatic rupture: usually duodenum
(2) Perforation of duodenal ulcer
(3) Gas abscess of pancreas (usually extends into lesser sac)
(4) Urinary tract gas: trauma, infection
(5) Dissected mediastinal air
√ kidney outlined by gas
√ outline of psoas margin ± gas streaks in muscle bundles
Pneumatosis Intestinalis
= PNEUMATOSIS CYSTOIDES INTESTINALIS = BULLOUS EMPHYSEMA OF THE INTESTINE = INTESTINAL GAS CYSTS = PERITONEAL LYMPHOPNEUMATOSIS
= cystic / linear gas collection in bowel wall
Cause:
◊ Attributed to at least 58 causative factors!
A. BOWEL NECROSIS / GANGRENE
◊ Most common + life-threatening cause!
Pathogenesis: damage + disruption of mucosa with entry of gas-forming bacteria into bowel wall (cysts contain 50% hydrogen = evidence of bacterial origin)
Necrotizing enterocolitis, ischemia + infarction (mesenteric thrombosis), neutropenic colitis, sepsis, volvulus, strangulation, emphysematous gastritis, caustic ingestion