Presentation and Presenting Images

( ▶ Fig. 24.1, ▶ Fig. 24.2, ▶ Fig. 24.3, ▶ Fig. 24.4, ▶ Fig. 24.5, ▶ Fig. 24.6, ▶ Fig. 24.7, ▶ Fig. 24.8, ▶ Fig. 24.9, ▶ Fig. 24.10, ▶ Fig. 24.11, ▶ Fig. 24.12)
A 48-year-old female treated for right breast cancer 2 years ago presents for screening mammography. The tomosynthesis images obtained when she was diagnosed with breast cancer are included for comparison.
24.2

Key Images


( ▶ Fig. 24.13, ▶ Fig. 24.14, ▶ Fig. 24.15, ▶ Fig. 24.16, ▶ Fig. 24.17, ▶ Fig. 24.18, ▶ Fig. 24.19, ▶ Fig. 24.20, ▶ Fig. 24.21, ▶ Fig. 24.22, ▶ Fig. 24.23, ▶ Fig. 24.24)



24.2.1

Breast Tissue Density


The breasts are heterogeneously dense, which may obscure small masses.



24.2.2
Imaging Findings
There is architectural distortion associated with postsurgical clips in the right breast in posterior depth, at 8 to 9 o'clock and 7 cm from the nipple (box in ▶ Fig. 24.13, ▶ Fig. 24.14, ▶ Fig. 24.16, and ▶ Fig. 24.21). In this same location, prior imaging shows a 1.7-cm spiculated mass (circle in ▶ Fig. 24.18, ▶ Fig. 24.19, and ▶ Fig. 24.20) corresponds to one of the palpable masses (solid arrow). The spiculated morphology of this mass is better seen on the tomosynthesis images ( ▶ Fig. 24.23 and ▶ Fig. 24.24).
The mastopexy scars are seen as straight lines on both the two-dimensional (2D) mammography and on tomosynthesis (broken arrows in ▶ Fig. 24.14, ▶ Fig. 24.15, ▶ Fig. 24.16, and ▶ Fig. 24.17). The mastopexy scars are best demonstrated on current right lateromedial (LM) tomosynthesis slice 41 of 84 ( ▶ Fig. 24.21) and left LM tomosynthesis slice 39 of 85 ( ▶ Fig. 24.22).
24.3

BI-RADS Classification and Action


Category 2: Benign



24.4
Differential Diagnosis





Postsegmentectomy and mastopexy scars: There has been interval surgical removal of the spiculated mass. In addition, there are contouring changes of the breast tissue consistent with mastopexy. Many surgical procedures today try to minimize the external scarring; however, the characteristic internal changes are clearly seen on mammography and especially on tomosynthesis. It is important to be aware of these scar characteristics.






Recurrent disease: There are no findings to suggest recurrence in this case. Recurrence can be as a mass, calcifications, developing asymmetry, or an architectural distortion. It does not need to match the morphology of the original cancer.






Radial scar: The architectural distortion in this case is most consistent with the history of lumpectomy for breast malignancy.
24.5
Essential Facts





It is routine practice to compare current and prior mammograms. In fact, fewer abnormal interpretations are made when prior mammograms are available for comparison. Mammogram comparison results in cost savings and reduced morbidity with no further work-up, a reduced callback rate, reduced patient anxiety, reduced false-positives, and fewer biopsies for benign findings.






The mammogram comparison and tomosynthesis images in this case reveal no findings concerning for new or recurrent malignancy and demonstrate new postsurgical changes of the right breast segmentectomy (box) and the bilateral mastopexies (broken arrows). The spiculated mass (circle) seen on the prior imaging has been surgically removed.






An imaging finding to be aware of over time with surgical intervention, lumpectomy, or cosmetic surgery is the presence of fat necrosis. It can have variable appearances and can mimic cancer recurrence.
24.5.1
Management and Digital Breast Tomosynthesis Principles





Although there are no scholarly articles that specifically address the comparison of tomosynthesis imaging over time, the importance of comparison if available is essential to optimal breast imaging interpretation.






Obtaining the 2D mammograms along with tomosynthesis images allowed direct comparison between them. Having prior tomosynthesis images allowed direct comparison between both 2D mammograms and tomosynthesis images before and after cancer treatment which increases the accuracy of interpretation.
24.6

Further Reading


[1] Friedewald SM, Rafferty EA, Rose SL, et al. Breast cancer screening using tomosynthesis in combination with digital mammography. JAMA. 2014; 311(24): 2499‐2507 PubMed




[2] Rose SL, Tidwell AL, Bujnoch LJ, Kushwaha AC, Nordmann AS, Sexton RJr. Implementation of breast tomosynthesis in a routine screening practice: an observational study. AJR Am J Roentgenol. 2013; 200(6): 1401‐1408 PubMed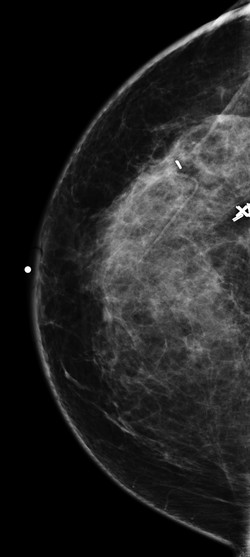 Fig. 24.1 Right craniocaudal (RCC) mammogram.