Presentation and Presenting Images

( ▶ Fig. 82.1, ▶ Fig. 82.2, ▶ Fig. 82.3, ▶ Fig. 82.4, ▶ Fig. 82.5, ▶ Fig. 82.6, ▶ Fig. 82.7, ▶ Fig. 82.8, ▶ Fig. 82.9)
A 60-year-old female with a history of a benign stereotactic biopsy 15 years ago diagnosed as sclerosing adenosis, presents with a new palpable abnormality marked with a BB.
82.1.1

Breast Tissue Density


The breasts are heterogeneously dense, which may obscure small masses.



82.1.2
Imaging Findings
The two-view diagnostic conventional digital mammogram and the digital breast tomosynthesis (DBT) images ( ▶ Fig. 82.1, ▶ Fig. 82.2, ▶ Fig. 82.3 and ▶ Fig. 82.4) reveal that the palpable mass, marked with a BB, corresponds to an irregular high-density mass with spiculated margins at the 11 o'clock location, 2 cm from the nipple ( ▶ Fig. 82.5 and ▶ Fig. 82.6). This mass measures 3.3 × 1.3 × 1.7 cm, and there is associated nipple retraction ( ▶ Fig. 82.5 and ▶ Fig. 82.7). A clip is present from a prior stereotactic biopsy. The calcifications ( ▶ Fig. 82.7 and ▶ Fig. 82.8) have remained stable for the last 8 years (not shown). An ultrasound was recommended for further evaluation.
82.2

Diagnostic Images


( ▶ Fig. 82.10, ▶ Fig. 82.11, ▶ Fig. 82.12, ▶ Fig. 82.13, ▶ Fig. 82.14, ▶ Fig. 82.15, ▶ Fig. 82.16)






82.2.1

Imaging Findings


The targeted ultrasound of the palpable mammographic finding reveals a 1.9 × 2.1 × 0.8 cm hypoechoic irregular mass with spiculated and angulated margins ( ▶ Fig. 82.10 and ▶ Fig. 82.11). This mass was biopsied with ultrasound guidance along with a suspicious axillary lymph node (not shown). The postprocedure mammogram ( ▶ Fig. 82.12 and ▶ Fig. 82.13) demonstrates the coil biopsy marker very close to the prior biopsy marker. To evaluate the extent of disease, magnetic resonance imaging (MRI) was performed that revealed a larger mass than noted on DBT or ultrasound, measuring 3.8 × 2.5 × 3.3 cm ( ▶ Fig. 82.14). Note that the signal void from the biopsy clip is in the center of the mass ( ▶ Fig. 82.15 and ▶ Fig. 82.16).



82.3

BI-RADS Classification and Action


Category 5: Highly suggestive of malignancy



82.4
Differential Diagnosis





Invasive lobular carcinoma (ILC): This mass appeared to incorporate itself into the breast tissue present. At the time of diagnosis, when it became symptomatic, it was quite large. These characteristics are compatible with an invasive lobular carcinoma. Pathology revealed a grade 2 invasive lobular carcinoma that was 3.5 cm.






Invasive ductal carcinoma (IDC): Due to the overlap in imaging features, invasive ductal carcinoma would be a concordant diagnosis.






Sclerosing adenosis: Sclerosing adenosis can present as a mass, an architectural distortion, or calcifications. A biopsy result for this lesion revealing sclerosing adenosis would be considered discordant despite the prior biopsy of sclerosing adenosis. The imaging features suggest a much more aggressive process.
82.5
Essential Facts





The mammogram demonstrated increased density within the dense breast tissue in the area of clinical concern. The DBT better revealed the mass located within this dense breast tissue. An ultrasound would have been done due to the palpable nature of the mass; however, the DBT was able to evaluate the size and margins of the lesion.






ILC accounts for 10 to 15% of breast cancers.






Similar to IDC, the most prognostic factor for ILC is lymph node status. This patient did have axillary metastases.






ILC has a high tendency of positive margins at surgical excision; thus, MRI is often helpful to assess the extent of disease to optimize surgical resection.






Compared to IDC, ILC has a higher tendency to be multifocal, multicentric, or bilateral.






Stage for stage, ILC and IDC have similar prognoses.
82.6
Management and Digital Breast Tomosynthesis Principles





DBT in diagnostic mammography provides an opportunity to evaluate all of the breast tissue for related pathology. The spot-compression mammographic views are helpful to assess a focal issue; however, DBT may provide a better overview of the clinical process.






DBT may allow for better assessment of lesion size compared to FFDM (especially when the lesion is located in dense tissue) and provide a better estimate of pathologic size. This may afford more accurate preoperative tumor staging.






The lesion size in this case was very similar on DBT (maximum 3.3 cm) and MRI (maximum 3.8 cm) compared to the final pathology size of 3.5 cm. Ultrasound underestimated the tumor size (maximum 2.1 cm).






DBT can significantly reduce the anatomical noise that obscures small lesions. But DBT offers only marginal improvement in visualizing problematic growth patterns of large tumors including multifocality, diffuse infiltration, architectural distortion without evident tumor mass, and grade 3 tumors with nonspecific features that make them difficult to differentiate from normal breast tissue.
82.7

Further Reading


[1] Förnvik D, Zackrisson S, Ljungberg O, et al. Breast tomosynthesis: Accuracy of tumor measurement compared with digital mammography and ultrasonography. Acta Radiol. 2010; 51(3): 240‐247 PubMed




[2] Lopez JK, Bassett LW. Invasive lobular carcinoma of the breast: spectrum of mammographic, US, and MR imaging findings. Radiographics. 2009; 29(1): 165‐176 PubMed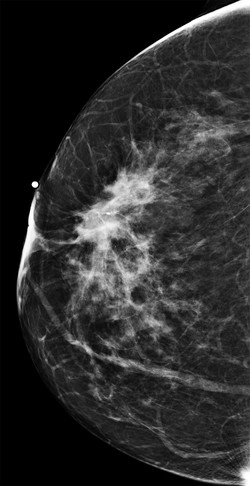 Fig. 82.1 Right craniocaudal (RCC) mammogram.