Arthritis and Other Abnormalities of the Subtalar Joint
Anatomic Considerations
The subtalar joint, (which is also known as the talocalcaneal joint) is a condyloid synovial plane-type articulation between the talus and calcaneus which allows eversion and inversion of the ankle (
Figs. 2.1
and
2.2
). The articular surfaces are covered with hyaline cartilage, which are susceptible to arthritis. The joint is completely surrounded by a dense capsule that provides support to the joint. The majority of strength to the subtalar joint is provided by the medial and lateral talocalcaneal ligaments and the interosseous ligament (
Fig. 2.3
). The joint capsule is lined with a synovial membrane that attaches to the articular cartilage and may give rise to bursae. In addition to arthritis, the tibiofibular joint is susceptible to the development of tendinitis, bursitis, and disruption of the ligaments, cartilage, and tendons.
Clinical Correlates
The subtalar joint, which is also known as the talocalcaneal joint, is a condyloid synovial plane-type articulation between the talus and calcaneus which allows eversion and inversion of the ankle (
Fig. 2.1
). The joint's articular cartilage is susceptible to damage, which left untreated, will result in arthritis with its associated pain and functional disability (
Fig. 2.4
). Osteoarthritis of the joint is the most common form of arthritis that results in subtalar joint pain and functional disability, with rheumatoid arthritis and post-traumatic arthritis also causing arthritis of the subtalar joint. The joint is commonly injured, with sports injuries from basketball, football, tennis, and cross country running being frequent causes of pain and functional disability. Less common causes of arthritis-induced subtalar joint pain include the collagen vascular diseases, infection,
synovial cysts, villonodular synovitis, tumors, and Lyme disease (
Fig. 2.5
). Acute infectious arthritis of the subtalar joint is best treated with early diagnosis, with culture and sensitivity of the synovial fluid and prompt initiation of antibiotic therapy (
Fig. 2.6
). The collagen vascular diseases generally manifest as a polyarthropathy rather than a monoarthropathy limited to the subtalar joint, although subtalar pain secondary to the collagen vascular diseases responds exceedingly well to ultrasound-guided intra-articular injection of the subtalar joint.
FIGURE 2.2
Most of the strength of the subtalar joint is provided by the medial and lateral talocalcaneal ligaments and the interosseous ligament.
Patients with subtalar joint pain secondary to arthritis and collagen vascular disease related joint pain complain of pain that is localized deep within the heel. Activity, especially involving inversion of the joint makes the pain worse, with rest and heat providing some relief. The pain is constant and characterized as aching. Sleep disturbance is common with awakening when the patient rolls over onto the affected subtalar joint. Some patients complain of a grating, catching, or popping sensation with range of motion of the joint, and crepitus may be appreciated on physical examination.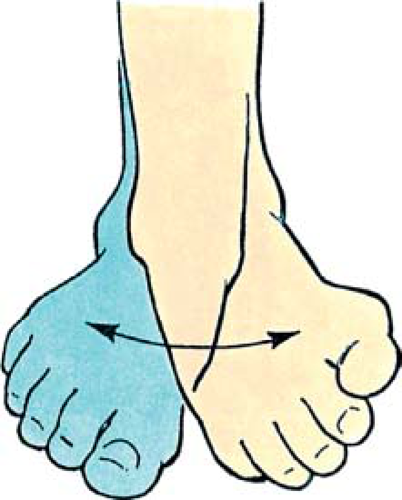 FIGURE 2.3
Inversion and eversion of foot at subtalar and transverse tarsal joints.
Premium Wordpress Themes by UFO Themes
WordPress theme by UFO themes