Presentation and Presenting Images

A 64-year-old female presents for asymptomatic screening mammography.
68.2

Key Images


( ▶ Fig. 68.3)



68.2.1

Breast Tissue Density


There are scattered areas of fibroglandular density.



68.2.2
Imaging Findings
The patient had a conventional digital screening mammogram. There is an asymmetry located just medial to the nipple in the middle depth on the craniocaudal (CC) view of the right breast ( ▶ Fig. 68.3). The left breast mammogram was normal. (not shown).
68.3

BI-RADS Classification and Action


Category 0: Mammography: Incomplete. Need additional imaging evaluation and/or prior mammograms for comparison.



68.4

Diagnostic Images 1


( ▶ Fig. 68.4, ▶ Fig. 68.5, ▶ Fig. 68.6, ▶ Fig. 68.7, ▶ Fig. 68.8)



68.4.1

Imaging Findings


The main goal is to determine if this asymmetry is real and if it is, to localize it on the mediolateral oblique/ mediolateral (MLO/ML) projection. The rolled view confirms that the asymmetry is real ( ▶ Fig. 68.4 and ▶ Fig. 68.5). The repeat MLO and ML view ( ▶ Fig. 68.6 and ▶ Fig. 68.7) still does not define this asymmetry. The CC digital breast tomosynthesis (DBT) was performed to determine, by slice location, if it can be localized for further evaluation. The asymmetry is best seen on slice 36 of 57 ( ▶ Fig. 68.8), suggesting that it is near the middle but slightly superior to the middle.



68.5

Diagnostic Images 2


( ▶ Fig. 68.9; ▶ Fig. 68.10; ▶ Fig. 68.11; ▶ Fig. 68.12; ▶ Fig. 68.13; ▶ Fig. 68.14)



68.5.1

Imaging Findings


The additional imaging does not define a clear lesion on the spot-compression MLO or ML views ( ▶ Fig. 68.10 and ▶ Fig. 68.11). Mammographically this mass is oval with indistinct and obscured margins and measures 9 mm in greatest dimension. The DBT images have determined that the mass is near the middle of the superior to inferior extent of the breast. This helps to localize the ultrasound search so that the reader can be confident that the area investigated on the ultrasound correlates to that of the finding on the mammogram. The ultrasound reveals a 9-mm oval hypoechoic mass with circumscribed and microlobulated margins located at the 3 o'clock location, 3 cm from the nipple ( ▶ Fig. 68.12). There is mild posterior enhancement on the right side of the mass. Although this mass may have several features that suggest it is benign, this mass was new on mammography, and so was biopsied by ultrasound. A ribbon clip was placed and a postbiopsy mammogram obtained ( ▶ Fig. 68.13 and ▶ Fig. 68.14).




( ▶ Fig. 68.15)



68.6

BI-RADS Classification and Action


Category 4B: Moderate suspicion for malignancy



68.7
Differential Diagnosis





Invasive cancer (grade 3 invasive ductal carcinoma [IDC] with medullary features): Medullary carcinomas have a tendency to have benign imaging features. Historically these masses have been assessed as being benign by imaging, only to demonstrate an increase in size at follow-up.






Fibroadenoma: This mass had several benign attributes; however, this mass was new and warranted a biopsy. A biopsy result of fibroadenoma would not have been concordant.






Complicated cyst: Sonographically this mass could be mistaken for a cyst. However, the indistinct margins that were seen on the full-field digital mammography (FFDM) and digital breast tomosynthesis (DBT) images suggested that this mass should be biopsied.
68.8
Essential Facts





Medullary carcinoma constitutes about 5% of breast cancers.






Medullary carcinoma typically presents as a partially or well-circumscribed mass and, compared to other breast cancers, has benign features. It is often termed the circumscribed carcinoma.






Mammographically, medullary carcinoma lesions appear as round or oval non-calcified masses.






Sonographically, medullary carcinoma lesions are hypoechoic with mostly circumscribed margins and occasionally microlobulated margins. Often they have posterior acoustic enhancement, thus displaying a pseudocystic appearance.






In medullary carcinoma, central necrosis is common in large tumors.






Medullary carcinoma's benign imaging features can also be confused for lymphoma.






Axillary adenopathy is common at presentation for medullary carcinoma. These appear to be reactive and not metastatic.
68.9
Management and Digital Breast Tomosynthesis Principles





Step obliques and rolled views are diagnostic methods used to localize lesions that are often only seen on one view.






DBT has the ability to localize a lesion from one view to its orthogonal location.






The slider tool ( ▶ Fig. 68.15) that is present in some form on the imaging workstation allows the user to localize a mass by identifying the slice number of the one view in the stack, and by the orientation of the slider, can determine the head/foot or medial/lateral location of that view within the stack.






As a result of localizing a one-view finding at a certain location within an image stack, the slider tool provides the reader the ability to triangulate the location in the other imaging plane. If the lesion is a mass, this localization can help focus a targeted ultrasound and improve correlation of the mammographic and sonographic findings.
68.10

Further Reading


[1] Cohen Y. Tomosynthesis assisting in localization of breast lesions for ultrasound targeting seen on one mammographic view only. AJR Am J Roentgenol. 2014; 203(5): W555‐W555 PubMed




[2] Meyer JE, Amin E, Lindfors KK, Lipman JC, Stomper PC, Genest D. Medullary carcinoma of the breast: mammographic and US appearance. Radiology. 1989; 170 1 Pt 1: 79‐82 PubMed




[3] Yilmaz E, Lebe B, Balci P, Sal S, Canda T. Comparison of mammographic and sonographic findings in typical and atypical medullary carcinomas of the breast. Clin Radiol. 2002; 57(7): 640‐645 PubMed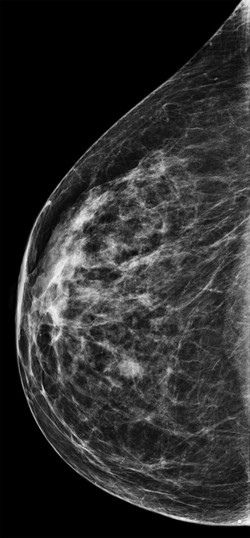 Fig. 68.1 Right craniocaudal (RCC) mammogram.