15.2 Approach to AXR interpretation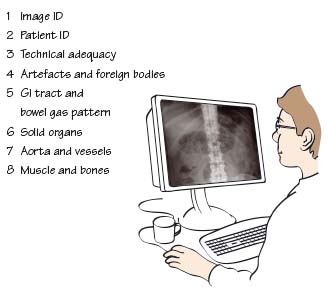 (see Chapter 7)
The imaging referral form is a legal document. The referrer carries the responsibility to ensure the correct and complete information is conveyed to the Imaging Department so that the patient is appropriately diagnosed and managed.


Patient identification: The referrer must ensure that the Imaging Department receives the correct identification details of the patient to be investigated: full name, date of birth and hospital identification number are the essentials.

Clinical status: The referrer must convey the patient's clinical condition and urgency of the referral to the Imaging Department. In nearly all cases, the AXR is a non-urgent investigation and is superseded by primary resuscitation, and if indicated, other imaging modalities, e.g. CT. If there is doubt a senior team member should consult the radiologist.

Patient mobility: Most AXRs are performed AP supine, thus patient mobility is less of a problem compared with performing a PA CXR. An erect CXR and lateral decubitus films may be requested to assess air-fluid levels and pneumoperitoneum in bowel obstruction, ileus and acute abdominal trauma. In such cases, the referrer must consider the status of the patient and the feasibility of performing such a study.

Patient location and travel details: The need for a clinical escort should be conveyed and the points of departure and return and contact details must also be notified to the Imaging Department to ensure the patient is transferred safely and efficiently.

Indications: The AXR adds a more limited input to the diagnostic process compared with the CXR. However the radiation exposure during an AXR is 35 times higher compared with the CXR. The AXR is most useful in the setting of the acute abdomen, especially in diagnosing bowel obstruction, and may guide further imaging.

Contraindications: It is important to note that the AXR exposes the female reproductive organs to ionising radiation and thus the referrer must take a history of the last menstrual period to check she is not pregnant before requesting an AXR. If there is any doubt and the situation is not an emergency, the referrer should delay the investigation, consider ultrasound, or consult the radiologist.
When approaching any radiographic image it is essential to have a structured approach. This ensures that all the aspects of the image are assessed in a comprehensive manner and the acquired information can then be integrated into the clinical scenario to proceed to a logical diagnosis. The approach to the AXR includes the following steps: