Abstract
Bilateral renal agenesis is the congenital absence of both kidneys and ureters. Also known as Potter syndrome, it is a lethal anomaly in which absence of the kidneys results in lack of amniotic fluid and pulmonary hypoplasia, along with characteristic facies and positional extremity abnormalities. Fetal urine production is the major source of amniotic fluid production after 18 weeks' gestation, and a lack of amniotic fluid after this gestational age supports the diagnosis. When the kidneys are absent, the adrenal glands fill the renal fossae bilaterally, and color Doppler imaging of the descending aorta fails to demonstrate either renal artery. Associated anomalies and aneuploidy are common. Bilateral renal agenesis is also a component of several genetic syndromes. First-degree relatives may be at increased risk for other renal anomalies.
Keywords
Potter syndrome, oligohydramnios sequence, lying-down adrenal sign

Introduction
Bilateral renal agenesis is a uniformly lethal anomaly. Absence of the kidneys causes anhydramnios, resulting in pulmonary hypoplasia, characteristic facies, and positional extremity abnormalities ( Fig. 10.1 ). This constellation of findings was first described by Edith Potter, and bilateral renal agenesis has been termed Potter syndrome . The deformation sequence itself, which can occur following lack of amniotic fluid from any early insult (not merely from renal agenesis), is known as the oligohydramnios sequence or Potter sequence .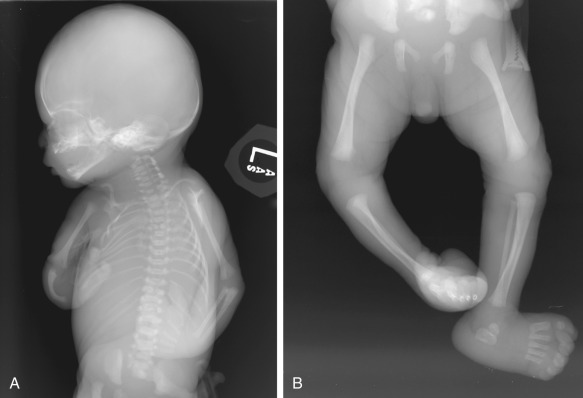 It is often challenging to diagnose absence of a structure, and bilateral renal agenesis can be particularly challenging because the lack of amniotic fluid impairs visualization. However, in population-based registries, renal agenesis has been diagnosed prenatally in about 90% of cases.
Premium Wordpress Themes by UFO Themes
WordPress theme by UFO themes