Fig. 30.1
Superior axial illustration of the pelvic diaphragm demonstrates the relationship of the levator ani, composed of the puborectalis, pubococcygeus, and iliococcygeus, and the coccygeus muscles to the female urethra, vagina, and rectum. The muscles of the urogenital diaphragm form the pelvic floor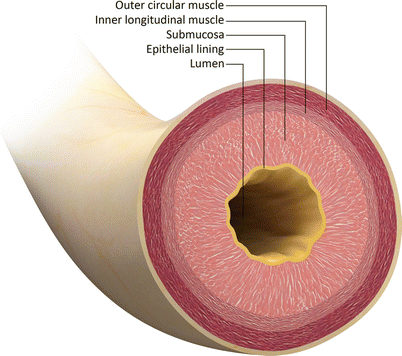 Fig. 30.2
Transverse schematic through the urethra shows the concentric anatomic layers. The urethral lumen is enclosed by the epithelial mucosa. Submucosa surrounds the mucosal layer. The external layer is composed of smooth muscle: an inner longitudinal layer and an outer circular layer
Imaging Techniques of the Female Urethra
VCUG and retrograde double-balloon positive-pressure urethrography are the classically utilized techniques in evaluating female urethral pathology. In more recent years, US and MR imaging have supplanted these conventional techniques.
Ultrasound
Transvaginal, transperineal, and transurethral US allow assessment of the urethra, bladder, and pelvic organs in a cost-effective manner without radiation. For transvaginal US, a 5–9-MHz curved array transducer is placed approximately 1–2 cm into the vagina. For transperineal US, a 5–10-MHz linear-array transducer is placed on the perineum between the labia. For transurethral US, a 12.5-MHz endoluminal transducer is placed directly into the urethra [
7
]. Patients are typically studied in a lithotomy position with a partially filled bladder. Transperineal sonography enables dynamic evaluation of the perineum and urethra at rest and with valsalva to evaluate for abnormal movement of the urethra with increased abdominal pressure.
Endoluminal sonography has numerous advantages, including the absence of radiation and contrast exposure; avoidance of urethral catheterization for luminal contrast injection; relative ease of imaging in axial, sagittal, coronal, and off-axis orientations; ability to perform real-time multiplanar imaging during straining; relative ease in distinguishing between solid and cystic lesions; and the evaluation of periurethral processes [
8
]. Disadvantages include imaging results based on operator dependence and experience, difficulty in differentiating periurethral cysts from small urethral diverticula, difficulty in differentiating complex cystic diverticula from solid masses within diverticula, and decreased diagnostic confidence in detecting ostia of small diverticula [
9
]. Furthermore, transurethral sonography currently has limited utilization and availability due to the high cost of dedicated equipment and a limited field of view [
7
].
At US, the female urethra appears as a tubular hypoechoic structure extending from the bladder neck to the vaginal vestibule, coursing inferior to the pubic symphysis and anterior to the vagina (Fig.
30.3
). Anechoic urine may be seen centrally in the urethra in patients with incontinence or pelvic organ prolapse.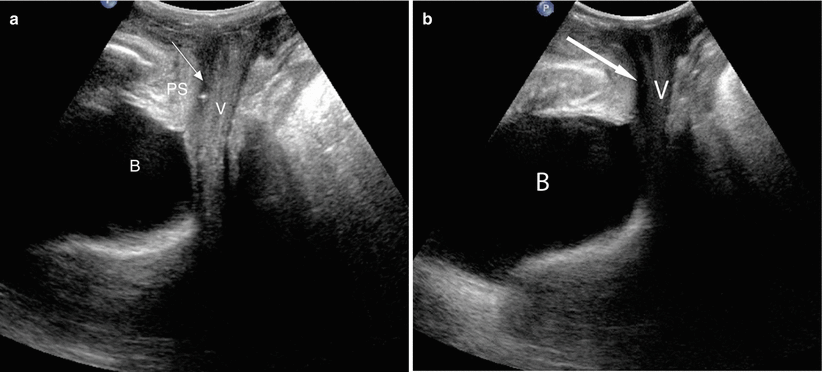 Fig. 30.3
Female urethral anatomy at US. Longitudinal translabial US image in a patient with a normal urethra (
a
) shows a thin hypoechoic tubular structure (
arrow
) extending from the bladder
(B)
to the vestibule. It travels inferior to the pubic symphysis (
PS
) and anterior to the vagina (
V
). Longitudinal translabial US image in an incontinent patient (
b
) demonstrates a tubular urethra filled with hypoechoic urine (
arrow
). Whereas the urethral walls of continent females are collapsed, hypoechoic or anechoic urine can distend the urethral walls of incontinent patients
Magnetic Resonance Imaging
MRI has higher sensitivity and specificity than VCUG or retrograde urethrography in the detection of urethral and periurethral disorders [
9
–
12
]. MRI may help detect noncommunicating urethral diverticula or periurethral disease and structural anomalies that would not be visible with the traditional modalities. Because of its many inherent advantages including lack of radiation, noninvasiveness, high inherent tissue contrast, increased signal to noise ratio, high spatial resolution, ability for 3D imaging, and multiplanar capability, MRI has become the imaging modality of choice for the diagnosis and preoperative planning in female urethral and periurethral disease.
Endocavitary (endovaginal or endorectal) coils may be used for specialized indications. These provide the highest-resolution images of the female urethra and periurethral anatomy [
10
]. The use of an endovaginal coil with a pelvic phased-array coil has been shown to allow better soft-tissue differentiation of the periurethral region than other combinations of endocavitary coils and phased-array coils [
13
].
A standard urethral MR protocol on a 1.5 or 3T system should be performed with a phase array coil for reception and may include the following sequences: axial multishot fast spin-echo (SE) T2-w with fat saturation, axial single-shot fast SE T2-w with and without fat saturation, sagittal and coronal single-shot fast SE T2-w without fat saturation, axial dual echo gradient-echo T1-w sequence, and axial opposed phase T1-w with fat saturation. In addition, small field-of-view images may be obtained through the urethra with axial, sagittal, and coronal sequences (fast imaging with steady-state precession).
The normal female urethra on T2-w and gadolinium-enhanced T1-w MRI has been described as target like on axial series due to the alternating signal characteristics of the different zones. Four concentric rings corresponding to the concentric anatomic layers discussed above can be seen on axial and sagittal T2-w images: an outermost layer of longitudinal smooth and circular striated muscle and serosa (hypointense), a middle submucosal layer of vascularized connective tissue and smooth muscle (hyperintense), an inner mucosal layer of epithelial cells (hypointense), and an innermost lumen of hyperintense urine or secretions that may or may not be seen (Fig.
30.4
) [
6
,
14
]. On post gadolinium T1-w images, mucosa enhances more than other layers in a normal urethra.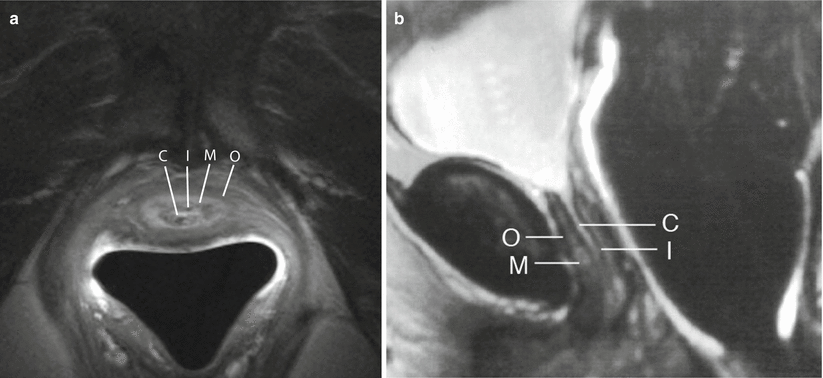 Fig. 30.4
Zonal anatomy of the normal female urethra. Axial (
a
) and sagittal (
b
) T2-w MR images demonstrates a high-signal-intensity central zone (
C
) representing luminal urine or secretions, a low-signal-intensity inner mucosal layer (
I
) representing epithelial cells, a high-signal-intensity middle submucosal layer (
M
) representing vascularized connective tissue, and a low-signal-intensity outer muscular layer (
O
) representing smooth muscle. (
a
) is used with permission from [
70
]
Diagnostic Algorithms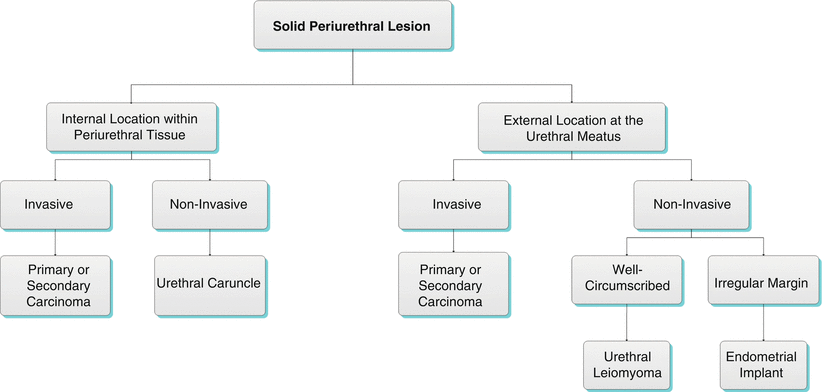 Algorithm 30.1 
Solid periurethral lesion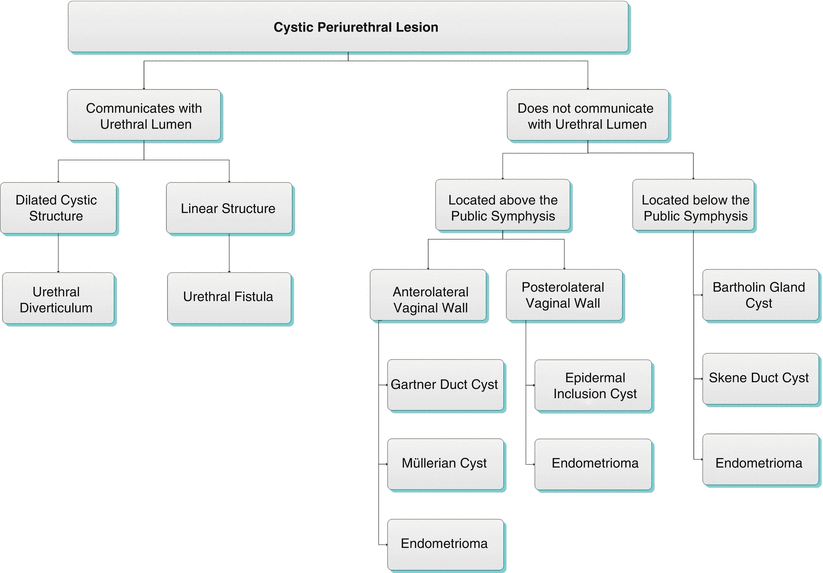 Algorithm 30.2 
Cystic periurethral lesion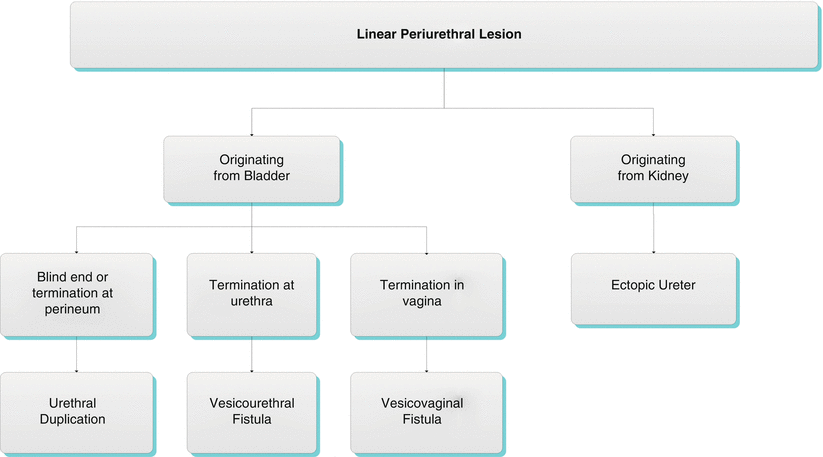 Algorithm 30.3 
Linear periurethral lesion
Pathologic Classification
Pathologic classification table of urethral lesions
| Congenital | Acquired/Iatrogenic | Inflammatory/Infections | Benign proliferation or neoplasm | Malignant neoplasm |
| --- | --- | --- | --- | --- |
| Urethral duplication | Urethral diverticulum | Urethral fistula | Urethral caruncle | Primary urethral carcinoma (squamous cell, transitional cell, adenocarcinoma) |
| Ectopic ureter to urethra | Urethral fistula | Bartholin gland cyst | Urethral leiomyoma | Secondary urethral carcinoma (direct extension from adjacent primary, hematogenous metastases) |
| Gartner duct cyst | Epidermal inclusion cyst | Skene duct cyst | Perineal – vulvovaginal endometrioma | |
| Müllerian duct cyst | Pelvic organ prolapse (urethral hypermobility, urethrocele, cystocele, cystourethrocele) | | | |
Benign Urethral Pathology
Get Clinical Tree app for offline access