CT-Guided Interventions
It is not always possible to determine the nature of a lesion from CT appearance and densitometry alone. In these cases, needle biopsies may be carried out under ultrasound or CT guidance. The patient's platelet count and coagulation status must be checked and informed consent obtained.
In Figure 161.1 , a mass in the caudate lobe (*) of the liver (122) is being biopsied. The close proximity of the hepatic artery and portal vein (98/102) and inferior vena cava (80) leave only a narrow path for the needle to approach from the right side ( Fig. 168.1a ).
Firstly the section on which the lesion appears largest is determined. The skin is cleaned and anesthetized with local anaestheic.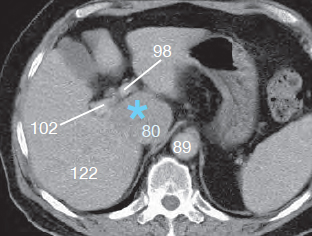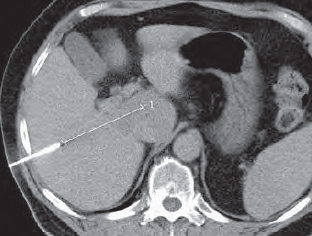 The needle is then inserted through the liver parenchyma toward the lesion. Slight changes in angle may be necessary ( Figs. 168.1b, 168.1c , and 168.1d ). Distances can also be calculated during the procedure, as seen in Figure 168.1b . After biopsy has been completed, an image is acquired to detect any hemorrhage. If a pneumothorax occurred following lung biopsy, expiratory images of the thorax are acquired to check for a tension pneumothorax.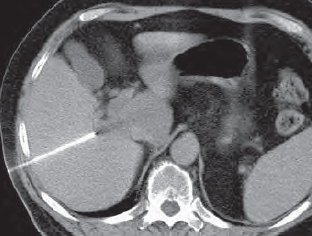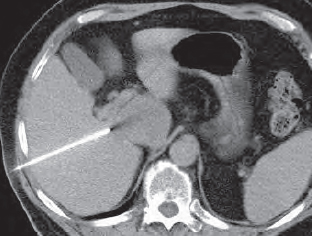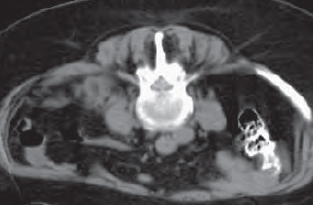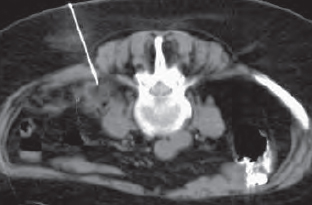 If there is a retroperitoneal lesion close to the spinal column, a biopsy may be carried out in the prone position. The orientation in Figure 168.2 is therefore unusual and one must be careful not to confuse left with right, but the procedure is identical.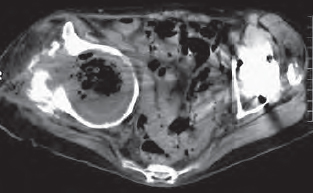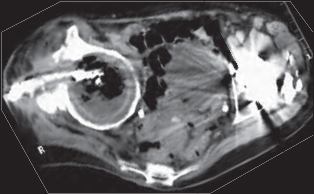 After selection of the optimal level (largest diameter of the lesion), and after skin cleaning and local anesthesia, the needle is inserted ( Fig. 168.2b ) and the biopsy taken. The material should be promptly prepared for cytology and histology.
The size and extent of a cutaneous fistula can often be more clearly assessed if CM is instilled through a tube ( Fig. 168.3 ). In this example, the hip had become infected and an abscess filled the joint after prosthetic surgery.