FIG. 14.1 ● Sample organizational chart outlining the makeup of a radiology quality committee in a small practice.
Responsibilities of the Quality Committee
Defining the mission and responsibilities of the radiology quality committee up front is important for implementing successful and meaningful change. By establishing common team goals, participants can better understand the value of the work they are doing. First, the committee should champion compliance with safety measures in the department. Second, the committee should serve as the main driving force behind continuous quality improvement and provide support to employees engaged in quality improvement projects. Finally and most importantly, the quality committee needs to lead the way in building a culture of safety and quality improvement across the department. Lee and colleagues offer a useful blueprint of responsibilities for the radiology quality committee and provide a foundation on which a strong quality improvement program can be established (Table 14.1).2
Patient Safety
Safety Reporting
One of the major responsibilities of the radiology quality committee is to ensure patient safety. Because patient safety is the responsibility of all members of the health-care team, having representatives from multiple disciplines is essential for an effective safety team. Three mutually reinforcing requirements comprise a culture of safety: trust, reporting, and improvement.3 Trust in one another will enable physicians and staff in a radiology practice to feel safe in reporting adverse events or, more often, "near misses." Furthermore, physicians and staff should trust that the quality management team will work to identify and correct reported problems.4 When safety improvements are made in response to concerns about potential or actual patient harm, the value of reporting is reinforced, trust is strengthened, and the culture of safety within the organization can flourish.2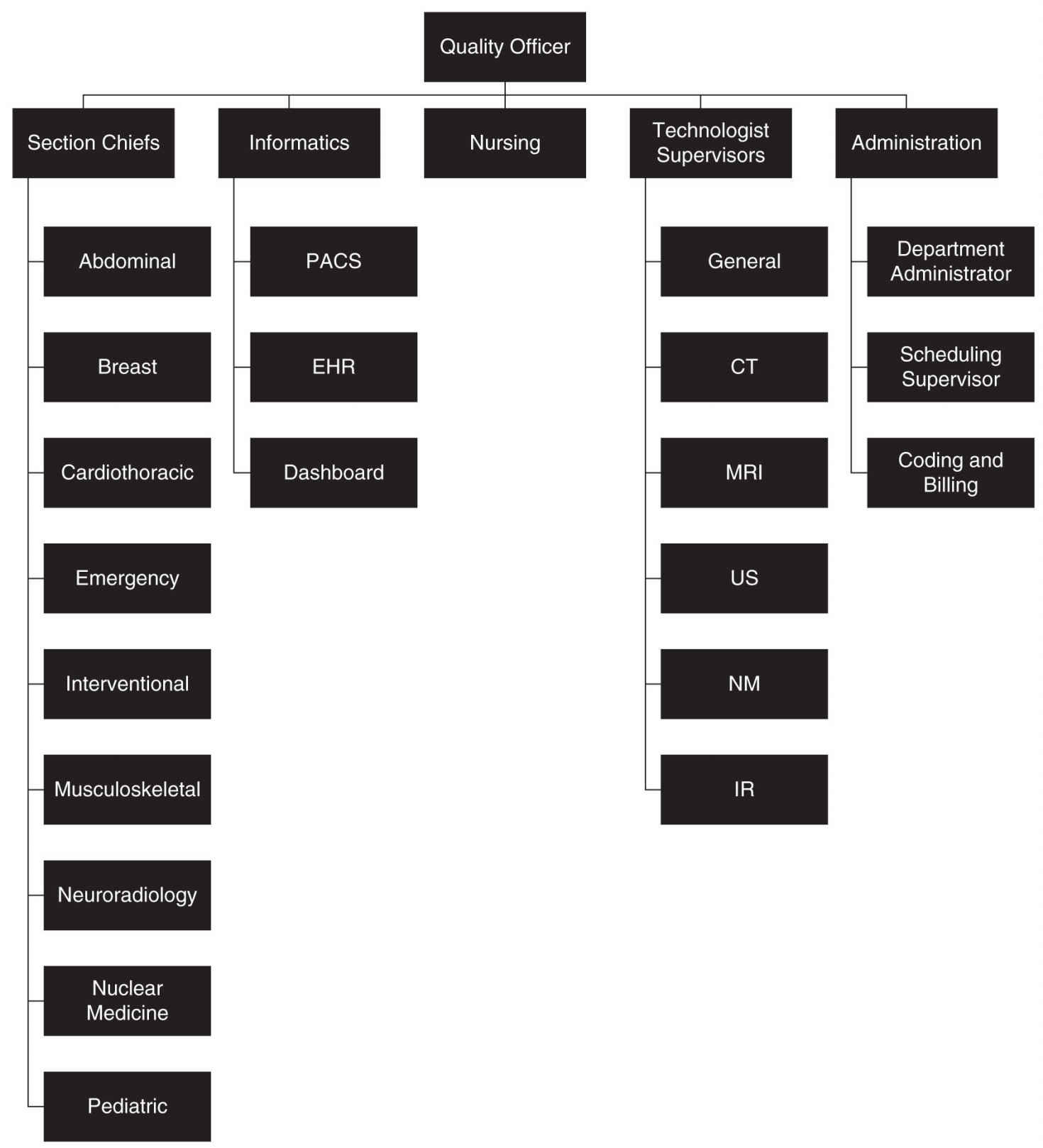 FIG. 14.2 ● Sample organizational chart outlining the makeup of a radiology quality committee in a large practice. Computed tomography (CT), electronic health record (EHR), interventional radiology (IR), magnetic resonance imaging (MRI), nuclear medicine (NM), picture archiving and communication system (PACS), and ultrasound (US).

A process for adverse or "near-miss" event reporting needs to be in place for an organization to successfully address issues of patient safety.5 This allows safety leaders to understand the scope of the problem and to adjust priorities. Various commercial products as well as services provided through institutional consortiums are available, the latter of which can also provide benchmark data. Smaller organizations may still use paper-based systems. Regardless of how reports are submitted, providing feedback to reporters and demonstrating improvement initiatives are essential for reinforcing the culture of safety.
Sentinel events, defined by The Joint Commission (TJC) as "an unexpected occurrence involving death or serious physical or psychological injury or risk," require a formal review process.6 The radiology quality committee should oversee and standardize this process. The components of sentinel event review include the following: confirmation of the sentinel event, timely communication with clinical staff members to ensure information is consistent and accurate, discussion of contributing factors and development of action plan, review of action with all staff members, presentation to the patient safety committee, and identifying challenges and how to overcome them.2 As of June 2013, 25 states and the District of Columbia require reporting of sentinel events (Table 14.2). TJC's sentinel event reporting policy stipulates a voluntary reporting process be in place. This nonpunitive process is designed to improve action plans through knowledge sharing across organizations.7
Specific areas of patient safety may require additional expertise beyond that of the safety committee. Enlisting support from disciplines such as pharmacy and medical physics for addressing specific areas of patient safety can help a department improve its safety.
Magnetic Resonance Imaging
The radiology quality committee should ensure that magnetic resonance imaging (MRI) screening and safety guidelines remain current, working closely with MRI technologists, nursing, and administration. Responsibility for MRI safety can be delegated to a medical director or other physician designee or remain within the quality committee. The majority of reported cases of injury occurring during MRI are related to either failure to follow current safety guidelines or inaccurate information related to biomedical devices or implants.8 Resources on MRI safety are available from the International Society for Magnetic Resonance in Medicine, the American College of Radiology, the Society of Nuclear Medicine, the Federal Drug Administration, the National Electrical Manufacturers Association, the International Electrotechnical Commission, and the Medical Devices Agency (Table 14.3).2 A protocol should also be in place for screening patients for nephrogenic systemic fibrosis.9,10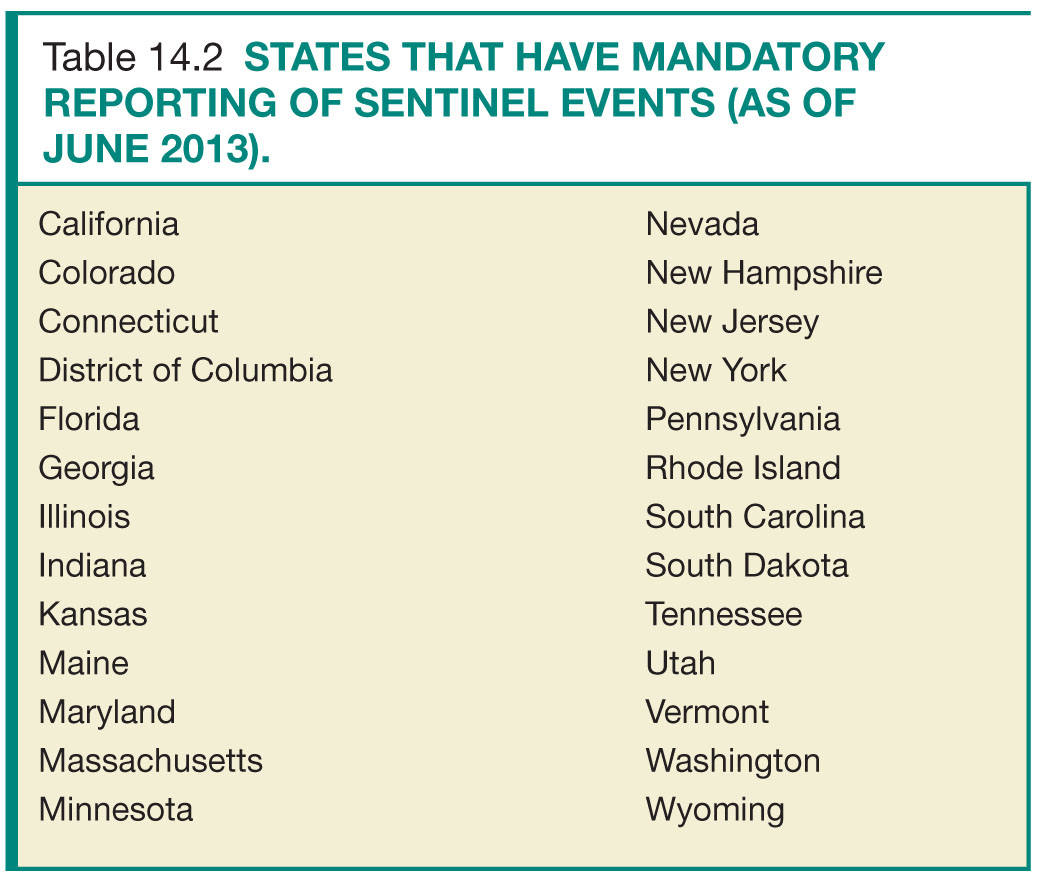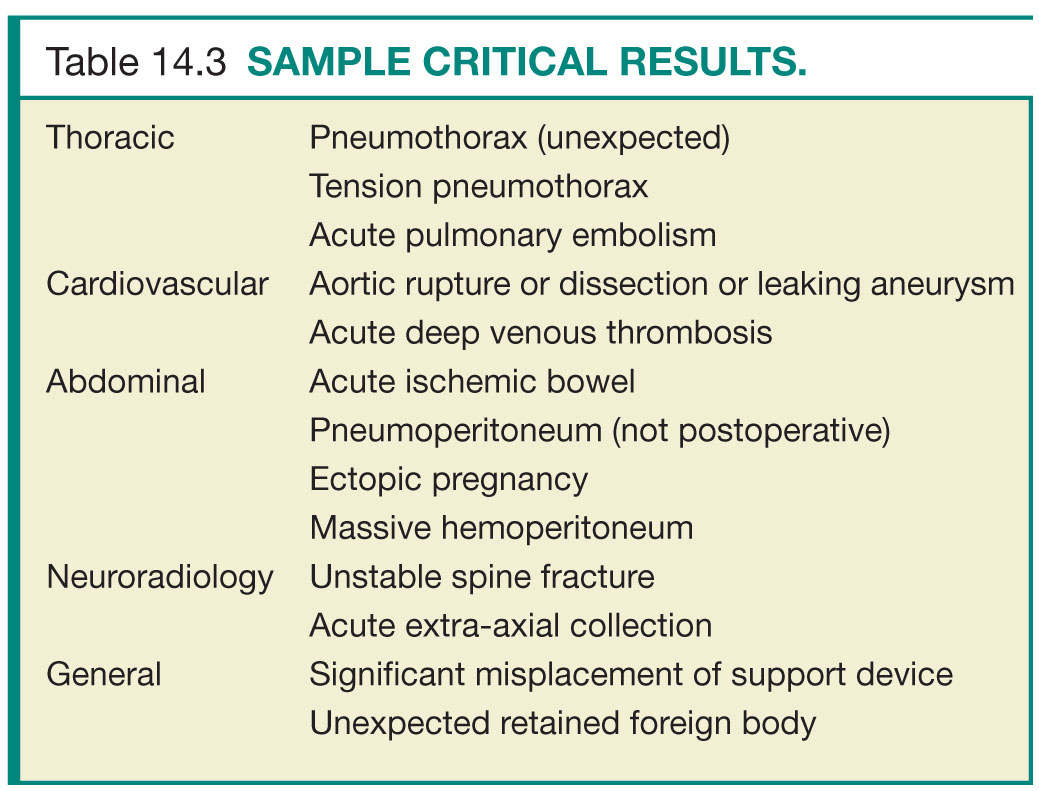 Radiation Safety
Each facility that uses ionizing radiation must have a designated radiation safety officer (RSO), who oversees the radiation protection plan for the facility.11 The RSO may be a physician or physicist in the radiology department, a physician or medical physicist employed by the hospital, or other designated individual. Within the radiology department, the quality committee can implement published guidelines on radiation dose reduction as well as implement improvement projects to optimize imaging protocols.
Pharmacy
Iodinated contrast material is the most common pharmaceutical agent administered in a radiology department. Although agents currently in use are much safer than their predecessors, they are not risk free and complications can still occur. Most contrast reactions are mild, but severe reactions can occur. The radiology quality committee should oversee contrast reaction management protocols and ensure that adequate training and up-to-date education materials are available to physicians and staff.12,13
Many radiology departments may provide conscious sedation for image-guided procedures, often administered under the direct supervision of radiologists. The quality committee should ensure proper safety protocols and documentation requirements are in place, radiologists are appropriately trained and credentialed, and necessary support staff are included in the process.13,14
Regulatory Compliance