Presentation and Presenting Images

A 58-year-old female presents for asymptomatic screening mammography.
66.2

Key Images


66.2.1

Breast Tissue Density


The breasts are heterogeneously dense, which may obscure small masses.



66.2.2
Imaging Findings
There is a 9-mm focal asymmetry in the left breast at the 11 o'clock location in the middle depth ( ▶ Fig. 66.3 and ▶ Fig. 66.4). It is best seen on the craniocaudal (CC) view ( ▶ Fig. 66.3). The mammogram of the right breast was normal (not shown).
66.3

BI-RADS Classification and Action


Category 0: Mammography: Incomplete. Need additional imaging evaluation and/or prior mammograms for comparison.



66.4

Diagnostic Images 1


( ▶ Fig. 66.5, ▶ Fig. 66.6, ▶ Fig. 66.7, ▶ Fig. 66.8, ▶ Fig. 66.9, ▶ Fig. 66.10, ▶ Fig. 66.11)



66.4.1

Imaging Findings


The diagnostic imaging confirms a 10 × 4 × 9 mm round mass with spiculated margins at 11 o'clock in the anterior depth ( ▶ Fig. 66.5, ▶ Fig. 66.6, and ▶ Fig. 66.7). The targeted ultrasound demonstrates a 10 × 14 × 9 mm irregular mass located at 11 to 12 o'clock, 4 cm from the nipple ( ▶ Fig. 66.8 and ▶ Fig. 66.9). A biopsy was recommended. The ribbon clip placed at the time of biopsy is noted to be 10 mm lateral and 10 mm superior to the mammographic mass ( ▶ Fig. 66.10 and ▶ Fig. 66.11).



66.5

BI-RADS Classification and Action


Category 4C: High suspicion for malignancy



66.6

Diagnostic Images 2


( ▶ Fig. 66.12, ▶ Fig. 66.13, ▶ Fig. 66.14, ▶ Fig. 66.15, ▶ Fig. 66.16, ▶ Fig. 66.17, ▶ Fig. 66.18, ▶ Fig. 66.19, ▶ Fig. 66.20)



66.6.1

Imaging Findings


The patient returned for additional evaluation. A craniocaudal (CC) and a mediolateral oblique (MLO) tomosynthesis combination examination was performed to localize both masses ( ▶ Fig. 66.12 and ▶ Fig. 66.13). The original mass seen on the screening mammogram is again identified ( ▶ Fig. 66.14 and ▶ Fig. 66.15) on the digital breast tomosynthesis (DBT) images. With the presence of the biopsy clip, the more superficial mass is also localized on the DBT images ( ▶ Fig. 66.16 and ▶ Fig. 66.17). A second ultrasound examination was performed and the smaller and deeper mass at the 11 o'clock location, 4 cm from the nipple, originally noted on the mammogram, is seen as a hypoechoic mass with indistinct margins ( ▶ Fig. 66.18). With further examination, the two masses can be seen in the same area on the ultrasound (the larger, more superficial mass has an echogenic clip present) ( ▶ Fig. 66.19). The patient underwent a magnetic resonance (MR) examination, which revealed the two masses seen on the mammogram and ultrasound imaging. Additional masses can be seen on the MR that were not appreciated on either examination ( ▶ Fig. 66.20)



66.7
Differential Diagnosis





Multifocal breast cancer: Multifocal cancer is defined as multiple lesions within 4 to 5 cm of each other and often in the same quadrant. This case represents a multifocal cancer which at presentation was thought to be a single-focus cancer.






Multicentric breast cancer: Multicentric cancer involves lesions farther than 5 cm apart and in two distinct quadrants.






Multiple fibroadenomas: Although multiple fibroadenomas can exist, the imaging of these masses appears more suspicious. A biopsy yielding a fibroadenoma would be considered discordant.
66.8
Essential Facts





This case demonstrates that care must be taken to correlate the location of lesions seen mammographically and sonographically. The initial mammographic lesion did not correlate with the sonographic lesion. The placement of the biopsy marker helped to detect that mismatch.






A postprocedure mammogram is very helpful in demonstrating the presence of the biopsy marker clip and for future planning.






The subsequent imaging confirmed the presence of at least two lesions, with the MRI confirming multiple additional foci.






MRI identifies additional sites of cancer in the ipsilateral breast in 27% of patients with biopsy-proven breast cancer. Nearly three-quarters of these additional cancers are located in the same quadrant as the index (primary or presenting) cancer and about a quarter in another quadrant.






Women with a family history of breast cancer are more likely to have multifocal or multicentric breast cancer compared to women without a family history of breast cancer.
66.9
Management and Digital Breast Tomosynthesis Principles





DBT has the potential for assisting with the detection of multifocal and multicentric cancers.






DBT's ability to reduce the anatomical noise of the breast tissue, and not be affected by the density of the breast tissue, affords it the ability to better perceive tumors. It may also help in recognizing complex tumor growth patterns including multiple tumors. Additional investigation is needed as use of DBT becomes more widespread.
66.10

Further Reading


[1] Förnvik D, Zackrisson S, Ljungberg O, et al. Breast tomosynthesis: Accuracy of tumor measurement compared with digital mammography and ultrasonography. Acta Radiol. 2010; 51(3): 240‐247 PubMed




[2] Liberman L, Morris EA, Dershaw DD, Abramson AF, Tan LK. MR imaging of the ipsilateral breast in women with percutaneously proven breast cancer. AJR Am J Roentgenol. 2003; 180(4): 901‐910 PubMed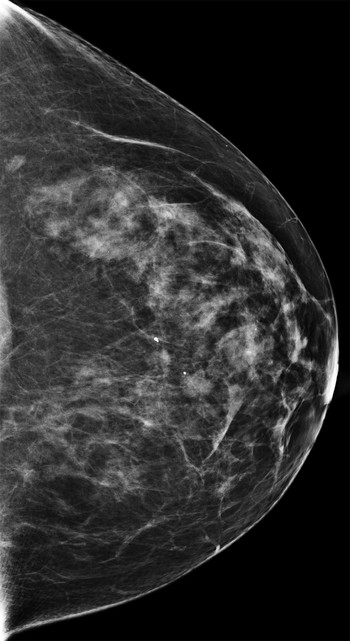 Fig. 66.1 Left craniocaudal (LCC) mammogram.