, Joungho Han2, Man Pyo Chung3 and Yeon Joo Jeong4

(1)
Department of Radiology Samsung Medical Center, Sungkyunkwan University School of Medicine, Seoul, Korea, Republic of (South Korea)
(2)
Department of Pathology Samsung Medical Center, Sungkyunkwan University School of Medicine, Seoul, Korea, Republic of (South Korea)
(3)
Department of Medicine Division of Pulmonary and Critical Care Samsung Medical Center, Sungkyunkwan University School of Medicine, Seoul, Korea, Republic of (South Korea)
(4)
Department of Radiology, Pusan National University Hospital, Busan, Korea, Republic of (South Korea)
Abstract
Ground-glass opacity (GGO) appears at thin-section CT (TSCT) as hazy increased opacity of the lung, with the preservation of bronchial and vascular margins. It is caused by partial filling of airspaces; interstitial thickening due to fluid, cells, or fibrosis; partial collapse of alveoli; increased capillary blood volume; or combination of these, the common factor being the partial displacement of air [1]. The GGO is less opaque than consolidation, in which bronchovascular margins are obscured (Fig. 20.1).
Ground-Glass Opacity with Reticulation and Fibrosis
Ground-Glass Opacity with Reticulation, but without Fibrosis (Crazy-Paving Appearance)
Definition
The crazy-paving appearance consists of a network of a smooth linear pattern superimposed on the area of ground-glass opacity (GGO) on high-resolution CT scans (Fig.
20.5
). Once thought as specific finding for pulmonary alveolar proteinosis (PAP), currently the crazy-paving appearance is a nonspecific finding seen in a variety of interstitial and airspace lung diseases [
7
].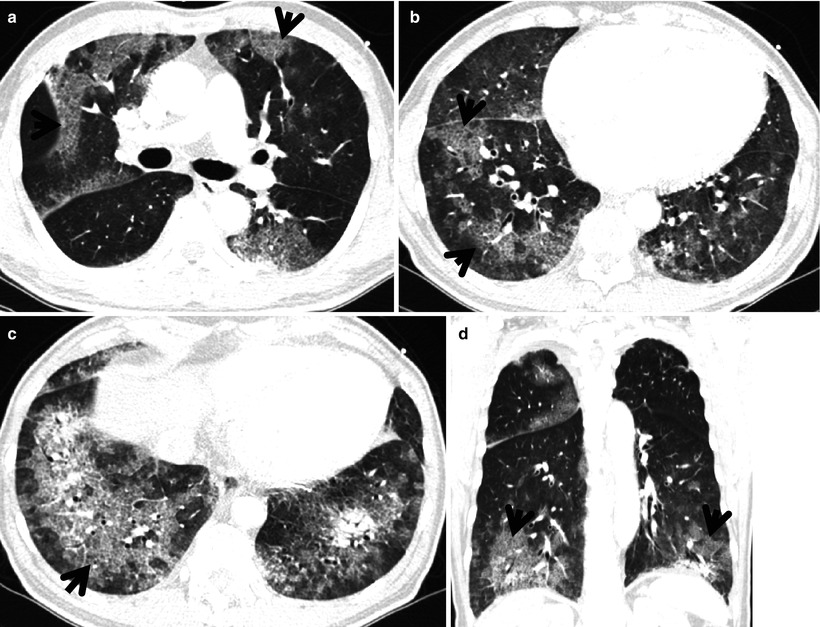 Fig. 20.5
Diffuse alveolar hemorrhage manifesting as crazy-paving appearance at thin-section CT in a 60-year-old man who had ischemic cardiomyopathy and received heparin and warfarin therapy. (
a
–
c
) Lung window images of CT scans (2.5-mm section thickness) obtained at levels of main bronchi (
a
), cardiac ventricle (
b
), and liver dome (
c
), respectively, show patchy and extensive areas of ground-glass opacity containing internal reticulation (crazy-paving appearance,
arrows
) in both lungs. Subpleural sparing is overt in all lung zones. (
d
) Coronal reformatted image (2.0-mm section thickness) also demonstrates crazy-paving appearance (
arrows
) in both lungs with subpleural sparing
Diseases Causing the Pattern
The diseases causing crazy-paving pattern include acute bacterial, viral, or
Pneumocystis pneumonia
(Fig.
20.6
), acute interstitial pneumonia (AIP) or adult respiratory distress syndrome (ARDS), diffuse alveolar damage superimposed on usual interstitial pneumonia (UIP), diffuse alveolar hemorrhage (DAH) (Fig.
20.5
), pulmonary interstitial edema,
pulmonary alveolar proteinosis
(PAP) (Fig.
20.7
), nonspecific interstitial pneumonia (NSIP), subacute hypersensitivity pneumonitis (HP), organizing pneumonia, sarcoidosis,
lipoid pneumonia
(Fig.
20.8
), and
diffuse form of mucinous or nonmucinous adenocarcinoma
(AIS, former bronchioloalveolar carcinoma [BAC]) or lung adenocarcinoma [
7
,
8
] (Fig.
20.9
).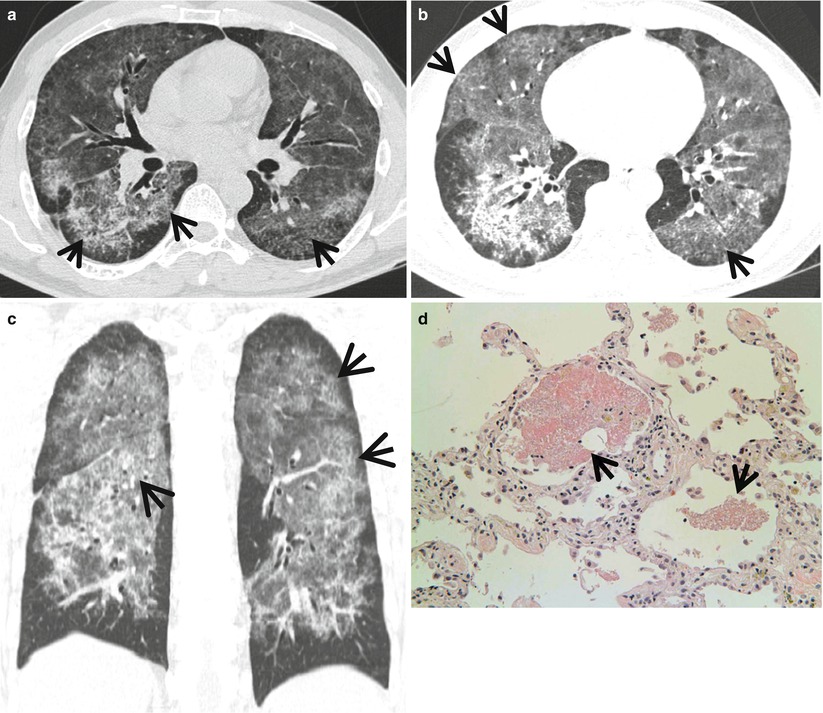 Fig. 20.6
Pneumocystis jirovecii
pneumonia in a 48-year-old man with asthma who received corticosteroid therapy. (
a
,
b
) Lung window images of CT scans (2.5-mm section thickness) obtained at levels of right middle lobar bronchus (
a
) and right inferior pulmonary vein (
b
), respectively, show diffuse ground-glass opacity harboring internal reticulation (crazy-paving appearance,
arrows
) in both lungs. Subpleural sparing is seen in all lung zones. (
c
) Coronal reformatted image (2.0-mm section thickness) also demonstrates crazy-paving appearance (
arrows
) in both lungs with subpleural sparing. (
d
) High-magnification (×200) photomicrograph of transbronchial lung biopsy specimen obtained from right lower lobe discloses intra-alveolar foamy exudate (
arrows
) and mild interstitial inflammation and fibrosis suggesting Pneumocystis pneumonia and acute lung injury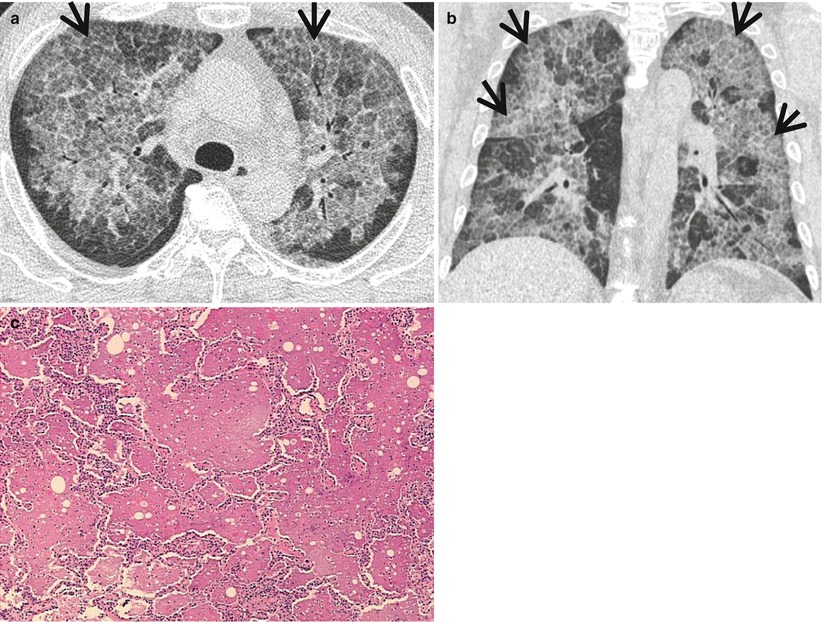 Fig. 20.7
Pulmonary alveolar proteinosis in a 52-year-old man. (
a
Premium Wordpress Themes by UFO Themes
WordPress theme by UFO themes