Fig. 1.1
An example of one of Wild and Reid's original echographs, pictured above, was used to measure skin thickness as compared to breast cancer tissue thickness to determine a diagnosis of breast cancer [
22
].
Reproduced with permission from Hill CR, Early days of scanning: Pioneers and Sleepwalkers, in Radiography. 2009 (15): p. 15–22, courtesy of Elsevier
Following the post-World War II resurgence of interest in cardiac surgery, Inge Edler and Hellmuth Hertz began to investigate noninvasive methods of detecting mitral stenosis, a disease with relatively poor results at the time. Using an ultrasonic reflectoscope with tracings recorded on slowly moving photographic film designed by Hertz (see Fig.
1.2
), they were able to capture moving structures within the heart. Dubbed "Ultrasound Cardiography," this represented the first echocardiogram, which was capable of differentiating mitral stenosis from mitral regurgitation, and detecting atrial thrombi, myxomas, and pericardial effusions [
23
,
24
].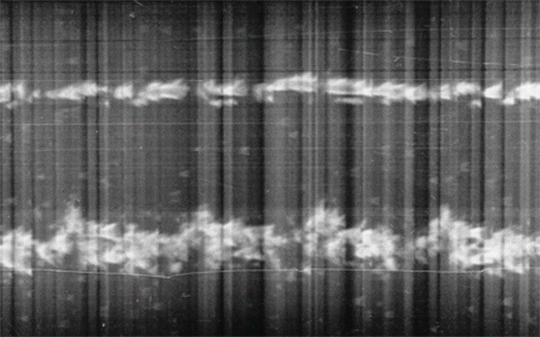 Fig. 1.2
The first echocardiographic recording is displayed as a "motion-mode," or M-mode, tracing displaying ultrasonic tracings of the left ventricular posterior wall [
24
].
Reproduced with permission from Fraser, A.G., Inge Edler and the origins of clinical echocardiography. Eur J Echocardiogr, 2001. 2(1): p. 3–5, courtesy of Oxford University Press
With the support of the Veterans Administration and United States Public Health Service, Holmes et al. described the use of ultrasound to detect soft tissue structures with an ultrasonic "sonascope." This consisted of a large water bath in which the patient would sit, a sound generator mounted on the tub, and an oscilloscope which would display the images. The sonascope was capable of identifying a cirrhotic liver, renal cyst, and differentiating veins, arteries, and nerves in the neck. Consistent with the results of their predecessors, however.
The use of ultrasound in obstetrics and gynecology began in 1954 when Ian Donald became interested in the use of A-mode, or amplitude-
mode
, which uses a single transducer to plot echoes on a screen as a function of depth; one of the early uses of this was to differentiate solid from cystic masses. Using a borrowed flaw-detector, he initially found that the patterns of the two masses were sonically unique. Working with the research department of an atomic boilermaker company, he led a team that developed the first contact scanner. Obviating the need for a large water bath, this device was hand-operated and kept in contact with skin and coupled with olive oil. Captured on Polaroid
®
film with an open shutter, abdominal masses could be reliably and reproducibly differentiated using ultrasound. Three years later, Donald collaborated with his team of engineers to develop a means to measure distances on the output on a cathode ray tube, which was subsequently used to determine fetal head size [
13
,
25
–
27
].
History of Doppler Ultrasound
History of Ultrasound in Urology
Prostate
More recently, several other techniques have come to light in the diagnosis of prostate cancer.
Kidney
In 1971, Goldberg and Pollack, frustrated with the inability of IVP to differentiate benign from malignant lesions, turned to A-mode ultrasound. In their report on "nephrosonography," they demonstrated in a series of 150 patients the capability of ultrasound to discern solid, cystic, and complex masses with an accuracy of 96 %. The diagrammatic representation of the three ultrasound patterns they found is depicted in Fig.
1.6
[
57
]. In cystic lesions, the first spike represents the striking of the front wall of the cyst and the second spike represents the striking of the back wall. More complex lesions therefore have return of more spikes.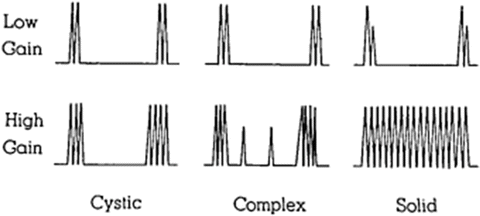 Fig. 1.6
This is a diagrammatic representation of the three types of ultrasound patterns obtained from masses. In this way, ultrasound has been able to distinguish the differences between the solid, cystic, and necrotic masses (a mixture of solid and cystic masses) [
57
].
Reproduced with permission from Goldberg, B.B. and H.M. Pollack, Differentiation of renal masses using A-mode ultrasound. J Urol, 1971. 105(6): p. 765–71, courtesy of Elsevier
Scrotum
Perri et al. were the first to use Doppler as a sonic "stethoscope" in their workup of patients with an acute scrotum. While they were able to identify patients with epididymitis and torsion of the appendix testis as having increased flow, and patients with spermatic cord torsion as having no blood flow, they also reported that false negatives in cases of torsion could result from increased flow secondary to reactive hyperemia [
58
,
59
].