38
How to do EUS‐guided Pelvic Abscess Drainage



Shyam Varadarajulu1 and Sandeep Lakhtakia2




1 University of Alabama at Birmingham School of Medicine, Birmingham, AL, USA




2 Asian Institute of Gastroenterology, Hyderabad, India



Introduction



Development of pelvic abscess is a well‐recognized complication in patients undergoing low anterior resection for rectal cancer or following medical conditions such as inflammatory bowel disease. Traditionally, these abscesses are drained surgically or image guided (ultrasound or computed tomography [CT]) via the percutaneous, transrectal, or transvaginal routes. Although effective, surgical drainage is associated with a prolonged hospital stay, particularly when performed to manage a postoperative complication. The percutaneous drainage technique is less invasive than surgery but limits patient mobility and predisposes to fistula formation and infection. Also, the complex anatomy of the pelvis with surrounding bones, vascular structures, and other organs makes percutaneous access to the abscess cavity a technical challenge. By virtue of its ability to image and access extraluminal lesions, endoscopic ultrasound (EUS) has emerged as a minimally invasive therapeutic alternative for drainage of pelvic abscesses.



Patient preparation



A CT of the pelvis must be obtained to get a clear understanding of the abscess location prior to performing pelvic abscess drainage (Figure 38.1). Patients should be administered prophylactic antibiotics prior to the intervention and continued on oral antibiotics for two to three days. Bowel preparation with polyethylene glycol solution or enema is mandatory to minimize the chance of contamination and for adequate visualization. The procedure is best performed under fluoroscopy to visualize guidewire exchange and placement of stent or drain within the abscess. Patients should be instructed to void urine before the procedure as a distended bladder may impair visualization of small abscesses during EUS.



Devices and accessories



A therapeutic linear array echoendoscope with a working channel of 3 mm or more should be used to facilitate deployment of transluminal stents or drainage catheter. A 19‐gauge EUS‐guided fine needle aspiration (FNA) needle is required for transluminal puncture into the abscess cavity, followed by passage of a 0.035‐inch guidewire allowing it to coil inside the abscess cavity. A standard 4.5/5.0 French (Fr) endoscopic retrograde cholangiopancreatography (ERCP) cannula or a needle knife catheter is then railroaded over the guidewire into the abscess cavity. An over‐the‐wire balloon dilator (8–15 mm) is needed for subsequent dilation of the transmural tract. A double pigtail plastic stent (7 or 10 Fr) or drainage catheter is required to facilitate evacuation of the abscess cavity.



Procedural technique



The following steps are undertaken in sequence (Video 38.1).





A rectal EUS examination is first undertaken to locate the pelvic abscess.

After ensuring the absence of intervening vasculature using color Doppler, under EUS guidance a 19‐gauge needle is used to puncture the abscess cavity to gain access into the fluid collection (Figure 38.2). Normal saline is used to flush the abscess cavity using a 20‐ml syringe and reaspirated to clean out the cavity of as much pus as possible. A sample of the aspirate should be sent for Gram stain and culture.




Figure 38.1 Computed tomography (CT) scan of the pelvis revealing an 8 × 7 cm abscess cavity.




Figure 38.2 Passage of a 19‐gauge fine needle aspiration (FNA) needle into the pelvic abscess under EUS guidance.




Figure 38.3 A 0.035‐inch guidewire is then coiled within the abscess cavity: (a) endoscopy view; (b) confirmed by fluoroscopy.



A 0.035‐inch guidewire is then passed via the 19‐gauge needle and coiled within the abscess cavity (Figure 38.3).

The transmural tract is then first dilated by passing a tapered‐tip ERCP cannula (4.5/5.0 Fr) or a needle knife catheter through the working channel of the echoendoscope. The tract is further dilated using an 8–15 mm over‐the‐wire balloon (Figure 38.4). The presence of a large opening will facilitate better drainage of the abscess and provide easy access for future interventions.

A 7 or 10 Fr double pigtail stent is then deployed over the guidewire into the abscess to establish complete drainage (Figure 38.5).

In patients with pelvic abscesses measuring more than 8 cm in diameter or having thick content, a 10 Fr single pigtail drain may be placed in addition to the stent. To place a drain, guidewire (within cannula) is passed through the created opening, adjacent to the previously placed stent and then the drainage catheter is passed. The drain is secured to the gluteal region by application of tape. The drain is then flushed with 50 ml of normal saline, every four hours, until the abscess is completely evacuated.

A CT scan of the pelvis is obtained at 48 hours to assess response to therapy. If the abscess has decreased in size by more than 50%, the drain is discontinued and the patient is discharged home. After obtaining a follow‐up CT at two weeks to confirm complete resolution of the abscess, the transrectal stent is removed by sigmoidoscopy.




Figure 38.4 Fluoroscopy view revealing dilation of the tract using an endoscopic retrograde cholangiopancreatography (ERCP) cannula (a) and then an over‐the‐wire balloon dilator (b). Pus is seen to extrude following dilation of the transmural tract (c).
Clinical outcomes



In our experience with a carefully selected cohort of 25 consecutive patients, i.e. those with unilocular collections adjacent to the rectum or left colon, EUS‐guided pelvic abscess drainage yielded a successful outcome in 96% of cases. No procedural complications were encountered and, unlike surgical or percutaneous techniques, patients were discharged home within two to three days following their procedures. In contrast to surgery and percutaneous techniques, EUS‐guided drainage of pelvic abscess is less invasive, less costly, and is associated with minimal patient discomfort. We recently compared the outcomes between transcolonic and transrectal drainage of pelvic abscesses in 38 patients and observed no difference in rates of technical success, treatment success, or complications between both approaches. However, when evaluated by etiology, treatment success for diverticular abscess was significantly lower when compared with other causes.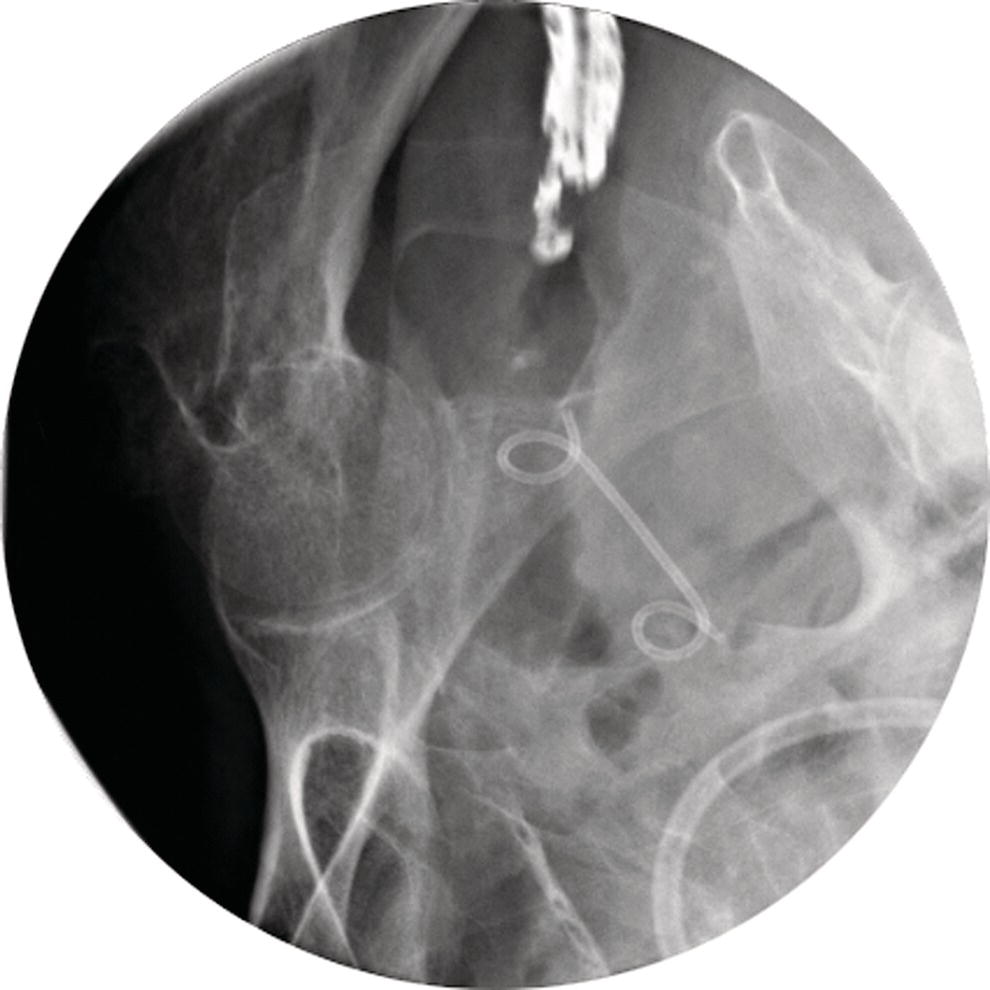 Technical limitations



Drainage of pelvic abscess cannot be undertaken when the wall of the abscess cavity is more than 20 mm from the EUS transducer. Also, the presence of multiple cavities in an abscess precludes successful drainage. It is important to carry out a helical CT scan before embarking on this procedure because poorly defined or multilocular fluid collections are not suitable for this non‐surgical method of drainage. Also, stent deployment may not be possible in patients with pelvic abscesses that measure less than 4 cm in size. As the linear array echoendoscope can be advanced only up to 40 cm in the colon, only those fluid collections adjacent to the rectum or left colon can be drained using this technique. Perianal fluid collections are not suitable for EUS‐guided drainage.



Conclusions



Endoscopic ultrasound‐guided drainage can be an effective treatment modality for management of patients with abscesses or fluid collections in the pelvis that are within the reach of the echoendoscope. Comparative studies with other treatment modalities that include a larger number of patients will help identify cases that will benefit the most from this technique.