Key Facts
Terminology





Loss of spine motion segment stiffness, when applied force produces greater displacement than normal, with pain/deformity
Imaging





Deformity, which increases with motion and over time






Various parameters used to measure degenerative instability by plain films









Dynamic slip > 3 mm in flexion/extension






Static slip of ≥ 4.5 mm






Angulation > 10-15° suggests need for surgical intervention






Flexion-extension plain films best for definition of motion
Top Differential Diagnoses





Pseudoarthrosis






Infection









Endplate destruction, disc T2 hyperintensity






Tumor









Enhancing soft tissue mass






Postoperative









Following multilevel laminectomy or facetectomy
Pathology





Degenerative instabilities









Axial rotational






Translational; plain films show spondylolisthesis, traction spurs, vacuum phenomenon






Retrolisthesis; plain films show increased retrolisthesis with extension






Degenerative scoliosis






Post laminectomy; resection of 50% of bilateral facets alters segmental stiffness






Post fusion; altered biomechanics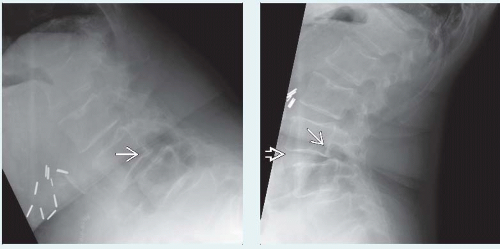 (Left)
Wide laminectomy destabilizing spine is shown. Flexion lateral radiograph demonstrates grade 2 anterolisthesis

at L3-4 that improves on extension (see next image).
(Right)
Lateral radiograph in extension shows grade 2 anterolisthesis, which is mildly reduced

compared to the flexion deformity. Note the widening of the anterior disc space with extension

.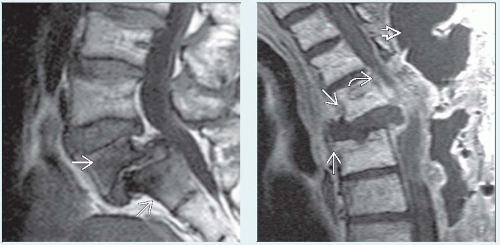 (Left)
Sagittal T1WI MR in an adolescent shows severe spondylolisthesis of L5 on S1, with disc degeneration and extensive type I degenerative endplate changes

.
(Right)
Sagittal T1WI C+ MR shows progressive deformity and retrolisthesis

at operative site following extensive posterior debridement for infection, marked thecal sac compression from the deformity and residual phlegmon

,
and extensive dorsal pseudomeningocele

.
TERMINOLOGY
Synonyms





Spine instability (SI), segmental instability, abnormal spinal motion, degenerative instability
Definitions





Loss of spine motion segment stiffness, when applied force produces greater displacement than normal, with pain/deformity
IMAGING
General Features





Best diagnostic clue









Deformity that increases with motion and over time






Location









Any spinal motion segment (composed of 2 adjacent vertebrae, discs, and connecting spinal ligaments)






Size









Displacement may vary from few mm to width of vertebral body






Morphology









Displacement of vertebral body with respect to adjacent body






Stabilizing anatomic structures









Ligaments









Anterior longitudinal ligament







Posterior longitudinal ligament






Intertransverse ligaments









Connect neighboring transverse processes






Interspinous ligaments







Facet capsule






Ligamentum flavum






Intervertebral disc









Main stabilizer of lumbar and thoracic spine






Muscular attachments









Both global (rectus and abdominal muscles) and local paraspinal muscle groups
Radiographic Findings





Radiography









Various parameters used to measure degenerative instability by plain films









Dynamic slip > 3 mm in flexion/extension






Static slip ≥ 4.5 mm






Angulation > 10-15° suggests need for surgical intervention






Traction spurs






Vacuum phenomenon
Fluoroscopic Findings





Increased motion with flexion/extension or translation
CT Findings





NECT









Nonspecific findings of degenerative disc disease ± spondylolisthesis
MR Findings





T1WI









Anterolisthesis, retrolisthesis, lateral translation






Nonspecific changes of degenerative disc disease






Controversial as to role in defining instability: Type I degenerative endplate changes






T2WI









Loss of disc signal ± disc space height






STIR









Type I endplate changes may be more evident on this sequence






T1WI C+









Nonspecific enhancement of disc due to degenerative disc disease






Enhancement of type I degenerative endplate changes
Imaging Recommendations





Best imaging tool









Flexion-extension plain films






Protocol advice









MR findings useful as secondary tool for degeneration, endplate changes, stenosis, and herniation
DIFFERENTIAL DIAGNOSIS
Pseudoarthrosis





Abnormal low T1 signal extending through disc, posterior elements, and ligaments
Infection





Endplate destruction, disc T2 hyperintensity
Tumor





Enhancing soft tissue mass
Postoperative





Following multilevel laminectomy or facetectomy
PATHOLOGY
General Features





Etiology







Associated abnormalities









Clinical and imaging relationship of disc degeneration to instability controversial






Many causes of spinal instability






Fractures






Infection (especially anterior column involvement)






Primary bone and metastatic tumors (vertebral body destruction, neural compression, post resection)






Isthmic spondylolisthesis (L5-S1 progressive deformity in children)






Scoliosis






Degenerative instabilities









Axial rotational (recurrent pain worse with twisting)

Full access? Get Clinical Tree