Pseudomembranous Colitis (Clostridium Difficile)
Key Facts
Terminology





Synonyms: Antibiotic colitis,

Clostridium difficile

(

C. difficile

) colitis






Acute inflammation of colon caused by toxins produced by

C. difficile

bacteria
Imaging





Best diagnostic clue: Marked submucosal edema over long segment of colon






Location









Usually entire colon (pancolitis)






Rectum, sigmoid colon (80-90% of cases)






Thumbprinting









Unusual, wide, transverse bands due to haustral fold thickening






CECT









"Accordion" sign: Trapped enteric contrast between thickened colonic haustral folds






"Target" sign






Pericolonic stranding






Best imaging tool: CECT with oral contrast






Protocol advice: 150 mL IV contrast at 2.5 mL/sec with 5 mm collimation, 5 mm reconstruction interval
Clinical Issues





Elderly at higher risk for developing PMC and recurrent PMC






Clinical profile: Patient with history of watery diarrhea after antibiotic use or hospitalization
Diagnostic Checklist





Check history of antibiotic use or debilitating diseases






Suspect in any hospitalized patient with acute colitis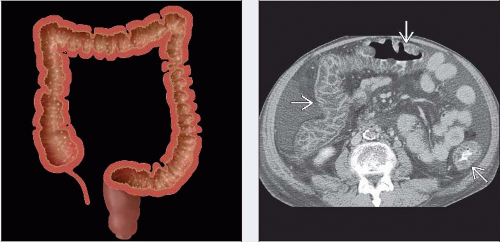 (Left)
Graphic demonstrates pancolitis with marked mural thickening and multiple, elevated, yellow-white plaques (or pseudomembranes).
(Right)
Axial CECT in a 62-year-old man who presented with diarrhea and dehydration demonstrates a classic case of pseudomembranous colitis. Note the severe bowel wall thickening throughout the entire colon

.
Pseudomembranous colitis typically presents as a pancolitis, as in this example.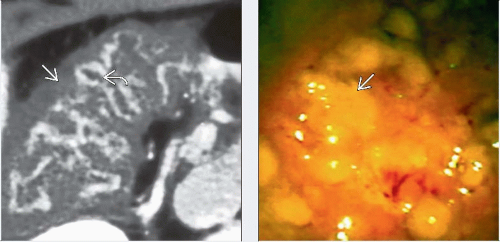 (Left)
Axial CECT in a 47-year-old man who had been taking antibiotics for 2 weeks for sinusitis, now presents with a 2-day history of RLQ pain, fever, and concern for appendicitis. Note the marked submucosal edema of the right colon
and the intense mucosal enhancement

(or "accordion" sign).
(Right)
Endoscopic photograph of the right colon in the same patient reveals the classic hyperemic mucosa and yellow plaques

characteristic of pseudomembranous colitis.
Premium Wordpress Themes by UFO Themes
WordPress theme by UFO themes