Fig. 4.1
Local anesthetics may abolish sensation in various parts of the body by topical application, injection in the vicinity of peripheral nerve endings and along major nerve trunks, or instillation within the epidural or subarachnoid space. The ensuing sensory block occurs locally and spreads to areas distal along the nerve pathway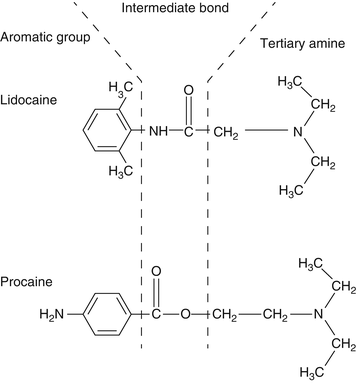 Fig. 4.2
Chemical composition and classification
Local anesthetics are composed of an acyl or aromatic group connected to an alkyl tertiary amine group by either an ester or amide bond.
Classification
into two groups is based on this bond which determines metabolic pathways. For the amino-ester LAs, there is relatively rapid breakdown by plasma cholinesterase to a common metabolite, para-aminobenzoic acid (PABA), with the exception of cocaine and articaine which have alternate metabolic pathways. Amino-amide LAs are metabolized by the cytochrome P450 system and conjugation as a route to elimination.
Thus, briefly, all local anesthetics have similar structures with an aromatic benzene ring and an amino group connected by a linkage. This linkage is either an amide or ester. All amide local anesthetics have an "I" in their generic name before "caine": lidocaine, bupivacaine, and ropivacaine. The other local anesthetics are esters: procaine and chloroprocaine. Local anesthetics block Na+ channels and stop nerve conduction of impulses.
Alkyl substitutions on LA increase the lipid solubility. The
potency
of LAs has been shown to be directly related to lipophilicity and is often expressed as the octanol-water partition coefficient.
All LAs are weak acids as quaternary amines and are positively charged. As tertiary amines, they are weak bases and uncharged. They must be in their lipophilic base form to access their site of action on the Na+ channel. The pKa of the LA and pH at the site of injection (usually physiologic pH of 7.4 but can be locally altered, e.g., in areas of infection) influence the amount of LA in base form and the
speed of
onset
of block. The addition of bicarbonate to a solution to increase the pH and speed of onset can be done to epinephrine-containing LAs that are adjusted to an acidic pH for stability in commercial preparations. In general, the lower the pKa the LA has, the faster the onset. Other factors influencing the speed of onset include the concentration and amount of LA used and the anatomic location of injection or application.
LAs prevent generation and conduction of the nerve impulse by blocking voltage-gated Na+ channels within the cell membrane. This reduces or prevents the transient increase in Na+ permeability needed for depolarization and propagation of a nerve impulse. Not all nerve fibers are equally sensitive to block. A
differential sensitivity
to block is seen when the concentration of a LA is sufficient to block some nerve fiber types but not others. Clinically, small unmyelinated C fibers, autonomic fibers, and small myelinated A delta fibers (pain and temperature) are more sensitive than larger myelinated A gamma, A beta, and A alpha fibers (motor, proprioception, touch, and pressure). This differential sensitivity is of significant use in accomplishing pain or autonomic blockade without necessarily effecting motor block. LAs exhibit differences in their ability to provide differential sensitivity, and bupivacaine has been used for this capability since its introduction in 1963. More recently, ropivacaine is stated to be more motor sparing than bupivacaine with less cardiotoxicity at equipotent doses [
1
–
3
]. Interestingly, nearly the opposite differential sensitivity is seen with nerve in vitro studies. The reason for this is not known but thought to be due to phase block, which is the phenomenon that nerves that are frequently firing are more easily blocked, and anatomic considerations in nerve bundles.
A frequent consideration in the selection of a local anesthetic is
the duration
of action
. There are multiple factors that determine duration of action. Increased lipid solubility of a particular agent generally increases its duration of action. As previously stated, the rate of metabolism can be a factor (e.g., amino-ester LAs). Generally, the speed of uptake and/or elimination from the site of deposition, which is also dependent on tissue perfusion, influences the duration of action. Perfusion of course is dependent on anatomic location (parauterine > intercostal > epidural > peripheral nerve > intrathecal) and sometimes is purposely manipulated by the addition of vasoconstrictors to decrease perfusion and uptake and thus prolong block.
Mixtures
of LAs to produce quick onset and/or a prolonged duration have been intermittently advocated. The results of this practice are varied, controversial, and depend on the location of utilization and the particular LAs used. There is some evidence to suggest that peripheral nerve block with bupivacaine/lidocaine or ropivacaine/lidocaine versus bupivacaine or ropivacaine alone provides a quicker onset but shorter duration of action [
4
]. Studies on epidural use suggest no significant difference when used in combination in terms of speed of onset or change in duration of action [
5
,
6
]. Benefits in terms of reduced toxicity have not been elucidated. Toxicity is presumed to be additive when considering the maximum doses of more than one agent, see Table
4.1
.
Table 4.1
Infiltration anesthesia














Drug






Plain solution






Epinephrine-containing solution







Concentration (%)






Max dose (mg)






Duration (min)






Max dose (mg)






Duration (min)













Procaine






1–2






500






20–30






600






30–45







Chloroprocaine






1–2






800






15–30






1,000






30












Lidocaine






0.5–1






300






30–60






500






120







Mepivacaine






0.5–1






300






45–90






500






120

Premium Wordpress Themes by UFO Themes

WordPress theme by UFO themes