This article discusses neonatal magnetic resonance (MR) imaging and reviews equipment and procedures for MR-related transport, sedation, monitoring, and scanning. MR is gaining importance in the diagnosis and clinical management of critically ill, and often very low birth weight infants, so research is ongoing to make transport and examination safer and imaging more successful. Efforts are focused on integration of dedicated neonate MR scanners in neonatal intensive care units, improvements in incubator technology and handling, and more efficient use of scan/sedation time by choosing dedicated neonate coil arrays that improve the signal-to-noise-ratio and facilitate the choice of modern imaging techniques.
The demand for magnetic resonance (MR) imaging of severely compromised term and preterm infants in neonatal intensive care units (NICUs) is increasing worldwide because MR imaging, with its excellent image quality, has unequaled diagnostic and prognostic value. MR imaging is indicated for neonates with brain injuries and neurologic disorders. In these cases, MR imaging detects more abnormalities, and shows their position and extent more precisely, than cranial ultrasound, the safe first-line imaging modality readily available in neonatal nurseries. A recent retrospective study on 129 neonatal MR imaging examinations found that the initial ultrasound diagnosis was changed or further specified in more than 57% of patients, and MR-based changes in clinical management were initiated in 58% of patients. Recent advances in MR imaging techniques add to the demand for MR imaging, because it concurrently provides quantitative structural, functional (ie, perfusion and diffusion), and vascular information. MR imaging is still a relatively new technique for imaging the newborn, and very preterm infant in particular, and an active area of research and development. Because scan duration and safety of the often critically ill infants is essential, special emphasis is placed on the development of a safe and quick imaging workflow. Therefore, improvements in equipment (ie, MR-compatible patient monitoring units, incubators, transport systems, dedicated pediatric radio frequency (RF) antennas, and so forth) and MR sequences (ie, parallel imaging and motion-correction methods) are of interest and are often worked on in tandem.
This article reviews the particular needs, equipment, and techniques for MR imaging of the newborn infant and seeks to give an outlook on future technology-driven developments in this area of research.
RF coils for neonatal MR imaging
Maximizing Signal-to-Noise Ratio
Anatomic structures are significantly smaller in infants than in adult patients. For instance, the size of the brain of an average-weight term newborn is approximately 25% that of an average adult ; higher-resolution scans are therefore needed to depict anatomic features in detail. A high signal-to-noise ratio (SNR) is a prerequisite for the increased resolution needed for MR imaging of newborns. SNR is directly proportional to the voxel size: reducing the voxel in all 3 dimensions by 20% decreases the voxel volume and hence the SNR by approximately 50%. Doubling the resolution in all 3 spatial dimensions results in an eightfold reduction in the voxel volume and SNR.
A potential source for additional SNR is the RF receive coil used for imaging. In many sites, adult head or extremity coils are used for scanning infants because of the lack of dedicated neonatal head or body coils. Often, the size of these adult patient coils is significantly larger than that required for infants, which leads to a suboptimal filling factor. The filling factor is a figure of merit for an MR imaging coil: a coil with a higher filling factor produces better SNR than a coil with a lower filling factor, when other protocol parameters and patient load remain unchanged. The concept of filling factor was a first attempt to explain the inherent SNR property of a coil. It has since been replaced by a more general concept of coil sensitivity, using the principle of reciprocity from the antenna theory.
Dedicated coils tailored to the size of the neonate have been developed over the years in an attempt to bring the coil closer to the infant. Fig. 3 shows a neonate birdcage coil for use with the LMT incubator and a size comparison with standard birdcage head coils used for adults. Fig. 4 compares the T2-weighted images acquired with the standard birdcage (see Fig. 3 , coil 4) and the neonate birdcage (see Fig. 3 , coil 1) in the same infant. The higher SNR achieved with the neonate birdcage coil, approximately a factor of 3, was traded for resolution and acquisition speed: the image shown in Fig. 4 B had an 8-times higher spatial resolution and half the acquisition time compared with that shown in Fig. 4 A.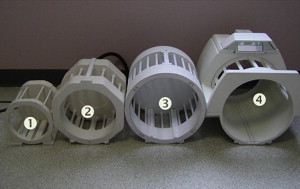 The sensitivity of an MR imaging coil array improves not only when the array is moved closer to the patient but also when the size of the individual coil elements that form the array are optimized. In general, coil arrays perform better if they can be adjusted in size, particularly in the anterior-posterior direction, to accommodate a larger patient population (eg, from very low birth weight premature infants to 6-month-old regular-weight infants). Another issue with adult-sized coils is that they are poorly matched to the smaller patient load when used with infants, which enhances the noise contributions from the electronics inside the coil. A dedicated pediatric coil array is better matched to neonates and therefore minimizes the image noise generated by the coil.
Following these basic principles of coil design (ie, maximizing SNR by closely fitting the coils around the patient and minimizing intrinsic losses caused by coil hardware), more pediatric array coils have become available in recent years. A representative set of commercially available solutions is shown in Fig. 5 . However, except for the integrated head-neck-spine-abdomen coil array shown in Fig. 5 A, these coils are optimized for an older pediatric population and not for preterm and term infants, but they can still be used and offer an SNR benefit compared with adult phased array coils. In addition, they are also not compatible with the LMT incubator, which has its own current line of RF antennas with up to 12 elements. Table 1 summarizes current commercially available pediatric coils suitable for neonate imaging.
Advanced RF Coils
A significant challenge for hardware design in MR imaging in children is the growth of patients and the large variation in patient size. As per growth charts, the average head circumference is 20 to 22 cm for preterm infants at 22 weeks, 38.5 cm for full-term newborns, and up to 46 cm (95 percentile) for 6-month-old babies. A single infant head coil covering the entire size range is optimal, but the large variation in head size impedes meeting this goal. Flexible or adjustable coil arrays could be used for wider age ranges. However, there are limits in applying flexible designs to volume coils such as head coils. In addition, adjustable coils, with their more complex mechanical solutions, are not as reliable and easy to clean, the latter limitation being important in the context of very young patients. A comprehensive set of pediatric MR imaging coils should ideally contain flexible or adjustable coils for imaging of the torso/spine region, and a set of differently sized head coils.
Recent research has focused on the development of 32-channel brain arrays for pediatric neuroimaging spanning the age group of neonates to 7-year-old children ( Fig. 6 ). This development is a logical continuation of the success of the 32-channel brain arrays that have become standard for highest quality clinical neuroimaging in adults because of their SNR benefits and ability to obtain exquisite images in reduced acquisition time by using parallel imaging techniques. The coils shown in Fig. 6 consist of 2 parts: a deep posterior segment laid out like a soccer ball and a separate, detachable paddle with slightly larger loops that covers the forehead ( Fig. 7 ). The head rests deep in the posterior segment and head movement is constrained by this shape. SNR comparisons in age-matched phantom models of the head among the set of 32-channel pediatric coils, a 32-channel adult head array, and a pediatric-sized birdcage are shown in Fig. 8 . The SNR of the neonate 32-channel coil is 3.6 times higher at the periphery (edge of the phantom) and 1.25 times higher at the center of the phantom than that of the adult 32-channel head coil. When averaged over the whole brain, the SNR of the neonate coil is still 2.8 times higher than that of the adult array. The SNR of the neonate array is 5.4 times higher at the periphery and 1.3 times higher at the center than that of the birdcage coil. The high number of coil elements combined with the high SNR significantly reduces the scanning time, which is of utmost importance in neonates. Furthermore, the likelihood of head motion is reduced during shorter scans and because of the coil design, which is an essential prerequisite for accurate functional imaging (blood oxygenation level dependent, diffusion) studies that are required during diagnostic assessment of ill preterm or term infants.
Premium Wordpress Themes by UFO Themes
WordPress theme by UFO themes