Fig. 10.1
A 64-year-old male with biopsy-proven prostate cancer (Gleason 7 and PSA 6.7 ng/mL). The axial T2-weighted anatomical MR image (
a
) shows a lesion in the ventral area of the transition zone (midprostate). This is confirmed on the ADC map showing restricted diffusion (
b
). The Ktrans map demonstrates an increased Ktrans compared to the contralateral site (
c
)
The detection MR examination includes at least two functional MR imaging techniques in addition to the anatomical information (Barentsz et al.
2012
). Anatomical information can be obtained from T2-weighted imaging sequences (Figs.
10.2
,
10.3
, and
10.4
), which are acquired in at least two planes (Barentsz et al.
2012
). Preferably, axial and sagittal planes are chosen. T2-weighted MR imaging provides the best depiction of the prostate's zonal anatomy and is the cornerstone of prostate MR imaging. Dynamic contrast-enhanced (DCE) MR imaging provides information about the perfusion and neovascularization of the prostate (Figs.
10.5
and
10.6
). In both peripheral and transition zones, prostate cancer often demonstrates neovascularization; however, not all enhancing lesions are potential cancers. DCE-MR imaging is a very sensitive technique and lacks specificity. Benign prostatic hyperplasia, prostatitis, and scar tissue demonstrate similar enhancement patterns (Figs.
10.7
,
10.8
, and
10.9
). Especially, prostatitis and low-grade prostate cancers are difficult to discern based on the DCE-MR imaging parameters (Fig.
10.10
). Diffusion-weighted MR imaging (DWI) is a measure for the diffusion of water molecules. Restricted diffusion is seen in tissues with a high cellular density, such as prostate cancer. Apparent diffusion coefficient (ADC) values derived from DWI are related to prostate cancer aggressiveness (Hambrock et al.
2011
; Kobus et al.
2011
; Vargas et al.
2011
; Turkbey et al.
2011
). Considerable overlap in ADC values is seen in normal and cancerous tissue. Diffusion-weighted imaging shows differences between prostatitis and prostate cancer in both the peripheral zone and central gland, although its usability in clinical practice is limited as a result of significant overlap in ADCs (Nagel et al.
2013
). Magnetic resonance spectroscopic imaging (MRSI) can be used to predict the presence or absence of prostate cancer; however, there is significant overlap in choline + creatine over citrate ratios between benign and malignant tissue. MRSI is performed with a three-dimensional chemical shift imaging technique (Fig.
10.11
).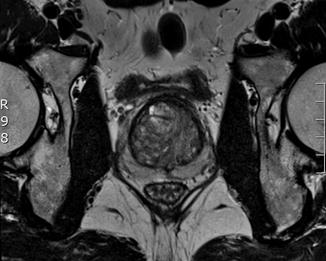 Fig. 10.2
Axial T2-weighted MR imaging demonstrating a high signal intensity in the healthy peripheral zone. No lesions can be appreciated in the peripheral zone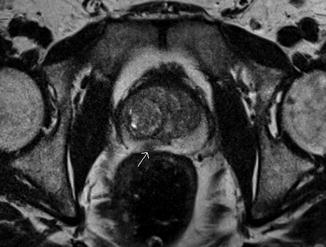 Fig. 10.3
A 63-year-old male with MR-guided biopsy-proven prostate cancer in the right peripheral zone. The T2-weighted image demonstrates a low-signal-intensity area in the right peripheral zone (
arrow
)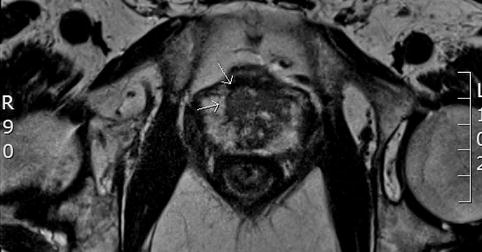 Fig. 10.4
A 71-year-old male with MR-guided biopsy-proven prostate cancer in the right transition zone. The T2-weighted image demonstrates a low-signal-intensity area (erased charcoal sign) in the right transition zone (
arrows
)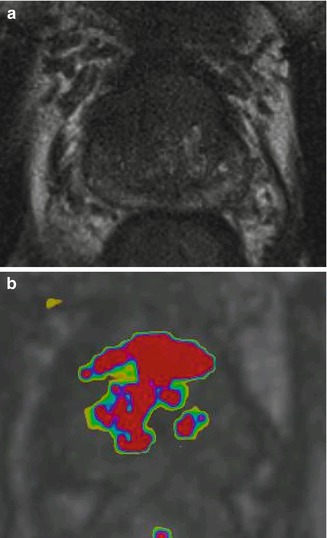 Fig. 10.5
A 72-year-old male with a PSA of 18 and two negative TRUS biopsy sessions underwent MR-guided biopsy. (
a
) The T2-weighted MR image demonstrates a large area of low signal intensity in the transition zone. (
b
) The perfusion MRI demonstrates washout in this area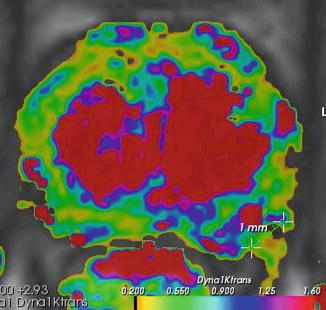 Fig. 10.6
A 69-year-old-male with an elevated PSA of 13 underwent MR-guided biopsy of the left peripheral zone. The perfusion MRI showed washout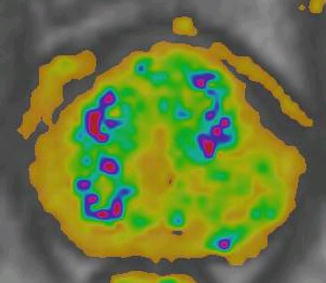 Fig. 10.7
The perfusion images demonstrate symmetric popcorn enhancement and washout in the transition zone. The pathology specimens revealed BPH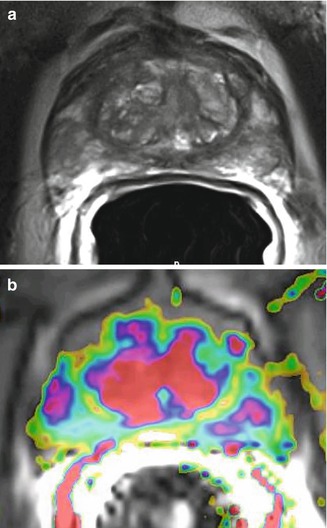 Fig. 10.8
A 73-year-old male with a PSA of 8.9 underwent MR imaging of the prostate and subsequent biopsy. (
a
) The T2-weighted MR image demonstrates triangular areas of low signal intensity and bilateral washout (
b
). Biopsy revealed chronic prostatitis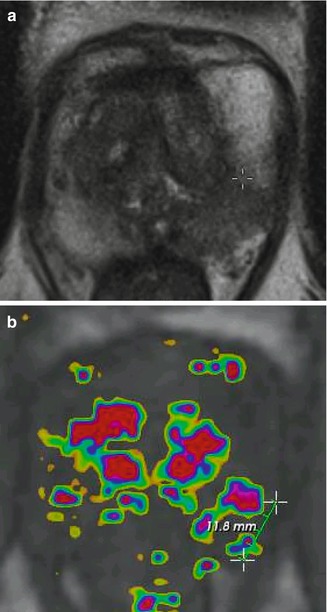 Fig. 10.9
A 61-year-old male with a Gleason 7 tumor in the left peripheral zone. (
a
) The T2-weighted MR images demonstrate a PI-RADS 4 lesion in the left peripheral zone. (
b
) DCE map shows an increased contrast uptake in the left peripheral zone (also note the popcorn enhancement in the transition zone)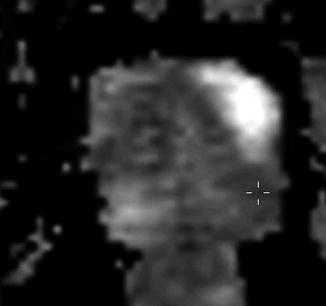 Fig. 10.10
A 61-year-old male with rising PSA and two negative biopsy sessions. The ADC map shows restricted diffusion in the left peripheral zone. MR-guided biopsy revealed a Gleason 7 cancer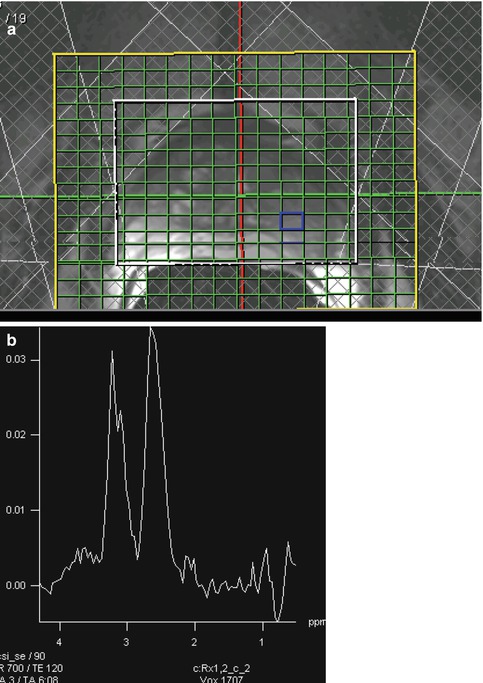 Fig. 10.11
Three-dimensional chemical shift imaging of the prostate. (
a
Premium Wordpress Themes by UFO Themes
WordPress theme by UFO themes