Pediatric bowel obstructions are one of the most common surgical emergencies in children, and imaging plays a vital role in the evaluation and diagnosis. An evidence-based and practical imaging approach to diagnosing and localizing pediatric bowel obstructions is essential for optimal pediatric patient care. This article discusses an up-to-date practical diagnostic imaging algorithm for pediatric bowel obstructions and presents the imaging spectrum of pediatric bowel obstructions and their underlying causes.
Key points



•




The age of the patient and suspected location of an obstruction can help determine which imaging modality to use when imaging bowel obstructions in the pediatric population.




•




Plain radiography is a first-line imaging modality to evaluate for signs and location of bowel obstruction.




•




In neonates, fluoroscopic upper gastrointestinal series are helpful in evaluating upper intestinal obstruction, whereas a fluoroscopic enema may determine the cause and location of a lower intestinal obstruction.




•




Ultrasound is an excellent noninvasive imaging modality in cases of pediatric bowel obstruction that are caused by acute appendicitis, ileocolic intussusception, and abdominal or inguinal hernias.




•




Computed tomography often is used as a second-line modality to better localize an obstruction or characterize its cause.
Introduction
Pediatric bowel obstructions are one of the most common surgical emergencies in children, and imaging plays a vital role in the evaluation and diagnosis ( Tables 1 and 2 ). The main purposes of this article are to (1) discuss up-to-date evidence-based imaging algorithms; (2) describe a practical approach to pediatric bowel obstructions using imaging; (3) present the imaging spectrum of pediatric bowel obstructions and discuss their underlying causes; and (4) link imaging findings to management recommendations for practicing radiologists and physicians.
Table 1
| High Intestinal Obstructions | Low Intestinal Obstructions |
| --- | --- |
| Esophageal atresia | Ileal atresia |
| Duodenal atresia | Meconium ileus |
| Duodenal web | Functional immaturity of the left colon |
| Duodenal stenosis/annular pancreas | Hirschsprung disease |
| Malrotation with midgut volvulus | Colonic atresia |
| Jejunal atresia/stenosis | Megacystis microcolon intestinal hypoperistalsis |
| | Anal atresia/anorectal malformations |
Table 2
| Congenital | Infectious/Inflammatory | Iatrogenic | Other |
| --- | --- | --- | --- |
| Malrotation w/midgut volvulus | Appendicitis | Adhesions | Ingested foreign body |
| Meckel's diverticulum | Ileocolic intussusception | Acquired hernia | Distal intestinal obstruction syndrome |
| Congenital inguinal hernia | Inflammatory bowel disease | | |
Evidence-based imaging algorithm
Imaging is highly useful in diagnosing and localizing pediatric bowel obstructions. In almost every case of suspected obstruction, abdominal radiographs are helpful as a first-line imaging examination in children of any age to determine (1) if there are signs of obstruction; (2) if the obstruction is in the upper or lower gastrointestinal (GI) tract; and (3) if there is evidence of bowel perforation, such as pneumoperitoneum. If perforation is suspected, obtaining subsequent upright or left lateral decubitus views is important and increases sensitivity for detecting free air to 85% and 96%, respectively. Although radiographs are an appropriate first step, their sensitivity for diagnosing a specific etiology often is lacking; therefore, additional imaging modalities may be necessary for a definitive diagnosis. A practical and evidence-based imaging algorithm ( Figs. 1 and 2 ) based on the age of the patients (neonate vs older child) can be used to help guide management.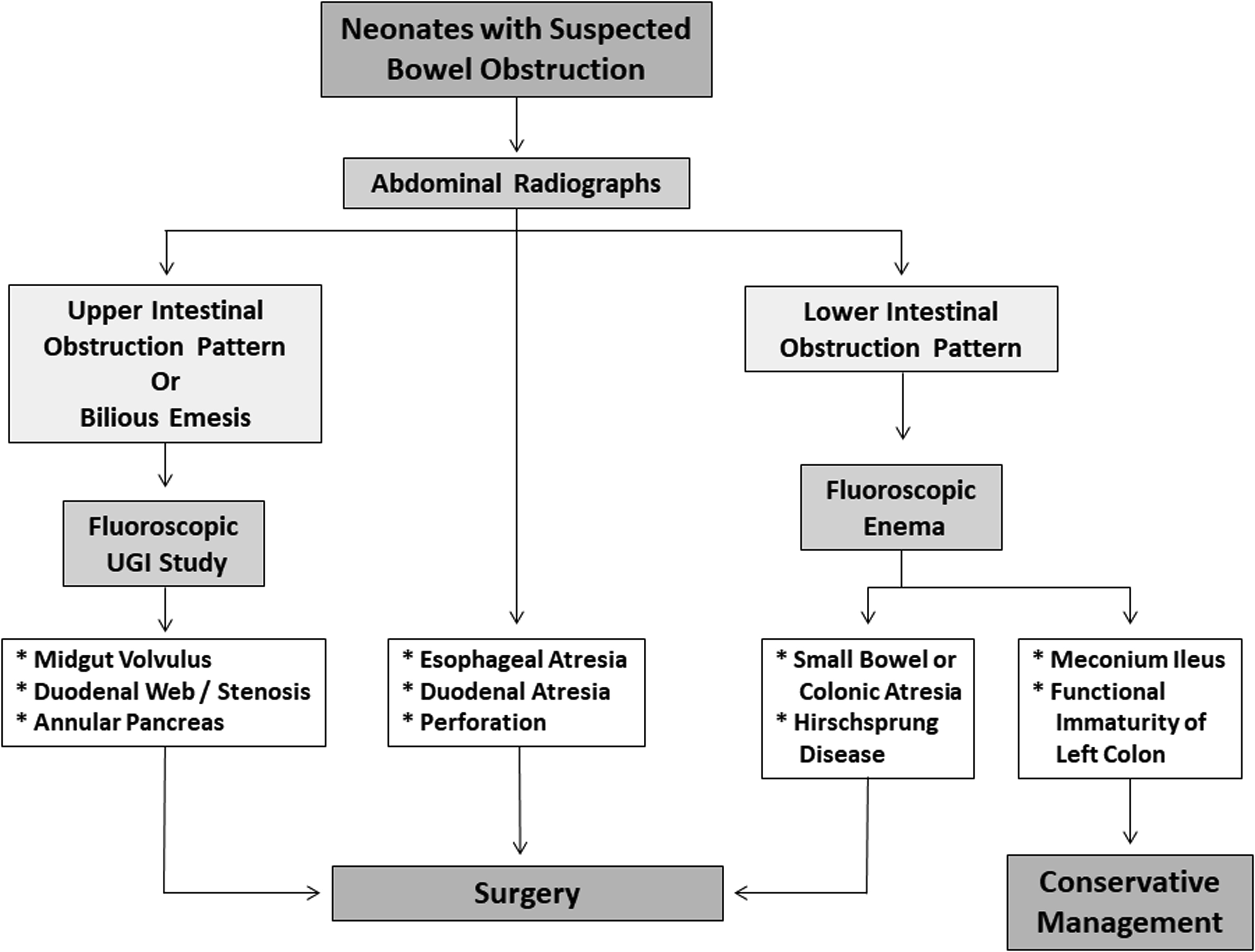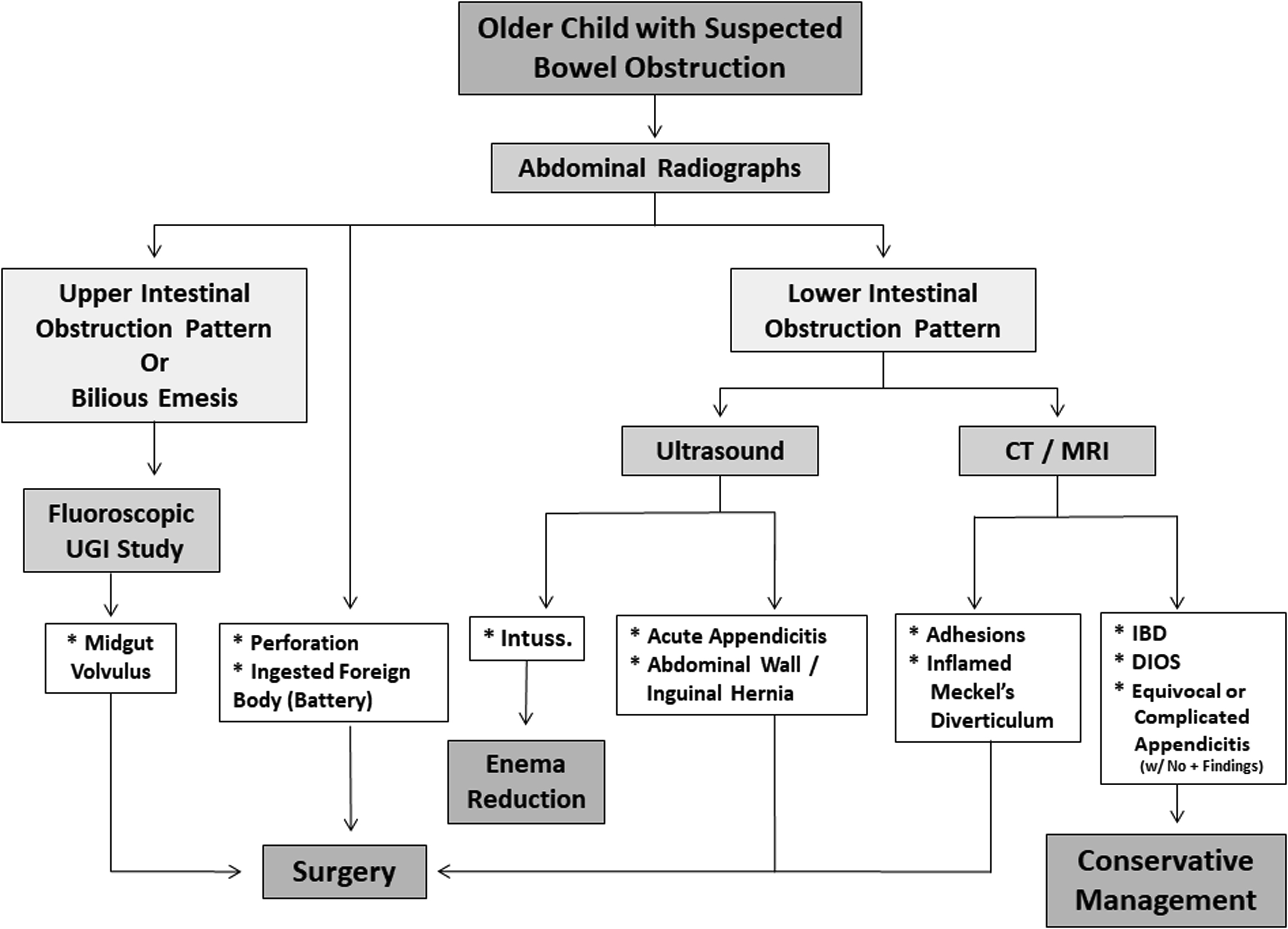 Neonate
Following initial radiographs, if an upper tract obstruction is suspected in a neonate, a fluoroscopic upper GI imaging (UGI) series is performed next to localize and delineate the obstruction. UGI adequately characterizes duodenal stenosis, duodenal web, and jejunal atresia and can suggest a diagnosis of annular pancreas, although a proximal jejunal atresia usually is a radiographic diagnosis with a triple bubble sign. Although sensitivity and specificity are not abundant in the literature for these, UGI generally is the most appropriate and widely accepted imaging study for these diagnoses. UGI is the imaging study used most commonly for the detection of malrotation and midgut volvulus, with approximate sensitivity of 96% and 79%, respectively. The use of ultrasound (US) for diagnosis of malrotation with midgut volvulus has more variable degrees of accuracy reported in the literature. , Radiographs typically are adequate for establishing a diagnosis of esophageal or duodenal atresia due to their characteristic and nearly pathognomonic findings (discussed later).
If a lower obstruction is suspected in a neonate, fluoroscopic contrast enema is the most widely used and appropriate imaging test to evaluate for etiologies including: ileal atresia, meconium ileus, functional immaturity of the colon, colonic atresia, and Hirschsprung disease. Contrast enema has sensitivity and specificity of 70% and 83%, respectively, for Hirschsprung disease and can help with a clinical decision to perform rectal wall biopsy. When anorectal malformations are suspected, inverted or prone radiographs can suggest a distance to a rectal pouch but with relatively low sensitivity (27%). Perineal US, however, improves sensitivity to 86% and contrast colostography has a reported sensitivity of up to 100%.
Older Child
Typically, radiographs are a useful first choice to evaluate for signs of bowel obstruction and possible bowel perforation. If bilious vomiting is present and malrotation with midgut volvulus is suspected, an emergent UGI should be performed, as discussed previously.
Many other etiologies for bowel obstruction in older children, including acute appendicitis, ileocolic intussusception, and inguinal or acquired abdominal wall hernia, can be evaluated with US. US for diagnosis of acute appendicitis has reported sensitivity and specificity of 88% and 94%, respectively, and is highly specific in cases of perforated appendicitis. , If US is equivocal, further evaluation with CT (sensitivity 96%/specificity 95%) or MR imaging (sensitivity 97%/specificity 97%) can be considered. US for diagnosis of ileocolic intussusception has a high sensitivity of 98% to 100% and specificity of 88% to 100%. Focused US of the groin can supplement physical examination and radiographs in detecting inguinal hernias, with high degrees of accuracy (95%), sensitivity (95%), and specificity (86%). Meckel's diverticulum is diagnosed most often with imaging using a technetium pertechnetate abdominal scintigram, with reported sensitivity of 80% to 90% and specificity of 95% in pediatric patients. ,
In the setting of acute obstruction, however, US or CT may be helpful for detecting an inflamed Meckel's diverticulum causing the obstruction. Abdominal adhesions are not often seen on imaging but signs that they may be present can be seen with US and CT with abrupt transition points or swirling of the bowel around a fixed point.
Spectrum of bowel obstruction in infants and children
Bowel obstruction in the pediatric population can be evaluated best when a patient is categorized into either neonatal or older children groups based on the age of the patient, because the typical underlying causes and types of imaging used for the evaluation often are different.
Neonatal Bowel Obstruction
Neonatal bowel obstruction can be high or low in location depending on the underlying causes.
Get Clinical Tree app for offline access