Intracranial Hemorrhage



Arash Meshksar


Wayne S. Kubal
Nontraumatic Intracranial Hemorrhage
Initial Diagnosis
Although many cases of intracranial hemorrhage (ICH), including intra-axial and extra-axial hemorrhage, are due to trauma, this discussion will be limited to atraumatic intracranial hemorrhage. Abrupt onset of neurologic symptoms in any patient should be considered to be of vascular origin until proven otherwise. It is not possible to differentiate ischemic from hemorrhagic accidents based on the patient's symptoms alone. Neuroimaging is thus an essential initial step not only for determining the initial diagnosis, but also for determining the type, location, and underlying mechanism in patients with intracranial hemorrhage. Computed tomography (CT) and magnetic resonance imaging (MRI) are both very sensitive for detection of intracranial hemorrhage; however, due to easier accessibility, lower cost, and shorter imaging time, CT scan is preferred for the initial evaluation of patients with suspected acute hemorrhage. The task of the radiologist is to diagnose the hemorrhage based on initial noncontrast CT (NCCT) or MRI, analyze the pattern of hemorrhage, and make recommendations for further workup. Performing these tasks efficiently and accurately can improve patient outcome and can optimize work flow in a busy emergency radiology section.
The first point of analysis for the radiologist is to determine the location of the intracranial hemorrhage. Specifically, the radiologist needs to determine whether the hemorrhage is primarily a subarachnoid hemorrhage (SAH) or intraparenchymal hemorrhage (IPH). Although there is some overlap in the etiologies and workup of SAH and IPH, we will consider them separately.
Subarachnoid Hemorrhage
Subarachnoid hemorrhage is bleeding into the subarachnoid space. Atraumatic SAH usually occurs because of ruptured aneurysms. Nonaneurysmal perimesencephalic hemorrhage, vascular malformation, or less commonly vasculitis and vessel dissection are additional causes of non-traumatic intracranial hemorrhage one should consider. There is a wide geographic variation in the incidence of atraumatic SAH. China reports an incidence of 2 cases per 100,000 population per year, whereas Finland reports the highest incidence at over 20 cases per 100,000 per year. In the United States the incidence is 9.6 to 14.0 cases per 100,000 according to different reports. That incidence translates to approximately 30,000 new cases annually. Risk factors for SAH include female sex, hypertension, smoking, alcohol use, and the abuse of drugs such as cocaine. It is the responsibility of the radiologist to meticulously search for the signs of SAH in patients investigated for headache and also determine the cause of the hemorrhage as early as possible. Computed tomography remains the cornerstone of diagnosis, having a sensitivity of approximately 98% to 100% in the first 12 hours after hemorrhage. Computed tomography sensitivity declines after this period with a sharp decline after 5 to 7 days. Lumbar puncture is often required in these patients to show xanthochromia and confirm the diagnosis. Negative predictive value of absence of xanthochromia to rule out SAH has been shown to be about 99%.
Magnetic resonance imaging can be an alternative to lumbar puncture in potential SAH cases with negative CT scan results. Bleeding into the subarachnoid space causes a change in relaxation time of the cerebral spinal fluid (CSF), which in turn causes T1 signal change. This change also causes insufficient nulling of the CSF signal by fluid-attenuated inversion recovery (FLAIR) and consequent hyperintensity of subarachnoid space. Even though the sensitivity of FLAIR imaging has been reported to be nearly the same as CT, the specificity remains lower than lumbar puncture for excluding SAH. Other disease entities such as meningitis, leptomeningeal spread of malignant disease, and meningeal enhancement after contrast administration also lead to increased subarachnoid signal on FLAIR sequence.
Aneurysm
Approximately 80% of patients with atraumatic SAH have aneurysm as the cause of hemorrhage ( Fig. 4-1 ). The most common presenting symptom is headache that is usually described by the patient as the "worst headache of life." Other symptoms include vomiting, meningismus, and altered level of consciousness or even coma. Some patients experience milder symptoms (usually milder headache and nausea/vomiting) 2 to 8 weeks before the overt SAH. These symptoms can be caused by minor hemorrhages from an aneurysm leak, which is called a sentinel or warning bleed . Review of several large studies showed that about 20% among 1752 patients with SAH in those studies had a history of headache before the SAH event. Only 1% of patients presenting to the emergency department (ED) with headache have SAH. A high degree of suspicion and proper screening in patients with headache can detect those with a sentinel bleed, a potentially lifesaving diagnosis in this group of patients.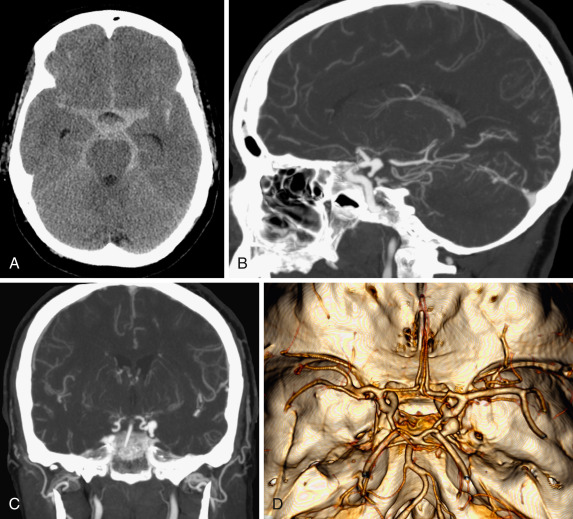 An accurate diagnosis of SAH based on initial CT scan requires knowledge of the common locations where the blood may accumulate after the incident. These areas include dependent areas of the CSF space, including the suprasellar cistern (aneurysm of anterior communicating artery), the deep sulci adjacent to the interhemispheric fissure (aneurysms of distal anterior cerebral artery), the interpeduncular cistern (aneurysms of posterior circulation), and the Sylvian fissure (aneurysm of middle cerebral artery [MCA] bifurcation). Sometimes the aneurysms can be visualized as lucent lesions within the hyperdense hemorrhagic material in CSF space or as curvilinear calcifications.
The description of the location of aneurysms mentioned earlier involves saccular aneurysms, which are the most common. It should be noted that infectious aneurysms (mycotic aneurysms) could also be the cause of SAH. These aneurysms can be located anywhere in the cerebral vasculature and can be suspected according to the patient's clinical setting and imaging findings.
Patients who survive the initial few hours after SAH are threatened by intracranial complications such as brain ischemia secondary to vasospasm, rebleeding, and hydrocephalus. A CT grading system known as the Fisher scale ( Table 4-1 ) has been used for prediction of cerebral vasospasm in patients with SAH.
Table 4-1
| Grade | Computed Tomography Appearance of Subarachnoid Hemorrhage |
| --- | --- |
| 1 | No visualized blood |
| 2 | Visualized layers of blood less than 1 mm thick |
| 3 | Visualized layers or focal clots more than 1 mm thick |
| 4 | Any thickness with intraventricular or intraparenchymal hemorrhage |
The odds ratio of cerebral vasospasm after SAH is estimated to be in orders of 1.2, 2.2, and 1.7 for grades 2, 3, and 4 compared to grade 1, respectively. Thus SAH patients with focal thick clots in the subarachnoid space or concomitant intraventricular hemorrhage (IVH)/IPH are at increased risk for vasospasm. Although the case fatality has decreased in industrialized nations over the past 25 years, SAH still carries a poor prognosis. Mortality rates vary widely across different reports, ranging from 8% to 67%. The median mortality rate from epidemiologic studies in the United States has been 32% versus 43% in Europe and 27% in Japan. Morbidity, including lifestyle restriction, persistent dependence, and cognitive impairment, ranges from 8% to 20% in survivors. The goal is early treatment of the source of hemorrhage.
Nonaneurysmal Perimesencephalic Hemorrhage
Nonaneurysmal perimesencephalic hemorrhage (NAPH) accounts for about 10% of SAH cases. The hemorrhage is characterized by accumulation of blood predominantly around the brainstem mostly ventral to the midbrain or pons or less commonly in the quadrigeminal plate cistern ( Fig. 4-2 , A and B ). The diagnosis requires the exclusion of aneurysms or any other source of bleeding (see Fig. 4-2 , C and D ). The symptoms and clinical course in these patients are more benign than with aneurysmal rupture. Rebleeding and ischemia do not usually occur. The cause of the NAPH has not been fully determined. Some clues suggest that the origin of bleeding is venous as opposed to arterial in aneurysms. It has been shown that patients with this form of hemorrhage have an aberrant pattern of deep cerebral venous drainage much more frequently than patients with aneurysmal causes. Perimesencephalic hemorrhage often follows physical exertion. Some investigators believe that increased intracranial venous pressures secondary to increased intrathoracic pressure during exercise causes the hemorrhage. There is controversy regarding the best method to exclude an aneurysm as the etiology of perimesencephalic hemorrhage. Many experts advocate use of catheter angiography for this purpose. The remaining 10% of SAH cases are caused by a variety of pathologic conditions such as arteriovenous malformation (AVM), dissection, vasculitis, cavernous hemangioma, and unspecified causes.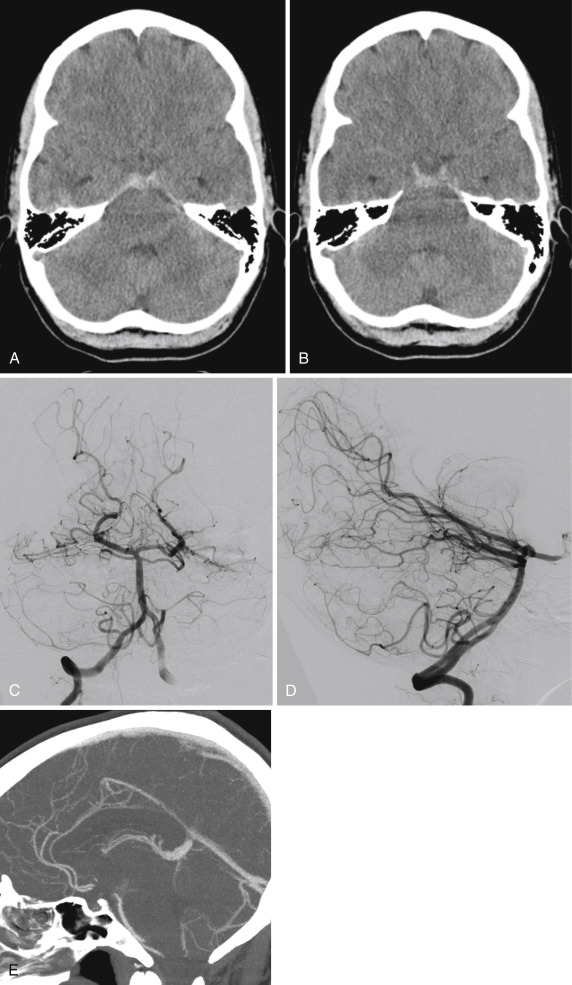 Workup of Subarachnoid Hemorrhage After Initial Diagnosis
After the diagnosis of SAH has been made, the imaging workup should be directed toward determining the cause of the hemorrhage and providing information for subsequent treatment. Given the preponderance of aneurysmal ruptures as the cause of SAH (80% of cases), the next step in imaging workup is directed toward vascular imaging with the goal of detecting and defining possible intracranial aneurysm or aneurysms. Aneurysms may be detected with catheter digital subtraction angiography (DSA), computed tomographic angiography (CTA), or magnetic resonance angiography (MRA). Although DSA is still the gold standard, CTA is most commonly used for the initial evaluation. Magnetic resonance angiography has a limited role in the initial vascular evaluation of SAH patients because of longer acquisition time, higher cost, susceptibility to patient movement, and lower sensitivity. The sensitivity of MRA has been reported to be 74% to 98% for aneurysms larger than 3 mm.
The emergence of three-dimensional (3-D) rotational DSA and flat panel detectors as the newer technologies integrated into the DSA technique has made DSA even more sensitive in detecting small aneurysms that otherwise would not be detected because of overlapping vessels. Digital subtraction angiography provides the highest spatial resolution (0.125-mm pixel size) and is still the best modality for studying aneurysm relationship to the parent artery and to the neighboring perforator arteries, as well as measurement of the aneurysm neck and dome.
In many centers CTA has replaced DSA as the initial imaging modality. Computed tomography angiography has the advantage of being quick to obtain while the patient is in the CT scanner for initial screening and allows for interpretation by the emergency radiologist before activating either the endovascular or neurosurgical services. The accuracy of CTA has improved over the last few years with improvements in CT technology. The advent of multirow detector CTA has yielded a very good spatial resolution with a maximum pixel size of 0.35 mm. Administration of an average 50 to 80 mL of contrast medium is usually sufficient to obtain diagnostic-quality images. Computed tomography angiography has also been shown to be very accurate in providing information about the configuration of the aneurysm to allow for planning of endovascular therapy ( Fig. 4-3 ; see Fig. 4-1 ). One important advantage of CTA over DSA is the ability to show the osseous and extraluminal structures, which helps the surgeon with surgery planning. It also configures the shape and size of the aneurysm dome and neck very well, which can help with planning endovascular treatment. Computed tomography angiography has an approximate overall sensitivity of 98% in detecting aneurysms as measured in a meta-analysis of multiple studies conducted in 2011. One important limitation of CTA is detection of aneurysms smaller than 3 mm located near the skull base. For detecting aneurysms smaller than 3 mm the sensitivity is reported to be between 77% and 86% in different studies.

To reduce the risk of missing aneurysms near the skull base, bone subtraction algorithms have been implemented that include simple subtraction of unenhanced from enhanced data and also selective bone removal or "matched masked bone elimination." These algorithms enhance visualization of aneurysms near the skull base and bony structures. A preliminary image called bone mask is acquired before contrast administration. After the contrast administration and acquisition of all images, the bone mask is spatially coregistered with the contrast-enhanced image and then subtracted from it. The final result is contrast-enhanced image with unenhanced structures, including bone, removed from it. The penalty is increased radiation dose to the patient because of the need to acquire precontrast and postcontrast images.
Recently the advent of dual-energy multirow CT scanners has enabled direct bone removal, hence obviating the need for additional radiation for acquiring bone mask and also obviating the problems with misregistration of precontrast and postcontrast images caused by patient movement. Dual-energy CT uses two orthogonally mounted tube arrays and detectors that operate simultaneously and can be set to different tube potentials (i.e., 80 and 140 kilovolts peak [kVp]), allowing CT acquisition with two different energy levels at the same time. The resultant data sets can be reformatted with the scanner software to extract maps of contrast-enhanced material without complex image registration. Some recent small studies have shown that dual-energy CTA is more sensitive than the previous generation of CT scans in detecting small skull base aneurysms, but the sensitivity is still lower than DSA.
Reformatted CTA images in coronal and sagittal projections should be routinely obtained from the axial data set (see Figs. 4-1 and 4-3 ). In addition, 3-D reconstructed images targeted to areas of clinical concern can be very useful in clearing equivocal findings or providing spatial information about the aneurysms detected (see Fig. 4-3 , C ). Aneurysms usually arise at arterial branch points near the circle of Willis. Common supratentorial sites for aneurysms include the anterior communicating artery, the bifurcation of the MCA, and the posterior communicating artery. In the posterior fossa the most common site is the tip of the basilar artery. Each of these sites should be thoroughly interrogated by the interpreting radiologist. It is also important to carefully scrutinize the entire study even after finding a single aneurysm. Multiple aneurysms have been detected in up to 20% of patients presenting with nontraumatic SAH. When multiple aneurysms are detected, careful examination of the contour of each aneurysm may show a focal irregularity or "Murphy's tit" indicating the likelihood of recent aneurysmal rupture.
When evaluating the cerebral vessels it is also important to evaluate for a possible AVM. Arteriovenous malformations more commonly present with IPH or a mixed pattern of SAH and IPH/IVH rather than pure SAH ( Fig. 4-4 ). After completing examination of the intracranial arteries, the radiologist should also evaluate the venous sinuses for patency. Venous sinus thrombosis is a potential, albeit unusual, cause of SAH ( Fig. 4-5 ).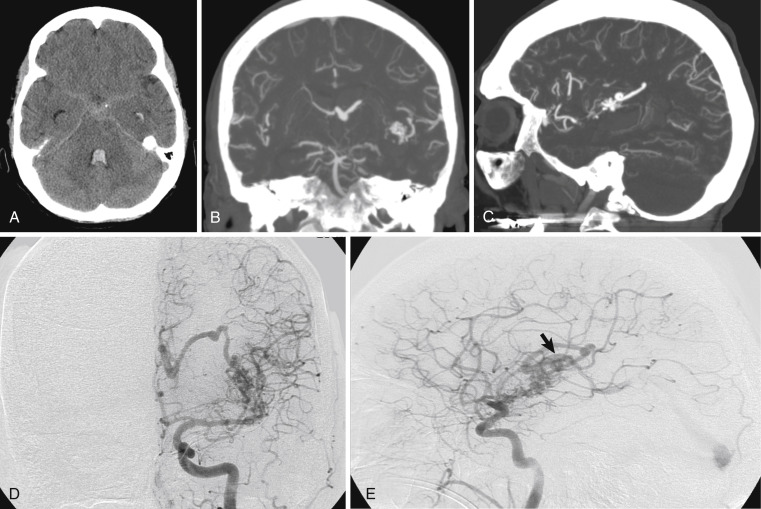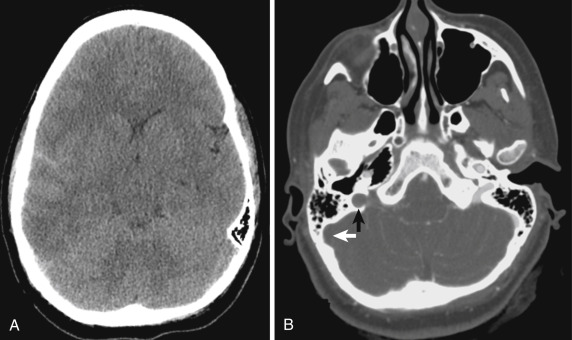 If careful analysis of the CTA shows no evidence for a vascular abnormality, the possibility of NAPH should be considered. If the SAH is limited to the basilar cisterns, the initial CTA shows no vascular abnormality, and the patient has a benign clinical course without rebleeding or vasospasm, some authors believe that the patient probably does not need further angiographic workup. Many centers are more conservative, nearly always performing a second vascular imaging study. In patients with widespread SAH or a more complicated clinical course, repeat vascular imaging with either CTA or catheter angiography has been shown to be of value. Combining eight angiographic series between 1985 and 1996 demonstrated a 17% yield of previously undiagnosed aneurysm on the second angiogram. Even a third examination may show aneurysms undetected on the prior studies.
Intraparenchymal Hemorrhage
Intraparenchymal hemorrhage is bleeding into the parenchyma of the brain. Intraparenchymal hemorrhage may extend into the ventricles. It is not possible to differentiate ischemic from hemorrhagic accidents based on the patient's symptoms alone. Symptoms such as systolic blood pressure above 220 mm Hg, vomiting, sudden progression of symptoms, severe headache, decreased level of consciousness, and coma favor intracranial hemorrhage rather than ischemia; however, they are not specific. Intraparenchymal hemorrhage is the second most common cause of stroke after ischemic stroke and more than twice as common as SAH. According to a recent meta-analysis, the incidence of IPH is 24.6 per 100,000 persons, which has not decreased in the last 3 decades. Asian populations have a two times higher rate of IPH compared to other ethnic groups. Each year 40,000 to 50,000 people in the United States present with IPH. The rate is expected to double during the next 50 years in part as a result of the increasing age of the population. Intraparenchymal hemorrhage is more likely to result in death or major disability than cerebral infarction or SAH. The case fatality rate of patients with IPH in 1 month after the accident approaches 40%.
Intraparenchymal hemorrhage may result from a large and heterogeneous group of causes, including primary causes such as hypertension and amyloid angiopathy or secondary causes such as AVM, intracranial aneurysms, cavernous angiomas, dural venous sinus thrombosis, intracranial neoplasms, coagulopathy, vasculitis, drug use, and hemorrhagic ischemic stroke. Hypertensive and amyloid angiopathy causes account for 78% to 88 % of IPH cases; however, underlying vascular abnormalities must always be considered in the appropriate clinical circumstances because of the high risk for recurrent hemorrhage and the availability of treatment options.
Computed tomography scan is very sensitive for detecting acute IPH and is considered the procedure of choice for initial imaging because of easy availability, fast imaging, and low cost compared to MRI. In the hyperacute and acute phases of IPH, CT shows a well-defined hyperdense lesion compared with the adjacent brain parenchyma ( Fig. 4-6 , A ). The hematocrit, hemoglobin content, and degree of blood clot retraction determine the density of the lesion. In patients with severe anemia, reduced concentrations of hemoglobin causes the acute hematoma to appear less hyperdense than expected. In late subacute phase, progressive lysis of the red blood cells and proteolysis of the hemoglobin result in decreasing density of the lesion. The hematoma may appear isodense to the adjacent brain parenchyma. The hematoma is then progressively resorbed, and in the chronic phase it is typically seen as a smaller hypodense defect.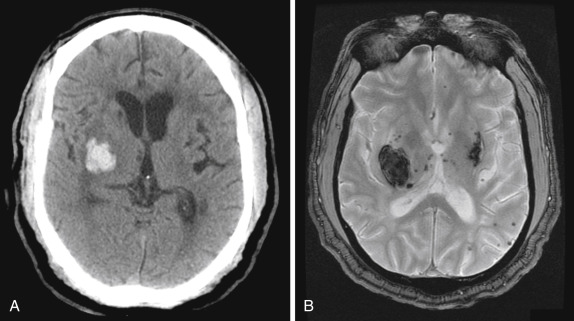 Intracranial Infections



Carrie P. Marder


Kathleen R. Fink
Intracranial infections often present acutely, and the diagnostic evaluation begins in the ED. Correct diagnosis depends on a combination of clinical, laboratory, and radiologic investigations, with CSF analysis playing a central role. Imaging provides or narrows the differential diagnosis and occasionally identifies a particular entity or organism. Imaging is also crucial for identifying complications of infection.
This section emphasizes the overall strategy for emergent imaging of suspected intracranial infections, highlighting specific entities in which imaging aids diagnosis. Emergency imaging in immunocompromised patients and major complications of intracranial infections that might present in the ED are also considered.
Imaging Strategy
Patients with suspected intracranial infection presenting with altered mental status, seizures, or focal neurologic deficits require emergent NCCT to exclude hydrocephalus, cerebral edema, mass lesions, hemorrhage, or impending brain herniation. Noncontrast CT is widely available, rapidly acquired, and well tolerated by critically ill patients. Once immediately life-threatening conditions have been excluded, contrast-enhanced MRI may be needed to detect subtle signs of infection or complications such as infarcts.
The American College of Radiology (ACR) Appropriateness Criteria contains many guidelines for appropriate imaging that are applicable to patients in the ED. Both NCCT and contrast-enhanced MRI of the head are usually appropriate for patients presenting with new headache and suspected meningitis or encephalitis, with the choice of test depending on local preference and availability. Contrast-enhanced CT may be a suitable alternative when MRI is unavailable or contraindicated, such as in patients with metal implants, severe claustrophobia, or severe renal dysfunction. Cerebrovascular complications of infection are frequent and may require evaluation with MRA or CTA and MR venography (MRV) or CT venography (CTV). Advanced techniques and nuclear medicine studies are reserved for problem solving and are not usually performed from the ED.
Uncomplicated rhinosinusitis generally does not require imaging. If there is suspicion for intracranial or orbital complications of rhinosinusitis, both NCCT and contrast-enhanced MRI of the head, orbits, and paranasal sinuses are usually appropriate (ACR Appropriateness Criteria, "Sinonasal Disease"). Evaluation for intracranial extension is best accomplished with contrast-enhanced MRI. If gadolinium is contraindicated, noncontrast MRI augmented with contrast-enhanced CT of the head and sinuses is recommended.
In immunocompromised individuals with new headache, MRI with or without contrast is usually appropriate as the initial imaging test (ACR Appropriateness Criteria, "Headache"). Immunocompromised patients with rhinosinusitis are at high risk for intracranial or orbital complications, and imaging may be performed earlier than in immunocompetent patients.
Meningitis
Meningitis refers to inflammation of the pia and arachnoid membranes and may be classified based on cause and CSF profile. Pyogenic bacterial meningitis is characterized by CSF findings of neutrophilic pleocytosis, elevated protein level, low glucose level, and elevated opening pressure. Viral meningitis is characterized by CSF findings of lymphocytic pleocytosis with near normal protein and glucose levels, normal opening pressure, and absence of bacterial growth on cultures ("aseptic" meningitis). Granulomatous or chronic meningitis usually refers to chronic inflammation of the basal surfaces of the brain ("basilar" meningitis) and may be due to infectious causes, including tuberculosis or fungal infections, as well as noninfectious causes such as sarcoidosis. Cerebral spinal fluid findings include mild lymphocytosis, elevated protein level, and low glucose level.
The goals of imaging in suspected meningitis are primarily to exclude contraindications to lumbar puncture and to evaluate for complications such as hydrocephalus. Noncontrast CT is usually the first test, but not all patients with suspected meningitis require CT. Patients with impaired consciousness, seizure, focal neurologic signs, immunocompromised state, and age older than 60 years are more likely to have positive imaging findings and benefit from NCCT.
Brain herniation is a dreaded complication of acute bacterial meningitis that occurs in up to 5% of patients and is associated with significant mortality. Because of the theoretical potential for lumbar puncture to cause brain herniation in a patient with cerebral edema, lumbar puncture should be avoided in patients with midline shift, effacement of the basilar cisterns, posterior fossa mass effect, or clinical signs of increased intracranial pressure, even if NCCT results are normal ( Fig. 4-17 ).

Get Clinical Tree app for offline access