fracture, cholesteatoma, paraganglioma, hemangioma, facial nerve schwannoma, metastasis, Bell palsy, otitis media

• loss of lacrimation, hyperacusis, loss of taste
C. EXTRACRANIAL PAROTID SEGMENT
forceps delivery, penetrating facial trauma, parotid surgery, parotid malignancy, malignant otitis externa
• preservation of lacrimation, stapedius reflex, taste
Bell Palsy
= facial nerve paralysis without identifiable cause
Cause: ? viral inflammation (herpes simplex virus)
• rapid onset of facial nerve paralysis progressing over a few hours to up to 3 weeks
√ enhancement of canalicular, labyrinthine, geniculate portion of facial n.
Prognosis: spontaneous improvement (in 80%); persistent Bell palsy (in 5% caused by neurinoma)
N.B.: if symptoms persist for > 3 weeks → MRI
EAR
Hearing deficit
A. CONDUCTIVE HEARING LOSS
• decrease in air conduction via EAC, tympanic membrane, ossicular chain, oval window (sound via headphones)
• normal bone conduction (sound via bone oscillator)
(a) congenital (uncommon):
1. EAC atresia / stenosis
2. Malformed ossicles
3. Absence of oval window
(b) trauma: incudostapedial / malleoincudal subluxation; incus dislocation; stapes dislocation; stapes / malleus fracture
(c) destruction of ossicular chain:
1. Otitis media
(d) restriction of ossicular chain: fenestral otosclerosis
◊ CT is the modality of choice!
B. SENSORINEURAL HEARING LOSS (most common)
• elevated conduction thresholds for bone + air
(a) sensory / cochlear SNHL = damage to cochlea / organ of Corti (less common)
› bony labyrinth
» demineralization:
1. Otosclerosis (otospongiosis)
2. osteogenesis imperfecta
3. Paget disease, syphilis
» congenital deformity:
1. Cochlear dys- / aplasia
2. Michel anomaly
3. Mondini dysplasia
4. Enlarged vestibular aqueduct syndrome
5. X-linked sensorineural hearing loss
» traumatic lesion:
1. Transverse fracture
2. Perilymphatic fistula, cochlear concussion
» destructive lesion: inflammation, neoplasm
◊ High-resolution CT is the modality of choice!
› membranous labyrinth
» enhancement: labyrinthitis, Cogan syndrome (early phase of autoimmune interstitial keratitis), intralabyrinthine schwannoma, site of postinflammatory perilymphatic fistula
» obliteration: labyrinthitis ossificans, Cogan syndrome (late phase)
» hemorrhage: trauma, labyrinthitis, coagulopathy, tumor fistulization
» Ménière disease (vertigo + fluctuating sensory sensorineural hearing loss)
◊ Thin-section MR is the modality of choice!
(b) neural / retrocochlear SNHL (more common)
= abnormalities of neurons of spiral ganglion + central auditory pathways
› IAC / cerebellopontine angle
(1) Neoplastic lesion: vestibular / trigeminal schwannoma (acoustic neuroma in 1%), meningioma, arachnoid cyst, epidermoid cyst, leptomeningeal carcinomatosis, lymphoma, lipoma, hemangioma
(2) Nonneoplastic lesion: sarcoidosis, meningitis, vascular loop, siderosis
› intraaxial auditory pathway
(brainstem, thalamus, temporal lobe)
(1) Ischemic lesion
(2) Neoplastic lesion
(3) Traumatic lesion
(4) Demyelinating lesion
◊ MR is the modality of choice!
Pulsatile tinnitus ± Vascular Tympanic Membrane
= perception of a rhythmic cardiac synchronous sound of ringing / buzzing / roaring
A. NO ABNORMALITY (20%)
B. CONGENITAL VASCULAR VARIANTS (21%)
1. Aberrant ICA
2. Dehiscent jugular bulb
3. High-riding nondehiscent jugular bulb (= jugular megabulb)
√ high jugular bulb with diverticulum projecting cephalad into petrous temporal bone
C. ACQUIRED VASCULAR LESIONS (25%)
1. Dural AVM
2. Extracranial arteriovenous fistula
3. High-grade stenotic vascular lesion:
carotid artery atherosclerosis, fibromuscular dysplasia, carotid artery dissection
4. Aneurysm involving horizontal segment of petrous ICA
D. TEMPORAL BONE TUMORS (31%)
1. Paraganglioma (27%):
glomus tympanicum, glomus jugulare
2. Meningioma
3. Hemangioma
E. MISCELLANEOUS
1. Cholesterol granuloma
External Ear Masses
A. CONGENITAL
1. Atresia
B. INFLAMMATORY
1. Malignant external otitis
2. Keratosis obturans
3. Cholesteatoma
C. BENIGN TUMOR
1. Exostosis = surfer's ear
Cause: irritation by cold water
√ bony mass projecting into EAC; often multiple + bilateral
2. Osteoma
√ may invade adjacent bone
√ single in EAC / mastoid
3. Ceruminoma
from apocrine + sebaceous glands; bone erosion mimics malignancy
D. MALIGNANT TUMOR
1. Squamous cell carcinoma
• often long history of chronic suppurative otitis media = "malignant otitis"
2. Basal cell carcinoma
3. Melanoma, adenocarcinoma, adenoid cystic carcinoma
4. Metastases
(a) hematogenous: breast, prostate, lung, kidney, thyroid
(b) direct spread: skin, parotid, nasopharynx, brain, meninges
(c) systemic: leukemia, lymphoma, myeloma
5. Histiocytosis X: in 15% of patients
Middle Ear Masses
A. CONGENITAL
1. Aberrant internal carotid artery
2. Dehiscent jugular bulb
B. INFLAMMATORY
1. Cholesteatoma
2. Cholesterol granuloma
3. Granulation tissue
√ linear strands partially opacifying middle ear cavity without bony erosion
C. BENIGN TUMOR
1. Adenomatous tumor (mixed pattern type)
√ intense enhancement
√ no osseous destruction
2. Glomus tumor (multiple in 10%; 8% malignant)
(a) glomus tympanicum: at cochlear promontory
√ seldom erodes bone
(b) glomus jugulare: at jugular foramen
√ invasion of middle ear from below
√ destruction of bony roof of jugular fossa + bony spur separating vein from carotid artery
3. Facial nerve schwannoma
4. Ossifying hemangioma
5. Choristoma = ectopic mature salivary tissue
6. Endolymphatic sac tumor
7. Meningioma
D. MALIGNANT TUMOR
1. Squamous cell carcinoma
2. Metastasis
3. Rhabdomyosarcoma
Location: orbit > nasopharynx > ear
4. Adenocarcinoma (rare), adenoid cystic carcinoma
Mass on Promontory
[promontory = bone over basal turn of cochlea]
1. Glomus tympanicum
2. Congenital cholesteatoma
3. Aberrant carotid artery
4. Persistent stapedial artery
Inner Ear Masses
A. CONGENITAL
1. Congenital / primary cholesteatoma
= epidermoid tumor (3rd most common CPA tumor)
B. INFLAMMATION
1. Cholesterol granuloma
2. Petrous apex mucocele
C. TUMOR
1. Glomus jugulare tumor
2. Hemangioma, fibro-osseous lesion
3. Metastasis
4. Facial nerve neurinoma
5. Large CPA tumors: acoustic neuroma, meningioma (2nd most common CPA tumor)
TEMPORAL BONE
Congenital Malformation of Temporal Bone
• congenital hearing deficit
Developmental malformations affecting the EAC + middle ear may cause conductive hearing loss.
Those affecting the membranous + bony labyrinth may result in sensorineural hearing loss (SN HL).
Cause: (a) nongenetic
(b) genetic
› isolated
› associated with:
(1) CHARGE syndrome (= Coloboma, Heart defect, Atresia of nasal choanae, Retardation of growth ± development, Genital ± urinary abnormalities, Ear abnormalities and deafness)
(2) Klippel-Feil syndrome
(3) Trisomy 21
(4) Goldenhar syndrome
(5) Crouzon syndrome
Location: external ear, middle ear, inner ear
1. Congenital atresia of EAC
2. Otic capsule dysplasia
3. Large vestibular aqueduct syndrome
Vascular Abnormalities of Temporal Bone
1. Aberrant internal carotid artery (rare)
2. High-riding jugular bulb
3. Persistence of stapedial artery
Inflammatory Temporal Bone Lesion
The most common inflammatory condition affecting the temporal bone is acute otitis media.
@ External auditory canal
1. EAC cholesteatoma
2. Keratosis obturans
3. Malignant otitis externa
@ Middle ear
1. Acute otitis media
2. Chronic otitis media
3. Cholesterol granuloma
4. Cholesteatoma
@ Inner ear
1. Labyrinthitis
Tumor of Temporal Bone
A. CEREBELLOPONTINE ANGLE + IAC
1. Vestibular schwannoma (most common)
B. MIDDLE EAR
◊ First exclude a vascular structure!
(a) Vascular structure
1. Persistent stapedial artery
2. Lateral / aberrant carotid artery
3. Dehiscent jugular bulb
(b) benign neoplasm
Paraganglioma (glomus tumor / chemodectoma) is the 2nd most common tumor to involve the temporal bone and most common tumor of the middle ear.
1. Paraganglioma
2. Facial nerve schwannoma
3. Geniculate hemangioma
4. Salivary choristoma
5. Meningioma
6. Middle ear adenoma
(c) malignant neoplasm (rare)
1. Carcinoma
2. Metastasis
3. Perineural spread along facial n.
C. EAC AND MASTOID
(a) malignant neoplasm (common)
1. Squamous cell carcinoma
2. Others: basal cell carcinoma, melanoma, lymphoma, myeloma, metastasis, chondro-, osteosarcoma
(b) benign process
1. Langerhans cell histiocytosis
2. Tuberculosis
3. Wegener granulomatosis
4. Malignant otitis media
5. Radiation necrosis
D. PETROUS APEX
(a) primary neoplasm
1. Chondrosarcoma: most common primary malignancy
2. Endolymphatic sac tumor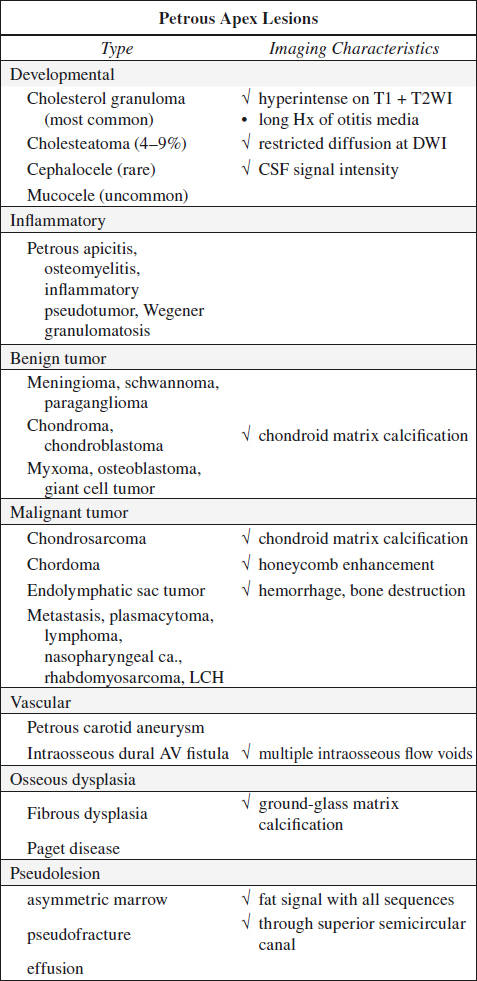 (b) secondary involvement by regional tumor:
trigeminal schwannoma, jugular paraganglioma, nasopharyngeal carcinoma
Dumbbell Mass Spanning Petrous Apex
1. Large trigeminal schwannoma
2. Meningioma
3. Epidermoid cyst
Enhancing Lesion in Internal Auditory Canal
A. NEOPLASTIC
1. Acoustic schwannoma
2. Ossifying hemangioma
3. Lymphoma
4. Metastasis
B. NONNEOPLASTIC
1. Sarcoidosis
2. Meningitis
3. Postmeningitic / postcraniotomy fibrosis
4. Vascular loop of anterior inferior cerebellar artery
5. Syphilis
Demineralization of Temporal Bone
1. Otosclerosis = otospongiosis
2. Paget disease = osteoporosis circumscripta
• sensorineural / mixed hearing loss (cochlear involvement / stapes fixation in oval window)
√ usually lytic changes beginning in petrous pyramid + progressing laterally; otic capsule last to be affected
√ calvarial changes ± basilar impression
3. Fibrous dysplasia monostotic with temporal bone involvement
Cause: inability to form mature lamellar bone owing to disordered osteoblastic activity
• painless mastoid swelling
• conductive hearing loss ← narrowing of EAC / middle ear
√ homogeneously dense thickened structurally weak bone (fibro-osseous tissue less dense than calvarial bone)
√ bone expansion with preserved cortex → osseous narrowing of vascular channels + neuroforamina
√ lytic lesions (less frequent)
√ sparing of membranous labyrinth, facial nerve canal, IAC is the rule
4. Osteogenesis imperfecta
√ changes similar to otosclerosis
van der Hoeve-de Kleyn syndrome
= osteogenesis imperfecta + hearing loss + blue sclerae in patients in late 2nd / early 3rd decade
5. Otosyphilis: labyrinthitis + gummatous lesion of internal auditory canal + inflammatory resorptive osteitis
√ moth-eaten permeative osteolysis of temporal bone
6. Metastasis
Mastoid Abnormality in Child
1. Acute otitis media
2. Langerhans cell histiocytosis
3. Rhabdomyosarcoma
4. Metastatic disease: most commonly neuroblastoma
SINUSES
Opacification of Maxillary Sinus
A. WITHOUT BONE DESTRUCTION
1. Sinus aplasia / hypoplasia
Age: NOT routinely visualized at birth, by age 6 antral floor at level of middle turbinate, by age 15 of adult size
Location: uni- / bilateral
√ depression of orbital floor with enlargement of orbit
√ lateral displacement of lateral wall of nasal fossa with large turbinate
2. Maxillary dentigerous cyst
usually containing a tooth / crown; without tooth = primordial dentigerous cyst
3. Ameloblastoma
4. Acute sinusitis
√ air-fluid level
B. WITH BONE DESTRUCTION
1. Maxillary sinus tumor
2. Infection: aspergillosis, mucormycosis, TB, syphilis
3. Wegener granulomatosis; lethal midline granuloma
4. Blowout fracture
Paranasal Sinus Masses
1. Mucocele
Cause: obstruction of a paranasal sinus
√ ± bone remodeling / sinus expansion
2. Mucus retention cyst
Cause: obstruction of small seromucinous gland
Location: commonly in floor of maxilla
√ smoothly marginated soft-tissue mass
3. Sinonasal polyp
4. Antrochoanal polyp
5. Inverting papilloma
6. Sinusitis
7. Carcinoma
8. Rhabdomyosarcoma (of adulthood)
Site: ethmoid sinuses
Prognosis: poor (due to frequent intracranial extension)
Sinonasal Granulomatous Disease
√ sinus mucosal thickening
√ osseous + cartilaginous erosion (through cribriform plate)
√ nasal septal perforation
√ intraorbital extension
A. Chronic irritants
1. Beryllium
2. Chromate salts
B. Infection
1. Tuberculosis
2. Actinomycosis
3. Rhinoscleroma
4. Yaws
5. Blastomycosis
6. Leprosy
7. Rhinosporidiosis
8. Syphilis
9. Leishmaniasis
10. Glanders
C. Autoimmune disease
1. Wegener granulomatosis
2. Churg-Strauss syndrome
D. Lymphoma-like lesions
1. Midline granuloma
E. Unclassified
1. Sarcoidosis
Hyperdense Sinus Secretions
1. Inspissated secretions
2. Mycotic (fungal) sinusitis
3. Hemorrhage into sinus
4. Chronic sinusitis infected with bacteria (in particular in very long-standing disease / cystic fibrosis)
Opacified Sinus & Expansion / Destruction
mnemonic: PLUMP FACIES
Plasmacytoma
Lymphoma
Unknown etiology: Wegener granulomatosis
Mucocele
Polyp
Fibrous dysplasia, Fibroma (ossifying)
Aneurysmal bone cyst, Angiofibroma
Cancer
Inverting papilloma
Esthesioneuroblastoma
Sarcoma: ie, rhabdomyosarcoma
Frontal Soft-tissue Swelling
1. Pott puffy tumor
2. Dermoid and epidermoid cyst
3. Cephalocele
4. Cephalhematoma
5. Mucocele
6. Destructive lesion: Langerhans cell histiocytosis, metastasis
NOSE
Nasal Vault Masses
A. BENIGN
1. Sinonasal polyp
2. Inverted papilloma
3. Hemangioma
• history of epistaxis
4. Pyogenic granuloma
√ pedunculated lobular mass
5. Granuloma gravidarum
= nasal hemangioma of pregnancy
6. Hemangiopericytoma
7. Juvenile nasopharyngeal angiofibroma
√ arises in superior nasopharynx with extension into nose via posterior choana
B. MALIGNANT
1. Squamous cell carcinoma (most common primary)
Predisposed: nickel workers
2. Adenocarcinoma, mucoepidermoid carcinoma, adenoid cystic carcinoma
3. Rhabdomyosarcoma: head and neck most frequent site
4. Lymphoma, chloroma
5. Melanoma
6. Metastasis
Mass in Nasopharynx
mnemonic: NASAL PIPE
Nasopharyngeal carcinoma
Angiofibroma (juvenile)
Spine / skull fracture
Adenoids
Lymphoma
Polyp
Infection
Plasmacytoma
Extension of neoplasm (sphenoid / ethmoid sinus ca.)
Congenital Midline Nasal Mass
= result of faulty regression of embryologic dural diverticulum through foramen cecum + fonticulus frontalis (= nasofrontal fontanel) from the prenasal space
Frequency: 1÷20,000 to 1÷40,000 births
1. Teratoma, dermoid, epidermoid
2. Nasal glioma = nasal cerebral heterotopia
3. Sincipital encephalocele
4. Hemangioma / lymphangioma
5. Dacryocystocele
6. Dacryocystitis
Nasal Septal Perforation / Destruction
Nasal septal perforation due to granulomatous pressure erosions and cartilage destruction is most commonly seen in granulomatosis with polyangiitis (formerly Wegener granulomatosis), sarcoidosis and relapsing polychondritis.
A. AUTOIMMUNE DISEASE
1. Wegener granulomatosis
2. Relapsing polychondritis
B. IDIOPATHIC
1. Sarcoidosis
2. Reparative giant cell granuloma
C. INFECTION
1. Syphilis
2. Leprosy
D. TOXIC EXPOSURE
1. Cocaine abuse
E. TRAUMA
1. Rhinotillexomania (= chronic nose picking)
2. Surgery
F. MALIGNANCY
1. Lymphoma
ORAL CAVITY
Infections of Oral Cavity
1. Periodontal disease
2. Ludwig angina
3. Descending necrotizing mediastinitis
Cystic Lesion in Floor of Mouth
A. CYSTIC LESION
1. Ranula
2. Dermoid / epidermoid
B. INFLAMMATION / INFECTION
1. Ludwig angina
2. Dental infection: premolar / 1st molar
3. Penetrating trauma
4. Obstructing submandibular calculus
5. IV drug use
C. SUBMANDIBULAR DUCT OBSTRUCTION
D. VASCULAR MALFORMATION
1. High-flow AVM
2. Low-flow hemangioma / venous malformation / lymphangioma
E. NEOPLASM
(a) benign: lipoma, pleomorphic adenoma of sublingual / minor salivary gland, neural sheath tumors
(b) malignant: SCC, salivary gland tumor
F. PSEUDOTUMOR: compensatory hypertrophy of sublingual gland, ectopic submandibular salivary gland, ectopic thyroid tissue
Primary Lesion at Root of Tongue
A. CONGENITAL (75%)
(a) nonvascular
1. Thyroglossal duct cyst (70%)
2. Dermoid / epidermoid cyst
3. Foregut duplication cyst (7%)
4. Lingual thyroid
5. Lipoma (0.1–5%)
(b) vascular
1. Lymphatic malformation
2. Venous malformation
3. Venolymphatic malformation
4. Arteriovenous malformation
B. INFECTIOUS (rare)
1. Abscess
C. NEOPLASTIC
(a) benign (rare)
1. Rhabdomyoma
2. Leiomyoma
3. Schwannoma
4. Neurofibroma, plexiform neurofibroma
(b) malignant (rare)
◊ More aggressive than cancers of oral tongue
1. Rhabdomyosarcoma (5% of oral rhabdomyosa.)
2. Alveolar soft part sarcoma
PHARYNX
Pharyngeal Abnormalities
A. NONMALIGNANT
(a) congenital
1. Branchial arch anomaly
2. Laryngeal cleft
3. Laryngeal cyst
4. Tracheoesophageal fistula
(b) acquired
1. Foreign body ingestion
2. Perforation
3. Laryngocele
4. Zenker diverticulum
5. Killian-Jamieson diverticulum
(c) infection / inflammation:
1. Epiglottitis, pharyngitis
2. Granulomatous disease: tuberculosis, sarcoidosis
3. Amyloidosis
4. Irradiation
B. MALIGNANT
◊ Squamous cell carcinoma in 90%!
@ Oropharynx
Location: tonsils (75–80%) > tongue base > valleculae > pharyngeal wall cancer
@ Larynx
Location: glottic > supraglottic > subglottic cancer
@ Hypopharynx
Location: piriform sinus > postcricoid > posterior pharyngeal wall cancer
Parapharyngeal Space Mass
A. BENIGN
1. Asymmetric pterygoid venous plexus
√ racemose, enhancing area along medial border of lateral pterygoid muscle
2. Abscess
Origin: pharyngitis (most common), dental infection, parotid calculus disease, penetrating trauma
3. Atypical second branchial cleft cyst
√ exits pharynx at level of tonsillar fossa
4. Third branchial arch anomaly
√ exits pharynx at piriform sinus
5. Pleomorphic adenoma of ectopic salivary tissue / of deep lobe of parotid gland (common)
6. Schwannoma, neurofibroma
Origin: usually from cranial nerve X
√ carotid artery pushed anteriorly
7. Paraganglioma
√ posterior to carotid artery
√ extremely vascular (numerous flow voids)
8. Lipoma
B. MALIGNANT
1. Squamous cell carcinoma
√ direct extension from pharyngeal mucosal space
√ vertical extension to skull base / hyoid bone
2. Salivary gland malignancy
Pharyngeal Mucosal Space Mass
1. Asymmetric fossa of Rosenmüller
= lateral pharyngeal recess = asymmetry in amount of lymphoid tissue
2. Tonsillar / peritonsillar abscess
• sore throat, fever, painful swallowing
3. Postinflammatory retention cyst
√ 1–2-cm well-circumscribed cystic mass
4. Postinflammatory calcification
• remote history of severe pharyngitis
√ multiple clumps of calcification
5. Benign mixed tumor
• pedunculated mass arising from minor salivary glands
√ oval / round well-circumscribed mass protruding into airway
6. Squamous cell carcinoma
√ infiltrating mass with epicenter medial to + invading parapharyngeal space
√ middle-ear fluid (eustachian tube malfunction)
√ cervical adenopathy
7. Non-Hodgkin lymphoma
8. Minor salivary gland malignancy
9. Thornwaldt cyst
◊ Most common congenital head and neck cyst in a child!
PET in Squamous Cell Carcinoma of Head and Neck
(1) Mucosal primary not identified (in 1–5%): 25–35% sensitive
(2) Staging: detection of contralateral nodal involvement
(3) Restaging (88–100% sensitive, 75–100% specific): more sensitive and specific than CT / MR
Masticator Space Mass
A BENIGN
1. Asymmetric accessory parotid gland
Frequency: 21% of general population
Location: usually on surface of masseter muscle
√ prominent salivary gland tissue
2. Benign masseteric hypertrophy
Cause: bruxism (= nocturnal gnashing of teeth)
√ homogeneous enlargement of one / both masseters
3. Odontogenic abscess / mandibular cysts
• bad dentition + trismus
4. Lymphangioma, hemangioma
B. MALIGNANT
1. Sarcoma (chondro-, osteo-, soft-tissue sarcoma, especially rhabdomyosarcoma in children)
√ infiltrating mass with mandibular destruction
2. Malignant schwannoma
√ tubular mass along cranial nerve V3
3. Non-Hodgkin lymphoma
4. Infiltrating squamous cell carcinoma
√ extending from pharyngeal mucosa
5. Salivary gland malignancy: mucoepidermoid carcinoma, adenoid cystic carcinoma
√ extending from parotid gland
| | | |
| --- | --- | --- |
| N.B.: | (1) | check course of V3 to foramen ovale for skull base extension to Meckel cave area + cavernous sinus |
| | (2) | check for extension to pterygopalatine fossa + infraorbital fissure into orbit |
Full access? Get Clinical Tree