Presentation and Presenting Images

( ▶ Fig. 90.1, ▶ Fig. 90.2, ▶ Fig. 90.3, ▶ Fig. 90.4, ▶ Fig. 90.5)
A 52-year-old female with a left breast biopsy performed at an outside institution that was consistent with intraductal carcinoma (DCIS) and invasive ductal carcinoma presents for diagnostic mammography and evaluation.
90.2

Key Images


( ▶ Fig. 90.6, ▶ Fig. 90.7, ▶ Fig. 90.8, ▶ Fig. 90.9, ▶ Fig. 90.10, ▶ Fig. 90.11, ▶ Fig. 90.12, ▶ Fig. 90.13, ▶ Fig. 90.14, ▶ Fig. 90.15)






90.2.1

Breast Tissue Density


There are scattered areas of fibroglandular density.



90.2.2
Imaging Findings
The imaging of the right breast is normal (not shown). The left breast demonstrates the known malignancy (circle in ▶ Fig. 90.6, ▶ Fig. 90.7, ▶ Fig. 90.8, ▶ Fig. 90.9, and ▶ Fig. 90.10) as an area of architectural distortion with associated pleomorphic calcifications and a postbiopsy clip located at the 2 to 3 o'clock location in the anterior depth, 3 cm from the nipple. The architectural distortion is confirmed on digital breast tomosynthesis (DBT) imaging ( ▶ Fig. 90.11 and ▶ Fig. 90.12). Note that the biopsy marker clip (arrow in ▶ Fig. 90.12) is at the superior margin of the architectural distortion. This is helpful to know when planning preoperative localization.
There is an 8-mm oval mass (arrows in ▶ Fig. 90.13 and ▶ Fig. 90.14) at 9 o'clock in the middle depth of the left breast, 4.5 cm from the nipple, on slice 28 of 67 of the craniocaudal (CC) tomosynthesis movie ( ▶ Fig. 90.13) and slice 29 of 77 of the lateromedial (LM) tomosynthesis movie ( ▶ Fig. 90.14). This finding is not seen on conventional mammography.
Sonography reveals an anechoic mass ( ▶ Fig. 90.15) with posterior acoustic enhancement that is the same size and distance from the nipple as the tomosynthesis finding.
90.3

BI-RADS Classification and Action


Category 2: Benign




Category 6: Known biopsy-proven malignancy



90.4
Differential Diagnosis





Cyst: Cysts are often multiple, usually bilateral, and may be painful and fluctuate in size. They are most common in 30- to 50-year-old patients. Cysts can be found in the same breast that has a diagnosed cancer.






Fibroadenoma: Fibroadenomas are the most common benign masses in young women. They are multiple in 10 to 15% of patients. This is a reasonable benign diagnosis; however, it is not supported by the ultrasound findings.






Invasive ductal carcinoma: In this patient with a known malignancy, it is important to exclude multicentric and multifocal malignancy. The ultrasound reveals a cyst; thus, this is not a likely diagnosis.
90.5
Essential Facts





It is important to identify true mass lesions and to dismiss pseudomasses or summation artifacts.






The spiculated mass was easily identified on both conventional mammography and DBT imaging. In this case, it would have been difficult to identify the oval mass on conventional mammography. Before DBT, additional imaging including spot-compression views would have been necessary to confirm the finding.






Determination that the mass is oval does not confirm benignity. Ultrasound was necessary to further characterize this mass as a cyst.






If ultrasound had not identified this mass and biopsy was deemed necessary, tomosynthesis-directed stereotactic biopsy could have been performed.
90.6
Management and Digital Breast Tomosynthesis Principles





The detection of lesions obscured by overlapping breast parenchyma is a limitation of conventional two-dimensional (2D) analog and digital mammography.






Overlapping breast parenchyma may obscure cancers resulting in missed cancer diagnoses. Conversely, overlapping parenchyma or superimposed normal structures may create pseudomasses or summation artifacts, resulting in false-positive diagnoses and unnecessary biopsies.






Spiculated masses are suspicious on conventional mammography and DBT imaging. The management of oval masses detected on tomosynthesis is less straightforward. Rafferty and colleagues (2013) found that some circumscribed cancers were misclassified as benign. Until there is a sufficient body of research or experiential knowledge regarding the management of these masses, additional imaging may need to be performed.
90.7

Further Reading


[1] Friedewald SM, Rafferty EA, Rose SL, et al. Breast cancer screening using tomosynthesis in combination with digital mammography. JAMA. 2014; 311(24): 2499‐2507 PubMed




[2] Rafferty EA, Park JM, Philpotts LE, et al. Assessing radiologist performance using combined digital mammography and breast tomosynthesis compared with digital mammography alone: results of a multicenter, multireader trial. Radiology. 2013; 266(1): 104‐113 PubMed




[3] Rose SL, Tidwell AL, Bujnoch LJ, Kushwaha AC, Nordmann AS, Sexton RJr. Implementation of breast tomosynthesis in a routine screening practice: an observational study. AJR Am J Roentgenol. 2013; 200(6): 1401‐1408 PubMed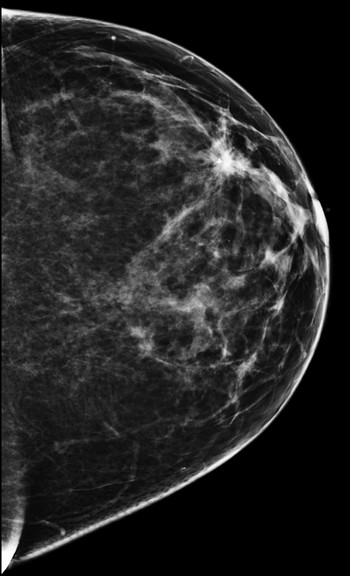 Fig. 90.1 Left craniocaudal (LCC) mammogram.