Presentation and Presenting Images

( ▶ Fig. 101.1, ▶ Fig. 101.2, ▶ Fig. 101.3, ▶ Fig. 101.4, ▶ Fig. 101.5)
A 53-year-old female with a palpable abnormality in the right breast presents for diagnostic mammography.
101.2

Key Images


( ▶ Fig. 101.6, ▶ Fig. 101.7, ▶ Fig. 101.8, ▶ Fig. 101.9, ▶ Fig. 101.10)






101.2.1

Breast T issue Density


The breasts are heterogeneously dense, which may obscure small masses.



101.2.2
Imaging Findings
The imaging of the left breast is normal (not shown). The right breast demonstrates two areas of architectural distortion (circle in ▶ Fig. 101.6, ▶ Fig. 101.7, ▶ Fig. 101.8, ▶ Fig. 101.9, and ▶ Fig. 101.10) associated with the palpable finding (arrow) in the upper inner quadrant at the 2 to 3 o'clock location, 6 cm from the nipple. The larger architectural distortion measures 6 mm, and the smaller 5 mm. Although the larger one was seen on the conventional mammogram, they are both demonstrated on the digital breast tomosynthesis (DBT) movies ( ▶ Fig. 101.9 and ▶ Fig. 101.10). An ultrasound was performed and did not reveal a correlating finding (not shown).
Both masses are easily visualized with tomosynthesis, therefore tissue sampling of both lesions can be achieved using tomosynthesis direction or guidance.
101.3

BI-RADS Classification and Action


Category 4C: High suspicion for malignancy



101.4

Tomosynthesis Biopsy Images


( ▶ Fig. 101.11, ▶ Fig. 101.12, ▶ Fig. 101.13, ▶ Fig. 101.14)






101.4.1

Imaging Findings of the Larger Architectural Distortion


These are the prefire tomosynthesis images in the -15 degree and +15 degree projections ( ▶ Fig. 101.11, ▶ Fig. 101.12, ▶ Fig. 101.13, and ▶ Fig. 101.14). The biopsy was performed on an upright biopsy device located toward the anterior aspect of the breast with the biopsy needle directed toward the patient. The biopsy orientation is in the craniocaudal (CC) projection to achieve better separation of the two lesions.




( ▶ Fig. 101.15, ▶ Fig. 101.16, ▶ Fig. 101.17, ▶ Fig. 101.18, ▶ Fig. 101.19, ▶ Fig. 101.20)






101.4.2

Imaging Findings of the Smaller Architectural Distortion


These are the prefire tomosynthesis images in the -15 degree and +15 degree projections for the smaller lesion ( ▶ Fig. 101.15 and ▶ Fig. 101.16). The positioning is similar to that for the biopsy of the adjacent larger lesion. Note that a biopsy clip from the prior biopsy can be seen (arrow in ▶ Fig. 101.17 and ▶ Fig. 101.18). The postbiopsy images demonstrate both biopsy clips ( ▶ Fig. 101.19 and ▶ Fig. 101.20) at the locations of the lesions on the initial mammographic evaluation ( ▶ Fig. 101.6 and ▶ Fig. 101.8). The bar-shaped biopsy clip is within the larger lesion and the T-shaped biopsy clip marks the smaller lesion.



101.5
Differential Diagnosis





Radial scars: Radial scars can have variable appearances, including palpable spiculated masses. If the size of the lesions at histopathology correlates with the size of the lesions on imaging, then this would be considered concordant. This is an important distinction to discuss with the pathologist.






Invasive tubular carcinomas: Invasive tubular carcinomas may present as multiple spiculated masses and may be palpable. This is a reasonable differential diagnosis.






Summation shadow: Summation shadows may cause pseudo-spiculations that would resolve on spot-compression and/or on DBT. Summation shadows would not account for the palpable finding. This diagnosis would not be acceptable in this case.
101.6
Essential Facts





Spiculated breast masses can represent both benign and malignant lesions.






The differential diagnosis for spiculated breast masses includes sclerosing adenosis, postsurgical scar, radial scar/complex sclerosing lesion, tuberculosis (rare), posttraumatic oil cysts, invasive ductal carcinoma (nos), ductal carcinoma in situ (rare), invasive lobular carcinoma, and invasive tubular carcinoma






Radial scars have been shown to have a variable appearance on conventional mammography, presumably due to their planar configuration. The ability of DBT to improve lesion conspicuity reduces the effects of the planar configuration and allows detection of the radial scars.






Many radial scars will be visible on sonography and, when visible, may be indistinguishable from breast cancer. Radial scars are often more conspicuous on sonography than on mammography. When radial scars are visible on only one mammographic view and cannot be localized with certainty, sonography can be helpful to further evaluate these lesions. Now that tomosynthesis can accurately localize one-view findings, tomosynthesis can better guide targeted ultrasound examinations.






The management and treatment of radial scars is controversial and varies from institution to institution.
101.7
Management and Digital Breast Tomosynthesis Principles





A mediolateral (ML) tomosynthesis movie was not performed. If both masses had not been well seen on the CC tomosynthesis movie, an ML tomosynthesis movie would have been helpful to localize the masses in the CC view.






The ability of DBT to eliminate the effects of overlapping breast tissue may result in an increase in the diagnosis of multifocal and multicentric malignancies.






Although there is a mandatory 8-hour training program that radiologists need to complete prior to interpreting tomosynthesis images, confidence in interpretation and with biopsies will be gained with continued use of this new modality.
101.8

Further Reading


[1] Franquet T, De Miguel C, Cozcolluela R, Donoso L. Spiculated lesions of the breast: mammographic-pathologic correlation. Radiographics. 1993; 13(4): 841‐852 PubMed




[2] Morgan C, Shah ZA, Hamilton R, et al. The radial scar of the breast diagnosed at core needle biopsy. Proc (Bayl Univ Med Cent). 2012; 25(1): 3‐5 PubMed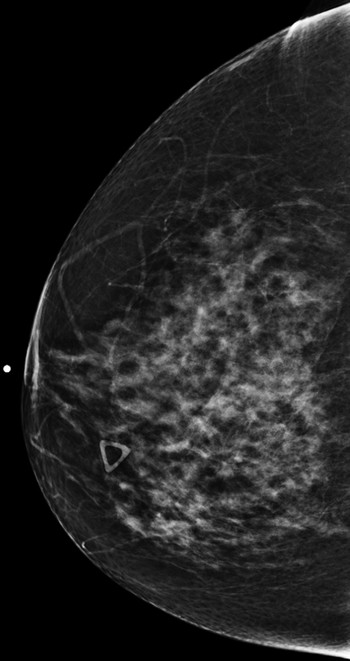 Fig. 101.1 Right craniocaudal (RCC) mammogram.