The World Health Organization classification of pancreatic neoplasms is remarkable for the wide variety and type. This is because benign, borderline, and malignant tumors can arise from exocrine, neuroendocrine, intraductal, and stromal elements. In addition, secondary (metastatic) neoplasms and non-neoplastic tumor-like conditions (e.g., mass-forming chronic pancreatitis) affect the pancreas. However, in clinical practice, only a few of these (adenocarcinoma, cystic neoplasms, pancreatic neuroendocrine tumors, and metastases) are encountered with any frequency. This chapter attempts to review the protocol details that are necessary to be used for patients thought to have a pancreatic neoplasm; the roles of additional imaging, such as positron emission tomography (PET) and endoscopic ultrasound (EUS); and the imaging appearances of these tumors.
Ductal Adenocarcinoma
Pancreatic ductal adenocarcinoma (PDA) is the fourth most common cause of cancer deaths for both men and women in the United States. The American Cancer Society estimates approximately 45,000 new cases with 38,000 deaths for 2014. This is a striking increase from the 32,000 expected new cases of ductal cancers predicted in 2005; a true increase in incidence is documented between 1998 and 2008. Despite improvements in imaging, surgery, radiation, and chemotherapy and rapidly emerging molecular understanding, mortality remains high; 23% of patients will be alive at 1 year from diagnosis, whereas 4% will be alive at 5 years. Established risk factors for development of PDA include cigarette smoking, male African American, BRCA2 gene positivity, hereditary pancreatitis, cirrhosis, diabetes mellitus, chronic pancreatitis, hypercholesterolemia, obesity, Peutz-Jeghers syndrome, Lynch syndrome, vitamin D deficiency, certain occupations, and carcinogens. Common symptoms include weight loss, jaundice, floating stool, pain, dyspepsia, nausea, and depression. New-onset type 2 diabetes in patients older than 50 years may trigger investigation for PDA.
The American Joint Committee on Cancer has developed a TNM-based staging system for pancreatic adenocarcinoma ; however, because only 15% to 20% of patients are candidates for surgery at the time of diagnosis, the majority of patients will not be able to be formally assigned to a stage. For all patients who do not undergo surgery, clinical staging is solely based on imaging. The quality of imaging can directly affect the accuracy of staging; patients deemed to have unresectable tumor at non–pancreatic-directed imaging have been shown to actually be surgical candidates.
Ductal adenocarcinoma accounts for 85% to 90% of all pancreatic tumors; 60% to 70% arise in the head, 5% to 10% in the body, and 10% to 15% in the tail of the gland. Up to 22% of tumors can affect multiple regions of the gland (diffuse). By the time the tumors are discovered, they usually measure 2 to 3 cm in diameter. Pancreatic adenocarcinoma has scant cellular elements and elicits an intense desmoplastic response within the stroma surrounding the tumor. The stromal reaction encases intrapancreatic blood vessels, explaining why 90% of these masses are hypodense compared with background pancreas. The upstream main pancreatic duct may be obstructed, and the surrounding parenchyma is atrophic. Tumors in the head of the pancreas will also eventually obstruct the common bile duct. The tumor rapidly grows through lymphatics, along peripancreatic vessels, and along nerves; it may also grow along tissue planes into the surrounding duodenum and posterior wall of the stomach. Lesions in the tail of the pancreas infiltrate into the splenic hilum and into the left renal hilum. Distant metastases are most frequently found in the liver and peritoneal cavity. These can be present even in cases in which the tumor does not appear locally advanced.
The major blood vessels involved by PDA are the superior mesenteric artery, celiac axis, and branches. More frequently, the tumor will involve the superior mesenteric, splenic, and portal veins. Once the major arterial branches are involved with tumor, most surgeons agree that they are unresectable. However, experienced surgeons can achieve a negative-margin resection if the degree of contact between the tumor and the vessel is minimal. Most lymph node disease in pancreatic cancer is found in unenlarged lymph nodes ; lymphadenopathy is unusual. Most surgeons will operate on patients who have lymph node disease within the field of resection. Distant lymph node disease is a contraindication to resection.
Cystic Neoplasms
Cystic pancreatic neoplasms are frequently encountered on imaging studies. Despite a large accumulating clinical and imaging experience with these lesions, their behavior in individual patients is difficult to predict. Therefore, when they are detected on an imaging study, there will be uncertainty about the diagnosis and varying recommendations for follow-up or treatment despite the fact that there has been improving ability to correctly characterize individual lesions on imaging studies.
Cystic pancreatic neoplasms can be divided into four distinct categories: serous cystadenoma (SCA); mucinous cystic neoplasm; intraductal papillary mucinous neoplasm (IPMN); and "other" ( Fig. 98-7 ). This classification helps in focusing of the imaging search for diagnostic features that allow differentiation of benign from malignant lesions, paralleling the management that is distinct within each category.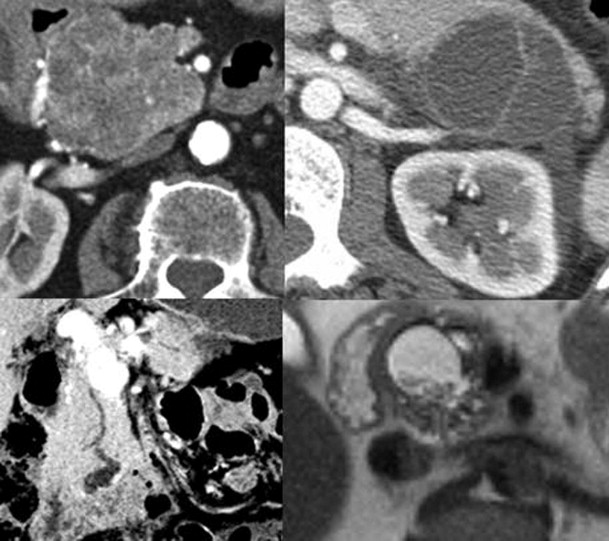 Serous Cystadenoma
SCA accounts for approximately 1% to 2% of all exocrine pancreatic neoplasms. The World Health Organization classification of pancreatic tumors considers SCA a benign lesion. At the time of diagnosis, 25% to 50% of patients will be symptomatic. The tumor occurs more frequently in women (mean age of 57 years) and most often in the pancreatic head. The tumor contains glycogen-rich periodic acid–Schiff–positive epithelial cells delimiting cysts separated by variable amounts of fibrous septations. They most frequently occur sporadically; 60% to 80% of patients with von Hippel–Lindau syndrome will have pancreatic SCA.
SCA has two morphologic appearances: the microcystic or classic type, and the macrocystic or oligocystic type. The microcystic form, accounting for two thirds of SCAs, is a spongelike lesion formed from innumerable cysts containing clear watery fluid. The cysts range from 1 to 5 mm in the center of the mass; larger cysts (up to 2 cm) are present in the periphery. A central fibrous stellate nidus is present giving rise to radially oriented fibrous bands. This central nidus frequently calcifies. The oligocystic type has scant locules or can be unilocular. There is no central scar; the fluid may be clear but often is hemorrhagic. Because of the recognition of the oligocystic type of SCA, the term microcystic serous cystadenoma is no longer used to describe these lesions.
The imaging features of SCA reflect the morphologic appearance of the mass. The classic variety is manifested as a solitary mass that displays central calcification and a radial arrangement of dense fibrous tissue delimiting a variable number of cysts ( Fig. 98-8 ). In some tumors, the cysts are so small and the fibrous component so dense that the lesion may actually appear "solid." As one might imagine, on MDCT, the cysts are near water density, and the surrounding fibrous network appears dense; on MRI, the appearance is dependent on the pulse sequence of the acquisition. Central calcification establishes the diagnosis of SCA, but it is present, at most, in 30% of cases, best detected by MDCT. The tumors may encase vessels and obstruct the pancreatic or biliary duct system. Nevertheless, even these seemingly aggressive tumors may remain indolent.
On T1-weighted fat-suppressed sequences, the fluid component is darker than the fibrous matrix; on T2-weighted acquisitions, the fluid component becomes more conspicuous, appearing bright because of the longer T2 relaxation time. EUS may be particularly useful in displaying the honeycombed internal structure in lesions smaller than 2 cm. EUS provides an excellent means by which to sample cyst fluid.
The oligocystic variety can be suspected when there is a unilocular nonenhancing cystic mass in the pancreatic head with a lobulated contour. Despite the high reported specificity of this constellation of findings, differentiation of this lesion from mucinous cystic tumor or pseudocyst may be impossible.
Mucinous Cystic Tumor
These rare neoplasms are thought to be potentially malignant; therefore, the terms mucinous cystadenoma and mucinous cystadenocarcinoma should not be used; rather, the lesion is properly referred to as mucinous cystic tumor. Mucinous cystic tumors are formed from variably atypical epithelial cells that produce mucin and are supported by an ovarian-type stroma, which does not communicate with the pancreatic duct system. They account for 2% to 6% of all exocrine pancreatic neoplasms. These tumors occur almost exclusively in women, with peak incidence in the fifth decade. The female preponderance is similar to that of mucinous tumors of the hepatobiliary system, retroperitoneum, and ovary. The stromal component of the mucinous cystic tumor stains for cytokeratin markers, indicative of cellular luteinization, the ovarian-type stroma characteristic of these lesions. It is important to remember this fact because the diagnosis of mucinous cystic tumor should probably not be considered in a male patient.
At MDCT, the lesions will display large cysts with thin septa, best seen after intravenous administration of contrast material. When calcification occurs, it is lamellated (as opposed to the starburst pattern seen in SCA) and in the periphery of the lesion (as opposed to the central location of calcification in SCA). Lesions with a higher degree of epithelial atypia will display nodules on the wall, peripheral calcification, and a more disorganized internal architecture ( Fig. 98-9 ). Malignant lesions tend to be larger than benign lesions. On MRI, the lesion will appear bright on T2-weighted sequences. On T1-weighted sequences, intravenous administration of gadolinium is necessary to image the septations, which become more apparent the longer the imaging sequence is carried out ( Fig. 98-10 ). Mucin itself can produce decreased signal within the center of the lesion that should not be confused with the radiating septa seen in SCA. On EUS, the mural nodularity is easily recognized and can be differentiated from the honeycombed appearance of SCA. EUS is particularly valuable for aspiration of cyst fluid. Presence of carcinoembryonic antigen in aspirated cyst fluid has a high predictive value for mucinous cystic tumor.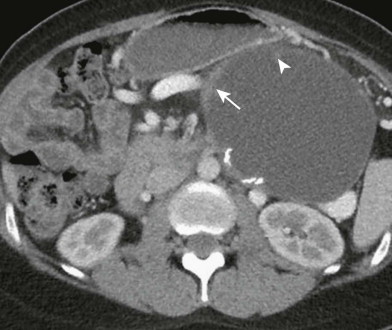 Premium Wordpress Themes by UFO Themes
WordPress theme by UFO themes