Fig. 9.1
Curved array transducer position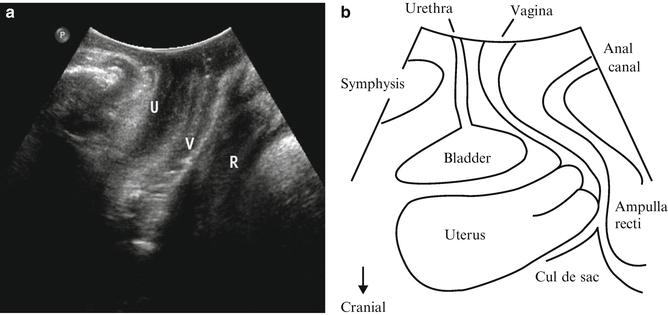 Fig. 9.2
(
a
) Two-dimensional orientation of translabial ultrasound image in midsagittal line.
U
urethra,
V
vagina,
R
rectum (
b
) Illustration demonstrating pertinent anatomy in midsagittal plane
Normal Ultrasound Anatomy
Common Abnormal Findings
Urethra
As mentioned above urethral hypermobility may be suspected by static ultrasound imaging and confirmed with dynamic ultrasonography with Valsalva maneuvering. Periurethral tissues should be homogenous and without hypoechoic, cystic-appearing lesions. Periurethral lesions may include
urethral diverticulum
as well as nearby Gartner's duct cysts. Large urethral diverticula are readily imaged with ultrasound. Typically, urethral diverticula arise from the dorsal aspect of the urethra. Less frequently, they arise ventrally from the urethra. Ultrasound is not as sensitive as MRI for small diverticula, but ultrasound can confirm an otherwise palpable suburethral fluctuance suggestive of diverticulum [
22
,
23
].
Gartner's duct cysts and Bartholin's gland lesions may be readily distinguished from urethral diverticula. The former lesions are stationary on Valsalva maneuver while the diverticula are affixed to the urethra and thus commonly mobile on Valsalva. Diverticula of the urethra are commonly septated and contain heterogeneously echogenic material. Bartholin's and Gartner's cysts are typically homogenous in appearance [
24
]. Urethral ultrasonography may also reveal the presence and extent of periurethral fibrosis. This may be important in patients with urethral stricture desiring reconstruction, or in planning extent of urethrolysis, or anti-incontinence surgery.
Bladder
Bladder ultrasonography
may reveal bladder diverticula as well. These may appear as periureteral cystic lesions near the trigone and inter-ureteric ridge or along the posterolateral walls and dome. Ureteroceles may also be visualized, particularly with ureterectasis. Bladder calculi may also be identified as hyperechoic intravesical filling defects with posterior shadowing. Papillary bladder lesions may be identified as intravesical echogenic foci attached to the bladder wall. These lesions are best imaged with a full bladder and may easily be missed without bladder distension. Bladder ultrasound may reveal significant detrusor fibrosis and thinning of the wall, perhaps suggestive of patients at risk for bladder rupture during planned hydrodistension. Ultrasonography may also be valuable in office-based imaging of vesicovaginal fistulae. Particularly in radiation-induced fistula where physical exam is often precluded by patient discomfort and distal vaginal stenosis, office-based ultrasound may prove useful in identifying extent of fibrosis and ischemia. With increasing use of mesh in vaginal reconstruction, hyperechoic mesh is increasingly encountered. With 3D reconstruction, the lattice structure of the mesh is visible. This is more thoroughly explored later in the chapter.
Apical and Posterior Compartments
Basics of Apical and Posterior Prolapse Assessment
Translabial ultrasound
can be used for the assessment of apical and posterior wall prolapse [
25
,
26
]. A full sonographic assessment of the apical portion of the vagina includes the uterus. The uterus can be difficult to visualize due to a few factors: it is iso- to hypoechoic making it similar and difficult to discern from vaginal tissues, a retroverted position can be obscured by a rectocele or hidden by rectal contents, and overall it is small in size in postmenopausal women. There are some clues that can be used to localize the uterus. The cervix is typically seen as a specular echo which represents its leading edge. A specular reflector reflects sound waves with minimal scatter usually producing a bright linear echo. The uterus can also be identified by locating nabothian follicles which are oftentimes seen within the cervix. Translabial ultrasound can be readily used to locate the cervix, especially in patients with prolapse (Fig.
9.8
). The same can be said for identifying a prolapsed vault posthysterectomy.
Premium Wordpress Themes by UFO Themes
WordPress theme by UFO themes