This review article summarizes the clinical applications of established and emerging PET tracers in the evaluation of the 5 most common gynecologic malignancies: endometrial, ovarian, cervical, vaginal, and vulvar cancers. Emphasis is given to 2-deoxy-2-[ 18 F]fluoro- d -glucose as the most widely used and studied tracer, with additional clinical tracers also explored. The common imaging protocols are discussed, including standard dose ranges and uptake times, established roles, as well as the challenges and future directions of these imaging techniques. The key points are emphasized with images from selected cases.
Key points



•




2-Deoxy-2-[ 18 F]fluoro- d -glucose (FDG) PET generally has high sensitivity for advanced disease but limited specificity, making it a useful tool for late-stage disease and detecting malignant recurrence, but limiting its role for diagnosis.




•




FDG uptake has been correlated with tumor aggressiveness, and can help with treatment planning, particularly of radiation treatment fields.




•




Vaginal and vulvar cancers are less common than endometrial, ovarian, and cervical cancers, and investigations on the role of PET are less conclusive and require further studies.




•




Many new and emerging PET tracers are promising for evaluating and mapping different receptors, cell proliferation rates, and even hypoxia, helping to direct treatment, but most still require additional testing before they are ready for standard clinical use.
Introduction
Approximately 94,000 new cases of gynecologic cancer are diagnosed in the United States each year. Gynecologic cancers are typically separated into 5 groups based on anatomy, listed here from most to least common: endometrium/uterine body, ovary, cervix, vagina, and vulva. Incidence rates are summarized in Table 1 . These cancers have diverse clinical presentations and prognoses, and their treatment typically includes a combination of radical surgery, chemotherapy, and/or radiotherapy based on the stage of disease.
Table 1
| Cancer Location | Incident Cases per 100,000 |
| --- | --- |
| Uterine body | 26.82 |
| Ovary | 11.18 |
| Cervix | 7.60 |
| Vulvar | 2.62 |
| Vaginal | 0.66 |
The stage of disease at diagnosis is predictive of prognosis and is crucial for selection of the best mode of therapy. Gynecologic cancers are typically staged using the International Federation of Gynecology and Obstetrics (FIGO) criteria. Imaging plays an important role in pretreatment evaluation of patients with gynecologic malignancies as well as in the follow-up for response assessment to therapy and detection of disease recurrence. Imaging of the female pelvis can be achieved using a combination of ultrasonography (US), computed tomography (CT), magnetic resonance (MR) imaging, and PET/CT using 2-deoxy-2-[ 18 F]fluoro- d -glucose (FDG) and other emerging radiopharmaceuticals. PET/CT is known to be more accurate than CT or MR imaging alone for staging and can help direct management.
This article discusses the use of FDG-PET/CT and PET/MR for clinical evaluation of the most common types of gynecologic cancers: endometrial, ovarian, cervical, vaginal, and vulvar cancers.
PET radiopharmaceuticals and imaging protocols
Anatomic evaluation of gynecologic malignancies is typically performed with a combination of CT and MR imaging. PET is commonly coupled with concurrent CT for attenuation correction and anatomic localization, which is often of lower resolution than dedicated CT studies and is often performed without contrast. PET/MR imaging is a more recent innovation, but access remains limited to larger institutions and it is not in widespread use. To allow a more in-depth PET review, anatomic evaluation is not the focus of this article. The focus is on FDG because of its widespread clinical use and accepted role in evaluation in malignant diseases. However, it also briefly reviews clinically approved non-FDG radiopharmaceuticals, including somatostatin-receptor and steroid-receptor imaging agents, as well as radiopharmaceuticals that are currently used in research settings that have clinical potential, including human epidermal growth factor receptors (EGFR), DNA-precursor use, and cell hypoxia imaging tracers. The PET tracers discussed here are summarized in Table 2 along with key procedural parameters.
Table 2




PET Tracer


Half-Life (T 1/2 )


Typical Dose


Uptake Time


Fasting State




18 F-FDG


109.7 min


370–740 MBq (10–20 mCi)


60 min


At least 4 h



68 Ga-DOTATOC
68 Ga-DOTATATE
68 Ga-DOTANOC


68 min


132–222 MBq (4–6 mCi); should not be <100 MBq (2.7 mCi)


60 min


Not required



64 Cu-DOTATATE


12.7 h


148 MBq (4 mCi)


45–90 min


Not required



18 F-FES


109.7 min


222 MBq (6 mCi); range 111–222 MBq (3–6 mCi)


60 min; range 20–80 min


Not required



89 Zr-labeled lumretuzumab


3.27 d


37 MBq (1 mCi)


2, 4, and 7 d


Not required



18 F-FLT


109.7 min


2.6 MBq/kg (0.07 mCi/kg); maximum dose 185 MBq (5 mCi)


60–70 min


Not required



18 F-FMISO


109.7 min


3.7 MBq/kg (0.1 mCi/kg); maximum 260 MBq (7 mCi)


≥2 h


Not required



60 Cu-ATSM


23.7 min


481–740 MBq (13–20 mCi)


60-min dynamic imaging and/or static imaging at 30 min


Not required



64 Cu-ATSM


12.7 h


925 MBq (25 mCi)
Endometrial cancer
Approximately 75% to 80% of patients with endometrial cancer are postmenopausal. This disease typically presents with abnormal bleeding resulting in early-stage diagnosis in 75% of patients. The risk factors include abdominal obesity, multiparity, late menopause, smoking, unopposed estrogen therapy, tamoxifen, Lynch syndrome, and diabetes; hormone replacement therapy, although a risk factor, is no longer typically prescribed. There are 2 histologic subtypes: type 1 are well differentiated estrogen-associated endometrioid adenocarcinomas accounting for 75% to 80% and expressing high levels of ERs. Type 2 are aggressive, undifferentiated, estrogen-independent cancers that typically develop in atrophic endometrium and include adenosquamous, serous papillary, clear cell, and undifferentiated types. FIGO staging of endometrial cancer, which was revised in 2009 and is summarized in Table 3 , does not include an imaging component. However, MR imaging is highly sensitive and specific for revealing important prognostic factors and thus, when available, is recommended as an adjunct to clinical examination. ,
Table 3




Stage I


Carcinoma confined to the uterus



IA


<50% invasion of the myometrium
MR: abnormal signal intensity in endometrial cavity or confined to inner half of myometrium



IB


≥50% invasion of the myometrium
MR: extends into the outer half of myometrium



Stage II


Cervical stromal invasion without extension beyond the uterus
MR: disruption or focal thinning of cervical stroma



Stage III


Carcinoma spread locally



IIIA


Serosal or adnexal invasion
MR: disruption or irregular uterine contour caused by tumor; ovarian nodular tumor



IIIB


Vaginal or parametrial involvement
MR: direct tumor extension of upper vagina or/and parametrial tissues



IIIC


Metastasis to pelvic or para-aortic lymph nodes



IIIC1


Metastasis to pelvic lymph node
MR: lymph nodes >8 mm in short axis



IIIC2


Metastasis to para-aortic lymph node
MR: lymph nodes >10 mm in short axis



Stage IV


Extension to the pelvic wall, lower one-third of the vagina, or hydronephrosis or nonfunctioning kidney



IVA


Bladder or bowel mucosal invasion
MR: disruption of bladder or bowel muscular wall with mucosal invasion; not bullous edema



IVB


Distant metastases, including abdominal, or involvement of inguinal lymph nodes
MR: tumor deposits at distal sites including peritoneal metastasis, bladder, bone liver metastasis, and distal lymph node metastases
FIGO staging does include involvement of locoregional and distant nodal metastases, which PET can aid in detecting. Nodal metastatic pattern is predominately pelvic, following anterior pelvic, lateral pelvic, hypogastric, and presacral routes, but can then spread to para-aortic lymph nodes ; this reflects stage III disease, with para-aortic involvement being more advanced IIIC2 (see Table 3 ). Fig. 1 shows an example of recurrent endometrial cancer. More distant nodal spread to abdominal and/or inguinal lymph nodes reflects stage IV disease. Fig. 2 shows recurrent endometrial adenocarcinoma with distant metastasis.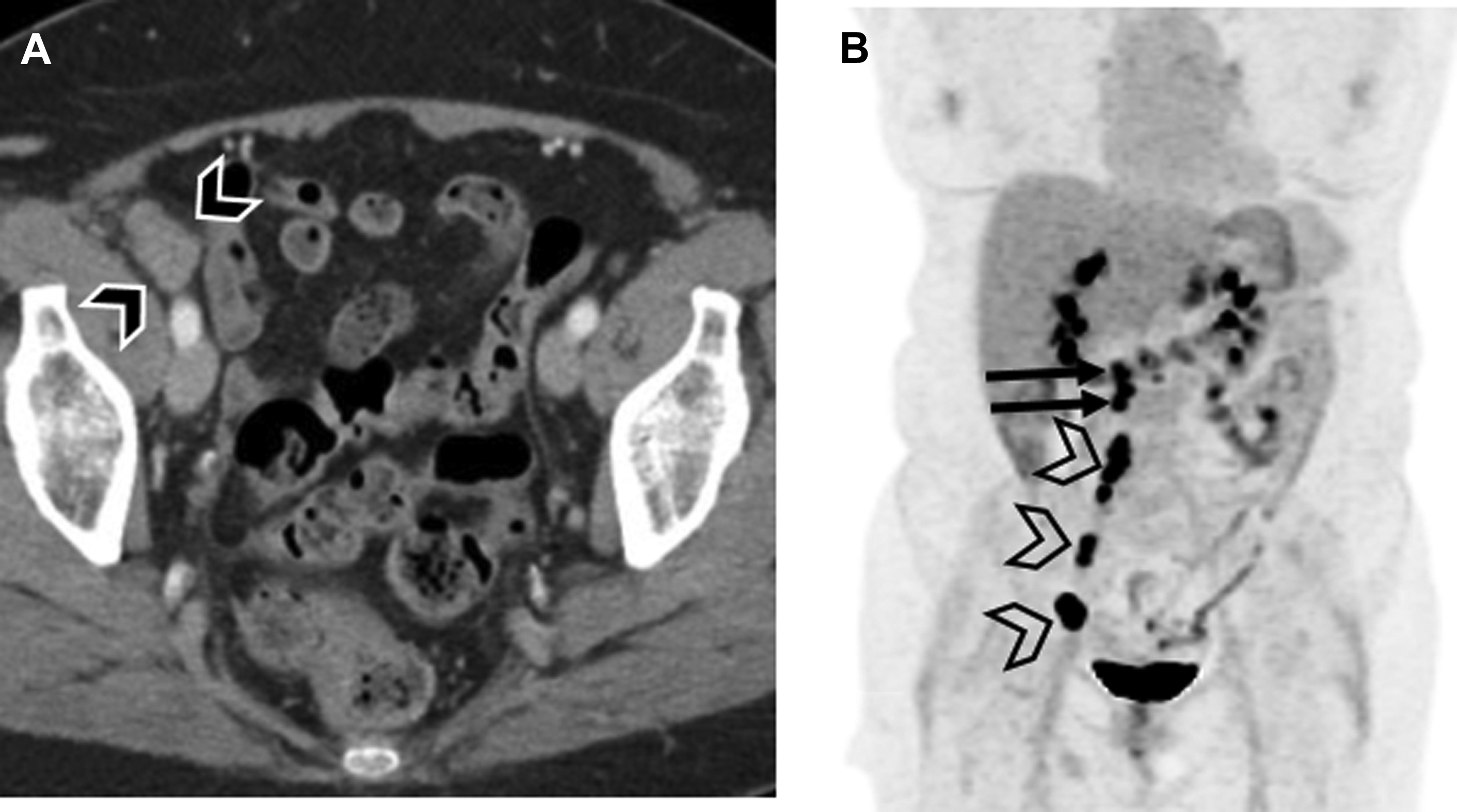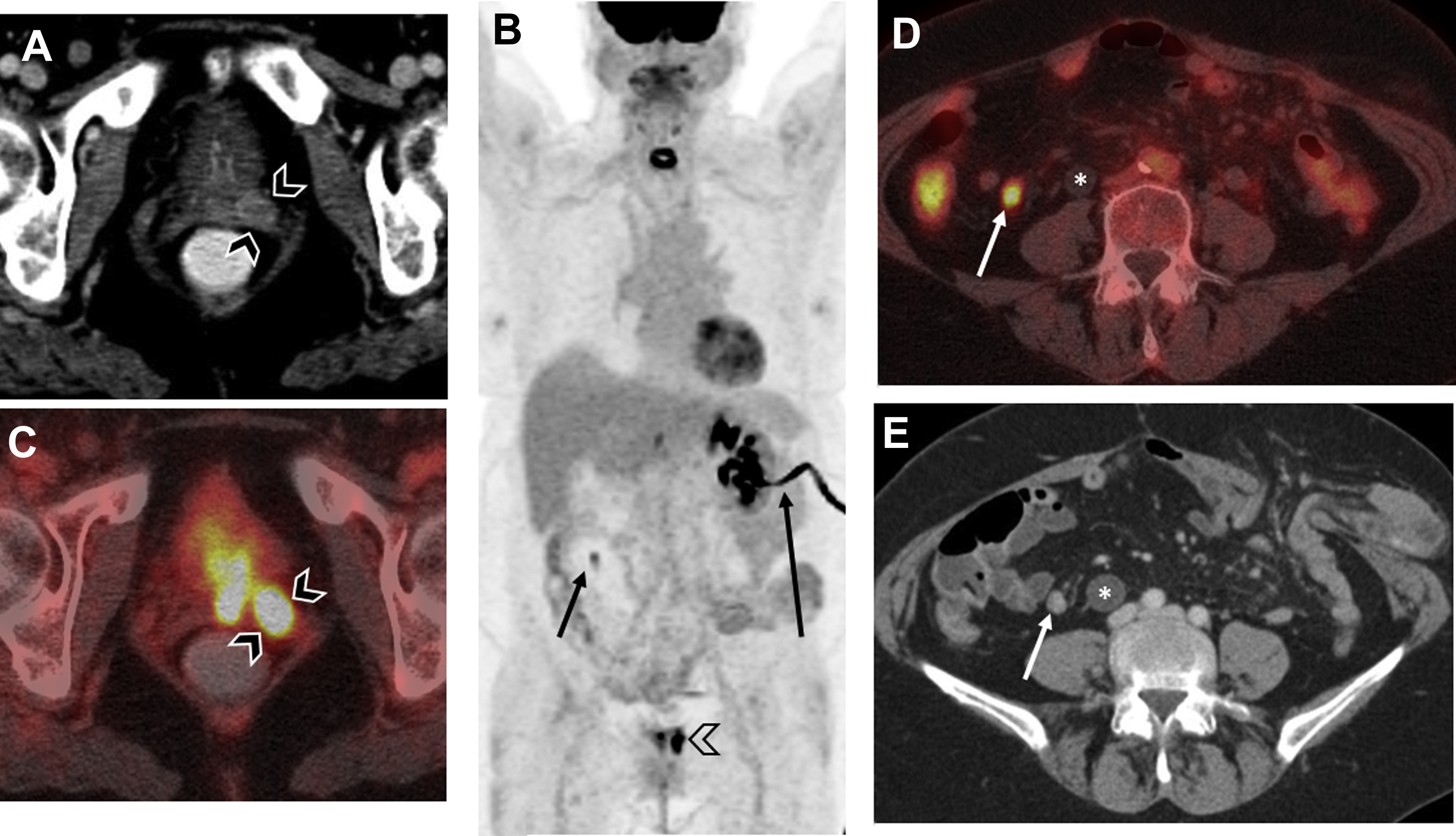 Ovarian cancer
Ovarian cancer is classified into 3 categories based on histology: epithelial, germ cell, and sex cord–stromal tumors. Epithelial ovarian cancer accounts for 95% of ovarian malignancies and originates from the surface epithelial layer of the ovaries or from the distal fallopian tubes. The ovaries are also a common location of metastatic disease, with 5% to 30% of ovarian cancers being metastatic, primarily from the gastrointestinal tract. Early diagnosis is difficult because of the lack of screening and nonspecific symptoms, leading to advanced stage (III or IV) at the time of diagnosis in most patients. Ovarian cancer is surgically staged and, thus, the FIGO staging system for this cancer, summarized in Table 4 , is surgically based and is defined by the extent and location of disease noted on cytoreduction (ie, debulking) surgery and biopsies.
Table 4
| | |
| --- | --- |
| Stage I | Carcinoma limited to the ovary (or ovaries) or fallopian tubes without spread to nearby lymph nodes or to distant sites |
| IA | Carcinoma in 1 ovary or 1 fallopian tube, but not on their outer surfaces. No cancer cells in the ascites or washings from the abdomen and pelvis |
| IB | Carcinoma in both ovaries or fallopian tubes but not on their outer surfaces. No cancer cells in the ascites or washings from the abdomen and pelvis |
| IC | Carcinoma in both ovaries or fallopian tubes and any of the following are present: |
| IC1 | Surgical spill |
| IC2 | Capsule ruptured before surgery or tumor on ovarian or fallopian tube surface |
| IC3 | Cancer cells in the ascites or washings from the abdomen and pelvis |
| Stage II | Carcinoma in 1 or both ovaries or fallopian tubes with pelvic extension (below pelvic rim) or primary peritoneal cancer a without spread to nearby lymph nodes or to distant sites |
| IIA | Extension and/or implants on uterus and/or fallopian tubes and/or ovaries |
| IIB | Extension to other pelvic intraperitoneal tissues |
| Stage III | Carcinoma involves 1 or both ovaries or fallopian tubes, or primary peritoneal cancer, with cytologically or histologically confirmed spread to the peritoneum outside the pelvis and/or metastasis to the retroperitoneal lymph nodes without distant metastasis |
| IIIA1 | Positive retroperitoneal (pelvic and/or para-aortic) lymph nodes only |
| IIIA2 | Microscopic extrapelvic (above the pelvic rim) peritoneal involvement with or without positive retroperitoneal lymph nodes |
| IIIB | Macroscopic peritoneal metastasis beyond the pelvis up to 2 cm in greatest dimension, with or without metastasis to the retroperitoneal lymph nodes |
| IIIC | Macroscopic peritoneal metastasis beyond the pelvis more than 2 cm in greatest dimension, with or without metastasis to the retroperitoneal lymph nodes (includes extension of tumor to capsule of liver and spleen without parenchymal involvement of either organ) |
| Stage IV | Carcinoma has spread beyond abdomen and to distant organs |
| IVA | Cancer cells in the pleural fluid |
| IVB | Spread to distant organs |
Premium Wordpress Themes by UFO Themes
WordPress theme by UFO themes