Fig. 9.1
Rectal Telangiectasia Density (RTD) grading scale. (The highest grade visualized during endoscopic evaluation with colonic lumen in view represents the RTD grade of the patient). Adapted from Chi KD, et al. [
19
]
Table 9.1
Endoscopic classification of radiation proctopathy. (Grade A (mild, 2 points), grade B (moderate, 3 points), grade C (severe, 4–5 points))
| Distribution of telangiectasias | Surface area covered by telangiectasias | Presence of fresh blood |
| --- | --- | --- |
| Distal rectum (within 10 cm from anal verge): 1 point | Less than 50 %: 1 point | No fresh blood: 0 points |
| Entire rectum ± sigmoid (more than 10 cm from anal verge: 2 points | More than 50 %: 2 points | Fresh blood: 1 point |
Pathology from endoscopy biopsies of ARP reveals formation of eosinophilic crypt abscesses, loss of mucosal cells, extensive inflammation, and endothelial arteriole swelling [
20
–
21
]. On the other hand, CRP endoscopic findings usually start around the dentate line and include pallor, mucosal friability, strictures, fistulas, telangiectasias, and ulcerations. Connective tissue fibrosis and arteriolar endarteritis are seen on histologic analysis of biopsy specimens [
20
].
Further information regarding histological changes in ARP and CRP can be found in Chap.
5
, Pathology of Radiation Effects on Healthy Tissue in the Pelvis.
Therapeutic Modalities
There are two main goals of treatment for CRP—obliteration of mucosal telangiectasias and the control of functional symptoms to date—a wide variety of endoscopic cautery techniques, pharmacological options, and surgical procedures have been proposed for the treatment of radiation proctopathy. However, there has been a significant lack of randomized placebo-controlled studies for most interventions. In fact, there has been only one randomized placebo-controlled trial for functional symptoms of CRP, namely the use of oral retinol palmitate [
22
].
Medical Management
Management of ARP is largely aimed at symptomatic therapy. Initial treatments include fiber supplements, antidiarrheal, and anal topical analgesics [
23
]. Some authors have recommended the administration of a somatostatin analogue to patients who experience severe diarrhea that does not respond to first-line treatments [
24
]. Amifostine protects against the DNA damaging effects of ionizing radiation and chemotherapy drugs and is the only current FDA-approved drug for reduction of radiation toxicity. Amifostine affects redox sensitive transcription factors, chromatin stability, enzyme activity, and gene expression and has both anticarcinogenic and antimutagenic properties [
25
]. Although amifostine has shown promising effects in some animal studies, a controlled clinical trial of amifostine for prevention of radiation proctopathy has not been performed. Side effects of amifostine include nausea, vomiting, and hypotension [
26
].
Sucralfate enemas have been used to treat bleeding from CRP [
27
–
28
]. Kochhar et al. [
27
] studied 37 patients with radiation-induced proctosigmoiditis randomized to receive a 4-week course of oral sulfasalazine plus 20 mg BID rectal prednisolone enemas or 2.0 g BID rectal sucralfate enemas plus oral placebo. At 4 weeks, both groups showed significant improvement in symptoms and endoscopic healing
.
Symptoms were scored as follows: diarrhea (1–3 stools daily: 1 point, 4–6 stools daily: 2 points, > 6 stools daily: 3 points), tenesmus (absent: 0 points, mild tenesmus not requiring drug: 1 point, tenesmus requiring medication: 2 points), bleeding per rectum (no bleeding: 0 points, mild bleeding 1 point, bleeding requiring blood transfusion: 2 points). Based on the cumulative score of three symptoms, patients were classified into three grades: I (< or = 2 points), II (3–4 points), or III (> or = 5 points). Endoscopic injury was graded according to criteria of Gilinsky et al. [
28
]: mild/grade I (erythema ± telangiectasia, edema, thickening, and pallor), moderate/grade II (above plus friability), and severe/grade III (ulceration ± necrosis). Clinical response was measured as improvement, no change, or worsening. Endoscopic response was analyzed similarly with improvement, no change, or worsening. When compared head to head, sucralfate enemas showed a significantly better clinical response than placebo (
p
 < 0.05), although there was no endoscopic difference detected
.
5-Aminosalicylic acid (5-ASA) is the active compound found in sulfasalazine. 5-ASA compounds are established and well tolerated for the treatment of inflammatory bowel disease . Its anti-inflammatory mechanisms include inhibition of biosynthesis of prostaglandins, inhibition of the transformation of leukotriene A
4
to leukotriene B
4
, and promotion of endogenous cytoprotective prostaglandins [
29
]. Rectal suppositories of 5-ASA were administered by Freund et al. [
30
] to eight patients at the time of RT. 75 % of patients receiving 5-ASA developed severe symptoms of radiation proctopathy, suggesting that these suppositories actually stimulated development of radiation proctopathy. Baum et al. [
31
] treated four patients with nightly 5-ASA enemas for 2–6 months and symptoms were followed monthly along with periodic sigmoidoscopy examinations. No significant changes were seen in the degree of mucosal inflammation at follow-up sigmoidoscopy. Only one of the four patients noted initial improvement in symptoms; however, even in this patient symptom improvement was not sustained. These studies have essentially concluded that rectal 5-ASA has no role in the prevention or treatment of radiation proctopathy.
Sodium pentosan polysulfate, a heparin-like macromolecular carbohydrate, has a role in the treatment of radiation cystitis, presumably by reinforcement of the damaged mucosal lining of the bladder. A phase I/II trial of 3 month's duration with sodium pentosan polysulfate was performed in 12 patients with CRP [
32
]. Nine patients (82 %) in the study obtained a complete response and only one patient (8 %) showed no improvement. However, five patients relapsed at 11 month follow-up.
Ehrenpreis et al. [
22
] performed a study to investigate the use of retinol (retinyl) palmitate for the treatment of CRP, with improvement in functional symptoms. Retinyl palmitate has been demonstrated to accelerate wound healing after burn injuries and surgeries in laboratory animals [
33
]. The mechanism has not been fully clarified, however, increased cross-linking of myofibrils and collagen [
34
] has been demonstrated to occur after use of retinol palmitate. Prior to randomization, a questionnaire of the six most common symptoms of CRP, using a Likert system for grading of frequency and severity, was completed. These symptoms include diarrhea, rectal bleeding, rectal pain, rectal urgency, tenesmus, and fecal incontinence. Severity scores ranged from one to five. Ehrenpreis et al. developed a scale called the Radiation Proctopathy Symptom Assessment Scale (RPSAS). The components of the RPSAS are shown in Fig.
9.2
. Initial RPSAS scores on enrollment were considered a patient's baseline score. Patients were contacted by phone every 30 days by the same investigator for a total of 90 days. Response to treatment was defined as a reduction of at least two symptoms by at least two points on the RPSAS. Secondary end points of the study included a comparison of total RPSAS score before and after treatment in the retinol palmitate and placebo groups. Neither patients nor the investigators were aware who was receiving retinyl palmitate or placebo. The dose of retinol palmitate was 20,000 IU per day. Patients who received placebo and had not responded were offered treatment with retinyl palmitate on an open-label basis.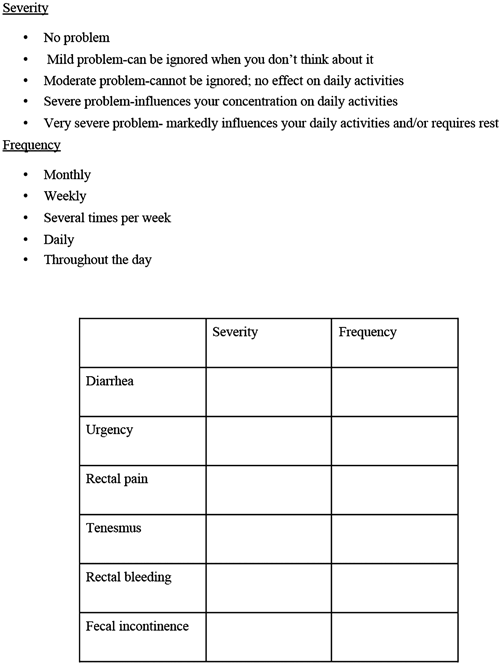 Fig. 9.2
The radiation proctopathy symptom assessment scale (RPSAS). Adapted from Ehrenpreis ED, et al [
22
]
Nineteen patients participated in the study, ten of whom were randomized to retinyl palmitate and nine to placebo. Based on criteria for therapeutic response, seven patients treated with retinyl palmitate responded to therapy and two patients did not. Two patients treated with placebo responded to therapy and six patients were nonresponders. This difference demonstrated a trend towards statistical significance (
p
 = 0.057). Of six patients who did not respond to placebo, five were enrolled in the open-label retinyl palmitate treatment arm. All five of these patients met criteria for response to therapy. This study demonstrated that retinyl palmitate is a safe and readily obtainable form of vitamin A that potentially significantly reduces symptoms of CRP. Additional trials of retinyl palmitate are underway.
Endoscopic Therapy