Fig. 26.1
I-MRA of the left hip. Synovial osteochondromatosis with loose bodies (
arrow
) and hydrops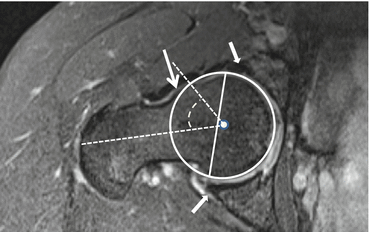 Fig. 26.2
I-MRA of the right hip. Mixed cam and pincer configuration in a 34-year-old female. There is an obvious bump (cam) on the anterior femoral neck (
big arrow
) with alpha angle over 50° (
striped curved line
). The acetabulum is overcovering the femoral head (
small arrows
); the straight line connecting the anterior and posterior margin of the labrum at the midsection of the femur head is located latero-anterior to the center of the femur head (pincer)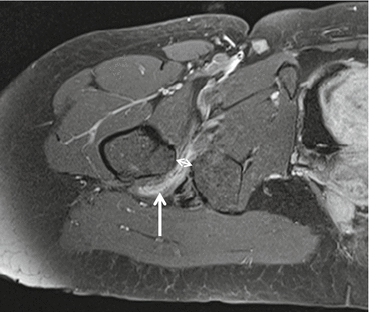 Fig. 26.3
I-MRA of the right hip. Reduced distance between the ischial tuberosity on the left and lesser trochanter on the right to 1 cm (normally 2 cm) (
double arrow
) with edema in the quadratus femoris muscle (
arrow
). I-MRA T1 FS axial image, with high SI in the muscle: edema with contrast enhancement
Superficial soft tissues are demonstrated on US with the use of high-frequency probes at a much higher spatial resolution compared to MRI. The deeper the structures are located, the lower the ultrasound frequency and the lower the spatial resolution. Ultrasound is used in the initial assessment of evaluation of joint fluid and for diagnostic evaluation of tendons and muscles abnormalities including tendon snapping (Dawes and Seidenberg
2014
). The use of US can be the most appropriate way to examine the postoperative hip as it has little artifacts from metal in hip prosthesis. It can be used in the evaluation of the superficial-located peripheral nerves (NCFL, femoral nerve, and sciatic nerve) with high resolution using high-frequency probes.
Ultrasound can also be used to guide injections: injection for MR or CT arthrography, diagnostic or therapeutic aspiration, diagnostic injection with anesthetics, or therapeutic injection (Jacobson et al.
2012
). US is preferred for the examination of the pediatric hip and pelvis, because of the lack of radiation.