Fig. 23.1
Normal PA wrist radiographs. (
a
) Ulnar deviation, (
b
) radial deviation. A normal wrist shows no discontinuity in Gilula lines
I
,
II
, and
III
and neutral, ulnar, and radial deviation. In ulnar-sided wrist deviation, the scaphoid shows its longest diameter (
a double-sided long arrow
); in radial deviation the scaphoid rotates volarly out of the coronal plane with foreshortened projection on PA view producing a signet ring appearance at its distal half (
dotted line
); the superposition of the lunate and capitate bone is increased due to solidarity of motion of the scaphoid and lunate bone (
b
small double arrow
)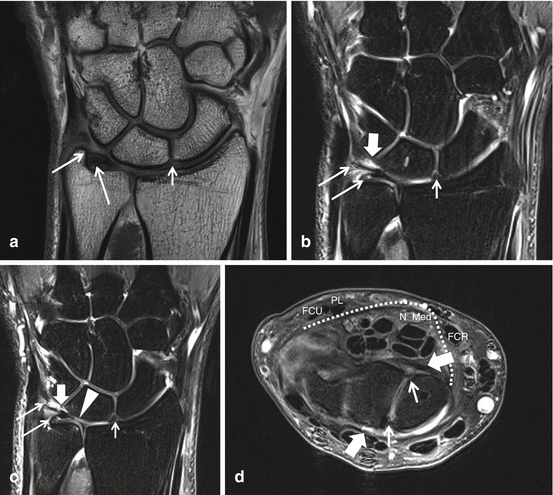 Fig. 23.2
Wrist 3 T MRA images after IV gadolinium administration (indirect arthrography), (
a
) coronal SE T1, (
b
) coronal intermediate TE FS, (
c
) coronal SE T1 FS (
d
) axial intermediate TE FS at proximal row. Intrinsic SL (
small arrow
) and LT (
thick arrow
on (
b
,
c
)) ligaments and dorsal and volar components of intrinsic SL ligament demonstrated on axial images only. Intermediate SI connection between the TFC and the low SI bone lamella of the radius is best demonstrated on
c
. Two ulnar attachments of TFC on coronal images (
long arrows
) are best demonstrated on
b
, and
c. c
shows broad perforation (
arrowhead
) at the central part of the TFC with minor chondromalacia (increased SI at the cartilage over the distal ulna epiphysis) (palmer type II C). Extrinsic radiocarpal volar and dorsal ligaments (
thick arrows
on axial image only). At the volar aspect the transverse ligament (
dotted line
) covering the flexor digitorum profundus and superficialis tendons, the flexor pollicis longus and median nerve is demonstrated. The median nerve (N Med) is located between the flexor carpi radialis tendon (
FCR
), palmaris longus tendon (
PL
) and flexor carpi ulnaris tendon (
FCU
)
23.3

Functional Anatomy

The wrist, hand, and fingers have the most complex human musculoskeletal anatomy. Excellent knowledge of this anatomy and its function is a condition sine qua non for radiological evaluation of wrist and finger pathology.