Renal cysts, cystic disease, and cystic masses are the most common abnormalities encountered in uroradiology. In some patients, renal cysts are part of a systemic process that also involves the kidneys. In most patients, however, one or several cystic masses are detected, and the radiologist must determine whether a particular cystic mass is benign or malignant. In most patients, the radiographic findings are sufficiently characteristic that further evaluation is not required. In some cases, however, an examination specifically designed to examine a renal mass may be necessary before a confident diagnosis can be reached.
CORTICAL CYSTS
Simple Cysts
The most common renal mass is a simple cortical cyst. Cortical cysts are uncommon in children or young adults but are detected routinely in the older population on computed tomography (CT), magnetic resonance imaging (MRI), and ultrasonography (US) examinations. In fact, renal cysts have been estimated to occur in 50% of the population older than 50 years of age. Thus, they are considered acquired lesions.
Simple cysts arise from the distal convoluted tubules or collecting ducts. The precise etiology of simple cysts is not known; it is proposed that they occur as a result of tubular obstruction such that the tubule no longer communicates with the nephron. They are composed of fibrous tissue and are lined by flattened cuboidal epithelium. They contain clear serous fluid and do not communicate with the collecting system.
Most patients with simple cysts are asymptomatic, and the cysts are detected as incidental findings. Hematuria is occasionally attributed to a benign cyst, but cysts bleed so infrequently that other lesions must be sought in patients with hematuria. Rarely, a large simple cyst may obstruct the collecting system or cause hypertension. Local pain may be attributed to distention of the cyst wall or spontaneous bleeding into the cyst; however, the vast majority of cysts are asymptomatic. Occasionally, a simple cyst may become infected.
Although simple cysts have been described in all age groups, they are unusual in children. A cyst in a child must be carefully examined to differentiate a benign cyst from a cystic Wilms tumor. A cyst in a child may also be an early sign of a cystic nephropathy.
A cortical cyst can occasionally be detected on an abdominal radiograph. The water-density cyst is seen as a cortical bulge projecting into the perinephric fat. Calcification is seen in the wall of a cyst in only approximately 1% of cases. If the calcification is thin and border forming, the lesion is likely to be a benign but complicated cyst.
Renal cysts are often detected as incidental findings during contrast-enhanced CT examinations of the abdomen, and there is no opportunity to test for contrast enhancement (
Fig. 5.1
). However, if the density of the cyst fluid is <20 HU and other criteria of a simple cyst are present, the lesion will almost certainly be benign.
The wall of a benign simple cortical cyst is often too thin to be seen on CT, but a pencil-thin, smooth wall may be seen. When evaluating wall thickness with CT, it is important to evaluate the portion of the cyst that extends well away from the parenchyma so that a portion of adjacent renal tissue (beak) is not included in the section. If the cyst is completely intrarenal, wall thickness cannot be assessed.
Simple cortical cysts are readily detected with MRI (
Fig. 5.2
). The appearance of a homogeneous round mass with a thin, smooth wall and sharp interface with normal renal parenchyma is similar to that on CT. The long T1 values result in a low signal intensity on T1-weighted images. However, they have a very high signal intensity on T2-weighted images, which reflects the long T2 value of water.
Corresponding features are also seen on ultrasound examinations. A simple cyst is a round homogeneous mass with a sharp interface with the normal renal parenchyma. A simple cyst is echofree with enhanced through transmission (
Fig. 5.3
). Thin septations that are too fine to be detected with CT may be seen with ultrasound.
Cysts may be seen with renal scintigraphy as photopenic regions because of the displacement of functioning parenchyma by the cyst. If the cyst is small or exophytic, scintigraphy may be normal. Parapelvic cysts, or cortical cysts that extend centrally into the renal sinus, may cause photopenic regions in the renal sinus that mimic hydronephrosis. The correct diagnosis is reached if the isotope can be identified in the ureter, even though the photopenic region persists.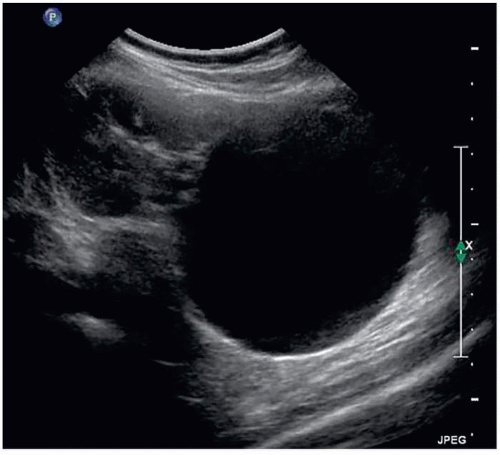 FIGURE 5.3. Large renal cyst. Ultrasound demonstrates an echo-free mass with enhanced through transmission.
The accuracy of the radiographic diagnosis of a renal cyst depends on how well it is seen with each modality. When all of the criteria of a benign simple cyst are present, it is highly unlikely to be anything else and further evaluation is not warranted. Ultrasound is the most efficient method of diagnosing a simple cyst. Ultrasound is readily available, accurate, and relatively inexpensive. CT is the gold standard for the evaluation of renal masses, but it is a more expensive examination than ultrasound, requires intravenous contrast administration, and exposes the patient to ionizing radiation. It is indicated when an ultrasound examination is indeterminate or is technically inadequate due to the patient's obesity or overlying bowel gas. MRI is used in patients with a contraindication to the use of intravenous contrast medium, or if after the CT scan, the nature of the cystic mass is still in question. Although typically more expensive and not as widely available, MRI may also be utilized in lieu of CT, particularly in young patients in whom the desire to reduce radiation exposure is greater.
Rarely, renal cysts may regress in size or disappear completely, often silently. Although this phenomenon may be caused by resorption of a hematoma misdiagnosed as a cyst, most cases are probably due to spontaneous cyst rupture. An increase in pressure within the cyst relative to the collecting system or the perinephric space may result in rupture. Such a pressure increase could be caused by hemorrhage into the cyst or by a change in the composition of the cystic fluid.
When symptomatic, the most common manifestations of cyst rupture are hematuria and flank pain. The diagnosis can be made by CT or MRI if the cyst communicates with the collecting system. In most cases, the communication of the cyst with the collecting system closes spontaneously. Once the diagnosis is made, management is conservative.
Unilateral Cystic Disease
Unilateral or localized renal cystic disease is characterized by replacement of all or a portion of one kidney by multiple cysts (
Figs. 5.4
and
5.5
). It is sometimes referred to as
segmental cystic disease of the kidney
. Although sometimes described as unilateral polycystic kidney disease, it is not familial. The disease is not progressive, and there is no association with renal failure or cysts in other organs. The pathogenesis is obscure, but it is hypothesized to be developmental in etiology. The most common clinical presentation is flank pain with or without hematuria.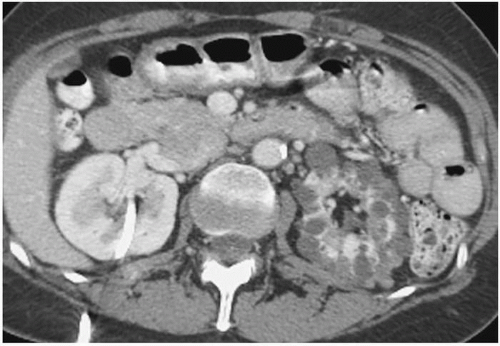 FIGURE 5.4. Unilateral cystic disease. An excretory phase CT image shows multiple left renal cysts and a normal right kidney. A right-sided percutaneous nephrostomy is present.
MEDULLARY CYSTIC DISEASE
This disease complex includes medullary cystic disease and juvenile nephronophthisis. Extrarenal manifestations such as retinal degeneration, hepatic fibrosis, and skeletal abnormalities are associated with the juvenile form. The kidneys are small to normal in size and maintain a normal configuration and smooth contour. A variable number of small cysts, up to 2 cm in diameter, are located primarily in the medulla. The cortex is thin but does not contain cysts. Biopsy shows interstitial and periglomerular fibrosis as well as tubular atrophy. However, the diagnosis cannot be made if cysts are not included in the biopsy specimen, because the fibrotic changes are nonspecific.
The uremic medullary cystic diseases can be classified by the age of onset. The adult form is transmitted by autosomal dominant inheritance. Patients usually present as young adults with anemia, which may be severe, and have progressive renal failure. These patients have a salt-wasting nephropathy that is not corrected with mineralocorticoids. Other than a fixed low-specific gravity, the urine sediment is normal. Hypertension may develop near the end of the disease course.
Patients with juvenile nephronophthisis typically present at 3 to 5 years of age with polydipsia and polyuria. The clinical course with anemia and progressive renal failure is similar to the adultonset variety, but progression is slower, with 8 to 10 years before terminal uremia. Juvenile nephronophthisis is transmitted by autosomal recessive inheritance.
Abdominal radiographs may demonstrate small kidneys without calcification. CT and MRI reveal a thin renal cortex. Linear contrast collections radiating from the renal pyramids may be seen. However, contrast medium-enhanced CT scans are not likely to be helpful and are seldom performed because of renal failure. Unenhanced CT or MRI demonstrates small, smooth kidneys and may reveal the small medullary cysts.
High-resolution ultrasound may be the examination of choice in these patients. The corticomedullary differentiation is lost, and the parenchyma appears isoechoic or hypoechoic with the liver or spleen. In patients with severe uremia, medullary cysts can usually be demonstrated, but they may not be detectable in milder cases. Examination with unenhanced MRI may be particularly useful when ultrasound is indeterminate. The problems with motion artifact due to breathing are decreased with fast spin echo breath-hold techniques.