LEARNING OBJECTIVES





1.

Recognize various radiotracers employed in renal scintigraphy.






2.

Name a number of renal diseases that may be evaluated effectively with scintigraphy.






3.

Describe the utility and limitations of positron emission tomography with

18

F-flurodeoxyglucose in the imaging evaluation of renal cell carcinoma.
Scintigraphy offers imaging-based diagnostic information on renal structure and function. Many single-photon radiotracers have long been in routine clinical use in renal scintigraphy. They are tailored to provide physiological information complementing the primarily structural-based imaging modalities, such as ultrasonography, computed tomography (CT), and magnetic resonance imaging (MRI). With the rapid expansion of positron emission tomography (PET), and more recently hybrid structural-functional imaging systems such as PET/CT, additional unprecedented opportunities have developed for quantitative imaging evaluation of renal diseases in both clinical and research arenas. In this chapter, we review the unique contribution of scintigraphy, including PET, in the imaging evaluation of renal structure and function. We first launch with a brief discussion of the common radiopharmaceuticals used in renal scintigraphy. Following a review of the normal patterns, we focus on various disease processes in which scintigraphy has been particularly contributory.
CLINICAL APPLICATIONS
Renal failure
In renal failure, glomerular and tubular dysfunctions are reflected by abnormal renal scans and renograms. Renal uptake of MAG3 is prolonged with tubular tracer stasis and little or no excretion. It has been shown that in patients with acute renal failure, the demonstration of MAG3 renal activity more than hepatic activity at 1 to 3 min indicates likely recovery while when renal uptake is less than the hepatic uptake, dialysis may be needed (
7
). In chronic renal failure, there is diminished renal perfusion, cortical tracer extraction, and excretion. However, this imaging pattern is nonspecific and needs to be interpreted in the clinical context (
1
).
Renal infection
Acute pyelonephritis is associated with fever, flank pain, leukocytosis, and pyuria. Radiolabeled leukocyte (e.g.,
111
In-WBC) and
67
Ga-citrate scans can help identify acute pyelonephritis. However, these methods have the drawbacks of extended imaging time (more than 24 h) and higher radiation exposure. Cortical imaging with DMSA is highly sensitive for detecting acute
pyelonephritis in the appropriate clinical setting (
8
). Acute pyelonephritis demonstrates segmental regions of decreased tracer uptake in oval, round, or wedge pattern. There may also be diffuse generalized decrease in renal uptake which in association with normal or slightly enlarged kidney is suspicious for an acute infectious process. The pathophysiologic basis for decline in DMSA cortical uptake in infection is related to diminished tracer delivery to the infected area and to direct infectious injury to the tubular cells compromising their function and tracer uptake. A wedge-shaped cortical defect with regional decrease in renal size is compatible with post-infectious scarring. Renal infarcts may also have a similar appearance (
1
,
5
).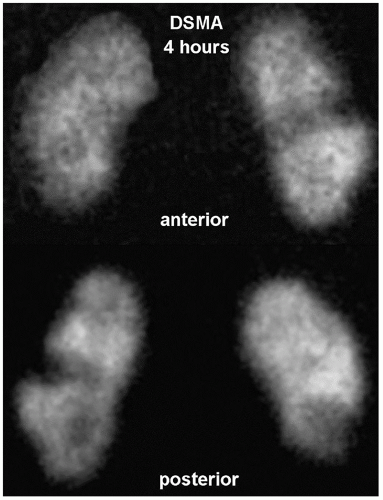 FIG. 13.2
• Anterior and posterior planar
99m
Tc-DMSA scintigraphy obtained 4 h after radiotracer administration showed small (upper lateral) and larger (mid-lateral) peripheral cortical defects in left kidney compatible with renal infarcts. SPECT (not shown) may be used for improved definition of the extent of renal cortical defects.
99m
Tc-DMSA, Technetium-99m dimercaptosuccinic acid; SPECT, single-photon emission computed tomograpy.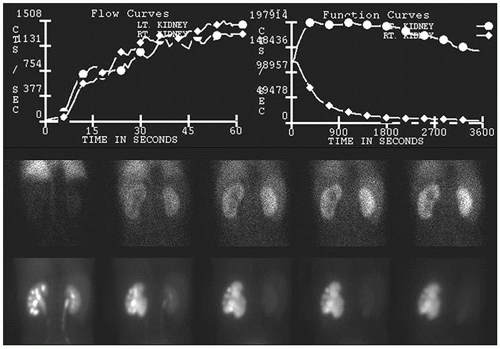 FIG. 13.3
• Abnormal
99m
Tc-MAG3 renogram following furosemide administration demonstrating left hydronephrosis and diminished left urinary clearance kinetics caused by ureteropelvic junction obstruction.
99m
Tc-MAG3, Technetium-99m mercaptoacetyltriglycine.
Full access? Get Clinical Tree
Get Clinical Tree app for offline access