10.1055/b-0034-77604
13 Postsurgical Radiography
Postsurgical radiography both documents and evaluates the surgical procedure performed. Following reconstructive procedures, restitution of form, fracture stabilization, the correct alignment of joints, and the position of osteosynthesis material are of primary importance. In salvage procedures, evaluation of the defined surgical goal and the position of prostheses and osteosynthesis material have priority. Follow-up examinations assess the osseous consolidation or the integration of prostheses.
Partial Arthrodesis of the Wrist
Partial arthrodesis of the wrist ( Table 13.1 ) is carried out to eliminate joint surfaces destroyed by trauma or degenerative processes and to maintain a functionally suitable range of motion in the remaining joints (midcarpal and radiocarpal partial arthrodesis). Arthrodesis between the scaphoid, trapezium, and trapezoid (triscaphe arthrodesis) is performed for this reason in isolated scaphotrapeziotrapezoidal (STT) osteoarthritis. In chronic scapholunate (SL) dissociation and advanced lunate osteonecrosis, stabilization of the radial column of the carpus is performed to prevent carpal collapse, realizing the preventive aspect.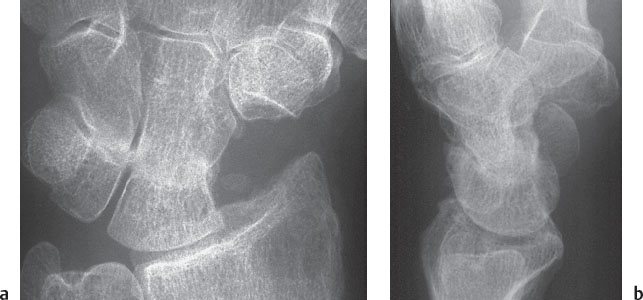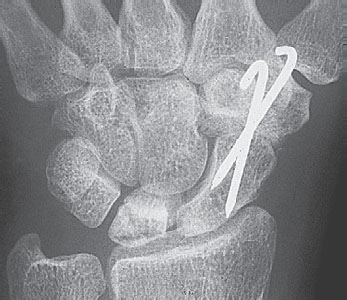 Surgery of the Distal Ulna
Salvage procedures of the distal end of the ulna ( Table 13.2 ) are performed in posttraumatic or degenerative destruction of the distal radioulnar joint (DRUJ) to reduce pain and to improve pronosupination. In rare cases, congenital abnormalities such as Madelung's deformity serve as indications.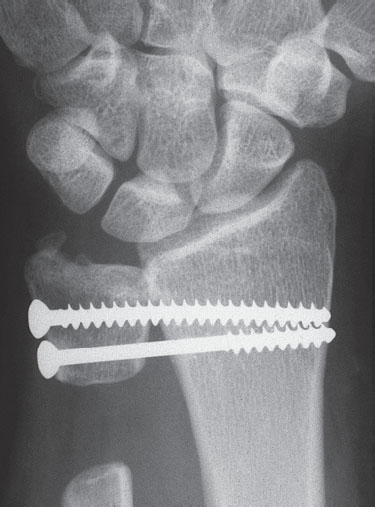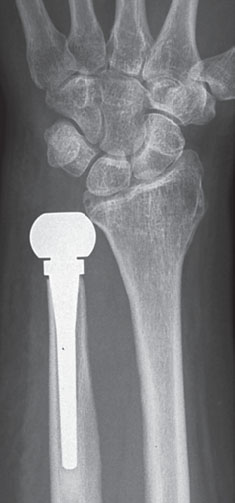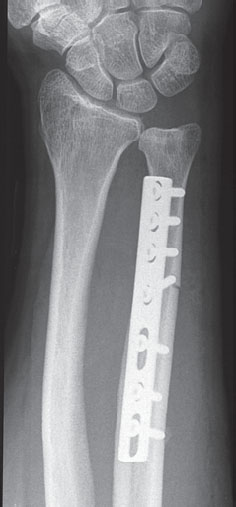 Shortening of the Radius and Ulna
Shortening of the radius or ulna ( Table 13.3 ) is performed to change carpal force transmission. The posttraumatic or constitutional ulnocarpal impaction syndrome serves as an indication for resection osteotomy of the ulna. Lunate osteonecrosis in the presence of negative ulnar variance can be treated successfully by segment excision of the distal radial shaft (shortening osteotomy) as long as osteoarthritis has not set in.
Surgery for Fractures and Nonunion of the Scaphoid
Fractures in the middle third of the scaphoid ( Table 13.4 ) are preferably stabilized by palmar screw fixation in a distal to proximal direction. Fractures in the proximal third are treated with preference by screw fixation of the fragment in a proximal to distal direction via dorsal access because of the small size of the fragment. The headless bone screw (HBS) compression allows intraosseous placement.
The same is true for scaphoid nonunion ( Table 13.4 ), for which bone graft with restoration of the shape of the scaphoid is the fundamental surgical principle. Stabilization is achieved with a screw or by osteosynthesis using special small plates. In follow-up radiographs, bony reconstruction and the integration of the trabecular bone grafts are important.