10.1055/b-0034-75808
16 Lungs
Conventional radiographs are the imaging modality of choice for the initial assessment of diseases of the lung or chest. Unfortunately, projection effects and a limited density resolution often restrict their informational value. Computed tomography (CT), particularly high-resolution CT, due to its high-contrast resolution and ability to depict even anatomical structures of submillimeter thickness, is regarded as a highly valuable complementary imaging method in the workup of pathologic processes of the thorax.
With the introduction of multislice CT and an isotropic voxel size of up to 0.4 m3, the image quality of multiplanar reconstructions has finally equaled that of transverse scans; thus, multi-planar assessment has become a standard approach in CT chest imaging. However, most diagnoses can still be made on simple 5-mm transverse slices reconstructed at 5-mm increments and acquired during inspiratory breath hold. A high-resolution CT scan, if needed, typically is done in addition to the 5/5-mm spiral scan, usually as a 1-mm slice thickness/10-mm increment sequence. Though this approach still represents the gold standard, on multislice CT scanners allowing for detector collimations < 1 mm, high-resolution images may alternatively be reconstructed directly from the spiral scan. Thus, the patient is exposed to a lower radiation dose without the two additional scans. However, a second CT scan may still be useful to identify air trapping, for example (i.e., when an additional expira-tory scan is needed). In such circumstances, the additional scan may be acquired as a 1-mm slice thickness/10-mm increment sequence. High-resolution CT typically is required in the presence of diffuse lung disease to detect and quantify subtle parenchymal changes and for morphological characterization, respectively.
On CT scans, attenuation values of normal lung parenchyma range from −700 to −900 HU. In the dependent portions of the lung, attenuation values usually are lower (less negative) due to orthostatic effects (i.e., increased blood flow). Because the most dependent portion of the lung on transverse CT images is the dorsal aspect of the lower lobe, this region physiologically often shows an ill-defined, up to 4-cm-thick band of higher attenuation. Likewise, attenuation values decrease (become more negative) when the amount of intrapulmonary air increases. This is observed during labored inspiration but also in several diseases with air trapping (e.g., emphysema).
Bilateral hyperlucency is most often caused by chronic obstructive pulmonary disease (COPD) (Fig. 16.1). Other diseases typically associated with emphysema are alpha-1-antitrypsin deficiency, Marfan syndrome, Ehlers–Danlos syndrome, intravenous (IV) drug use, and human immunodeficiency virus (HIV) infection. Attenuation of emphysematous lung parenchyma amounts to values < − 950 HU. Primary bullous lung disease (vanishing lung) is an accelerated form of paraseptal emphysema found in young men who usually become symptomatic only if a spontaneous pneumothorax occurs. Pulmonary interstitial emphysema, a complication of enforced respiratory therapy, similarly presents with bilateral hyperlucent lungs, which is often associated with a pneumomediastinum. Reversible conditions of air trapping resulting in bilateral hyperlucency include asthmatic attacks and acute bronchiolitis, especially in children younger than 3 y. Other causes of a bilateral hyperlucent lung are decreased pulmonary blood flow due to thromboembolism (Westermark sign), pulmonary arterial hypertension, and a right-to-left shunt.
A unilateral or lobular hyperlucency is most often caused by air trapping due to extrinsic or intrinsic obstruction of a major bronchus. A unilateral hyperlucent lung with decreased lung volume despite air trapping, a small ipsilateral pulmonary hilus, and tubular or varicose bronchiectasis is diagnostic of the Swyer–James or Macleod syndrome. Compensatory emphysema is evident in the remaining lung after lobectomy or due to lobular atelectasis. Other causes of unilateral hyperlucency are one-sided emphysema/thromboembolic disease and rare congenital conditions, such as a hypogenetic lung, absent pulmonary artery (usually right), anomalous origin of the left pulmonary artery, and congenital lobular emphysema (usually upper or middle lobe), as well as scimitar syndrome. The latter is a combination of a hypoplastic hyperlucent right lung, small ipsilateral hilus, right shift of the heart and mediastinum, and a partial anomalous pulmonary venous return resembling a scimitar.
Normal major and minor fissures are usually not visible on CT scans, but their location can be assumed from a 2- to 3-cm-thick band of hyperlucent lung tissue, corresponding to relatively avascular parenchyma on each side of the fissure. Occasionally, a poorly defined ribbonlike zone of increased density is evident in the avascular area adjacent to the fissure, caused by volume averaging of the latter. In high-resolution CT, the fissures are usually visible as pencil-thin white lines.
The pulmonary acinus (Fig. 16.2) is defined as the portion of lung distal to a terminal bronchiole and consists of respiratory bronchioles, alveolar ducts, alveolar sacs, and alveoli. The primary pulmonary lobule comprises all alveolar ducts, alveolar sacs, and alveoli together with their accompanying blood vessels, nerves, and connective tissues distal to the last respiratory bronchiole. The secondary pulmonary lobule is defined as the smallest discrete portion of lung that is surrounded by a connective tissue septum. It is composed of 3 to 5 terminal bronchioles or 30 to 50 primary lobules. It has an irregular polyhedral shape and ranges from 1 to 2.5 cm in diameter. On high-resolution CT scans, the secondary pulmonary lobule can be identified in both normal and pathologic states. It is surrounded by interlobular septa containing the peripheral tributaries of pulmonary veins and lymphatics. Because of the hydrostatic dilation of the intraseptal veins, the septa are most prominent in the dependent portions of the lung. Subtle changes of the secondary pulmonary lobule are first seen in the subpleural space of dependent lung portions.
Even on high-resolution CT scans terminal bronchioles and accompanying pulmonary arterioles are only rarely evident in healthy individuals. If visible, they appear as small dots or tiny branching structures in the centers of secondary lobules and are often referred to as centrilobular arteries and bronchioles.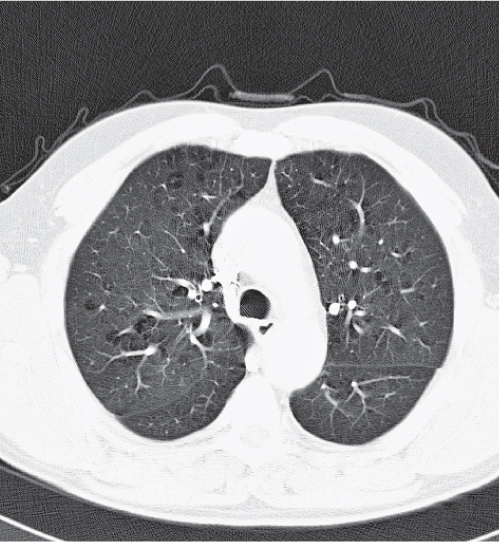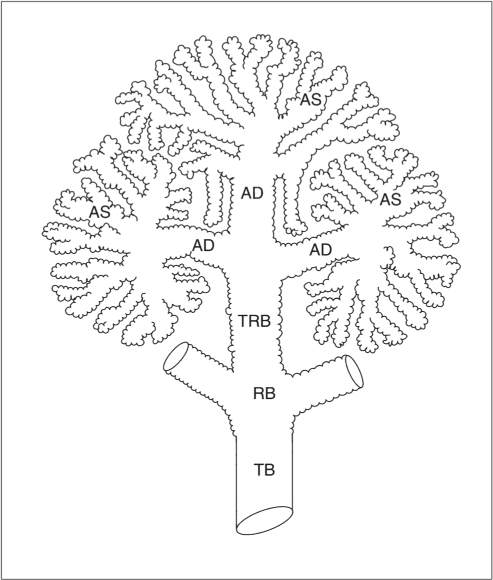 | | |
| --- | --- |
| AD | alveolar duct |
| AS | alveolar sac |
| RB | respiratory bronchiole |
| TRB | terminal respiratory bronchiole |
An increase in lung density occurs when air is replaced by liquid or solid material. A partially hyperdense lung lobule is found in early atelectasis and a completely collapsed lobule in atelectasis. The hallmarks of atelectasis are a loss in lung volume and a displacement of fissures (Fig. 16.3). The upper lobes collapse upward, medially, and anteriorly. A totally collapsed right upper lobe may eventually simulate an anterior paramediastinal mass. A right middle lobe collapse appears as a wedge-shaped density, with one side of the wedge abutting the mediastinum. The lower lobes collapse medially and inferiorly, maintaining contact with the posterior mediastinum.
Atelectasis may be divided into obstructive and nonobstructive forms. Obstructive (resorption) atelectasis occurs when the communication between the trachea and the lung periphery is obstructed by either an endobronchial lesion or extrinsic compression. The cause of obstruction is often identified on CT scans. The collapsed airless lung parenchyma distal to the obstruction is of soft tissue density, obliterating normal vascular structures. Bronchi are typically fluid-filled and thus air bronchograms are usually absent.
Nonobstructive atelectasis forms include relaxation, compression, round, adhesive, and cicatrization.
Relaxation (passive) atelectasis is observed in the presence of a pneumothorax or pleural effusion causing retraction of the lung from the chest wall toward the hilum. Compression atelectasis refers to the loss of lung volume adjacent to a large pulmonary or pleural space-occupying lesion.
Round (helical) atelectasis (labeled R in Fig. 16.3) is caused by contracting pleural fibrosis, resulting in compression and often folding of contiguous lung parenchyma. It is associated primarily with asbestos-related pleural disease and is most commonly located in the posterior portion of a lower lobe. The characteristic CT appearance consists of a rounded subpleural opacity that is densest at its periphery. The bronchovascular bundle entering the lesion appears curvilinear ("comet tail" sign) and often contains an air bronchogram. Linear bands radiating from the mass into the lung parenchyma are also characteristic ("crow's feet").
In adhesive atelectasis, alveolar collapse occurs in the presence of patent airways and is likely caused by a lack of surfactant. It is found in respiratory distress syndrome of the newborn, acute radiation pneumonitis, and viral pneumonia.
Cicatrization (scar) atelectasis is associated with pulmonary fibrosis that may be localized or generalized. Localized disease is the sequela of chronic infection (e.g., tuberculosis) or inflammation (e.g., radiation). In these conditions, parenchymal fibrosis results not only in atelectasis, but also by traction on airway walls in bronchiectasis. The combination of severe loss of volume associated with extensive air bronchograms in normal or dilated bronchioles is characteristic.
Bronchiectasis (Fig. 16.4) is an irreversible bronchial dilation and, depending on the severity of the disease, can be classified into cylindrical, varicose, and cystic forms. Cylindrical (tubular) bronchiectasis is characterized by uniform mild dilation of the bronchi; in varicose bronchiectasis, the bronchial dilation is further increased and alternates with areas of localized constriction; in cystic (saccular) bronchiectasis, the bronchial dilation increases progressively toward the periphery, resulting in cystic spaces measuring up to a few centimeters in diameter.
High-resolution CT is more accurate than CT in the diagnosis of bronchiectasis and has completely replaced bronchography. Cylindrical bronchiectases are recognized on CT as dilated thick-walled bronchi extending toward the lung periphery, whereas normal intraparenchymal bronchi are usually not visualized in the lung periphery. If cut perpendicular to their longitudinal axis, bronchi appear as ring-shaped bronchiectases accompanied by a much smaller pulmonary artery branch, producing a characteristic "signet ring" sign (Fig. 16.5). Bronchiectases may be filled completely with secretions or mucus, evident as large homogeneous tubular structures within the lung periphery. More advanced varicose bronchiectasis assumes a beaded configuration. Cystic bronchiectasis presents as thick-walled cystic spaces measuring up to 2 cm and often grouped together in a cluster. Fluid levels of varying sizes within these cysts are often evident and characteristic.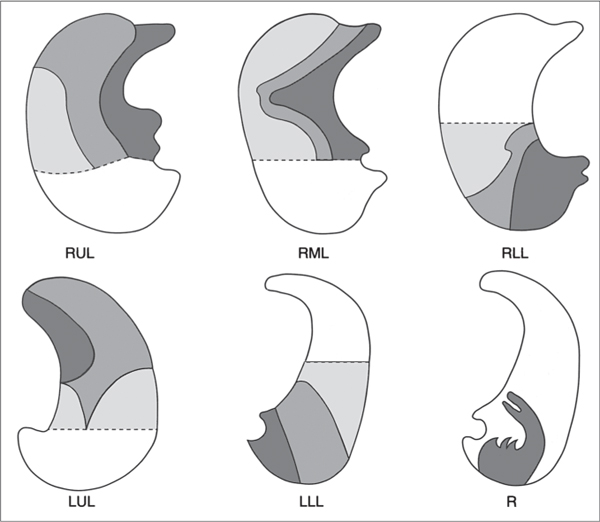 Acquired bronchiectasis is the late sequela of bronchial wall damage. Diseases that predispose to bronchial wall infection and subsequent bronchiectasis formation include immunologic deficiency states such as agammaglobulinemia, chronic granulomatous disease, and allergic pulmonary aspergillosis.
In children, typical underlying diseases are measles, pertussis, and bronchiolitis obliterans, the latter often resulting in the Swyer–James syndrome. Bronchiectases are also a constant feature in cystic fibrosis and Kartagener syndrome (i.e., dyskinetic endobronchial cilia).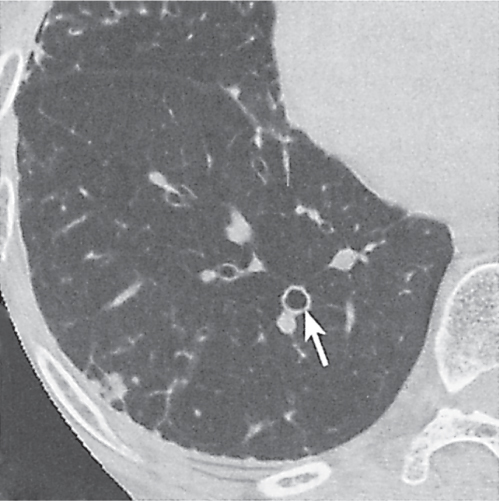 In adults, bronchiectases are typically associated with chronic aspiration, inhalation of toxic fumes, extrinsic and intrinsic bronchial obstruction (e.g., neoplasms or aspiration of foreign bodies), and emphysema.
Cicatricial (traction) bronchiectases develop as a result of retractile forces of the fibrotic lung on the bronchial wall and are observed in chronic tuberculosis, radiation pneumonitis, and some interstitial diseases such as sarcoidosis. Congenital abnormalities of the bronchial wall such as bronchomalacia are other, though rare, causes of traction bronchiectasis.
Chronic bronchitis is a clinical diagnosis based on excessive mucus production. On high-resolution CT, concentric bronchial wall thickening ("tram lines") without bronchial dilation or the signet ring sign (as characteristic of bronchiectasis) is evident. These findings correspond to prominent lung markings or the "dirty chest" appearance of a lung seen on plain film radiography.
Emphysema (Fig. 16.6) is defined as an absolute permanent enlargement of any or all parts of the acinus associated with destruction of alveolar parenchyma but without fibrosis. It is a typical end-stage of COPD, a state of irreversibly obstructed airways without known mechanism, but it is also observed in patients with asthma, bronchiolitis, and alpha-1-antitrypsin deficiency. COPD has a male predominance (~10:1), and cigarette smoking is a major factor.
Four different types of emphysema are recognized: centrilobular, panlobular or panacinar, paraseptal, and irregular (Fig. 16.7).
In centrilobular emphysema, the respiratory bronchioles (the central or proximal portions of the acinus) are destroyed. It is observed primarily in the upper lung lobes and is commonly associated with smoking. CT findings range from scattered punctate dark holes via a moth-eaten pattern to larger areas of destroyed lung. Pulmonary vascular pruning and distortion are evident in more advanced stages.
In panlobular (panacinar) emphysema, the acinus and secondary lobules are uniformly destroyed, leading to a homogeneously distributed diminishment of the interstitium without zonal preference. On CT, widespread areas of low attenuation are characteristic. However, despite some differences in the distribution patterns, it is often impossible to differentiate a panlobular from an advanced centrilobular emphysema. In addition, differentiation between normal and diseased lung often is difficult. Panlobular emphysema is characteristic for alpha-1-antitrypsin deficiency, but it can also be found in smokers.
Paraseptal emphysema selectively involves the alveolar ducts and sacs in the periphery of the acinus or lobules. It is characteristically seen adjacent to the pleura and interlobular septa. It may represent an early form of bullous lung disease that may progress to bullous emphysema. Typical findings on CT scans are subpleural emphysematous spaces < 5 mm and larger subpleural bullae, both usually in the vicinity of the mediastinal pleura. Paraseptal emphysema is limited in extent and usually not associated with clinical disease, with the exception of a spontaneous pneumothorax.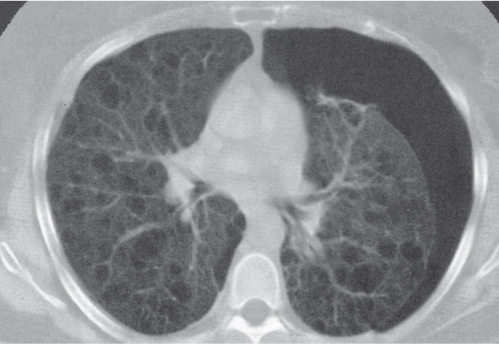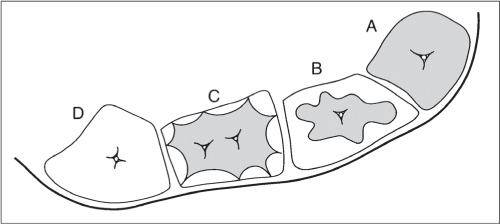 Irregular (paracicatricial or scar) emphysema is always associated with localized (e.g., tuberculosis) or generalized pulmonary fibrosis (e.g., sarcoidosis and pneumoconiosis). Clinical abnormalities in this form of emphysema are mainly related to the underlying lung disease.
Bullae are frequently associated with emphysema but may also be found as a localized process in otherwise normal lungs (primary bullous disease). A bulla is defined as an air-filled thin-walled ("hairline") intrapulmonary cavity > 1 cm in diameter.
The pulmonary interstitium is the supporting structure of the lung and can be divided into two compartments: (1) the central or axial interstitial space, consisting of the connective tissue surrounding major airways and pulmonary vessels, and (2) the peripheral interstitial space, including the connective tissue of interlobular septa, as well as around the centrilobular arterioles and bronchioles. From an anatomical point of view, any distinction between the central and peripheral interstitium is arbitrary. However, in high-resolution CT, several interstitial diseases are first seen in the peripheral (subpleural) but not in the central interstitial spaces (Fig. 16.8).
A key finding of interstitial lung disease is thickening of inter-lobular septa (reticular thickening), primarily visible in the peripheral (i.e., subpleural and basal) space. Normal interlobular septa are usually below the spatial resolution of high-resolution CT. Depending on the underlying disease, other typical findings include nodular and nonnodular thickening of interlobular septa, centrilobular nodules, and honeycombing.
Nodular thickening of interlobular septa and peribronchial noduli are commonly associated with interstitial diseases affecting the lymphatics, such as metastatic spread (i.e., lymphangiosis carcinomatosa), sarcoidosis, and silicosis. Nonnodular thickening is more typical of infectious diseases or fibrosis.
Centrilobular noduli may show a bronchocentric or a lymphatic pattern.
A bronchocentric pattern affects the acinus, including all structures distal to the end-terminal bronchiole. It is initiated through inhalation of particles and subsequent mural infection/inflammation. High-resolution CT shows multiple < 5-mm nodules, often Y or V shaped ("tree-in-bud" sign). The peripheral subpleural space typically is spared (differential diagnosis to lymphatic pattern). Expiratory scans show mosaic perfusion (thickening of paper-thin bronchioles leading to regional air trapping). Differential diagnoses include respiratory bronchiolitis, viral bronchiolitis, hypersensitivity pneumonitis, coal workers' pneumoconiosis, COPD, and centrilobular emphysema.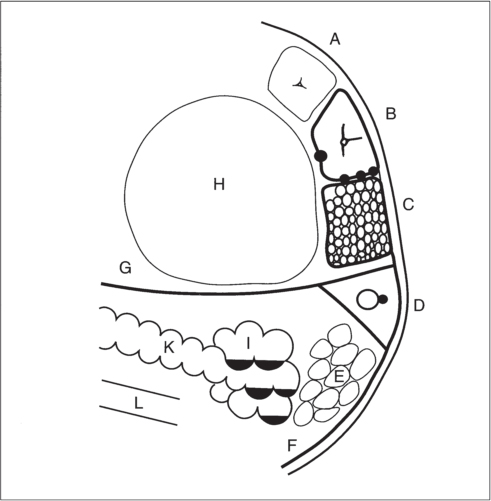 The lymphatics form two pulmonary networks: a central network along arteries and airways down to the respiratory bronchioles and a peripheral network along pulmonary veins, interlobular septa, and pleura. In the lymphatic pattern, centrilobular nodules < 5 mm are found in a peribronchiolar, periseptal, and subpleural distribution. However, it may still be initiated through inhalation of particles; thus, differentiation between a bronchocentric and lymphatic pattern often is difficult. Involvement of the subpleural space is highly indicative of the latter. A lymphatic pattern is observed in diseases with a predominantly lymphatic spread, including sarcoidosis, lymphangiosis carcinomatosa, metastatic spread, pneumoconiosis, lymphocytic inter-stitial pneumonia (LIP), and cardiogenic pulmonary edema.
Honeycombing is an advanced stage of pulmonary interstitial fibrosis. Uniform cystic spaces ranging in diameter from 5 to 10 mm with thick walls are characteristic.
Honeycombing is caused by a limited number of diseases, including idiopathic pulmonary fibrosis, scleroderma, rheumatoid lung disease, eosinophilic granuloma, lymphangioleiomyomatosis, pneumoconiosis (e.g., silicosis, coal workers' pneumoconiosis, and asbestosis), and sarcoidosis. It is particularly evident in both lower lobes except for eosinophilic granuloma, sarcoidosis, and silicosis, which show upper zone predominance of honeycombing. In idiopathic pulmonary fibrosis and scleroderma, the lung volume is characteristically decreased, whereas in pneumoconiosis and sarcoidosis, it is increased. This is due to a coexistence of pulmonary fibrosis and obstructive airway disease with cystic spaces varying from 1 to 10 cm in diameter.
Extensive fibrosis results in architectural distortion. Occasionally, traction bronchiectasis and conglomerate masses (progressive massive fibrosis [PMF]) preferentially located in the upper lobes may occur, especially in pneumoconiosis and sarcoidosis.
Typically observed in patients with asbestosis, but also those with pulmonary fibrosis and lymphangitic carcinomatosis, are thin subpleural lines, 2 to 10 cm long, paralleling the chest wall (curvilinear subpleural lines), as well as nontapering bands of fibrous tissue radiating from the lung periphery.
Central peribronchial interstitial edema, infiltrates, and fibrosis manifest on CT as apparent bronchial wall thickening. Irregular and serrated thickening of bronchi and vessels suggests fibrosis, whereas a smooth thickening of these structures favors edema and infiltrates. Besides these edematous and infectious processes, central interstitial thickening is associated with lymphangitic carcinomatosis, lymphoma, and sarcoidosis.
In air-space (alveolar) disease, the air in peripheral airways is replaced by fluid, cells, or solid substances, resulting in an increased regional lung density.
The following conditions may be underlying causes: (1) low osmotic blood pressure (e.g., hypoproteinemia), (2) high capillary blood pressure (e.g., congestive heart failure), (3) defective alveolocapillary barrier (e.g., shock, lung contusion, and inhalation of noxious gases), (4) aspiration, (5) secretion of abnormal substances (e.g., cystic fibrosis), (6) deposition of abnormal substances (e.g., alveolar proteinosis), (7) invasion of cells (e.g., infectious and inflammatory conditions), and (8) intra-alveolar cell growth (e.g., neoplasm).
As indicated above, air-space disease (Fig. 16.9) presents in its early stages as poorly defined bronchocentric nodularities, measuring about 0.5 to 1 cm in diameter. With progression of the disease, these nodules coalesce and form larger areas of consolidation, obscuring pulmonary vessels and causing characteristic air bronchograms (Fig. 16.10). However, air bronchograms are also encountered in atelectasis and, rarely, in extensive interstitial disease, such as sarcoidosis.
Diffuse air-space disease tends to involve central portions of the lungs, whereas diffuse interstitial processes are predominantly observed in the lung periphery. CT attenuation values do not permit differentiation between different air-space consolidations. Relatively high attenuation values are found in acute pulmonary hemorrhage and chronic renal failure, possibly due to dystrophic microcalcifications.
Diffuse interstitial and/or micronodular densities with increased attenuation are associated with mitral stenosis or other conditions with chronically elevated left atrial pressure, as well as with healed disseminated infections, such as tuberculosis, histoplasmosis and varicella pneumonitis, silicosis, radiopaque dust inhalation, amyloidosis, and alveolar microlithiasis. Occasionally, they are also found in pulmonary fibrosis (idiopathic or long-term busulfan therapy), deposition of iodine-containing drugs (e.g., amiodarone therapy or postlymphography), idiopathic pulmonary hemosiderosis, and Goodpasture syndrome.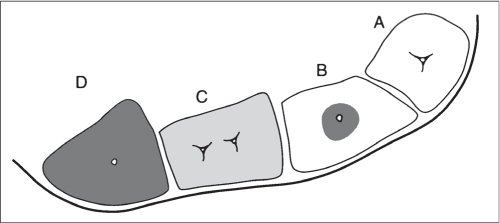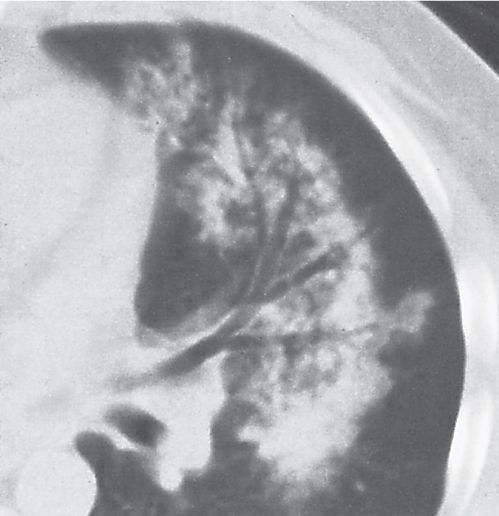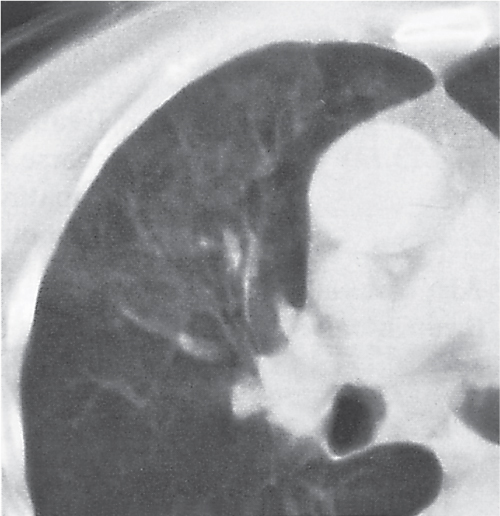 These densities are observed in conditions in which either air in the acini is only partially replaced by soft tissue-equivalent material or the walls of the acini are diffusely thickened. This appearance is nonspecific and can be found with any early manifestation of a diffuse acinar or interstitial process. Interstitial pneumonias (e.g., viral and pneumocystic [ Pneumocystis carinii, PCP]), desquamative interstitial pneumonitis, and alveolar proteinosis frequently present in this fashion.
Ground-glass opacity (Fig. 16.11) refers to a subtle, hazy increase in lung density on high-resolution CT. It is a nonspecific finding and differs from true air-space disease in that it does not obscure pulmonary vessels. It may likewise result from either alveolar or parenchymal abnormalities. Thus, ground-glass opacities can be caused by intra-alveolar fluid/inflammation, and simply represent an alveolitis, or be affected by mild thickening of the septal or alveolar interstitium (e.g., due to an edema, inflammation, infection or neoplasmatic infiltration). Ground-glass opacities are also often associated with a mosaic pattern, air trapping, "crazy paving," and fibrosis (e.g., honeycombing). A mosaic pattern simply describes regional differences in parenchymal density due to either air trapping or zones of increased consolidation. Air trapping is highly indicative of an airway disease and appears as normal parenchyma on inspiratory scans and low attenuating regions on expiratory scans. By contrast, zones of increased consolidation remain unaltered during expiratory scans. Crazy paving describes a pattern in which thickened, polygonal interlobular septa are superimposed on ground-glass opacities. This pattern is observed in pulmonary alveolar proteinosis, PCP, acute respiratory distress syndrome (ARDS), hemorrhage, and acute exogenous lipoid pneumonia.
Compared with conventional radiography, pulmonary nodules are detected much earlier and more easily on CT scans. Differentiation between benign and malignant lesions remains a major problem, however. Small peripheral metastases cannot be differentiated from granulomas or intrapulmonary lymph nodes, which are also found in a subpleural location. In case of sepsis or metastatic spread, usually numerous similar-sized pulmonary lesions are found. A vessel entering a small nodule is suggestive of a hematogenous metastasis, but it may also be associated with septic emboli.
A solitary pulmonary nodule can be assumed benign if it remains stable in volume over a 2-y period. Also, a mean density > 200 HU on noncontrast CT scans is an indicator of a benign lesion. The high attenuation value reflects subtle calcifications within the lesion that are not discernible on the images. In general, visible calcifications are highly suggestive of a benign lesion. Benign calcifications (including histoplasmoma) tend to be either centrally located or diffusely distributed throughout the lesion, whereas eccentric calcifications can also be found in malignant lesions (e.g., scar carcinoma originating from a granuloma or metastases from osteoblastoma). Lack of contrast uptake (< 20 HU increase after bolus injection) is another indicator of a benign lesion. The demonstration of fat within the lesion usually suggests a benign hamartoma or, less commonly, a lipomatous lesion, fat embolus, or lipoid pneumonia. Thus, any solitary nodule with smooth borders measuring < 2 cm in diameter in an a-symptomatic patient younger than 40 y is likely to be benign and should be monitored. Usually a follow-up CT examination within 6 to 9 months and a thorough clinical review and patient history allow further validation.
Malignant lesions frequently exceed 2 cm in diameter, have a spiculated margin, and a mean attenuation value < 150 HU on pre-contrast CT scans, as well as eccentric cavitations and, if present, intratumoral calcifications. A bronchovascular bundle converging toward the lesion may be visible, and usually enhancement of the mass is > 20 HU after contrast injection. Additional findings include a notch in the mass, heterogeneity of the lesion, and a surrounding halo of lower density (hemorrhage/lymphangiosis). In a subpleural location, retraction of the pleura toward the mass may produce a pleural tag that is caused by a desmoplastic reaction. All these signs, however, are not specific for a malignancy and may also be found in a variety of benign conditions.
The differential diagnosis of diffuse lung disease is discussed in Table 16.1 and solitary and multiple focal pulmonary lesions in Table 16.2.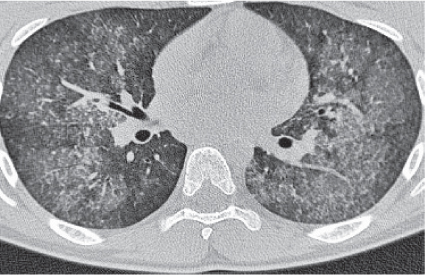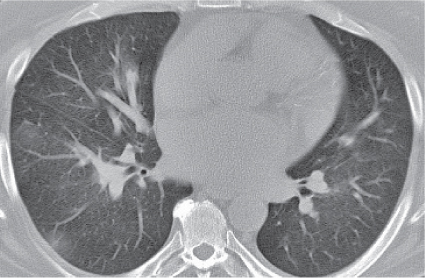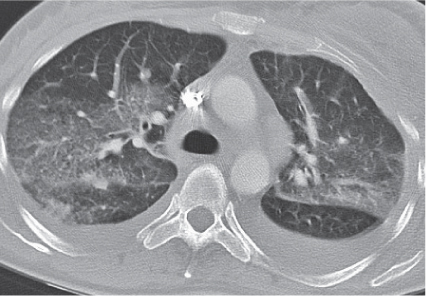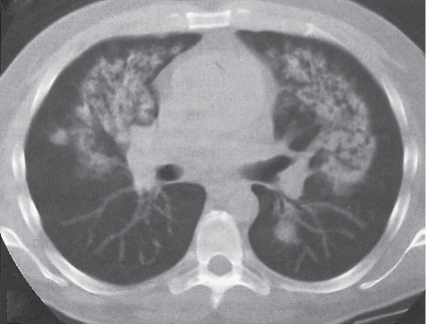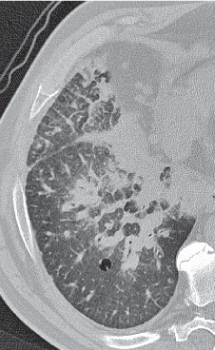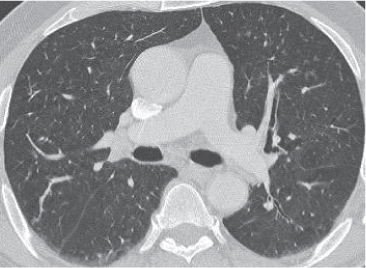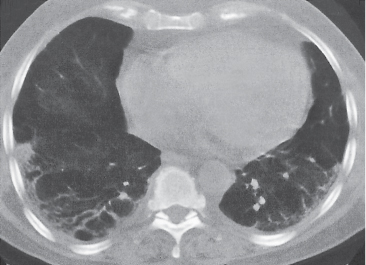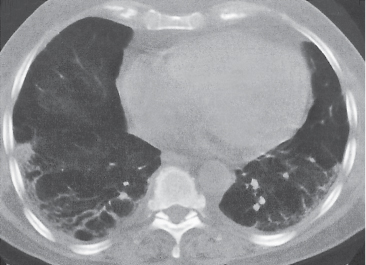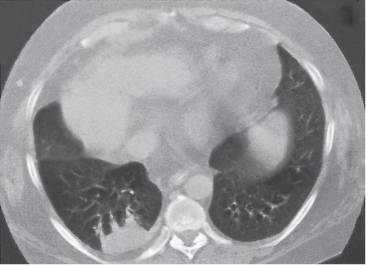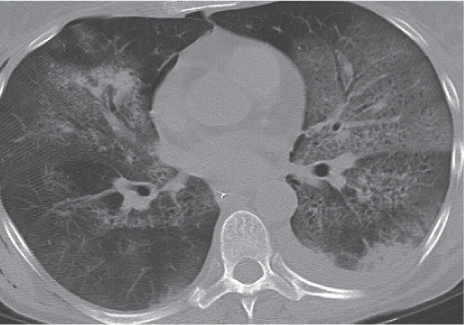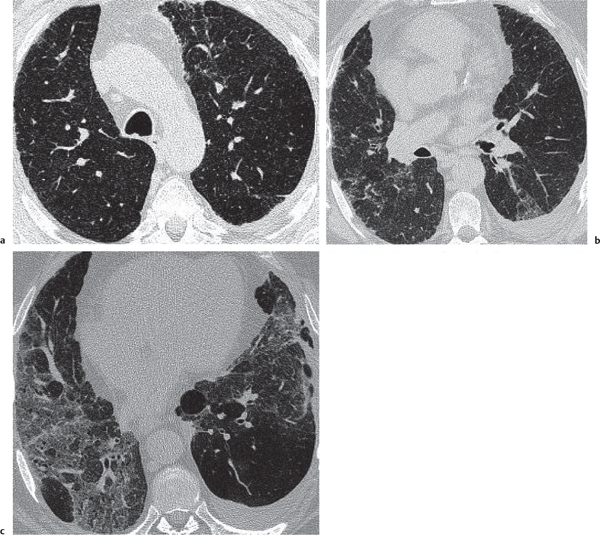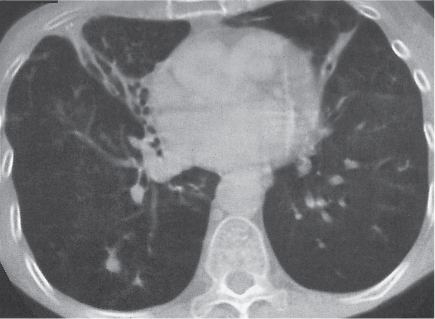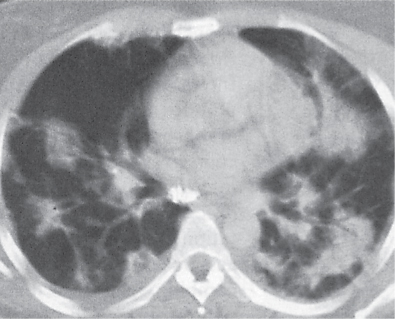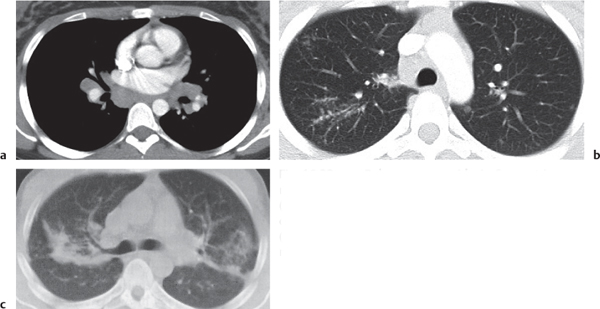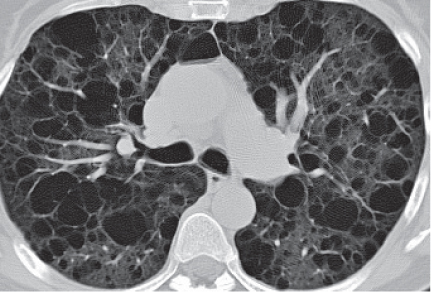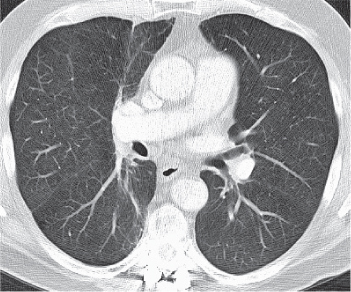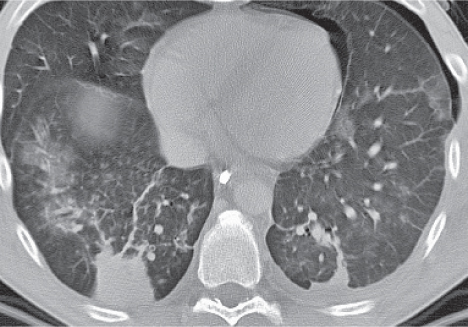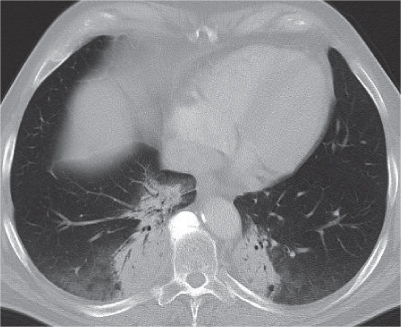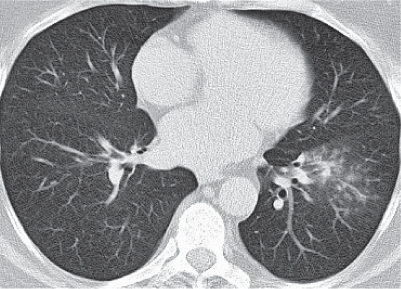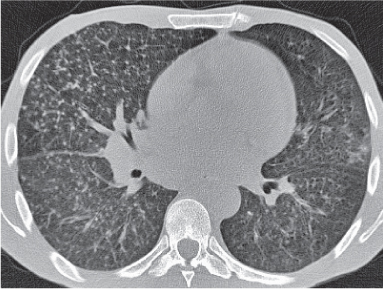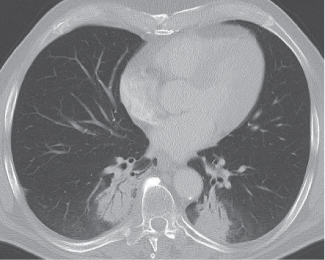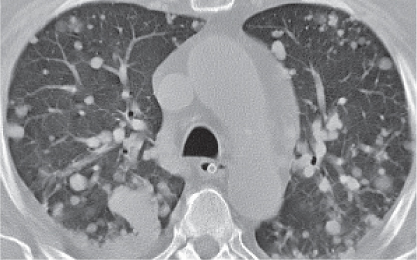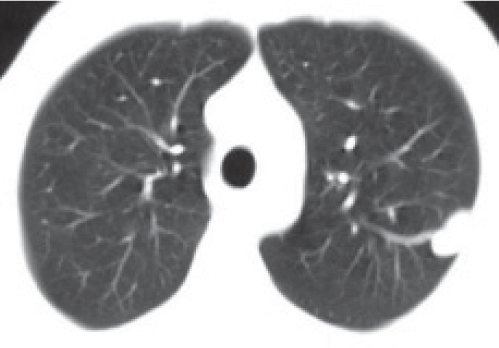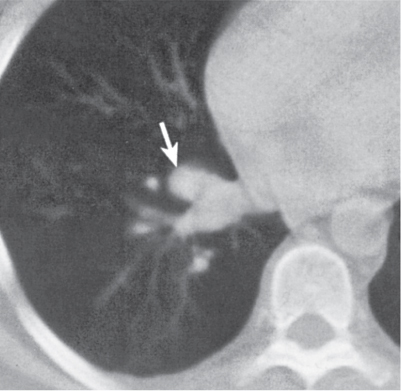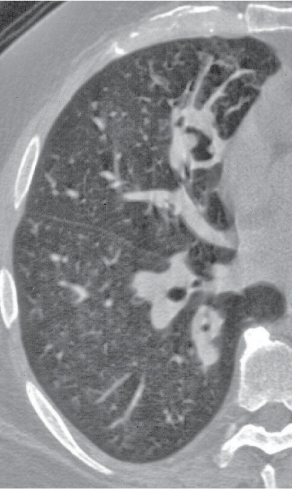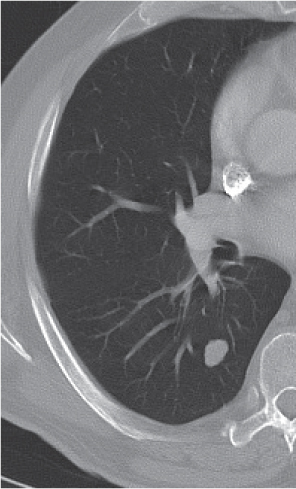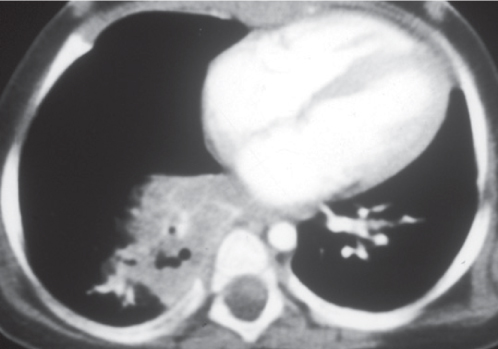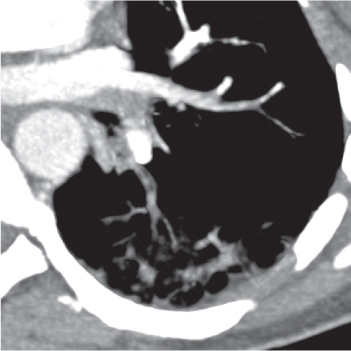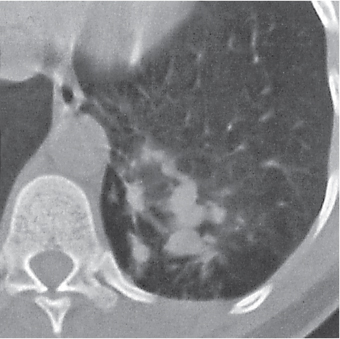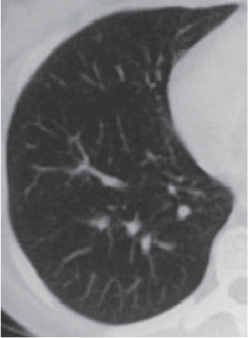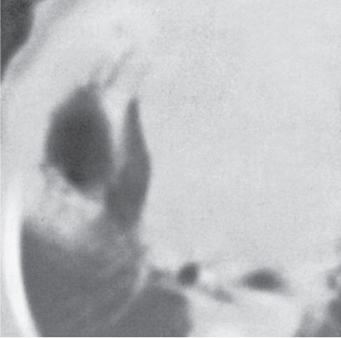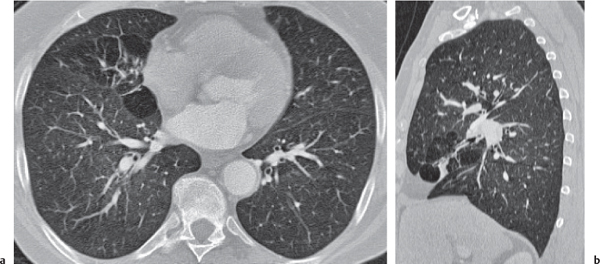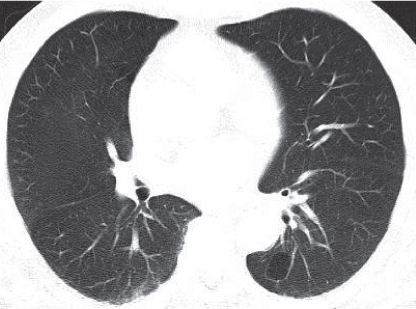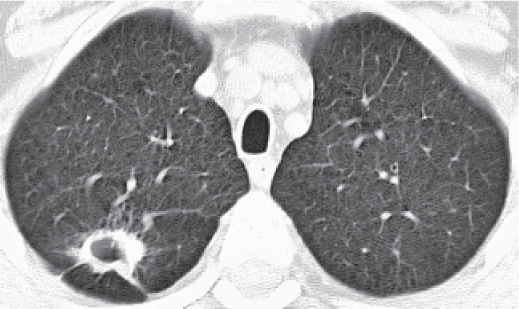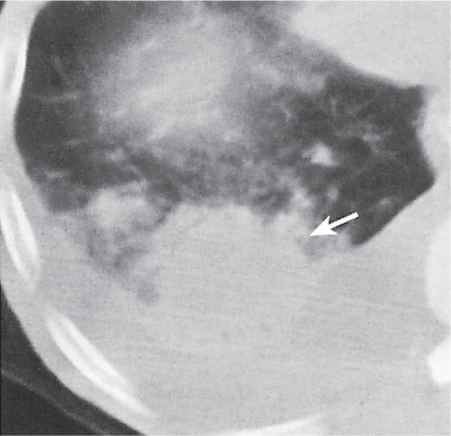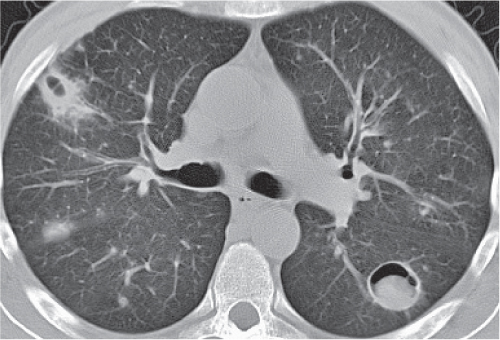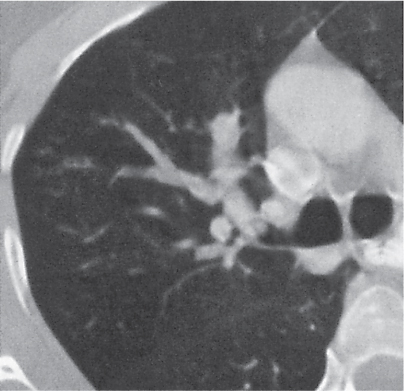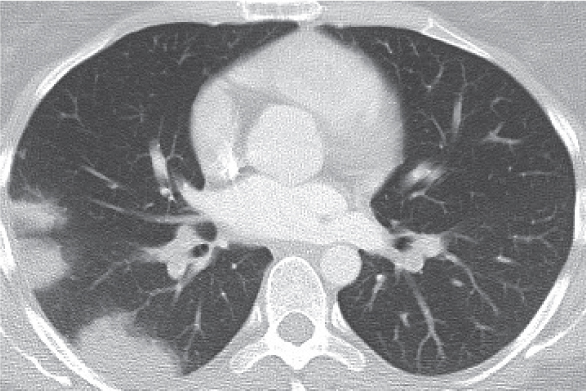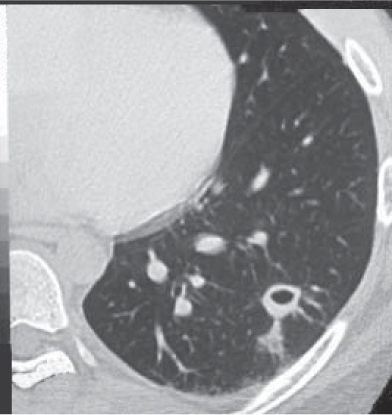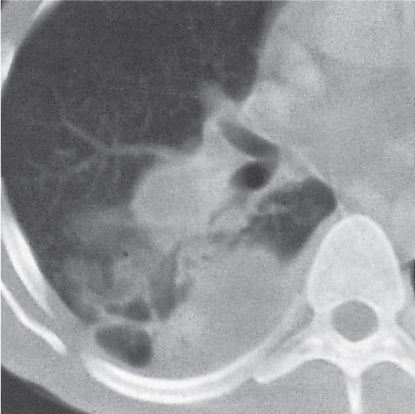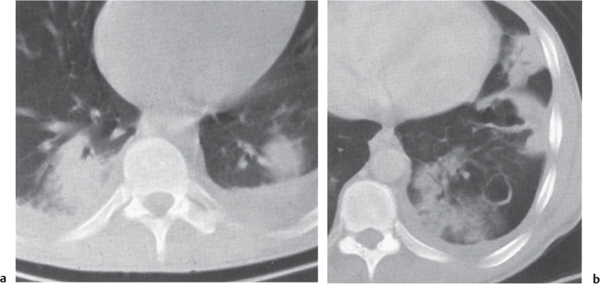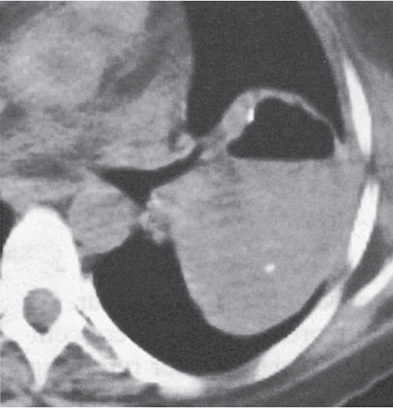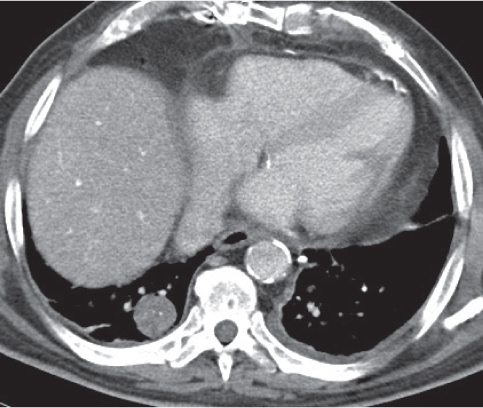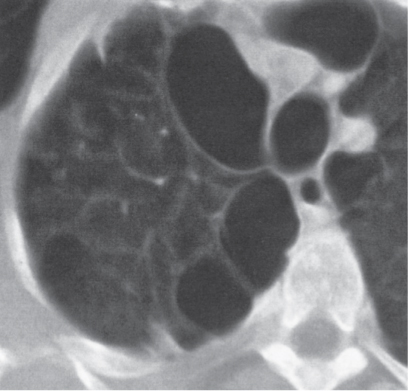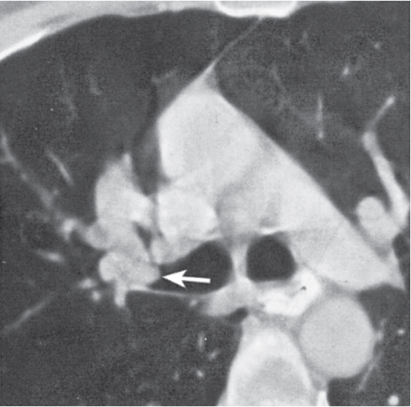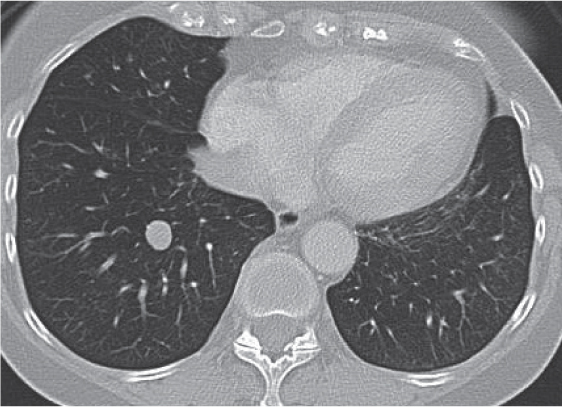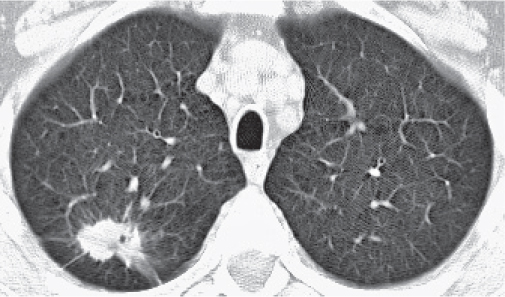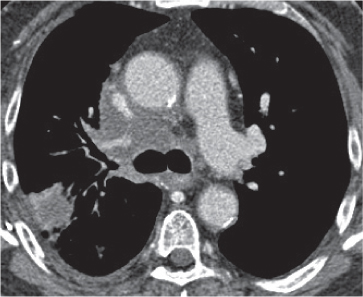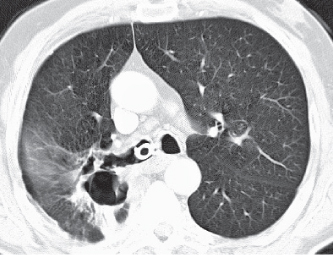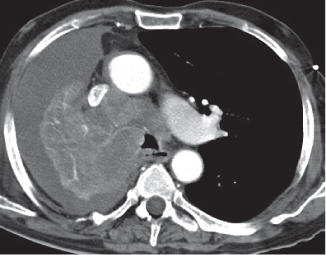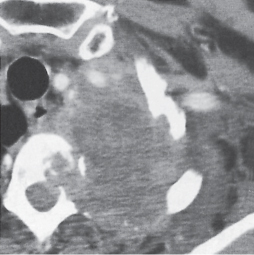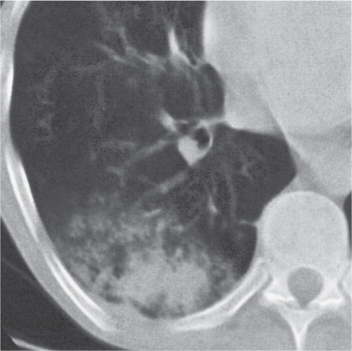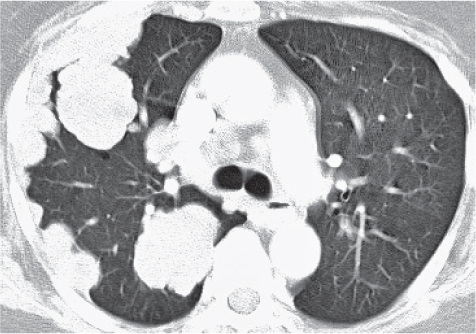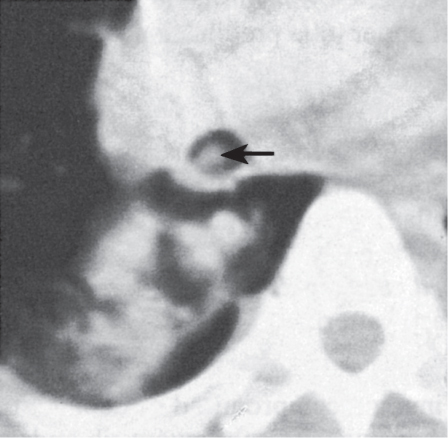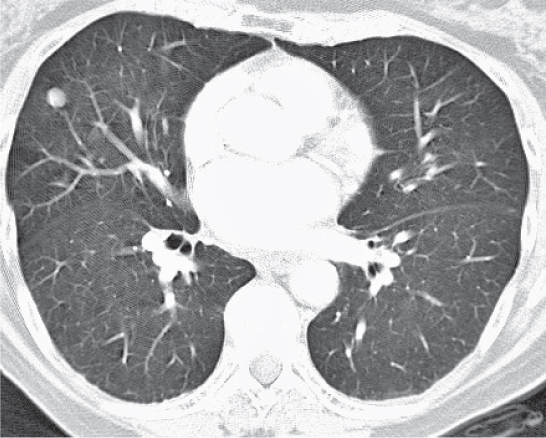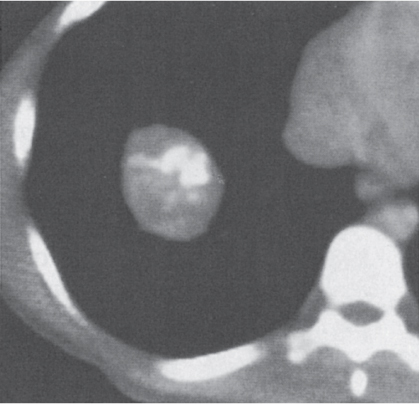 Full access? Get Clinical Tree