10.1055/b-0034-75810
18 Heart and Mediastinum
Mediastinum describes a space that extends between the thoracic inlet and the diaphragm and may be divided into an anterior, middle, and posterior compartment. Anterior refers to the space between the sternum and ventral pericardium, posterior to the space between the dorsal pericardium and posterior thoracic wall and middle to the remaining space in between, excluding the pericardium and pleural space. Although this subdivision is consistent in the lower mediastinum, it becomes arbitrary in the upper mediastinum (i.e., above the level of the heart), where many pathologic processes involve two or all mediastinal compartments. Tables 18.1 and 18.2 list all pathologic mediastinal processes. Any preferential or typical location is referred to in the comment section.
A typical, though most often nonvisible, mediastinal structure is the thymus, which lies ventrally to the anterior aortic arch. Being isodense to musculature in young children and adolescents, its density becomes fat equivalent after the age of 20 y. Thus, in older patients, the thymus is masked by mediastinal fat. On transverse scans, its maximum size should not exceed 1.8 cm in patients younger than 20 y and 1.3 cm in older patients. Thymic enlargement in adults commonly is observed along with hyperthyroidism, but it may also occur as a rebound phenomenon following steroid treatment and chemotherapy. The right and left lobes may be separate structures or be fused together; thus, the shape of the thymus is highly variable.
The pulmonary hilum is anatomically ill-defined and represents a depression on the mediastinal pulmonary surface where bronchus, blood vessels, and nerves enter the lung. The left and right pulmonary hila are asymmetrical and thus, because of vessel opacification, it is necessary to systematically analyze both to differentiate between vasculature, lymph nodes, and hilar masses.
Differentiation may be difficult, as masses and hilar or mediastinal lymph nodes often coexist. Nonpathologic mediastinal lymph nodes show a large central fat hilum and thus are barely visible on computed tomography (CT) scans. If visible, they appear as small oval structures, with a smallest to longest diameter ratio of < 1. Any cross-sectional diameter > 1 cm, nodal rounding, or diminishing of central fat is suspicious.
If correctly planed and performed, CT usually allows proper assessment of mediastinal and hilar structures. Any multidetector-row CT with ≥ 4 detector rows, ≤ 500 ms rotation time, and ≤ 2.5 mm collimator width is suitable. Sixty to 80 mL of ≥ 350 mg U/mL contrast media, injected at a rate of ≥ 3.5 mL/s and initiation of image acquisition 30 seconds after starting of contrast material injection, usually leads to sufficient vessel opacification. Although this approach usually allows for screening of pulmonary artery embolism, bolus triggering on the pulmonary artery is preferable in these patients.
With these technical requirements, adequate differentiation between nonvascular (Fig. 18.1) and vascular (Table 18.2) mediastinal diseases usually is easily achieved.
Many cardiac diseases may also be visible on conventional CT scans; thus, familiarity with normal cardiac anatomy is necessary for comprehensive assessment of the mediastinum.
Small amounts (> 25 mL) of pericardial fluid are typically observed in the retroaortic pericardial recess as a sickle-shaped, discretely hypodense finding dorsal to the root of the aorta (Fig. 18.1). Pericardial fluid may occasionally also be seen around the right cardiac auricles and in the vicinity of the apex of the heart.
Fluid collections > 50 mL constitute a pericardial effusion. Serous transudates are observed in congestive heart failure, hypoalbuminemia, or after irradiation: Lymph fluid may be secondary to neoplasm, cardiothoracic surgery, or obstruction of the hilum or superior vena cava. Fibrinous exudates occur in the presence of infections, uremia, collagen diseases, and hypersensitivity conditions. Hemorrhagic fluid collections may be iatrogenic following surgery or catheterization, traumatic, secondary to myocardial infarction (MI), metabolic (coagulopathy), or neoplastic (metastatic/primary cardiac neoplasms). CT attenuation values of hemorrhagic fluid approaches blood density (20–40 HU) and may show fluid–fluid levels (i.e., sedimentation of hemoglobin). The latter is indicative of a subacute/chronic state. Differentiation between serous and fibrinous effusions is usually not possible.
The contours of the heart are smoothed by a variable amount of subepicardial fat (Figs. 18.2 , 18.3), which must be differentiated from mediastinal lipomatosis (Fig. 18.23).
Conventional axial CT scans can be used to assess (1) overall size and shape of the heart and its chambers, (2) thickness of the myocardium, (3) presence of cardiac valve and coronary vessel calcifications, (4) topographic relationship between cardiac chambers and large vessels, (5) larger intracavitary masses, and (6) global patency of aortocoronary venous bypasses (ACVBs). Table 18.3 discusses cardiac abnormalities relevant to CT examinations of the chest.
Any further cardiac assessment requires dedicated CT scan protocols, which are beyond the scope of this book and may be found elsewhere in more detail. The most important technical requirement is coregistration of an electrocardiogram (ECG) signal during image acquisition, which can be done either retrospectively (ECG gating) or prospectively (ECG triggering). ECG gating provides continuous spiral CT datasets in combination with continuous ECG traces, and thus allows retrospective image reconstruction from any phase of the cardiac cycle. This strategy not only is robust in relation to cardiac motion artifacts, but also gives way for assessment of myocardial function. ECG triggering—or the step-and-shoot technique—provides prospective single-image acquisition from a predefined heart phase and thus a much lower radiation dose (up to < 1 mSv for a complete CT dataset of the heart) as compared with ECG gating (3–5 mSv). However, in arrhythmic or noncompliant patients, additional scanning may be required.
Coronary artery calcifications may be assessed and quantified with any multidetector-row CT scanner offering ≥ 4 detector rows, ≤ 500 ms rotation time, and ECG-gating or -triggering capability. Semimanual evaluation programs allow the calcium load to be quantified either according to the method described by Agatston or by simply determining total calcium volume. It is important to always consider the normal distribution of calcified plaques in patients of similar age and gender.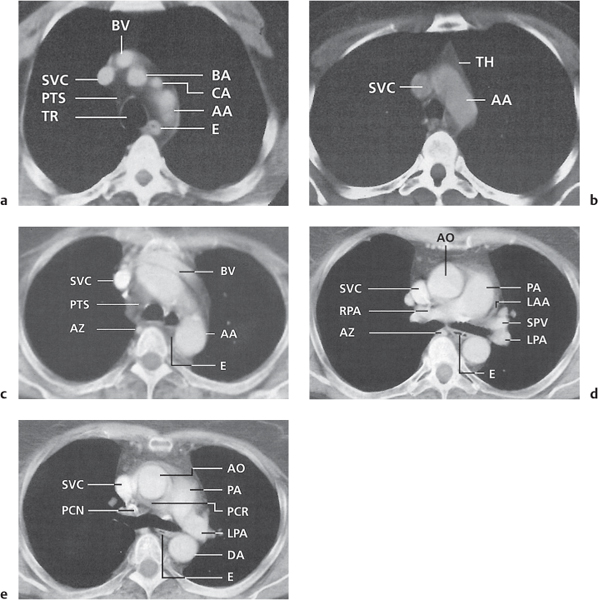 | | |
| --- | --- |
| AA | aortic arch |
| AO | aorta |
| AZ | azygos vein |
| BA | brachiocephalic artery |
| BV | brachiocephalic vein |
| CA | carotid artery |
| DA | descending aorta |
| E | esophagus |
| LAA | left atrial appendage |
| LPA | left pulmonary artery |
| PA | pulmonary artery |
| PCN | precarinal calcified nodes |
| PCR | pericardial recess |
| PTS | pretracheal space (with nodes) |
| RPA | right pulmonary artery |
| SPV | superior pulmonary vein |
| SVC | superior vena cava |
| TH | thymus |
| TR | trachea |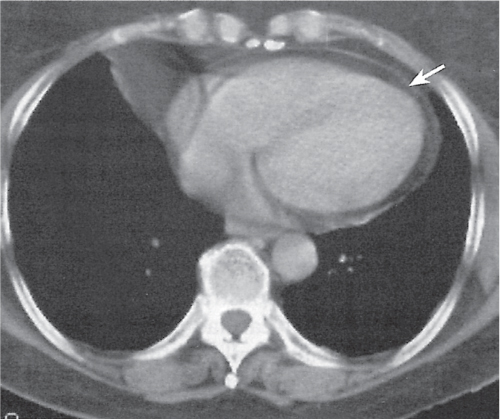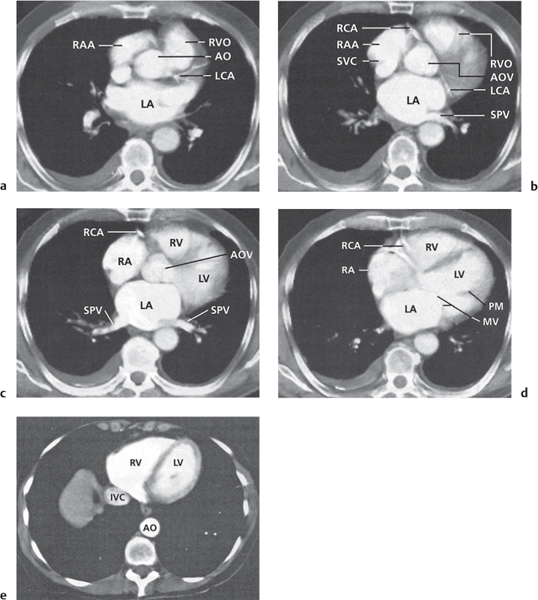 | | |
| --- | --- |
| AO | aorta |
| AOV | aortic valve |
| IVC | inferior vena cava |
| LA | left atrium |
| LCA | left coronary artery |
| LV | left ventricle |
| MV | mitral valve |
| PM | papillary muscle |
| RA | right atrium |
| RAA | right atrial appendage |
| RCA | right coronary artery |
| RV | right ventricle |
| RVO | right ventricle outflow tract |
| SPV | superior pulmonary vein |
| SVC | superior vena cava |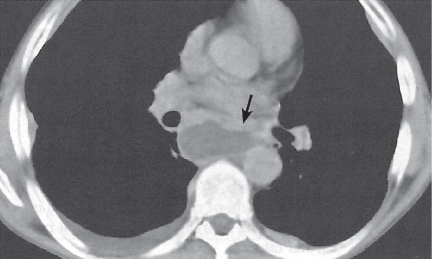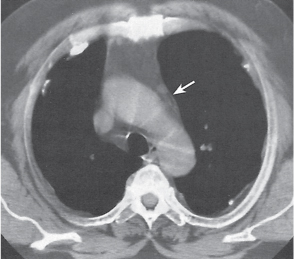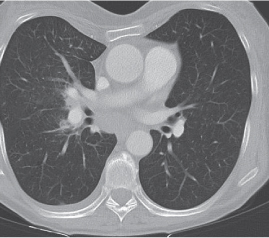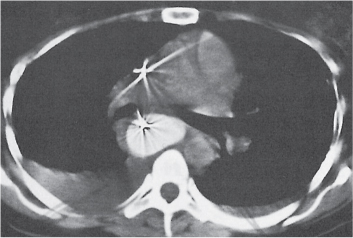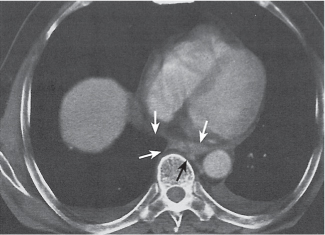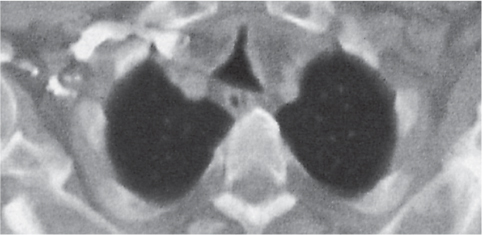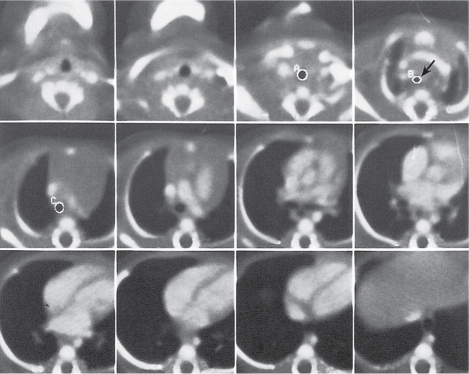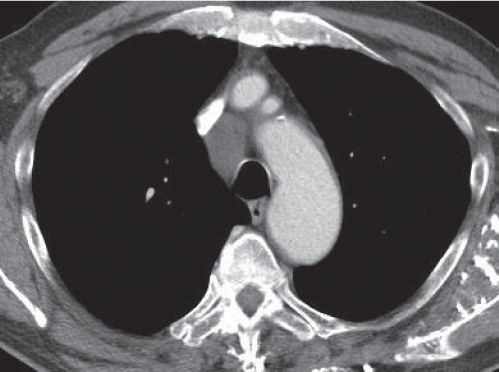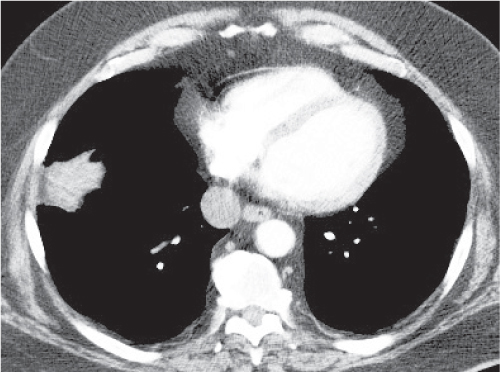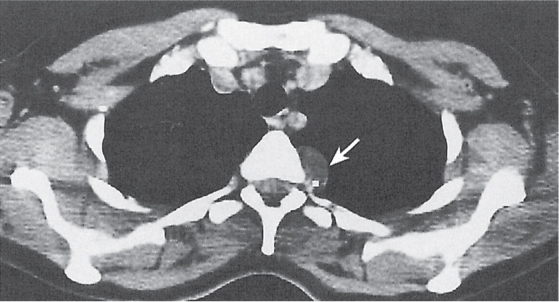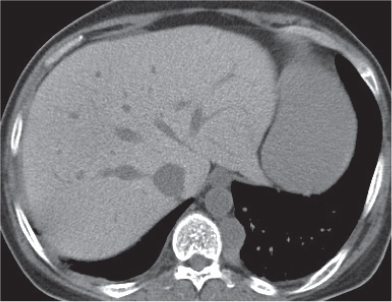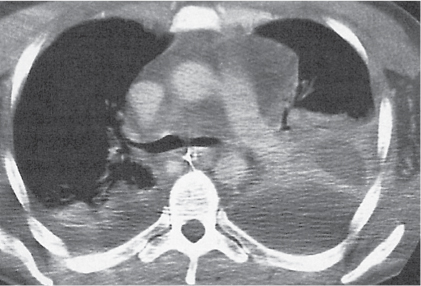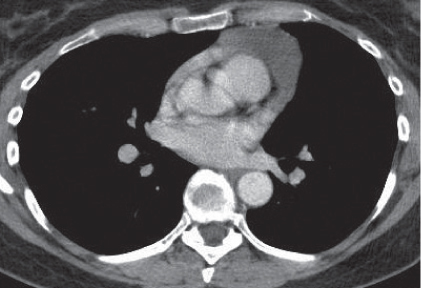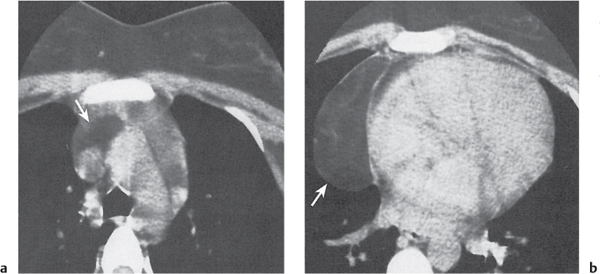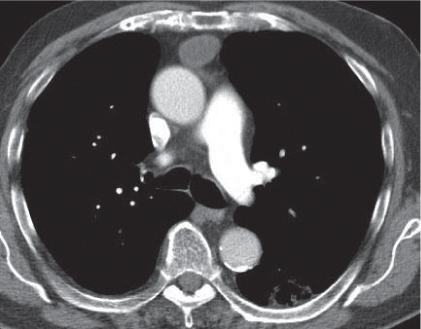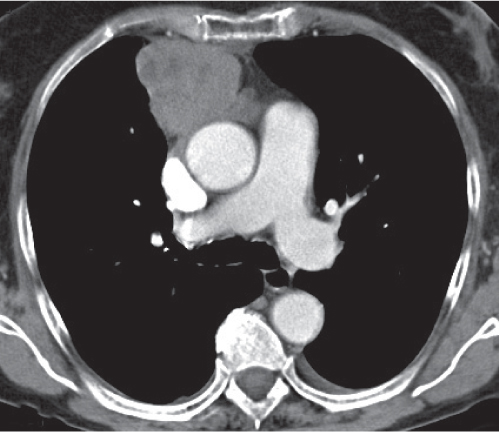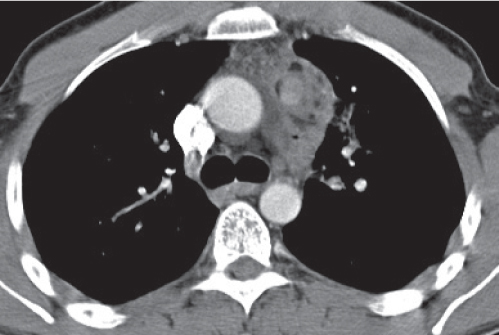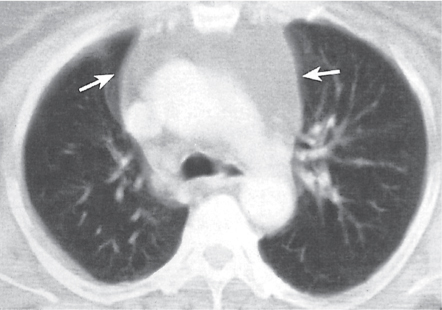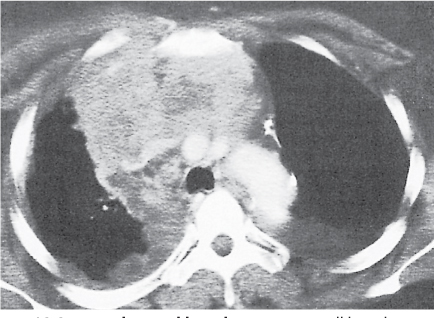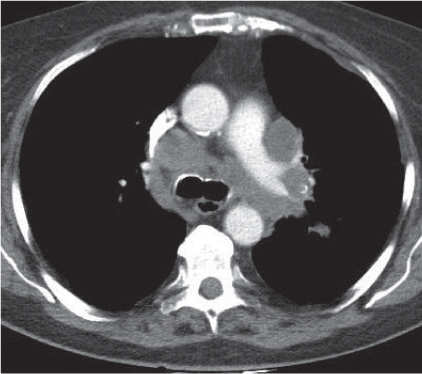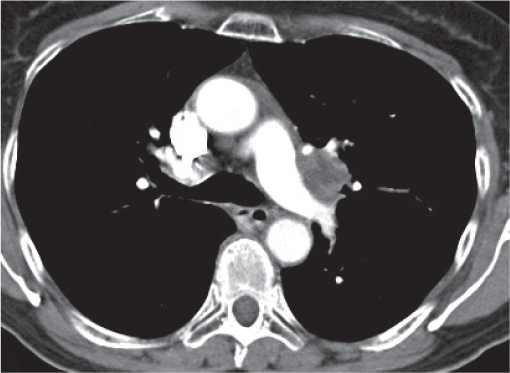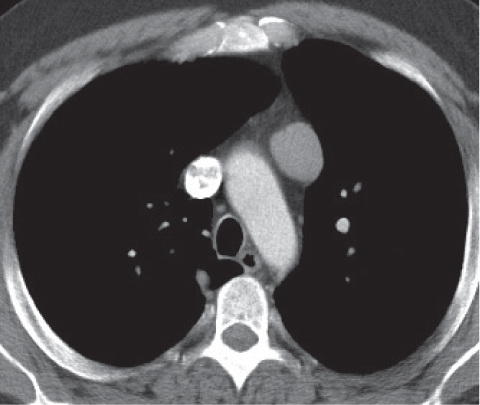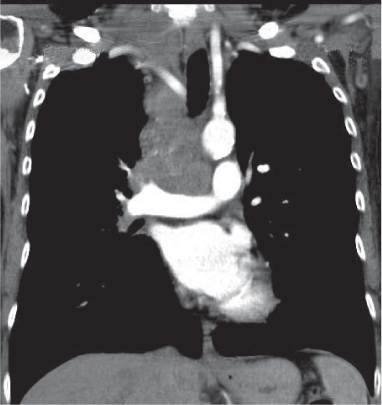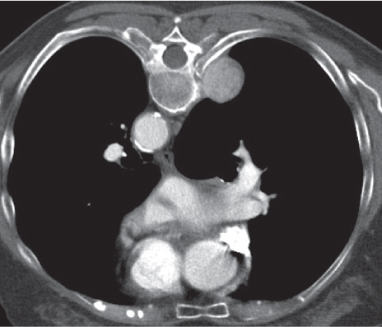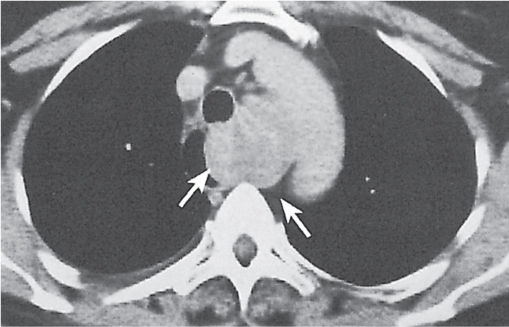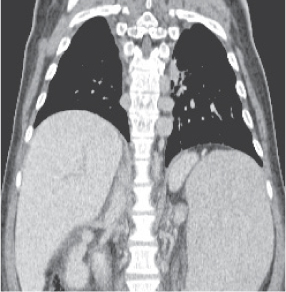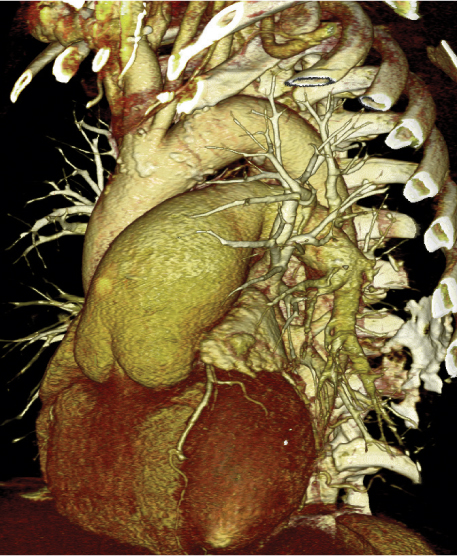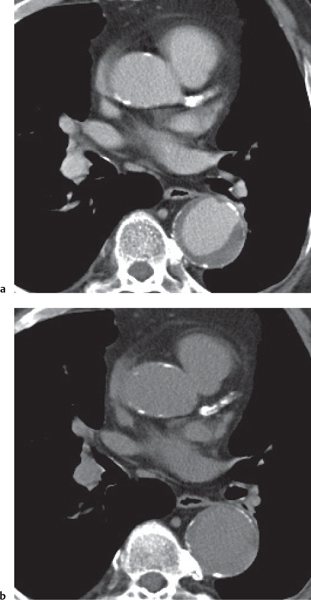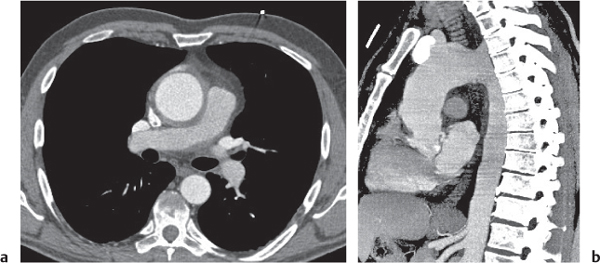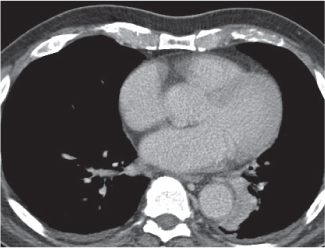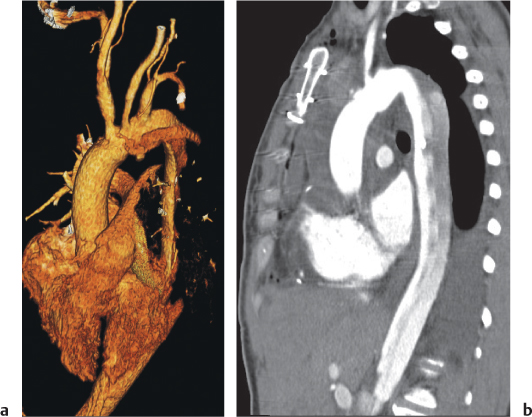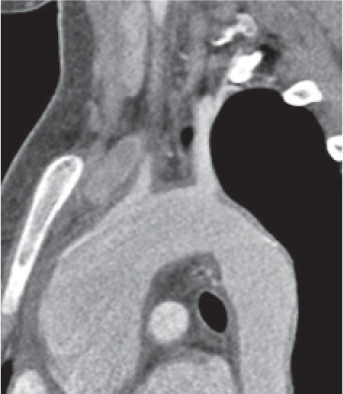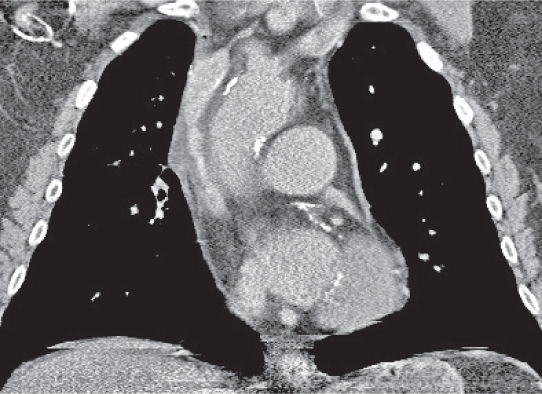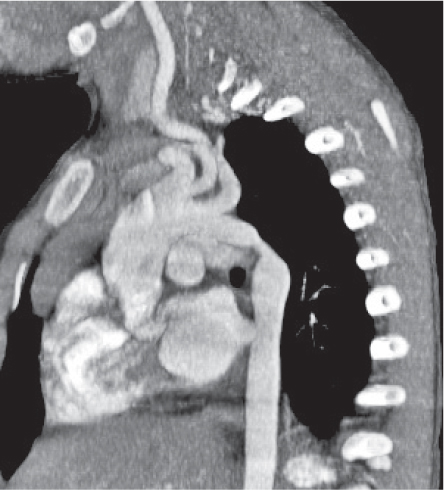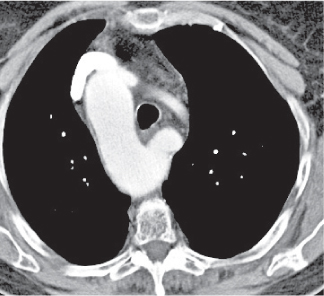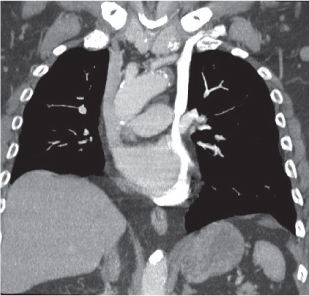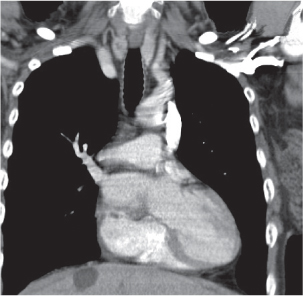 CT coronary angiography is prone to motion artifacts; thus, spatial and temporal resolutions are key. It is advisable to use (ECG-gated/-triggered) CT scanners that provide at least ≥ 40 detector rows, ≤ 0.5 mm collimation width, and ≤ 180 ms rotation time. In addition, proper patient preparation and use of bolus triggering or test bolus calculation at the level of the aortic root are critical for sufficient image quality.
However, even with current state-of the-art CT scanners that fulfill these technical requirements, the best image quality is still achieved at heart rates < 60 bpm and in the presence of maximal distended coronary arteries. Intravenous (IV) beta blockage and sublingual nitro application prior to scanning thus are highly recommended. Motion or reconstruction artifacts and/or vessel calcifications are typical reasons to overcall the degree of coronary artery stenosis. Assessment of CT coronary arteriograms therefore requires not only a thorough understanding of coronary anatomy but also sufficient experience in the interpretation of coronary atherosclerosis. Readers are advised to use center-line multiplanar reconstruction (MPR) stenosis assessment and should be aware that the degree of stenosis on CT scans is usually calculated as area of stenosis, whereas on angiograms, it is determined by diameter of stenosis. Calcified lesions tend to be overcalled by up to 30%. Thus, it is useful to apply near-bone window/level settings for better appreciation of these lesions. According to the American Heart Association (AHA), there are eight different plaque types based on five phases of atherosclerosis, but CT can only reliably differ between calcified and noncalcified plaques. Figure 18.51 is a schematic drawing of coronary artery segments according to the AHA.
Assessment of functional parameters remains a domain of echocardiography or magnetic resonance imaging (MRI) due to their much higher temporal resolution. However, it may be roughly estimated from retrospectively gated CT data sets. New scanner generations, such as dual-source CT, which combines two-scan detectors and x-ray tubes in one gantry, allow for rotation times of < 160 ms (i.e., image acquisition times of < 80 ms) and thus may challenge these established non-CT image modalities. In addition, radiation dose, scan times, and systolic motion artifacts are significantly reduced as compared with single-source CT scanners. Functional assessment is usually done by using short- or long-axis reformations, which are cut perpendicular to each other, the level of atrial valves, and the myocardial septum. Short-axis views also allow segmental allocation of myocardial vascular supply. Figure 18.53 is a schematic drawing of left ventricle (LV) myocardial segments according to the AHA.
Table 18.3 outlines differential diagnoses of cardiac abnormalities that may be visible on conventional CT scans. However, due to didactic reasons, several cases not only derive from ECG-gated/-triggered data sets, but also are shown as volume rendering threshold (VRT) reformations, short-/long-axis views, or center-line MPRs.
Intrathoracic nonvascular calcifications are usually harmless sequelae of bygone processes. They occur in the lung parenchyma, mediastinum, hilar and mediastinal lymph nodes, pleura, and chest wall, or in any combination of these structures. The cause of calcifications may be determined by means of the location and pattern of calcifications, as well as knowledge of associated clinical features. Apart from vascular lesions, the most common cause of thoracic calcifications is a previous infection. Less often they may be due to neoplasms, metabolic disorders, occupational exposure, or previous medical therapy. Small calcifications may be visible on CT or high-resolution CT but not on conventional chest radiographs. Thoracic calcifications are discussed in Table 18.4.