10.1055/b-0034-75812
19 Liver
With an average volume of 1400 to 1700 mL and a maximum craniocaudal expansion of 12 cm, the liver represents the largest parenchymatous organ of the body. Although liver size distinctly varies with body size and gender, a liver volume of ≥ 2000 mL and a craniocaudal stretch of ≥ 15 cm is equivalent to hepatomegaly. The normal proportion between the right and left liver lobe is 3:2. If there is gas in the biliary tree, it tends to be located centrally (see Fig. 20.11 , p. 707), whereas gas in the portal branches (seen in intestinal ischemia) collects peripherally (see Fig. 24.21 , p. 753). On computed tomography (CT) scans, gas usually is more prominent in the right than the left liver lobe (due to scanning in a supine position).
Overall density (attenuation) of normal adult liver on post-contrast CT scans amounts to 60 to 70 HU but may range between 38 and 80 HU on non–contrast-enhanced images. All lobes have approximately the same attenuation; thus, geographic variation of attenuation within an individual is usually < 10 HU. On non–contrast-enhanced scans, CT attenuation should be 8 to 10 HU greater than that of spleen or muscle. Portal as well as hepatic veins are seen as lower-attenuation branching structures within the parenchyma, whereas near-water-attenuating bile ducts are difficult to delineate. Abnormally decreased density usually is a sign of fatty infiltration (steatosis), but it may also be due to drug toxicity, infection (e.g., viral hepatitis), or diffuse tumor infiltration (e.g., lymphoma). In case of steatosis, CT attenuation decreases by ~15 HU per 10% increase in fat; > 15% fat infiltration on non–contrast-enhanced scans leads to masking of intrahepatic vessels (see Fig. 19.33 , p. 695). Higher levels of fat infiltration cause an inversion of contrast, where liver vessels appear hyperdense as compared with liver parenchyma.
Abnormally increased liver density usually is observed in the presence of iron overload (hemochromatosis/hemosiderosis), but it may also be induced by other metals, such as copper (Wilson disease), iodine (amiodarone), gold (antirheumatic base treatment), and thallium. Rare causes are acute massive protein overload and glycogen storage diseases. CT attenuation increases proportionally with metal overload, but increase in attenuation strongly depends on effective beam energy and thus varies depending on tube voltage, type of scanner, and patient size. After proper intravenous contrast administration, the blood vessels are highly attenuating and help in delineating the lobular and segmental anatomy of the liver. The portal vein, formed by the confluence of the superior mesenteric vein and splenic vein, ascends through the hepatoduodenal ligament at the anterior margin of the inferior vena cava into the porta hepatis, where it bifurcates into the right and left portal vein. The hepatic artery lies anterior to the portal vein. The left portal vein extends over the anterior surface of the caudate lobe into the left lobe. The right portal vein bifurcates into anterior and posterior branches, which run through the central portions of the anterior and posterior segments. The segmental classification (S1–S8) of the liver is due to the anatomy of the portal vein branches (P1–P8), while hepatic vein anatomy is the landmark for the segmentation (Fig. 19.1).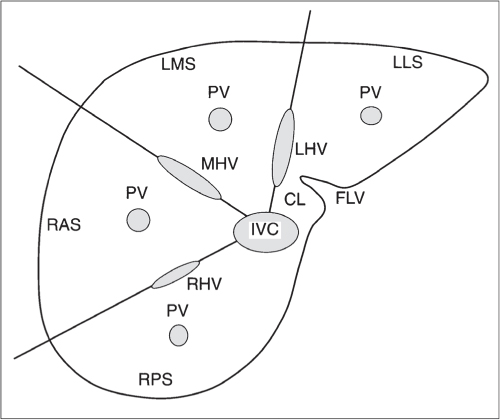 At the higher level, the left hepatic vein and at the lower level, the left intersegmental fissure, which contains fat and the ligamentum teres, separate the medial and lateral segments of the left hepatic lobe. Similarly, the middle hepatic vein and interlobular fissure, which contains the gallbladder recess, separate the left and right hepatic lobes (Fig. 19.2). The right hepatic vein bisects the right lobe into the anterior and posterior segments, but the right intersegmental fissure cannot be visualized directly by CT. Sometimes an accessory right hepatic vein is present.
Some anatomical variants may resemble an abnormality. An unusually prominent lateral segment may extend laterally to the spleen (see Fig. 19.13 , p. 681). The rare congenital absence of the right or left lobe results in hypertrophy of the contralateral lobe. Children who have received a left lateral segment liver transplant develop an unusually shaped liver for obvious reasons. The papillary process of the caudate lobe may sometimes appear separate from the liver and simulate an extrinsic mass. Scalloping of the diaphragm in the elderly may create an accessory fissure of the right hepatic lobe. This is a normal variant (Fig. 19.3).
| | |
| --- | --- |
| LHV | left hepatic vein |
| MHV | middle hepatic vein |
| RHV | right hepatic vein |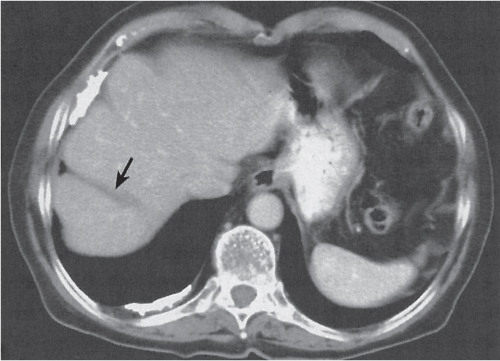 The bare area of the liver refers to the posterior surface of the liver, which is in direct contact with the diaphragm. It helps in differentiating pleural fluid collections, which are seen throughout the entire posterior aspect of the posterior perihepatic space, whereas peritoneal fluid stops medially at the bare area of the liver, except for patients with a liver transplant and consequently absent bare area (Fig. 19.5 , p. 677).
CT images of the liver should be acquired in a helical scanning mode, with a slice collimation of at least 5 mm and a gantry rotation time ≤ 0.5s. On current multidetector-row CT scanners, slice collimation ranges from 1.2 to 0.6 mm and continuous volume data sets can be acquired within 2 to 8 seconds. These technical parameters give way for full liver coverage during one breath hold, as well as (near) isometric voxel size and thus artifact-free image reformation in any spatial orientation (coronal, sagittal, etc.). Best results for multiplanar image reformation can be obtained by reconstructing overlapping axial thin slices (≤ 3 mm) at 50% increment. Raw data should be acquired during inspiratory breath hold and with the patient lying in a supine position. The scan range usually extends from the lower parts of the lung to the lower margin of the liver. However, if liver imaging is performed in the course of an abdominal scan, scans may extend caudally to the symphysis. Optimal image contrast is achieved by applying window/level settings of 250/40 in native and delayed CT scans and 350/60 in postcontrast scans.
Proper timing of bolus injection of contrast material is key to sufficient liver visualization and thus requires adequate volume and rate of delivery. In patients with a normal body mass index (BMI), 100 to 120 mL of contrast material with an iodine concentration ≥ 320 mg I/mL are injected at a rate of 5 mL/s.
Four phases of liver parenchyma attenuation can be distinguished after contrast material injection (Fig. 19.17 , p. 683): hepatic arterial phase (~18–25 sp.i.), portal venous phase (~30–40 sp.i.), parenchymal phase (~70–80 sp.i.), and delayed or equilibrium phase (2–5 min p.i.). The hepatic arterial phase (HAP) is suited for hepatic arterial angiography, the portal venous phase (PVP) for detection and characterization of hypervascular tumors. The parenchymal phase (PP) is a standard procedure in abdominal CT imaging, and the delayed phase (DP) may be added to further characterize hepatic masses (particularly useful for identification of cholangiocarcinomas and hemangiomas). A proper HAP shows densely opacified arteries, moderately enhanced portal veins, and only minimally enhanced liver parenchyma. During the PVP, portal and hepatic veins are densely opacified and hyperdense as compared with liver parenchyma, which also is maximally enhanced. In the PP, liver parenchyma, vessels, and most masses appear isodense. Nonenhanced CT scans of the liver can distinguish benign lesions such as fatty infiltration, calcifications, or cysts and thus may be used in the course of baseline scans in oncological staging but not for follow-up examinations.
Blood supply of normal liver parenchyma constitutes 75% of portal venous and 25% of arterial blood; that of liver tumors, 80% and 95%, respectively.
Highest diagnostic accuracy in detecting the number and determining the extent of liver lesions still is obtained by using CT arterial portography (CTAP). However, with the introduction of helical CT scanners and power injectors for continuous delivery of contrast material, this technique has largely been abandoned. Proper CTAP imaging requires injection of up to 150 mL of dilute iodine (150 mg I/mL) injected at a rate of 3 mL/s into a catheter placed in the superior mesenteric artery or splenic artery. Helical CT of the liver is then performed during the PVP and late venous phase. With this approach, lesions ≥ 1 cm are detected with up to 100% sensitivity and 91% specificity.
For multidetector-row CT, sensitivity and specificity range from 86% to 92% and 71% to 91%, respectively, depending not only on the type and vascularity of the lesion but also on the number of the contrast phase applied. Thus, for initial oncological staging, a triphasic protocol is recommended: scanning before contrast administration and during the late HAP and PVP. Any follow-up examination can be restricted to late arterial and venous scans in the presence of hypervascular lesions (hepato-cellular carcinoma, metastases, carcinoids, etc.).
The differential diagnostic aspects of focal liver abnormalities as seen on CT are discussed in Table 19.1. Table 19.2 discusses diffuse liver abnormalities.