10.1055/b-0034-75815
22 Pancreas
A diagram of computed tomography (CT) landmarks of the pancreas and its surrounding organs is presented in Fig. 22.1. Size, shape, and retroperitoneal position of the pancreas show a marked variation in individuals. Usually the diameter of the pancreatic head does not exceed the transverse diameter of the adjacent vertebral body. In general, the pancreatic head-to-vertebra ratio is ~0.7 and pancreatic body-to-vertebra ratio ~0.3. Thus, the pancreas reduces harmonically from head to tail in sagittal diameter. Benchmark diameters are 3 cm for the head, 2.5 cm for the body, and 2 cm for the tail. There is gradual diminution of the pancreatic size with advancing age. The contour of the pancreas is smooth in ~80% of individuals (Fig. 22.2) and lobulated in ~20% (Fig. 22.3).
The main duct of the pancreas (duct of Wirsung) lies centrally in the longitudinal axis of the organ and does not exceed 3 to 4 mm in diameter; > 5 mm in diameter is regarded as pathological. The auxiliary pancreatic duct (duct of Santorini) and side branches of the main duct usually are not visible on CT scans.
Inhomogeneous fatty replacement (attenuation from − 40 to − 10 HU, Fig. 22.4) of pancreatic tissue is more common in the anterior aspect of the head of the pancreas, whereas the posterior aspect and the area around the common bile duct tend to be spared. It represents a common tissue abnormality of the pancreas and typically is associated with age and obesity, less frequently with cystic fibrosis, diabetes mellitus, and pancreatitis. The annular pancreas is a ring of pancreatic tissue surrounding and encasing the descending or transverse part of the duodenum. It is a congenital abnormality due to hypertrophy of the dorsal and ventral pancreatic duct or abnormal migration of the left ventral pancreatic bud to the right of the duodenum rather than to the left. Pancreas divisum is observed in patients with insufficient fusion of the dorsal and ventral bud of the pancreas. Although it may be a cause for otherwise inexplicable recurrent pancreatitis, it is often missed.
The portal vein is formed behind the neck of the pancreas by the confluence of the splenic and superior mesenteric veins. The uncinate process of the pancreas head extends between the superior mesenteric vein and the inferior vena cava. Occasionally, the tail or head is congenitally absent.
Differentiation from the adjacent duodenum is critical for sufficient evaluation of the pancreas. Patients should drink 1l oz pure water (Hydro-CT) prior to the CT examination. This not only makes the duodenum appear hypodense in comparison to surrounding tissue, but also allows identification of hyperdense gallstones in the ampulla of Vater, which may otherwise be obscured by oral contrast medium. Differentiation may even be optimized by asking the patient to drink 300 mL water immediately before the exam and to subsequently rest on the right side for ~5 min before scanning is started. Additional administration of spasmolytic drugs (Buscopan) significantly decreases bowel motion and therefore has a direct impact on image quality. On precontrast scan, attenuation values of normal pancreatic tissue range from 30 to 50 HU.
Neoplasms usually are iso- to hypodense to normal pancreatic tissue and thus are masked on both precontrast and delayed postcontrast scans. Optimal visualization of malignancies is usually achieved on portal venous scans, when pancreatic tumors appear hypodense in contrast to typically strong enhancing pancreatic tissue. Endocrine-active tumors typically are enhancing—and thus discernible—only during the early arterial phase (AP).
In patients with acute pancreatitis, contrast enhancement helps to differentiate vital—and therefore attenuating—pancreatic tissue from nonenhancing necrotic tissue. Intravenous contrast administration is useful to distinguish pancreatic parenchyma from adjacent blood vessels, abdominal organs, or ligaments.
CT evaluation for neoplasms of the pancreas should be based on at least four contrast phases: noncontrast, or nonenhanced, CT; arterial phase (AP); portal venous phase (PVP); and parenchymal phase (PP). AP scans usually are acquired 25 to 30 seconds after the beginning of contrast injection, PVP immediately following this scan, and PP about 70 seconds after the beginning of contrast injection. For all other indications, three phases—nonenhanced, PVP, and PP—are sufficient. For follow-up examinations, usually only PVP and PP scans are necessary. Use of double-barrel power injectors, high-contrast flow (≥ 3.5 mL/s), and application of bolus chaser technique with 50 mL saline following contrast media injection are critical to achieve optimal image contrast. It is also preferable to use contrast media concentrations of 350 mg I/mL or higher. The total amount of contrast media should not exceed 70 to 90 mL.
| | |
| --- | --- |
| AO | aorta |
| IVC | inferior vena cava |
| LRV | left renal vein |
| SMA | superior mesenteric artery |
| SMV | superior mesenteric vein |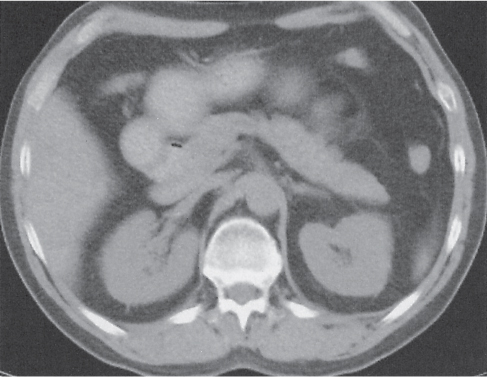 To identify even small pancreatic lesions and also be able to evaluate pancreatic ducts (ranging from 2.0 to 6.5 mm in diameter) on multidetector-row CT scanners, beam collimations < 1.5 mm and a slice thickness < 3 mm are required. The pancreatic duct is not always visible in all patients (Fig. 22.5). Optimal visualization of pancreatic ducts may often be achieved by using minimum intensity projection (MinIP) reformations.
The differential diagnoses of pancreatic abnormalities are discussed in Table 22.1.