10.1055/b-0034-75817
24 Gastrointestinal Tract
Together with abdominal magnetic resonance imaging (MRI), computed tomography (CT) has become the chief imaging modality for the assessment of abdominal pain. Whereas MRI has its strengths in organ-based diagnostics, CT is a superb modality for any kind of staging examination.
Multidetector CT scanners allow for subsecond image acquisition and overall scan times < 10 seconds, making motion and breathing artifacts a negligible issue in assessing parenchymatous abdominal organs on CT scans. However, instruction and preparation play an important role in properly displaying the intestine. The stomach and duodenum should therefore be assessed by a pplying the hydro-CT technique, the distal parts of the small intestine by proper a dministration of oral contrast material, and the colon by rectal filling with oral contrast. Optimal opacification of the stomach and small intestine is achieved by slowly and continuously drinking 1500 mL of either a 2% mixture of Gastrografin or a 1% mixture of barium sulfate suspension (contraindication is suspected perforation due to a high risk of barium-induced peritonitis) over a period of 60 minutes prior to the examination. Optimal colonicopacification is achieved by rectal instillation of 300 mL of 2% water-soluble contrast medium. Virtual colonography (see Figs. 24.36 [ p. 763 ] , 24.37 [ p. 763 ] , 24.40 [ p. 764 ]) requires bowel cleansing and stool tagging with oral contrast 24 hours prior to the examination, as well as transrectal insufflation of air or carbon dioxide—depending on availability—immediately prior to the examination. Although the method offers high diagnostic accuracy in experienced hands, its clinical relevance is usually still restricted to assessment of patients in whom conventional colonoscopy is either not possible (see Fig. 24.40 [ p. 764 ]) or not desired.
Intravenous (IV) contrast medium (≥ 300 mg I/mL administered with a flow rate of > 3.5 mL/s) is required for all abdominal scans. Usually scanning during the parenchymal phase (PP; ~70–80 seconds after starting contrast injection) suffices. However, when assessing arterial or portal venous abdominal vessels, higher flow rates (5 mL/s) and proper timing of contrast injection are critical; use of the bolus- triggering technique is therefore highly recommended. The bolus triggering scout may be placed in the aorta at the level of the celiac trunk, and scanning is started either immediately after a mean aortic density of 160 HU is reached (arterial phase [AP]) or with a delay of 10 seconds (portal venous phase [PVP]).
CT may be used to assess the stomach. However, in experienced hands, barium studies still have a higher diagnostic accuracy in identifying relevant pathology and may even be better than endoscopy in detecting scirrhous carcinoma. The thickness of the well-distended stomach wall ranges from 2 to 5 mm, as measured at the depth of a rugal fold. Any measurement > 1 cm is considered abnormal. Rugal thickness varies (Figs. 24.1 , 24.2). The gastroesophageal junction often appears as a focal thickening on CT and may be confused with a lesion, particularly if the stomach is not fully distended. Viscous stomach contents may simulate nonexistent wall thickening (Fig. 24.3). Because the diagnostic accuracy of CT in detecting abnormalities of the stomach is rather low, it may be better to use it for adjuvant abdominal staging and assessment of perigastric tissue.
The small bowel and its mesentery typically lie in the central abdominal cavity and may be found on CT scans between the level of the renal hilum and the aortic bifurcation. The wall of normally distended contrast-filled small bowel loops measures < 3 mm in thickness. Jejunal and ileal folds may be visible but usually measure at most 2 to 3 mm in thickness (Fig. 24.4). Healthy bowel loops usually show a well-defined, homogeneous, hyperattenuating wall on postcontrast scans and no visible locoregional lymph nodes or stranding of surrounding mesenteric fat. The latter is always suspicious of an inflammatory/infectious/neoplastic process. A general thickening of small bowel folds may be due to hypoproteinemia, radiation enteritis, ischemia, or an adjacent inflammatory process and thus be nonspecific. However, infectious diseases, such as tuberculosis, cryptosporidiosis, and cytomegalovirus infections, may also cause thickening of small intestine and colonic mucosa. These diseases particularly occur in immunocompromised patients.
The wall of normally distended colon measures < 3 mm in thickness (Fig. 24.5). Any wall thickness > 4 mm is considered suspicious. A wall thickness > 6 mm is definitely not normal. The colon is sharply outlined by surrounding pericolonic fat; thus, stranding of pericolonic fat is indicative of a pathologic process. Local mural thickening may be caused by surgical anastomosis, but apart from this is always highly suspicious of a malignancy.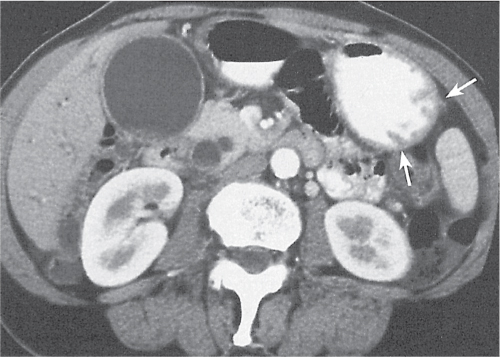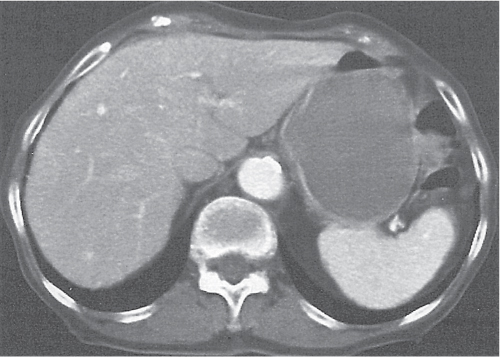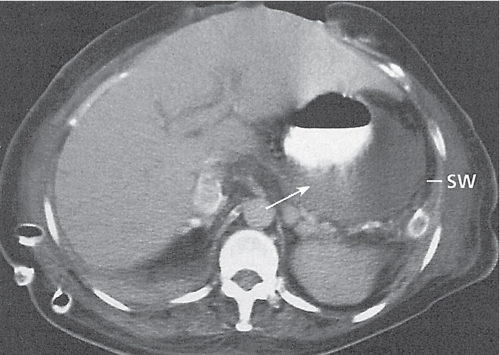 The jejunum, ileum, cecum, transverse colon, and sigmoid are intraperitoneal structures; the distal duodenum and ascending and descending colon lie in the retroperitoneal space (Fig. 24.5). The ascending colon is located in the far right lateral abdomen, reaching from the cecum up to the right hepatic flexure just below the liver. The descending colon lies in the far left lateral abdomen and stretches from the splenic flexure to the pelvic brim. It is usually collapsed. The position and length of the transverse colon and sigmoid vary, depending on the extent of the mesocolon and sigmoid mesentery, respectively. Thus, a diverticulitis in the presence of an elongated sigmoid may project the maximum pain into the right lower abdomen. Anterior and lateral surfaces of the proximal rectum are covered by peritoneum, whereas the distal rectum is completely extraperitoneal.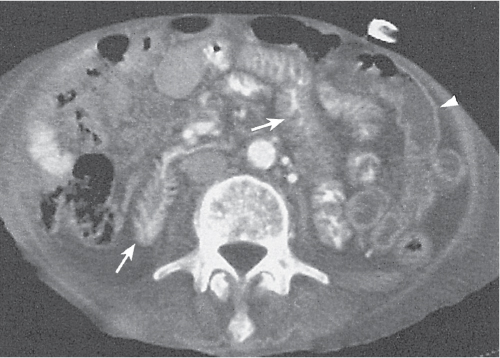 Congenital malrotation of the bowel usually is an incidental finding and may include transposition of the superior mesenteric artery.
A malrotated distal duodenum is usually found in the right abdomen, with the cecum and large bowel lying in the left abdomen.
A retrogastric colon is observed in 0.2% of patients: in these patients, the transverse colon and splenic flexure are positioned posterior to the stomach (types I and II), and sometimes posterior to the spleen and anterior to the pancreas (type III). A lthough it is usually an isolated finding, this anomaly may be associated with small bowel malrotation.
Interposition of the colon between the right hemidiaphragm and the liver may take place anteriorly or posteriorly but is of no pathologic significance. Anterior colonic interposition is common in patients treated with neuroleptic medication and may be confused with pneumoperitoneum. Chilaiditi syndrome describes a symptomatic clinical presentation with abdominal pain that worsens during deep inspiration (Fig. 24.6). Posterior colonic interposition is usually associated with right renal agenesis, ectopia, or nephrectomy.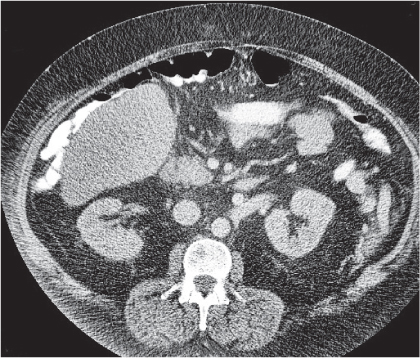 Mobile portions of the bowel are more often injured than retroperitoneally located portions. CT is usually performed to assess the intra-abdominal extent of injury. Findings may include bowel wall hematoma, laceration, perforation, and herniation. Pneumoperitoneum, pneumoretroperitoneum, and pneumomediastinum may be concomitant after perforation of the colon. Small gas collections may be missed on soft tissue CT images; thus, additional provision of lung window CT images is highly recommended in patients with acute abdominal pain. Free intra- abdominal or intrapelvic fluid may be the only sign of bowel perforation. Hematoma and laceration of the bowel walls a ppear as focal mural thickening and edema. Rupture of the diaphragm may result in bowel herniation into the thoracic cavity. It is better seen on the left side, as the diaphragm is concealed by the liver on the right side.
Differential diagnoses of gastrointestinal abnormalities are discussed in Tables 24.1 , 24.2 , and 24.3 .