10.1055/b-0034-75813
20 Biliary System
Diseases of the biliary system are usually diagnosed by using ultrasound, endoscopic retrograde cholangiography (ERCP), or percutaneous transhepatic cholangiography (PTC). Computed tomography (CT) typically comes into play for tumor staging in addition to ultrasound. However, most biliary abnormalities are found accidentally in the course of an abdominal CT scan.
Anatomically, the biliary system consists of intra- and extrahepatic bile ducts, as well as the gallbladder. Intrahepatic bile ducts parallel portal veins and hepatic arteries, empty into a right and left hepatic duct, measure < 1 mm in diameter, and thus are usually not visible on CT scans. Cholestasis describes continuous centripetal widening of the bile ducts due to a distal (near) occlusion. The differential diagnosis embraces hepatic and cholangioneoplasms, bile duct stones, and various forms of cholangitis (see Fig. 20.9).
The right and left hepatic ducts appear as ~3-mm-wide, near-water-dense linear structures on postcontrast images and join the common hepatic duct (CHD) (Fig. 20.1). The CHD is a thin-walled (< 1.5 mm) structure 3 to 4 mm in diameter located anterior to the portal vein and lateral to the hepatic artery (Fig. 20.2). A CHD with a diameter > 6 mm must be regarded as dilated. After joining the cystic duct, which drains the gallbladder, the CHD forms the common bile duct (CBD), or ductus choledochus, which measures up to 6 mm in diameter. Any diameter > 8 mm is indicative of biliary obstruction. However, after cholecystectomy, a diameter of up to 10 mm may still be normal. Typically, the CBD appears as a low-attenuating structure surrounded by enhancing pancreatic tissue. It has a low-attenuating wall, which is ≤ 1.5 mm in thickness. The CBD is distally confined by the sphincter of Boyden. After joining the main pancreatic duct (which also is confined by a separate sphincter), both ducts drain into the duodenum through the ampulla of Vater, which is confined by the sphincter of Oddi.
The gallbladder is an oval sac of near-water density located in the gallbladder fossa—a notch on the undersurface of the liver—with a wall thickness of 1 to 2 mm (Fig. 20.3). It may be anomalously located intrahepatically, suprahepatically, or even retrorenally. Intracystic septations occur in ~10% of patients and usually are not visible on CT scans. Duplication of the gallbladder or cystic duct is rare. Anatomically, the gallbladder is distinguished by the fundus, body, and neck. The distally located fundus usually is round and appears below the edge of the liver when filled. A common variation is the "phrygian cap," a partially septated fundus that is folded upon itself. The body is the midportion of the gallbladder and is usually adjacent to the hepatic flexure of the colon and the duodenum. The gallbladder drains via its proximally located neck into the cystic duct, which is usually 2 to 5 cm long, tortuous, and equipped with several spiral folds (valves of Heister).
On CT scans, usually the portal venous phase (PVP) and parenchymal phase (PP) (see Chapter 19) are best suited to distinguish intrahepatic bile ducts from liver parenchyma. Bile ducts and the gallbladder walls usually appear hypodense compared with surrounding parenchymal tissue. Thus, any increase in density after contrast application is indicative of an inflammation or additional local thickening of a neoplastic process.
The biliary tract wall and subtle calculi are best visualized by using multidetector-row spiral CT and thin-slice collimation (> 1.5 mm). Scanning with maximal kilovolt peak eases visualization of cholesterol gallstones. Dual-source CT scanners allow for dual-energy scans with 140 and 80 pkV and thus for optimized differentiation of stones without loss of overall image quality. Oral contrast is obsolete in patients with suspected stone disease due to potential masking of calculi near the ampulla of Vater.
After intravenous contrast, usually only 2% of iodine fluid is eliminated via the biliary system. Any presence of contrast in the gallbladder consequently is indicative of an impaired renal function. Intrahepatic bile ducts enhance only in case of a severely restricted renal clearance.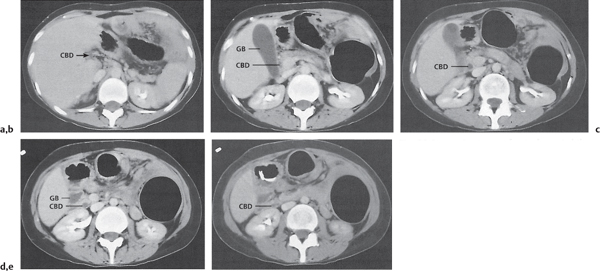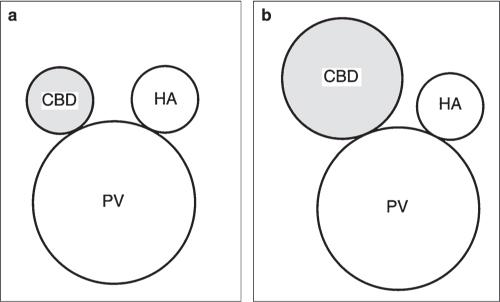 | | |
| --- | --- |
| CBD | common bile duct |
| HA | hepatic artery |
| PV | portal vein |
A global gallbladder wall thickening and pericholecystic fluid are typical for cholecystitis. However, similar features are observed in a number of other conditions, such as liver failure, as-cites, hypoalbuminemia, congestive heart disease, renal failure, and lymphatic obstruction (see Fig. 20.6). A gallbladder diameter > 5 cm is an indicator of biliary obstruction distal to the cystic duct. In most patients, the cystic duct cannot be identified as a structure separate from the gallbladder and the CHD. Gallstones within the cystic duct are a rare cause of proximal extrahepatic biliary obstruction and may cause cholangitis or obstructive jaundice (Mirizzi syndrome). Alternatively, after cholecystectomy, a long remnant may cause symptoms similar to cholecystolithiasis.
The characteristic CT appearance of distal biliary tract obstruction is shown in Fig. 20.4 ( p. 701 ). Abrupt interruption of the dilated CBD can easily be seen on CT scans and is a characteristic sign of malignancy. Patients with an unobstructed duct or benign stricture usually demonstrate a gradual tapering of the distal duct. It is important to differentiate benign choledochal cysts from physiologic bile duct dilation, such as choledochal cysts. According to Todani, different types of choledochal cysts can be distinguished: solitary fusiform-extrahepatic (type I), extra-hepatic supraduodenal diverticulum (type II), intraduodenal diverticulum/choledochocele (type III), fusiforme and intrahepatic cysts (type IVa), multiple extrahepatic cysts (type IVb), and multiple intrahepatic cysts (type V = Caroli disease) (see Fig. 20.10). The appearances of the cross section of the portal triad when the CBD is normal or dilated are presented in Fig. 20.2.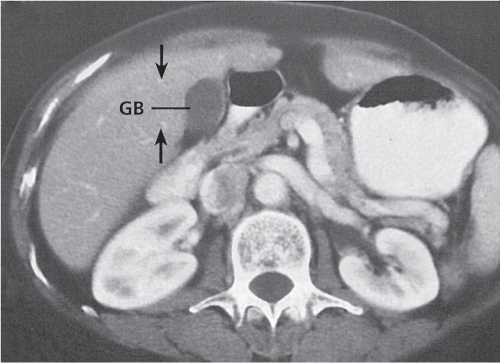 Gas in the biliary tree typically is observed after surgery, such as sphincterotomy and choledochoenterostomy. Less common causes include cholecystoduodenal gallstone fistula, choledochoduodenal fistula after perforated ulcer, choledochoenteric fistula due to carcinoma, and biliary tree damage after radiological interventions, such as Lipiodol (Ethiodol) embolization of liver metastases.
The differential diagnosis of biliary tract abnormalities is discussed in Table 20.1.