10.1055/b-0034-75820
27 Kidneys
The kidneys are surrounded by perinephric fat, resulting in excellent delineation of their margins. The renal parenchyma has a relatively uniform density of 30 to 50 HU on precontrast computed tomography (CT) scans, which does not permit differentiation between the renal cortex and medulla. The attenuation of urine in the collecting system is similar to water.
Renal arteries arise posterior to the corresponding renal veins, which are usually somewhat larger. The right renal artery crosses posterior to the inferior vena cava, whereas the left renal vein crosses anterior to the aorta.
After an intravenous (IV) contrast material bolus, the attenuation in the renal cortex increases more rapidly than in the medulla, permitting differentiation between these two compartments within the first minute. After that time the density of the renal parenchyma becomes uniform again, as the renal medulla enhances more slowly than the cortex, which already depicts early contrast washout. Following an IV contrast material infusion, the renal parenchymal density increases uniformly, and differentiation between the cortex and medulla is not feasible.
The renal parenchyma is tightly invested by a rigid renal capsule composed predominantly of fibrous tissue. The capsule is rarely, if ever, visualized by CT. Because of the rigidity of the renal capsule, a subcapsular process such as a hematoma compresses primarily the adjacent renal parenchyma, which becomes flattened by the pathologic fluid collection and often assumes a lenticular shape.
Between the renal capsule and the renal fascia (perirenal fascia, Gerota fascia anteriorly, and Zuckerkandl fascia posteriorly), which is commonly seen on CT scans, lies the perirenal space, composed largely of fatty tissue. Bridging connective tissue septa connecting the renal capsule with the renal fascia may divide this space into smaller subunits. A fascia measuring ≥ 3 mm in width is an abnormal but totally nonspecific finding. It has been reported in a variety of conditions, including inflammatory, malignant, and traumatic processes, or may be caused by edema and fibrosis. The pararenal compartment is located outside the renal fascia. An anterior pararenal compartment containing the pancreas, duodenum (with the exception of the bulb), and both the ascending and descending colon is distinguished from the posterior pararenal compartment, which contains no major organs. Although these retroperitoneal compartments are anatomically well defined, an infectious or tumorous process can easily spread from one space to the other. Furthermore, pelvic disease, especially involving the rectosigmoid, may spread cephalad into the perirenal and pararenal compartments (Fig. 27.1).
CT is valuable in the detection, localization, and characterization of focal renal mass lesions. The most common renal mass in the adult is a benign cyst. Cysts may be solitary or multiple and are usually round and located in the cortex. Characteristic CT features include a homogeneous density close to water (0–20 HU), a smooth margin with sharp demarcation from the adjacent renal parenchyma, no detectable wall when projecting beyond the renal outline, and no enhancement after IV contrast material administration (Fig. 27.2). A cyst smaller than the image slice thickness may be volume-averaged, resulting in falsely high attenuation values before and particularly after contrast enhancement. Truly high-density cysts occur and are caused by proteinaceous material or "milk of calcium" in the cystic fluid, infection, or hemorrhage into the cyst (Fig. 27.3). Milk of calcium may also be found in a calyceal diverticulum (Fig. 27.4). Thin intracystic septation occasionally occurs in benign renal cysts, but other entities, such as multilocular renal nephromas, Wilms tumors, and abscesses, must be considered. The Bosniak classification is commonly used to assess cystic renal lesions (Table 27.1).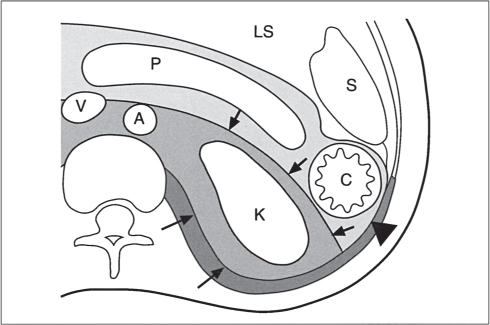 | | |
| --- | --- |
| A | aorta |
| C | colon |
| K | kidney |
| LS | lesser sac |
| P | pancreas |
| S | spleen |
| V | inferior vena cava |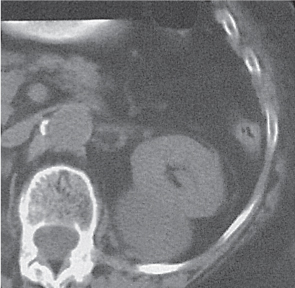 Solid renal mass lesions are usually irregularly shaped with poor demarcation from the normal renal parenchyma (Fig. 27.5). Characteristic CT features include an inhomogeneous density that is close to the renal parenchyma (30–50 HU) and increases after IV contrast administration. Compared with the surrounding renal parenchyma, solid renal mass lesions are frequently slightly hypodense, but because of small differences in attenuation on precontrast scan, these lesions may be appreciated only after IV contrast administration, as they usually enhance considerably less than normal renal parenchyma. A solid renal mass lesion must be considered malignant until proven otherwise and requires prompt clinical workup, including surgical exploration.
Renal lesions that do not unequivocally display CT criteria of either a benign cyst or a solid tumor represent indeterminate masses. They account for about 10% of all focal renal lesions. The renal mass may be indeterminate for technical reasons, such as breathing artifacts and volume-averaging effects. Cystlike renal masses may be considered indeterminate if they demonstrate a thick wall, calcifications, multiple septa, indistinct interface with the renal parenchyma, high attenuation of the cyst content (≥ 25 HU), and/or some contrast enhancement. Complicated (hemorrhagic) cysts, abscesses, and benign and malignant cystic or necrotic tumors may all represent as indeterminate masses by CT criteria (Fig. 27.6). They correspond to types 3 and 4 in the Bosniak classification of cystic renal lesions and usually require prompt clinical workup, including percutaneous biopsy or surgical exploration.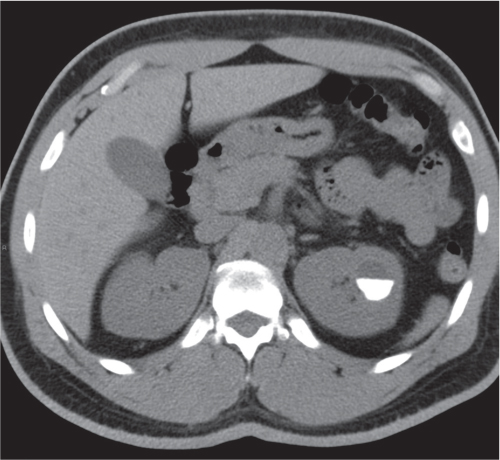 Calcifications in a focal renal lesion occur in both benign and malignant conditions (Fig. 27.7). Peripheral curvilinear calcifications in a cystlike lesion with homogeneous, near-water-density fluid content and the absence of both a soft tissue mass and thickened (focal or uniform) wall is likely to be benign. In addition to calcified renal cysts, aneurysms and arteriovenous malformation must be considered. In hydatid (echinococcal) disease, a larger partially calcified cyst with a thin or thick wall containing daughter cysts is diagnostic. Amorphous or punctate calcifications associated with a solid or partially cystic mass are found in a variety of benign (e.g., oncocytoma) or malignant tumors (e.g., renal cell carcinomas, Wilms tumor, and metastases), tuberculosis (TB) and other granulomatous diseases, and old abscesses and hematomas (Fig. 27.8).
Table 27.1 Bosniak classification of cystic renal lesions
1 Simple cyst
Well-defined round mass of water attenuation
Hairline-thin imperceptible wall
No enhancement
2 Minimally complicated cyst
Cluster of cysts/septated cyst
Minimal curvilinear calcification
Minimally irregular wall
High-density content (> 25 HU)
2F Follow-up cyst
Hairline-thin septum
Wall with perceived enhancement
Intrarenal lesion > 3 cm with high density content
3 Complicated (surgical) cyst
Irregular, thickened septa
Measurable enhancement
Coarse, irregular calcifications
Irregular margin
Multiloculated lesion
Uniform wall thickening
Nonenhancing nodular mass
4 Malignant cyst
Irregular wall thickening
Solid enhancing elements
Large cystic/necrotic component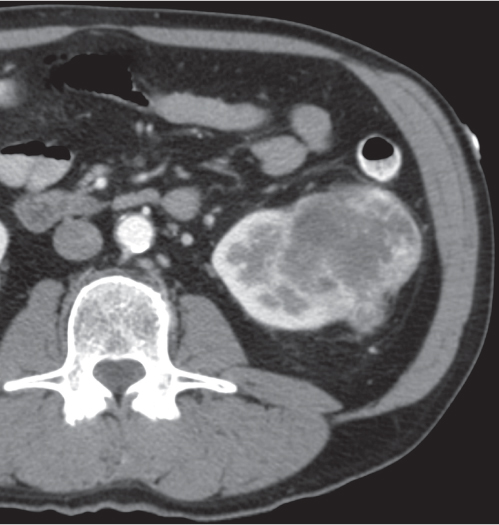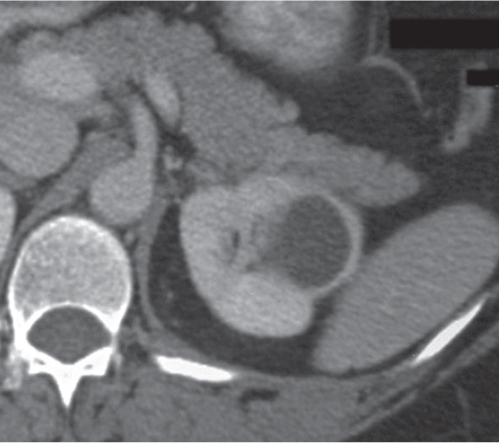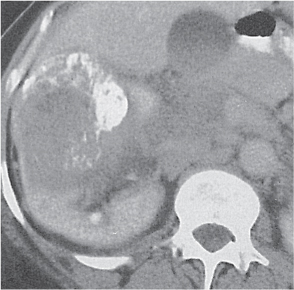 Diffuse renal parenchymal calcifications (nephrocalcinosis) occur most often in the renal medulla, especially in the renal papilla, where the largest urine concentration is attained (Fig. 27.9). Medullary nephrocalcinosis is found with medullary sponge kidney, hyperoxaluria, and conditions associated with hypercalcemia and hypercalcinuria (e.g., hyperparathyroidism, renal tubular acidosis, milk–alkali syndrome, Cushing syndrome, vitamin Dintoxication, sarcoidosis, bone metastases, multiple myeloma, and osteoporosis). Papillary calcifications are also encountered with papillary necrosis and TB.
Cortical nephrocalcinosis is rare and limited to diseases primarily involving the renal cortex (e.g., acute cortical necrosis and occasionally glomerulonephritis).
Renal calculi are readily detected by CT even if they are not calcified. Nonopaque calculi account for approximately 10% of all renal calculi and consist of uric acid, xanthine, or matrix (mucoprotein/mucopolysaccharide). Urographic differentiation from tumors and blood clots is often not possible. CT can, however, readily distinguish calculi from other nonopaque filling defects because of a difference in density. Nonopaque calculi have a CT density exceeding 50 HU, whereas tumors of all types have soft tissue attenuation values of less than 50 HU.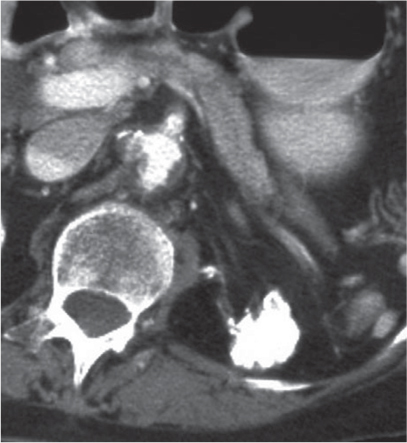 Perinephric fluid collections complicating a renal transplant are caused by lymphocele, urinoma, hematoma, and abscess formation. Lymphoceles are the most common peritransplant fluid collections, characteristically occurring within 2 to 3 weeks after transplantation. They tend to be large, may be septated, and are usually located medial and inferior to the lower pole of the transplant (Fig. 27.10). Urinomas can occur at any time after transplantation and are caused by an anastomotic leak or are secondary to a vascular injury causing a focal necrosis with subsequent leak in the urinary system. Hematomas can be differentiated in the acute stage by their higher CT density. Abscesses can be unequivocally diagnosed only if they contain gas. Transplant failure caused by rejection, acute tubular necrosis, and cyclosporine-induced nephrotoxicity cannot be reliably differentiated by CT. Nevertheless, a rapid increase in the size of a failing transplant suggests acute rejection.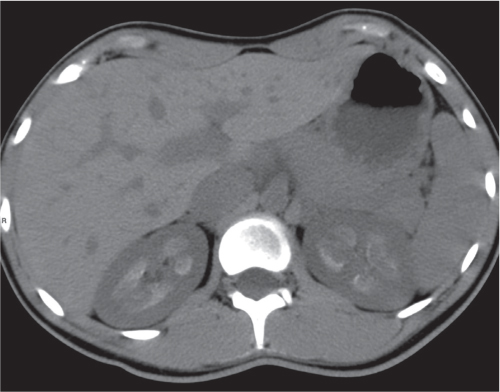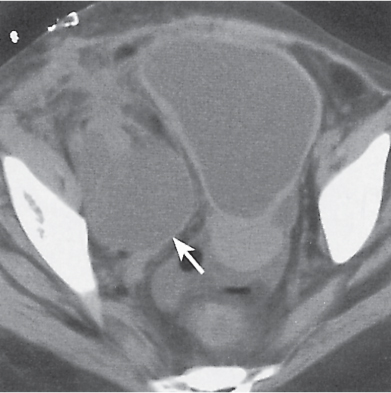 The differentiation of focal lesions in the kidney and perinephric space is discussed in Tables 27.2 and 27.3 , respectively.