10.1055/b-0034-77610
16 Malformations and Deformities
Anomalies of the skeleton and soft tissues of the hand can be caused by congenital malformations or deformities acquired during growth. The most important malformations are associated with syndactyly, brachydactyly, oligodactyly, polydactyly, aphalangia, constriction rings, hypoplasia/aplasia of the thumb, macrodactyly, symphalangism, camptodactyly, clinodactyly, phocomelia, clubhand, and cleft hand. If other organs are involved additionally, the anomalies arereferred to as malformation syndromes. Deformities that appear later in life include several entities of localized dysostosis, the best known of which is Madelung deformity, systemic manifestations of osteochondrodysplasia, which are characterized by disproportional short stature, sclerosing and hyperostotic bone lesions, and different forms of dysostosis multiplex, which are primarily due to metabolic disorders.
Pathoanatomy and Clinical Symptoms
According to the most appropriate classification and nomenclature of morphological defects, a malformation is a primary structural defect resulting from a localized error in embryonic (rarer in fetal) morphogenesis. The symptoms of malformation are already manifest at birth. Malformation syndrome denotes the sum of all of a person's malformations that have the same etiology but different pathomorphogeneses. In contrast, a deformity summarizes all secondary changes in shape and structure that have developed from an originally normally developed body part.
Congenital malformations of the upper extremities are rare and are seen in only about 1 of 600 newborns. Ten percent of these are functionally severe deformities. Inherited factors (endogenous causes) must be differentiated from environmental factors (exogenous causes). Examples of hereditary malformations of the hand are the Apert syndrome and trisomy 21. An example of an exogenous factor is the drug thalidomide, which causes longitudinal arrest of the upper extremities ranging from aplasia of the thumb to aplasia of the entire extremity (amelia). In approximately 40–50% of all malformations, the causes remain unknown.
Diagnostic Imaging
Imaging usually consists of radiographs of both hands and forearms. However, in newborns and small children, radiographic diagnosis is limited because the ossification nuclei of the hand first appear between the second month and fourth year of life. In the future, high-resolution ultrasonography and MRI may provide hand surgeons with important information about the nonossified skeletal sections and soft tissues for early surgical intervention. A simple photograph of the malformed hand, preferably in functional position, provides valuable documentation.
We stress here also the changes in form and structure at the epiphyses and metaphyses, which appear either as isolated asymptomatic variants or in combination with further imaging signs, and may be diagnostically relevant for the recognition of a malformation (Fig. 16.1c):





Pseudoepiphyses serve as an example of epiphyseal lesions. These are constitutionally incompletely formed epiphyses that on radiographs show no continuous growth plates. Another epiphyseal lesion consists of epiphyses or epiphyseal notches in abnormal sites (Fig. 16.1a). Except in the thumb, epiphyses are normally located on the distal ends of the metacarpals and on the proximal ends of the phalanges. Epiphyses at abnormal sites occurring together with a hypoplastic thumb and brachymesophalangia/clinodactyly V can serve as indications of a hand-foot-uterus syndrome.






Congenital changes of the metaphyses (Fig. 16.1b) must be differentiated from acquired forms. Irregular metaphyses adjacent to the growth plates are often seen in healthy children, especially on the middle and distal phalanges. These metaphyseal changes, together with osteosclerosis, are seen in delayed epiphyseal closure. Increased metaphyseal osteosclerosis, which is probably caused by testosterone, is far more common in boys than girls.
Chapters 49 and 50 summarize the different changes in form and structure of the epiphyses and metaphyses.
Classification
Congenital malformations of the hand can be classified either according to their etiology or according to morphological criteria. The following classification systematically considers the seven categories of both the International Federation of Societies for Surgery of the Hand and the International Society for Prosthetics and Orthotics. These categories of malformation are listed in Table 16.1 together with their incidences.
| | |
| --- | --- |
| Malformation | Incidence (%) |
| Failure of formation | 12.2 |
| Failure of differentiation | 31.3 |
| Duplication | 35.9 |
| Overgrowth | 0.5 |
| Undergrowth | 4.3 |
| Constriction ring syndrome | 6.5 |
| Generalized abnormalities (syndromes) | Variable |
Disease Entities
Failure of Formation
Transverse Arrest
All forms of congenital amputation are considered transverse arrests (the upper arm and proximal forearm are not considered here). In the following forms of transverse arrest, parts of the carpus, the metacarpus, or the fingers are missing.





Aphalangia indicates one or more missing fingers. It occurs either sporadically as a solitary malformation or in combination as in numerous malformation syndromes, in cleft hand, in symbrachydactyly, and in the constriction-ring syndrome (see Figs. 16.8 and 16.19 ). An important differentiating criterion of the constriction-ring syndrome is the absence of distal finger parts, including the fingernails, in contrast to the other forms of aphalangia in which the distal finger parts are rudimentarily developed.






A related malformation is oligodactyly. In oligodactyly, not only a finger is missing(aphalangia) but also an entire metacarpal of the affected ray (Figs. 16.1a and 16.2 ). Oligodactylies are usually combined with further malformations, i.e., brachydactyly (shortening of the finger ray), syndactyly (fusion of adjacent finger rays), symbrachydactyly (a group of malformations with shortening, thickening, and partial or complete absence of phalanges, in some cases combined with fusion of adjacent finger rays), carpal synostosis, and other malformations of the forearm including tendon and muscle anomalies.
Longitudinal Arrest
All other forms of an incomplete arm and hand skeleton, including the intercalated segments, are defined as defects of longitudinal development.
Table 16.2 Radiographic signs of radial ray deficiency ("radial club hand")





Anlage of the radius disturbed:









Distal radius epiphysis absent






Radius complete but shortened (hypoplasia)






Only proximal anlage of the radius (partial aplasia)






Complete aplasia of the radius






Ulna bent to the radial side, shortened, and thickened






Thumb absent or hypoplastic






Carpals fused or partially absent (scaphoid and trapezium)






Humerus shortened with distal deformation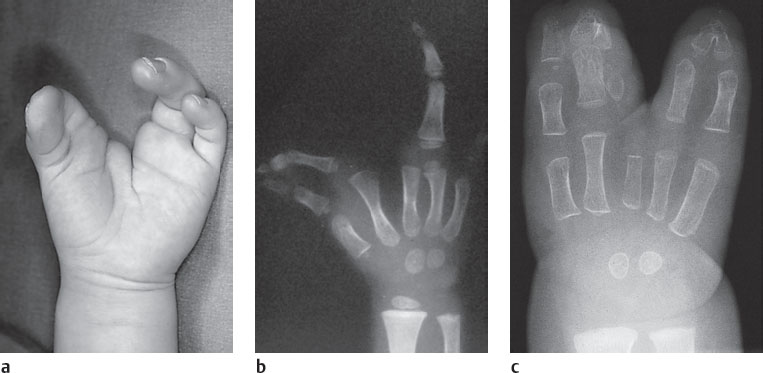 Failure of Differentiation (Separation) of Parts
Premium Wordpress Themes by UFO Themes
WordPress theme by UFO themes