The resistive index (RI) is the

peak

systolic velocity (PSV) minus the end diastolic velocity (EDV) divided by the PSV. The proper location of measuring RI is at the corticomedullary junction where renal arcuate arteries and/or interlobar arteries along the medullary pyramids are assessed usually at an angle of 50–60° [29]. The normal RI is equal to or more than 0.7, and typically, an RI of more than 0.9 indicates renal dysfunction. RI increases with decreasing diastolic flow. Therefore in a hypothetical situation of absence of flow in diastole, the resistive index equals 1.0. In normal pregnancy there is no appreciable change in RI. In the early stages of obstruction, RI is often elevated and usually occurs within 6 h after clinical acute obstruction [8]. From a technical point of view, compression of the kidney can cause elevation of RI, and this is typically noted in transplanted pelvic kidneys that are superficially located (Fig. 13.1) [30–33]. In one study,

du

plex ultrasound in a nonpregnant population detected acute renal obstruction with an approximate 77 % sensitivity [34].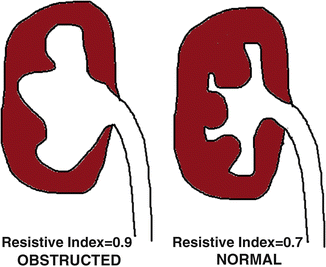 Fig. 13.1
Schematic diagram indicating an obstructed right kidney with associated elevated resistive index

Several vascular studies use the pulsatility index parameter which is a measure of variability of blood velocity in a vessel. It represents the difference between peak systolic and minimum (end) diastolic velocities divided by the mean arterial velocity during a cardiac cycle. Assessment of RI and PI in patients with renal disease can identify patients with slow and fast progression of renal failure [
35
].
Diuretic Doppler
ultrasound
is a modification of conventional Doppler sonography to assess physiological responses of obstructed and nonobstructed kidneys to diuretic stimulation. Furosemide-enhanced diuresis leads to significant increases in the RI of obstructed kidneys, while having no effect on that of nonobstructed kidneys in adults or children. Saline loading followed by furosemide results in a divergent response with an increased RI in obstructed and a decreased RI in nonobstructed kidneys. Other factors causing elevated RI are medical renal disease, diabetic nephropathy, and external factors such as fasting and exsanguination. Recent studies documented decrease in RI with increasing heart rate and stable blood pressure and increasing RI with pulse pressure
widening
[
36
–
39
].
Contrast Enhanced
ultrasound (CEUS)
of kidneys during pregnancy has been reported only before scheduled termination of pregnancy. It may be a good tool for assessment of placental vascular insufficiency. Laboratory animal studies in pregnant rats has also shown value of this modality in evaluation of placenta [
40
,
41
].
Resistive index is usually normal in a pregnant patient. The elevation of obstruction-related RI is thought to be due to increased renal vascular resistance secondary to elevated prostaglandins. It is recommended that, for the assessment of RI, patients should avoid the use of
NSAIDs
prior to ultrasound imaging. NSAIDs may interfere with interpretation which may be due to blocking prostacyclin synthesis resulting in decreased renal blood flow and mask the expected changes in RI [
42
]. Several NSAIDs (e.g., ketorolac, indomethacin) have been shown, in animal models, to reverse both the early vasodilation and subsequent vasoconstriction of acute ureteric obstruction [
43
,
44
]. Measurement of RI is usually most evident during the first 6–48 h of obstruction. A difference of more than 0.1 from side to side is suggestive of obstruction. The overall sensitivity of RI for the assessment of obstruction is 42–100 %, and it is less sensitive for partial versus complete obstruction.
Anteroposterior Diameter (APD)
is another method for assessing obstruction in a gravid kidney. APD is the measurement of renal pelvic dilation. Pathological obstruction is suspected if the cross-sectional measurement of the renal pelvis exceeds 27 mm on the right or 18 mm on the left during the second and third trimester. It is therefore imperative to obtain both sagital and cross-sectional images of the gravid kidney. Pathological obstruction is suspected if the
APD
measurement exceeds 18 mm on the right and 15 mm on the left side during the first trimester. The cross-section measurement of the renal pelvis should be in the midpole where the maximum dilation can best be assessed [
45
] (Figs.
13.2
and
13.3
). The frequency of developing hydronephrosis is not related to the number of pregnancies [
15
,
46
]. These changes should be interpreted in correlation with subjective and objective clinical manifestations (Table
13.1
). Predominately left renal pelvic dilation with left flank pain suggests obstruction. Right flank pain with minimal to no pelvic dilation suggests no pathological obstruction (Figs.
13.4
).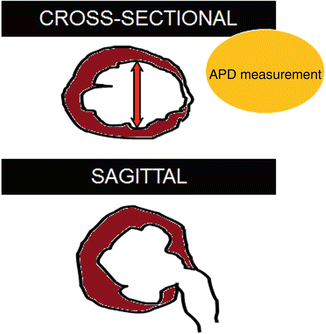 Fig. 13.2
Diagram depicting renal pelvic measurements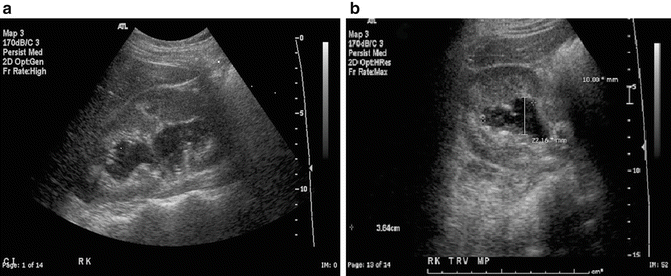 Fig. 13.3
Sagittal (
a
) and transverse (
b
) midpole ultrasound images of a pregnant patient with right flank pain, APD measurement of 27 mm is indicative of obstruction
Table 13.1
The grading of hydronephrosis during pregnancy
| Grading | |
| --- | --- |
| Grade 0 | Hydronephrosis 0–5 mm, minimal separation of central echo complex |
| Grade 1 | Hydronephrosis 6–10 mm |
| Grade 2 | Hydronephrosis 11–15 mm |
| Grade 3 | Hydronephrosis equal or more than 16 mm. A large sonolucent sac occupies a major portion of the kidney |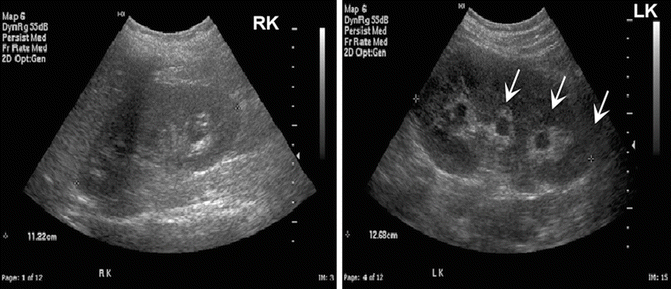 Fig. 13.4
Thirty-year-old female, G2P1, at 28 weeks of gestation, presenting with left flank pain. The right kidney (RK) shows no hydronephrosis, whereas the left kidney (LK) demonstrates calyceal dilation (
arrows
)
Renal Pelvic
APD

and Calyceal Measurements Suggesting Obstruction